Vinyl furniture has become increasingly popular over the years due to how easy it is to clean, its animal-friendliness, and durability against fading. People who know how to clean vinyl furniture continue to purchase it because it resists difficult stains, but that doesn't mean it doesn't require upkeep.
Vinyl is also called polyvinyl chloride or PVC and is nonporous but vulnerable to harsh cleaning products. Vinyl chairs and patio furniture are frequently purchased for homes. It has a glossy sheen and smooth feel, making it popular in restaurants, offices, medical buildings, boat seats, and cars.
Because it's improved so much, tons of people opt for vinyl fabric over leather. Not only does it offer the same elegance, but it's cheaper and less prone to cracking. Whether you're learning how to clean vinyl strap patio furniture or want to give it a quick wipe, a simple vinyl furniture cleaner prevents grime, mildew, and stubborn stains from damaging it permanently.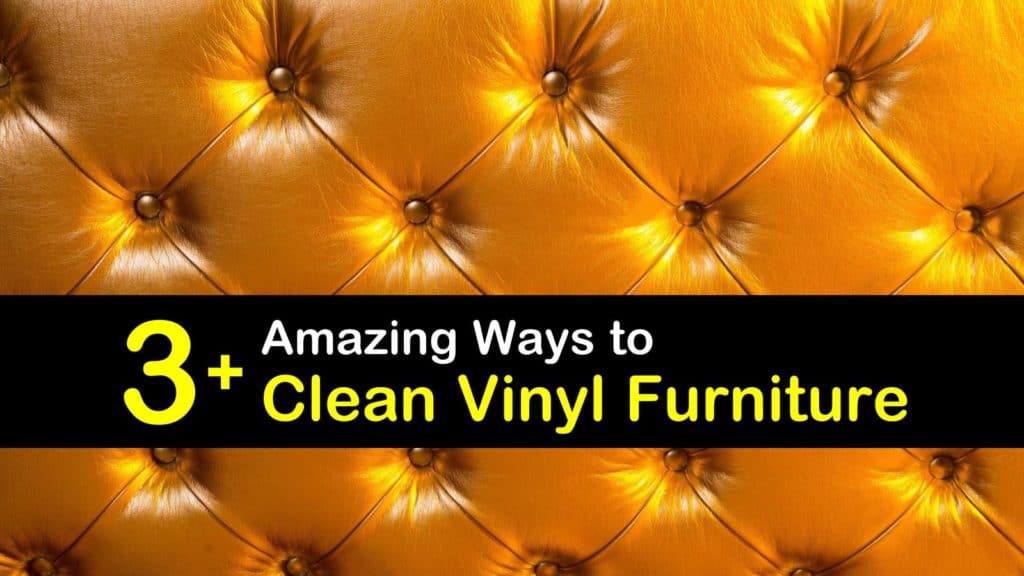 Ways to Clean Vinyl Furniture
There's nothing more satisfying than clean-vinyl furniture, but upholstery of any kind is still prone to bacteria, dust, and other contaminants. Even clean vinyl upholstery to the eye requires sanitization every once in a while.
Waiting to deep clean vinyl floors, chairs, or sofas once they're already stained means you're one step behind. Cleaning vinyl should happen regularly – at least once a month – with deeper cleanings every six months for proper care.
If your furniture is mixture of vinyl and metal, you'll need to clean the metalwork separately, usually with different materials. There may be times when it's necessary to take care of removing rust from patio furniture, too, especially iron pieces.
How to Clean Vinyl Furniture Regularly
Mild soap is often safe for vinyl fabric. Harsh chemicals aren't necessary for routine furniture cleanings. Fill a bowl with warm or hot water and add a few squirts of mild dish soap until you have suds.
The amount of soapy water required depends on how large each piece is. For example, outdoor furniture sets require more cleaning solution than a single chair.
Dip a soft-bristle scrub brush or clean cloth in the mixture and gently scrub to remove dirt and grime. Empty the bucket, rinse it, and refill it with clean water. Use a damp cloth to rinse away soap residue.
Add some dish soap to your pressure washer when power washing vinyl siding for a good clean. Ensure that the stream of water isn't too strong, as you don't want any water to seep behind the siding and cause internal wall damage.
Soap and water is the first step to clean chalky plastic lawn chairs, too. Following up with vinegar helps restore the finish.
Vinyl Furniture Cleaner and Stain Remover
If you let your vinyl sit for too long without cleaning it, you will likely come across a stain. Make your own vinyl floor cleaner or furniture cleaner with a few products you probably already have at home.
Put on rubber gloves to avoid touching the bleach. Mix one-part bleach with five parts water in a spray bottle. Spray a small amount in an inconspicuous spot to test that the solution doesn't damage the fabric.
Once you determine it's safe, lightly spray the bleach solution over the stain. Dab the area with a soft cloth until the stain lifts. Wipe away the solution with a damp rag and dry with a paper towel.
Cleaning Vinyl with Ammonia
Ammonia has tons of uses, but it's most popular for its ability to remove tarnish and built-up soap residue around the home. Combining it with peroxide makes this recipe even hardier for cleaning vinyl.
Put on rubber gloves. Mix the ammonia, peroxide, and water in a medium glass bowl. Dip a clean rag in the solution and ring it out so that it's damp. Begin scrubbing the solution into the stain until it lifts from the fabric.
Wet a clean cloth in fresh water and thoroughly wipe the furniture to remove excess product. This cleanser makes a hardy home made siding cleaner and is especially effective against mildew.
How to Clean Vinyl Strap Patio Furniture
One of the most preferred types of patio furniture is vinyl strap furniture. Vinyl straps wrap around outdoor chaise lounges, lounge chairs, and dining chairs for a comfy, clean look. Cleaning outdoor vinyl furniture is simple with this DIY cleaner.
The best way to clean outdoor furniture made from vinyl strapping is to shake a light coating of baking soda over the selected piece of furniture. In a spray bottle, mix the vinegar, warm water, and Murphy oil soap.
Spray the solution over the entire piece of furniture and let it sit for ten minutes. Use a damp cloth and begin scrubbing to lift away grime and mildew. Repeat as often as necessary.
Vinyl is not only popular for furniture but also flooring material. If you have some old floor vinyl that just isn't cleaning up the way it should, it may be time for removing vinyl glue from concrete, as well as the vinyl itself.
When learning how to clean vinyl strap patio furniture or indoor vinyl furniture, don't forget to get into cracks and crevices. Thoroughly cleaning your vinyl upholstery prolongs its life and keeps it looking fresh and clean, just like it does when using a homemade vinyl record cleaner.
To further extend your vinyl life, wipe away spills as they happen, and cover the furniture with a clean sheet whenever it's not being used.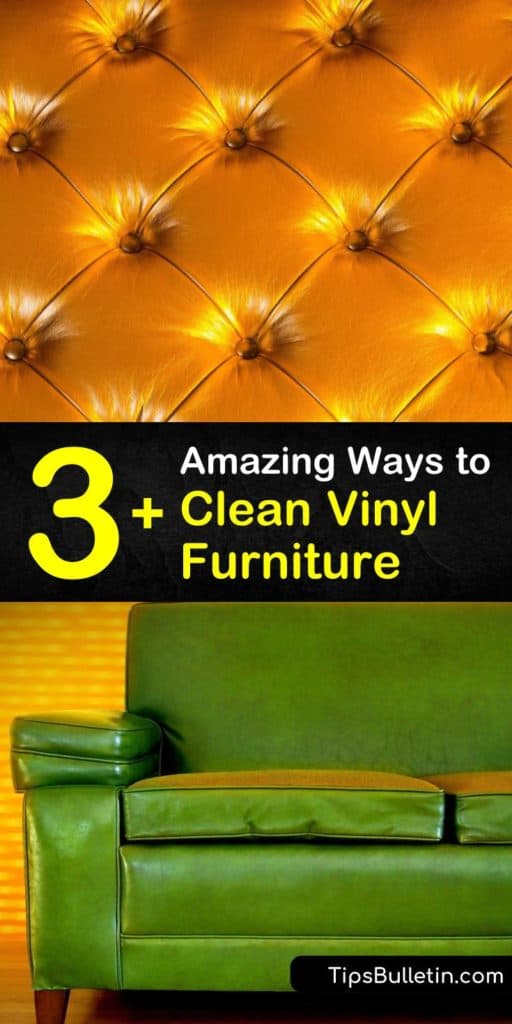 Using a non-harsh vinyl furniture cleaner is a safe way to protect your upholstery from harmful chemicals while giving them the proper care they deserve. If you've enjoyed learning how to clean vinyl furniture, share these cleansers for vinyl on Facebook and Pinterest.