If you've ever been sick with the stomach flu or have kids, then you've assuredly had your fair share of accidents to clean up from the bed. Accidents like this may leave you wondering how to clean vomit from a mattress. As unpleasant as it is, there are several ways to remove that stain and smell from the bed.
The smell of vomit has got to be one of the worse smells, especially in your bed. You'll have to use a mattress cleaner spray that is strong enough to not only clean and sanitize the stain but remove the odor as well.
While there are a lot of cleaning products on the market, many of them contain harsh chemicals and are not necessary. Look no further on your Google search, and forget the expensive steam cleaner. We have a vomit stain remover and odor remover that uses items you have in your kitchen.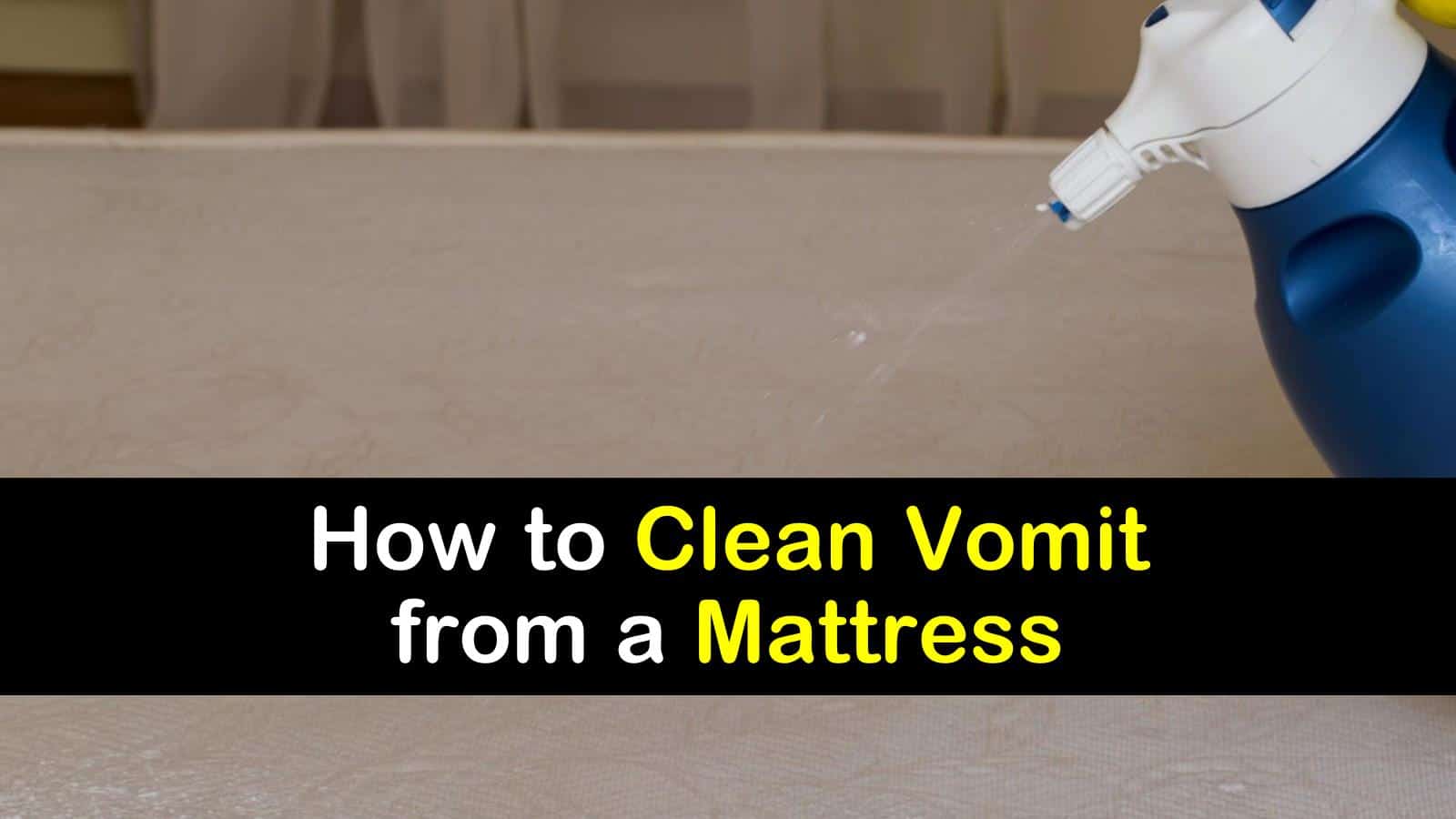 How to Clean Vomit from a Mattress
There are various ways to get throw up smell out of mattress, and we're here to show you how. You must deal with vomit on the bed as soon as possible. Scrape the vomit from the bed and bedding using a paper plate or dustpan and paper towels. We recommend wearing rubber gloves while doing this step.
Washing the bedding itself is the easy part. You may be questioning, Can you wash a down comforter? The answer is yes. Remove all of the bedding immediately and put it into the washing machine on the highest temperature setting.
Once the bedding is in the washer, soak up any remaining vomit liquid from the mattress. Using a dry cloth or an old rag, blot the stained area. Make sure not to rub the stain around. Next, we'll show you how to get vomit stains out of mattress and eliminate the bad smell.
1. Ways to Get Throw Up Smell Out of Mattress
We have the simplest ways to get throw up smell out of mattress. It is crucial to get to the stain immediately for the best results. Vomit is acidic, which leads to a powerful odor. Baking soda lowers the pH of whatever it comes in contact with, neutralizing the odor-causing acids.
Vomit Smell Remover
After blotting as much of the moisture out of the mattress as you can, sprinkle baking soda or cornstarch onto the area. Baking soda will help to absorb and deodorize the leftover odor-causing stain. Let the baking soda sit for at least eight hours.
If it is late at night and you cannot let the mattress dry, cover the stain with a clean towel and fresh sheets. After the baking soda has set for the recommended time, use a vacuum cleaner to remove the leftover residue.
Use an upholstery hose attachment for vacuuming up the stained area. Finish up by using an all natural disinfectant spray on the surface of the mattress to get the vomit smell out of a mattress.
2. How to Get Vomit Stains Out of Mattress
Vomit contains various enzymes and acids that need to be broken down to effectively get puke off a mattress. Vinegar breaks down the proteins that are in substances such as vomit, urine, and blood. You can also use this as a carpet cleaner for pet stains, blood stains, urine stains, and vomit stains.
Vinegar Solution Vomit Stain Remover 

1 cup of warm water
1 cup white vinegar
1 teaspoon dish soap
Spray bottle
Absorbent towels
Combine the vinegar, warm water, and soap into the spray bottle and shake well. You can substitute hydrogen peroxide for the vinegar but be sure not to use cold water. Spray the stained area until damp but not saturated.
Blot the stain using an absorbent dry towel. Repeat until the stain is gone. Allow the mattress to air dry entirely before fixing the bed with fresh bedding. Putting a mattress cover or mattress pad over a damp area will cause mildew problems in the future.
The best way to prevent stains on a new mattress is to use a mattress protector. It is also beneficial if you have a memory foam mattress or for the prevention of allergens and dust mites.
The most important issues to remember when dealing with vomit stains on the bed are to remove as much of the puke as you can, and then quickly remove and wash all bedding. Follow the cleaning solution and odor-removing steps from above, and your bed should be good to go.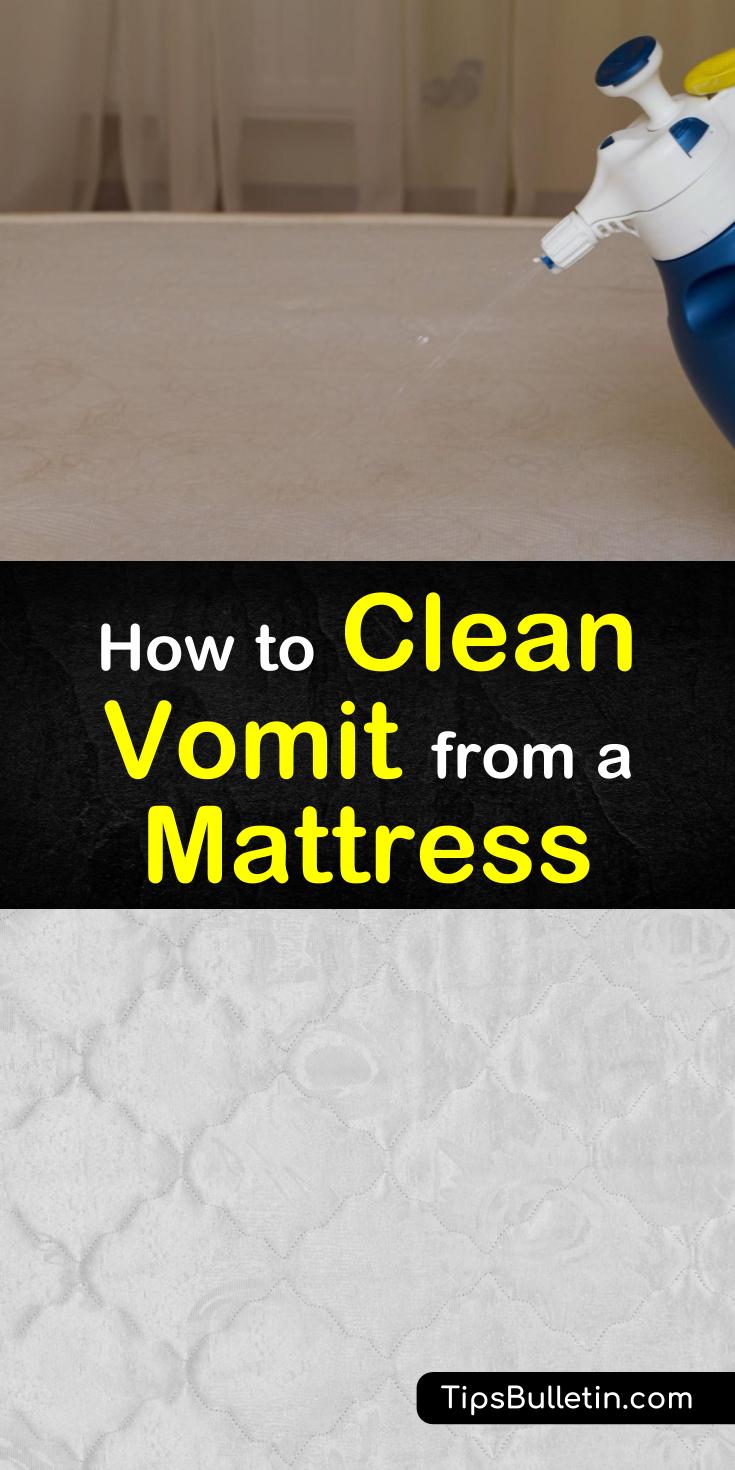 Now that we've shown you how to clean vomit from a mattress using vinegar and baking soda, we'd love it if you shared your knowledge about vomit removal from bedding with your friends on Pinterest and Facebook.