Stains happen. It is inevitable when you have children. It also happens when you have a pet, but you keep them anyway because you love them. Knowing how to clean up problem areas thoroughly and promptly is vital to keep the house clean and get rid of urine smell that can permeate the house if not addressed quickly.
Whether your problem is on the floor, carpet, the bed, or other furniture, the right tools and steps to get the job done will remove urine smell and stains for good. Follow our expert tips on the best ways to get rid of urine smell and those nasty stains they leave behind.
Accidents are unavoidable. Whether it's a child or a pet, mattresses acquire urine stains and spots from sweat, vomit, and other bodily fluids. No matter when or how the stains occurred, there are ways to remove them.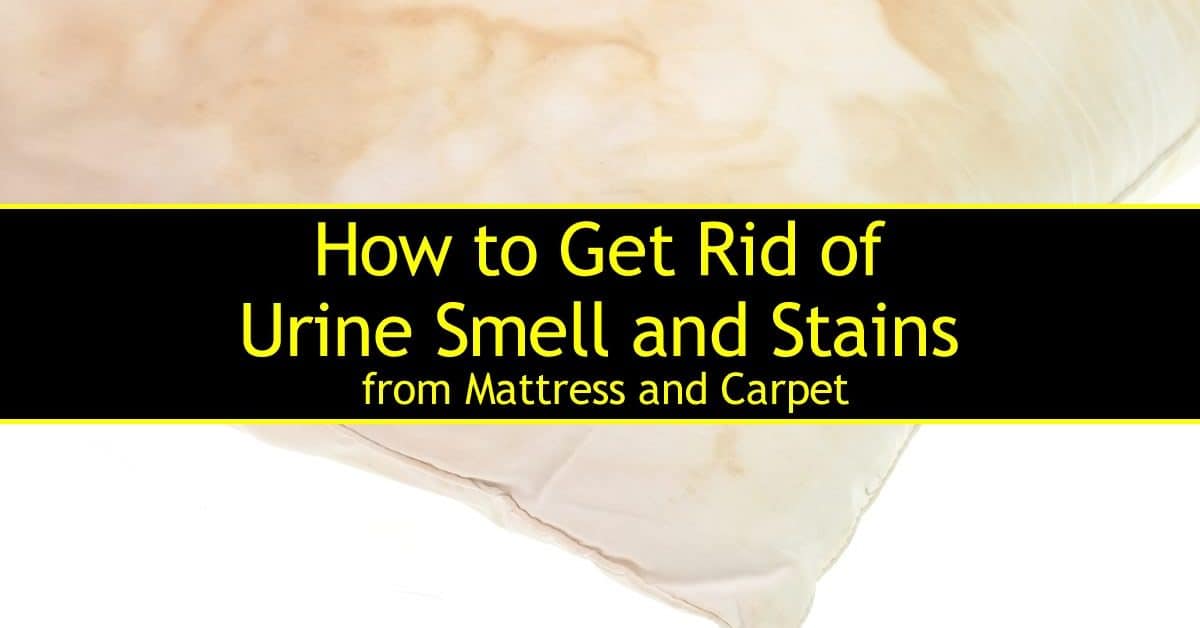 Getting Rid of Urine Stains and Smells From Carpet and Mattresses
Removing stains on mattress doesn't have to be difficult. You simply need to know what caused the stain and have a little time to whip up a home remedy to take care of it. Homemade solutions are easy to mix and are much more cost-effective than commercial cleaners.
How to Remove Stains From Mattresses
If you see the stain while it is still damp, you have a better chance of getting rid of it. Soak up as much of the urine as you can with a sponge or rag or sponge. Use a clean damp cloth to soak the area with water.
For a homemade pet stain remover, spray with vinegar to kill the odor and to kill bacteria that cause odor. Let it air dry, preferably in direct sunlight, which bleaches the area. Even if the stain has dried and set, you can still remove it.
For lingering smells, sprinkle baking soda on the mattress and lightly mist it with vinegar. Scrub into the surface and let it dry. Vacuum up the remains. This homemade mattress deodorizer is highly effective and takes only a little time. Use baking soda in the cat box as a way to get rid of cat litter smell until you can clean it.
Use a clean wet rag to dampen the area slightly. Sprinkle with Borax, which you can find in the laundry detergent area in the store. Rub in thoroughly. Similar to white vinegar, Borax also kills the odor. Allow the mattress to dry completely, in the sun if possible — vacuum up the excess Borax.
Always completely get rid of excess liquid on a mattress, whether it is a stain or the cleaner you use to keep from getting mildew on a mattress or deep within it. This type of problem is much harder to deal with and can sometimes ruin the mattress beyond repair.
If your stain is on a mattress cover, you can still take care of the problem in the same way as you do for a mattress. Can you wash a foam mattress pad?
Since mold and mildew can develop in the foam, it is not a good idea to put it in the washing machine but you can follow these tips for getting rid of stains and smells in the same way. Plus, it's easier to bring a mattress pad outside to let the sun do some additional sanitizing.
If you are looking to get a new mattress but don't know what to do with your old one, you can always explore mattress donation. It is important to realize, though, that the organizations that accept used mattresses require that they be free of stains, so use these recipes to get rid of them before donating.
Who takes used mattresses? Places like charitable organizations are usually happy to receive your old mattress so that it can be used for someone who really needs it. Check the listings in your community for ideas.
Floor Stains
Floors are a common location for accidents and stains, and it's essential to find ways to get urine smell out of the carpet to prevent a reoccurrence. Pets smell the site of an accident, and they are more likely to have a repeat performance in the same location.
Be sure to find all of the spots your pet has soiled by using a black light or using your nose. If you find a recent accident on the carpet, it's the easiest to clean. First, soak up as much wetness as you can. Spray water on the area, and use a wet vac or a clean cloth to dab it. Detergents and soap leave a residue that attracts stains and dirt.
If the stain is already dry, a wet vac may help. Steam cleaners make it worse and set the stain even more. Use plain water for urine stains as chemicals can be hazardous to pets and mask odor.
As you see with our carpet stain remover recipes, vinegar works well for its odor-neutralizing and antibacterial properties. You can get rid of cat pee smell, or that nasty odor from dog or human urine with a bit of baking soda or vinegar.
If urine isn't cleaned up quickly enough on clothing, the uric acid can discolor the fabric and the stain will seep deep into the cloth, which makes getting pee smell out of clothes harder. In these situations, the article of clothing may need to be thrown out.
If you find a fresh puddle, cleanup is easy. Soak up the urine with paper towels and sprinkle the area with baking soda. Leave overnight and vacuum it in the morning. Finish by cleaning the area with a mixture of vinegar and water and dry thoroughly.
Baking soda and vinegar are also the perfect remedy for getting cat urine smell out of clothing. Pre-treat the clothes with the cleaners for eliminating a dog pee smell, then toss in the wash. Ensure the stain and smell are gone before drying.
Feces
While urine is a more frequent indoor issue, your cat will likely miss the litter box at one point, whether it's an accident or on purpose, or your dog will have a poop accident in the house. Cleaning poop from the carpet quickly is essential.
Remove the solid matter quickly with a scooper. Prepare a 2:1 mixture of vinegar and water and thoroughly spray the area. Let it sit for five minutes or more. Blot and repeat until the area is clean. Sprinkle baking soda and leave overnight to remove lingering odors. Vacuum in the morning.
How to Remove Pet Odor From Carpet
It's easy to get rid of unpleasant pet smells with just a few simple ingredients. Neutralize odors in carpet or anywhere else you may have a problem with our easily crafted solutions.
Dog Smell
One common complaint about dogs is "dog smell." Not only does your pet smell like a dog, but they leave everything they touch smelling like the dog, too.
This smell is produced by a combination of their sweat with the oils in their body to identify themselves to other dogs and mark territory.
Natural smells are one thing, but ear infections and problems with the anal glands when they need to be drained smell, also. Other odor-producing issues include skin and dental infections.
If any of these health problems contribute to your dog's smell, taking care of them will reduce odors. The best way of getting dog smell out of the couch is to keep your dog bathed and groomed. A diet change may also contribute to a shift in odor, such as a diet richer in fatty acids for less dry skin.
Do not be tempted to bathe your dog more than once a month, and don't use carpet shampoos with fragrances that may irritate your dog. Showers with water only are fine when needed. Brushing the fur to keep it clean also helps with the smell.
Pet Urine
Besides vinegar, Borax, and baking soda, it is essential to use safe cleaning products when cleaning spots where your pets have access, whether you are looking for ways to get dog pee smell out of clothes, the couch, or your bed.
Use a mixture of dish soap and hydrogen peroxide to get stains out of carpet or upholstery without leaving residue. This simple combination will eliminate cat urine odor while cleaning away the stain at the same time.
The best product to use to clean pet urine is an enzyme cleaner, whether you need to eliminate cat urine smell on the couch, bed, or loveseat. When cat urine dries, chemicals break down and produce that ammonia-like smell. Enzyme cleaners break down the chemicals into gases that evaporate.
Removing pet urine smell from a sofa or a mattress or carpeting is much easier with an enzyme cleaner. Vinegar also offers some success at eliminating stains and for getting dog pee smell out of carpet areas, although repeat treatments may be necessary.
To get cat urine out of your carpet with an enzyme cleaner, blot all the excess liquid, and liberally apply the enzyme cleaner. Let it sit for twenty minutes or more, covered, so the cat will not mark the area again. Aluminum foil protects the area from disturbance.
Soak up the excess cleaner and let air dry. If the urine stain is old, repeat this process a few times until the area is clean. This process can be used on mattresses and furniture, too.
If your mattress is older and you can't seem to get rid of urine or other stains no matter what you do, it may be time to learn how to dispose of a mattress. Most mattresses last from eight to ten years but if it's time, give it up. Several organizations will take your mattress, or you can donate it for recycling.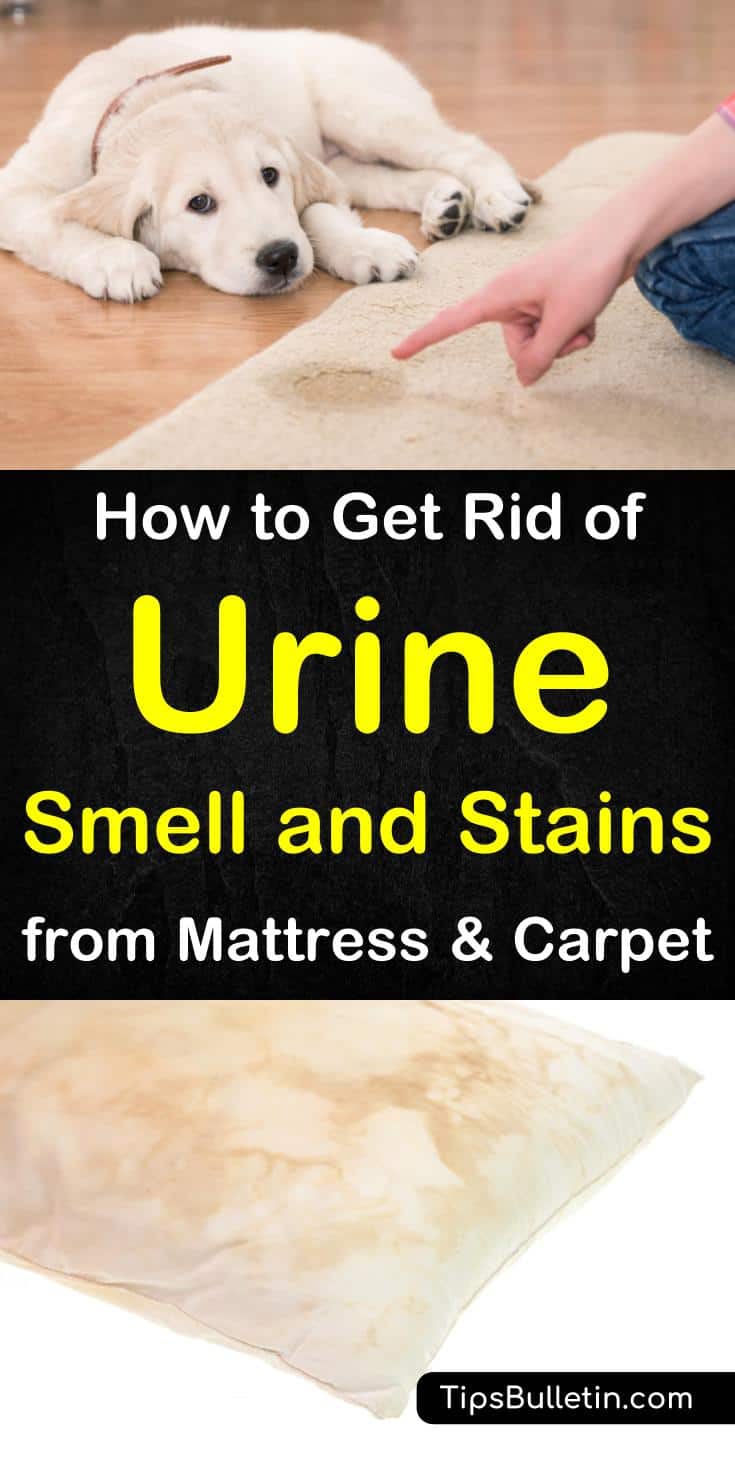 Did you find our article about removing urine smell and stains from carpet helpful? If so, please share these tips for getting rid of urine stains and smells from your mattress on social media.