Wicker furniture is a popular choice for indoors, as well as outdoors. High-quality wicker furniture is comfortable to sit on, looks great, and lasts for several years, but it requires proper maintenance. Wicker is not something that you just cast aside and forget; you need to learn how to clean wicker furniture, so it lasts for years to come.
Regular cleaning is part of the required maintenance, in addition to a more in-depth cleaning twice a year. Although wicker offers an attractive and sturdy design, which makes it all the more popular is the vast selection of patterns and colors. All the choices allow you to quickly find just the right look for the room you are decorating.
Learning how to clean wicker baskets and furniture is vital as wicker is a natural product. The weave of plant fibers and reeds require specialized care, but while some cleaning methods work on all types of wicker furniture, others only work on specific pieces.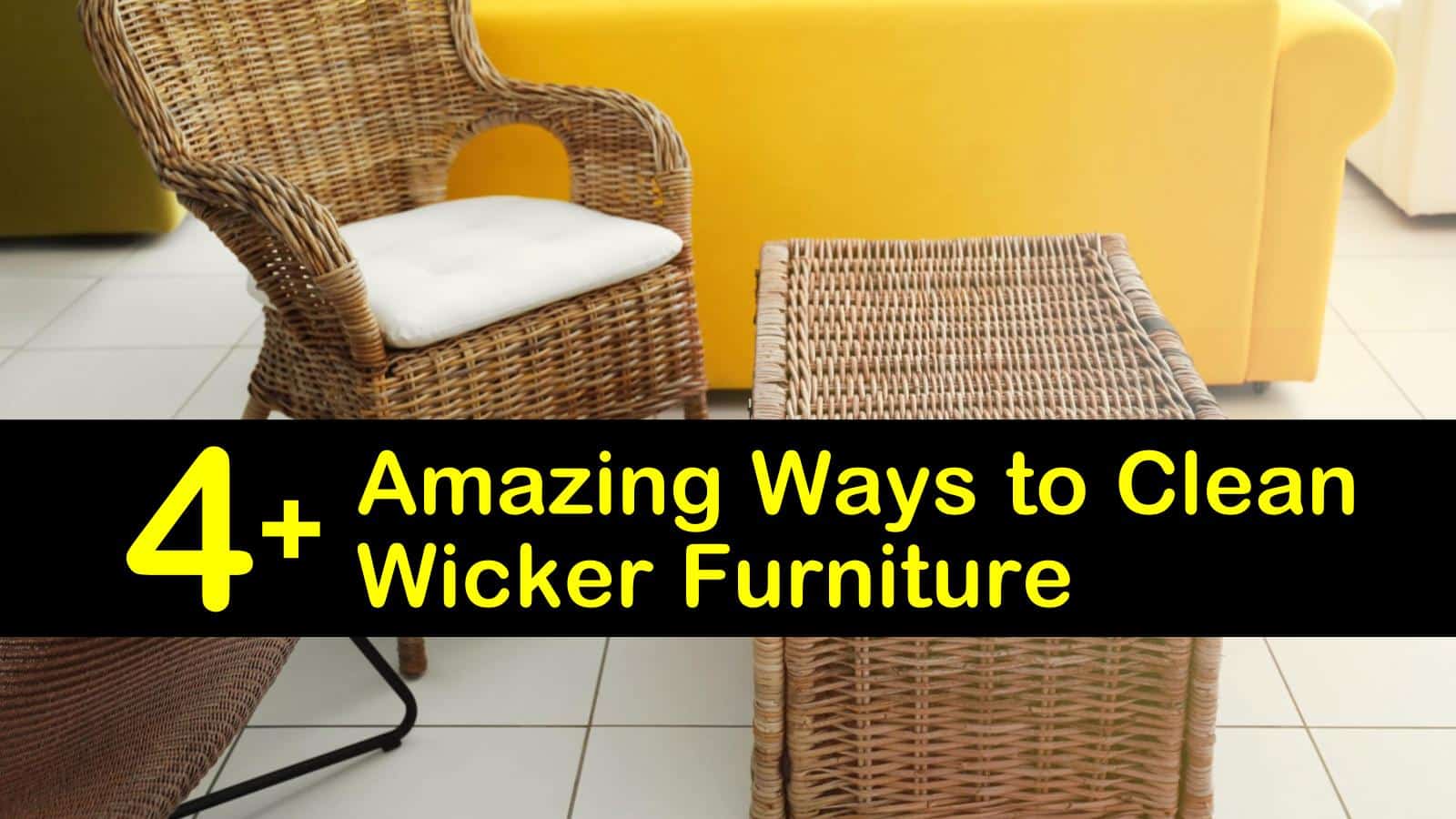 Surprising Tips about Cleaning Wicker Furniture
Regular cleaning of wicker furniture is necessary to keep it looking its best. Cleaning wicker furniture with a microfiber or feather duster works, but so does a soft cloth or your soft brush attachment on your vacuum cleaner. If using your vacuum, use the lowest suction setting to prevent any damage.
Ideas for How to Clean Wicker Baskets and Furniture
Before cleaning wicker baskets or furniture, remove any cushions, pillows, liners, or other fabric pieces. These require separate cleaning. Cleaning for these items varies by manufacturer, so read the care labels and follow the instructions.
Regular cleaning involves dusting the furniture. For light dust, a quick wipe down with a soft cloth or duster is perfect. More substantial dust buildup requires a little more work. A soft bristle paintbrush removes massive dust buildup.
To reach inside the crevices, use an old toothbrush. A cleaner of one part bleach and one part water also works to kill mold and mildew. For deeper cleaning, wipe down the basket or furniture with a damp rag.
To remove mold and mildew, mix vinegar and water in a bowl, dip a towel into the solution and wipe down the wicker. Use a clean damp rag to rinse the wicker from all vinegar residue.
Allow the basket or furniture to dry in the sun or use a hairdryer to speed up drying time. Replace the cushions, pillows, liner, or other fabric pieces.
If your pillows and cushions need some attention, you can take care of cleaning outdoor cushions with vinegar and water, as well. Use this recipe in a spray bottle and spritz pillows.
Wipe the cushions with a sponge, paying particular attention to stained areas. Let the pillows air dry after cleaning.
Cleaning Wicker Furniture for the Outdoors
For regular cleaning of outdoor furniture, use a sponge or cloth to apply the cleaning solution. For stains and the various nooks and crannies that all wicker patio furniture has, use an old toothbrush or a similar smaller soft scrubbing brush. Cleaning helps keep spiders off porch or patio, too.
Most types of outdoor furniture respond well to good old soap and water. Clean lawn furniture by combining the dish soap and warm water in a bowl to create a sudsy solution.
Dip a cloth or scrub brush into the soapy water and scrub or wipe down each piece, being sure to clean the underside as well. Rinse suds off with a garden hose and then allow furniture to dry in the sun.
Never store wicker in direct sunlight as fading occurs. If mold or mildew is present, add one cup of vinegar to the all-purpose cleaner. For set-in dirt, use a handheld or full-size steam cleaner with a tool attachment.
When cleaning, make sure you clean every part, including nooks and crannies. Dry the wicker with a hairdryer to prevent it from bending or deforming.
Best Way to Clean Different Types of Wicker
Synthetic wicker, also known as PVC or resin wicker, is easier to clean than natural wicker, so grime doesn't do as much damage. Rain washes away most dirt and debris, but never cleans underneath the chairs or in the overlapping weaves.
When cleaning synthetic wicker, don't be afraid to use some elbow grease, as it's not as fragile as natural wicker. Remove all loose debris with a soft bristle brush. Use a sponge or scrub brush dipped in a soapy solution to scrub away stuck-on grime.
Rinse clean with a hose, making sure to spray from various angles to get any dirt or pollen collected in the weave. To clean rattan, which is similar to natural wicker, make a bubbly solution using dish detergent and water. Agitate the water, so plenty of bubbles form.
Wipe the rattan down with the bubbles only as this cleans without getting the rattan too wet. Use a toothbrush and bubbles to clean the crevices and cracks. To prevent damage to rattan wicker, dry it with absorbent towels.
Best Way to Clean Indoor Wicker Furniture
Remove dust from your wicker furniture by vacuuming with a dust attachment tool. Create a cleaning solution by mixing one gallon of water with two tablespoons of ammonia. Dip a towel into the cleaner and wring out any excess liquid. Wipe down the furniture with the cleaning solution and then rinse by wiping down again with a clean, damp cloth.
Use absorbent towels or a hairdryer to ensure your furniture is dry. If the wicker is wet for a prolonged period, the fibers become soft and limp, which hinders your ability to use the furniture as intended.
Control humidity indoors as much as possible. In drier climates, use a humidifier to prevent cracking or drying. For humid environments, use a dehumidifier and place furniture in a room with excellent air circulation.
What You Need to Know about How to Clean Wicker Furniture
Pressing too hard while cleaning the slats of your wicker furniture increases the risk of breaking it. If you discover broken or damaged pieces, use wood glue to fix them. Allow the glue to dry before continuing any cleaning.
If you can't fix the damage, take it to a professional for repair. Avoid using anything harsh or abrasive on wicker, such as stiff brushes or steel wool. These products remove the protective finish of lacquered pieces and damage unfinished wicker beyond repair.
To prevent spotting or other deformities, never allow water to pool or thoroughly saturate natural wicker furniture. Use needle-nosed pliers or a pair of tweezers to remove large pieces of debris stuck inside the wicker. Wash up any spills when they occur using a damp cloth and a mild soap.
To protect your wicker furniture, use specially formulated wax, varnish, or lacquer. Linseed or lemon oil also protects wicker and restores its shine. For outdoor wicker use a lacquer designed for weatherproofing.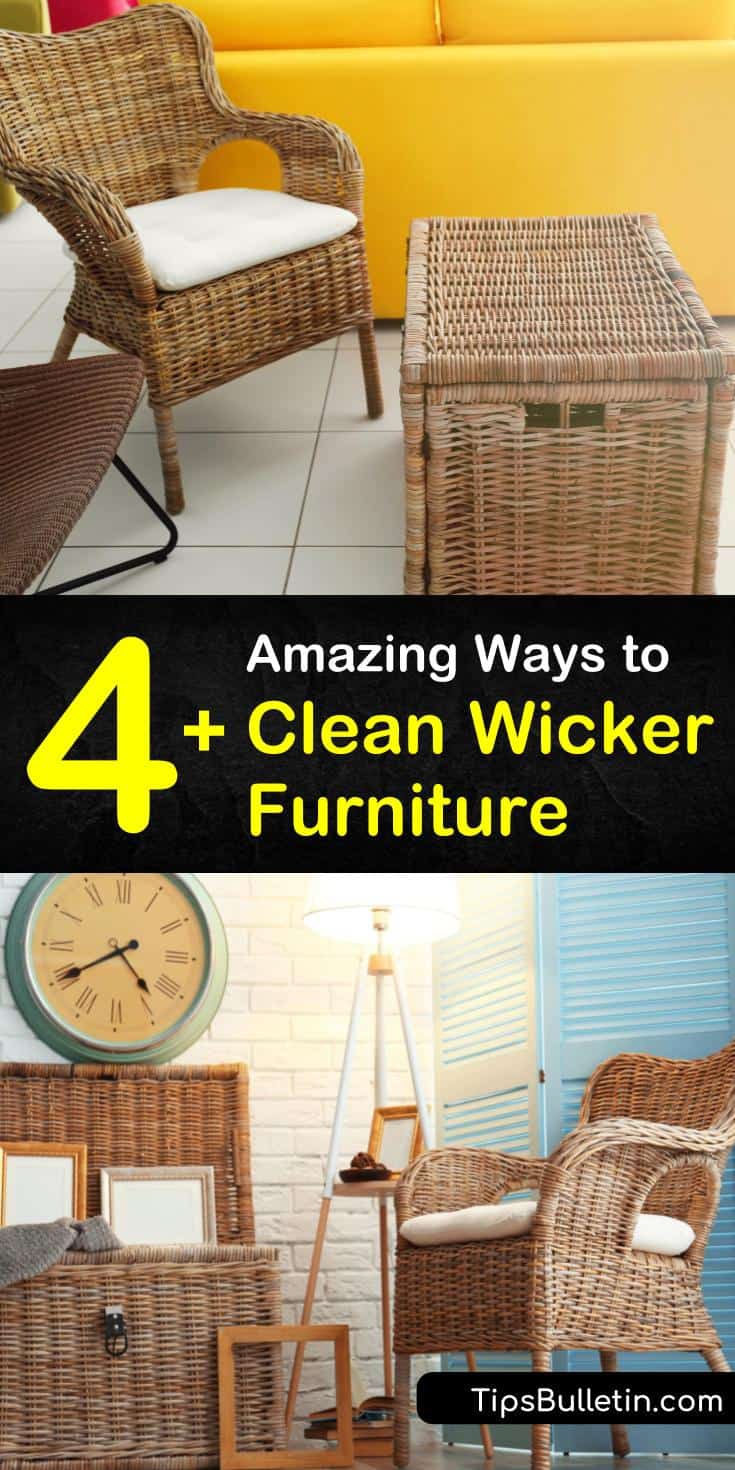 Thank you for reading our post about cleaning wicker furniture. If you found any of our wicker cleaning tips useful, please share our tips and recipes on how to clean wicker furniture on Facebook and Pinterest.