A mattress can last a long time if properly taken care of, but it will most likely also see its share of accidents. Some accidents can cause a foul odor, so you need to know how to deodorize a mattress to get it smelling good again.
After you have been using the same bed for a while, the surface of the mattress will collect dust, sweat, pet dander, and other allergens. Many of these contaminants cannot be seen but cause the bed to smell stale nonetheless. In the worst cases, contaminants can cause skin reactions and sinus problems which can interfere with your sleep.
Keep reading to learn seven tips to deodorize your mattress. It will help you and your family live healthier and sleep better.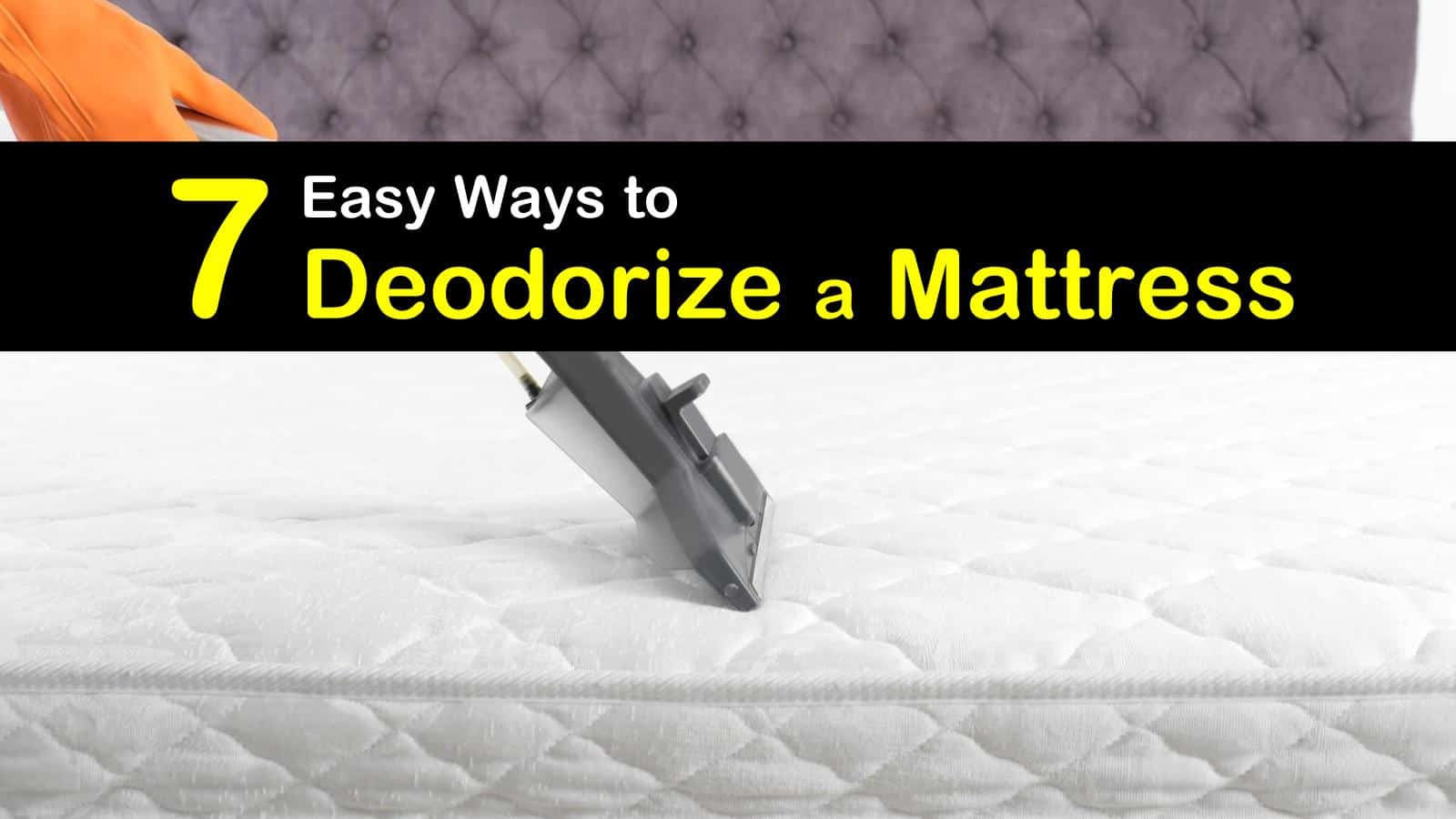 Amazingly Simple DIY Mattress Deodorizing Tips
We are going to share seven easy ways to deodorize a mattress. Each DIY tip will help you get vomit smell out of a mattress, along with musty smells from mildew and mold caused by bacteria.
How to Freshen Up a Mattress with Sunlight
If you are physically able, don't keep your bed in the dark; freshen up a mattress by dragging it outside on a warm sunny day, and it will be worth it. The sun is a natural deodorizer, and since it's outside, you can safely beat the dust, dead skin, pet dander, and dust mites out of it.
The sun will also act as a disinfectant and remove any microorganisms that might be present. The sun's light and heat will eliminate any fungus and molds, leaving you with a clean mattress and the easiest way to disinfect mattress.
Deodorize a Mattress with a Vacuum Cleaner
A significant DIY step in mattress deodorizing is stripping the bed of any sheets or pads and vacuuming the entire mattress very slowly using the upholstery attachment. Focus on the seams and folds of the mattress.
Take your time and use care to make sure you get every part. This simple step can remove dead skin cells, dust particles, dandruff, dust mites, and even bed bugs to give you a good mattress cleaning.
Clean Up a Mattress with White Vinegar
Put some white vinegar in a spray bottle for an excellent homemade mattress deodorizer. Use its light mist setting to deliver a small amount of vinegar to the entire surface of the mattress and let air dry. Do not soak the bed.
Flip the mattress over and repeat. It's also wise to spray the box spring while you're flipping the mattress. To maximize the deodorizing effects of white vinegar with this simple fabric refresher spray, treat your mattress once every two weeks.
You can dilute the vinegar with a small amount of cold water if you feel it's too potent or you can add a few drops of your favorite essential oil to mask the vinegar odor. It's never been easier to learn how to freshen up a mattress!
Baking Soda as Homemade Mattress Deodorizer
Baking soda, as used in a natural air freshener is a fantastic deodorizer, too, and if you have a smelly mattress, it can be your best friend. To deep clean an old mattress, sprinkle baking soda evenly over the surface and use a scrub brush to work the baking soda into the fabric.
If the baking soda is clumpy, break it up or push it through a sifter until you have a fine powder. Let the baking soda sit for up to 24 hours if you can to let the baking soda absorb the odors that may be lingering in the mattress.
Use your vacuum cleaner the same way you did in tip two to vigorously vacuum out all of the baking soda. Flip the mattress over and repeat.
Deodorize a Mattress with Essential Oil
Here's a great DIY fabric refresher along the lines of Febreze, but without any harmful chemicals. Essential oils can cause liver damage to cats though, so only use this if you don't have any animals that might sleep on the mattress.
Mix the ingredients in a spray bottle, and spray lightly over the surface of the mattress whenever you feel it needs refreshing. Use any essential oils that you like.
Citronella, lemongrass, and tea tree oil each have insect repellent properties. Eucalyptus has excellent germicide properties. Any of these are a perfect choice for use on a mattress and will also make fantastic a DIY shoe freshener.
Hydrogen Peroxide as a Homemade Mattress Deodorizer
Hydrogen peroxide is a powerful cleaner and disinfectant. To use it as a stain remover for your mattress, create a cleaning solution from the following ingredients.
Mix the three ingredients and dab on soiled areas using a white towel to prevent stains or ink from bleeding from the towel to the mattress. Keep dabbing and rubbing the stained area until removed.
If the area is wet, use paper towels to soak up excess moisture and lessen drying time. This cleaning solution is great to clean up urine stains and other bodily fluids, including blood.
Freshen Up a Mattress with Laundry Detergent
If you have a stain that's hard to clean up, like urine or blood, and none of the other cleaning tips have worked for you so far, it might be worth giving this tip a try.
Eather use tide or any homemade laundry detergent with baking soda and wisk the two ingredients together until they create a foam. Spread the mixture onto the stain and let sit until dry. Gently scrape away the paste with a spoon.
If any paste or stain remains, dab the area with a white cloth dipped in hydrogen peroxide. Dry the area with paper towels and allow the mattress to air dry.
A Few More Tips
Here are a few things to consider while your learning how to deodorize a mattress. These tips are not so much how to clean as what to look out for.
A memory foam mattress can hold heat and cause you to sweat more. These mattresses benefit from frequent treatments with baking soda.
A mattress pad can protect your mattress, but it will still collect dead skin and other allergens. Remove odors from mattress pads using these same tips as a mattress.
A pillow top mattress is a mattress with a built-in pad that will need treatment to remove allergens that collect in the pillow top.
More frequently, modern mattresses are designed to be waterproof. A waterproof mattress does not need a pad or other mattress protector and is the top choice for an environment that has small children and pets. A waterproof mattress will still benefit from regular treatments of white vinegar, though.
Even if you properly wash a feather comforter, the feathers will break down and drop piles of dust, creating a perfect home for dust mites to thrive. Consider this before you buy one.
If you buy a new mattress, you can help protect it by using a mattress topper and a mattress cover. These items are often covered themselves in a removable material that you can clean in a washing machine.
We hope you enjoyed our DIY tips for homemade mattress deodorizer. Many of these tips use ingredients that you already have around the house, and most of these can find more uses around the house like being a homemade couch cleaner.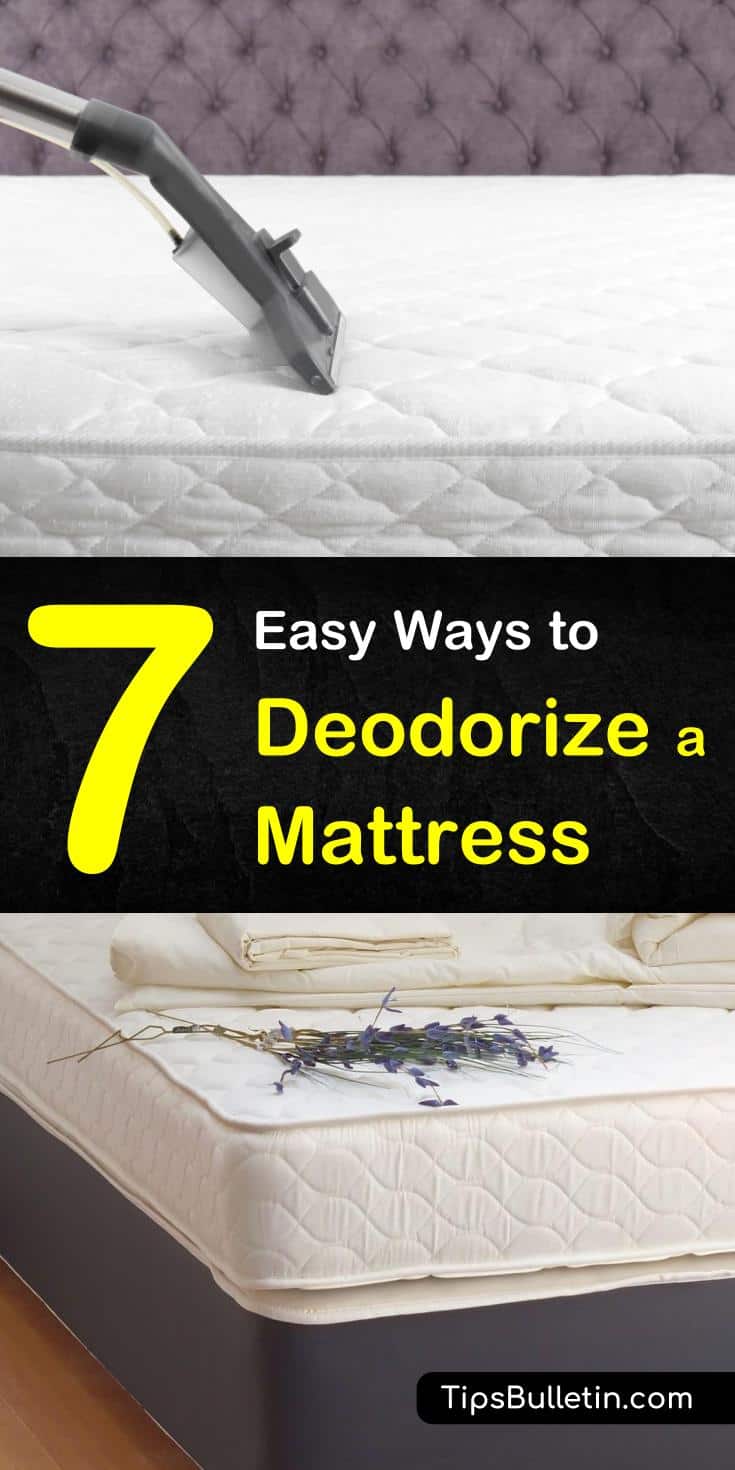 If you learned how to deodorize a mattress with our seven tips and recipes, please share the information on mattress deodorizing on Pinterest and Facebook.