Despite our best efforts, ink splotches and stains always seem to make their way onto clothing and other fabrics. Whether a pen has exploded at work or a toddler has stolen a permanent marker, ink stains are a pain. Discover how to get black ink out of clothes with these incredible tips and tricks.
Modern-day ink formulations are complex and usually include solvents, resins, dyes, and pigments. It used to be that a spritz of hairspray was the best remedy for any stubborn ink stain, but hair spray formulations today contain significantly less alcohol than they used to, and it's often not enough to budge permanent ink.
There are different types of ink, and you'll need to figure out what kind of stain you're dealing with to be successful. For example, water-based ink includes gel ink, fountain pen, and rollerball pen. Oil-based ink includes ballpoint pen ink, permanent marker, dry-erase, and printer ink. We have solutions for every stain.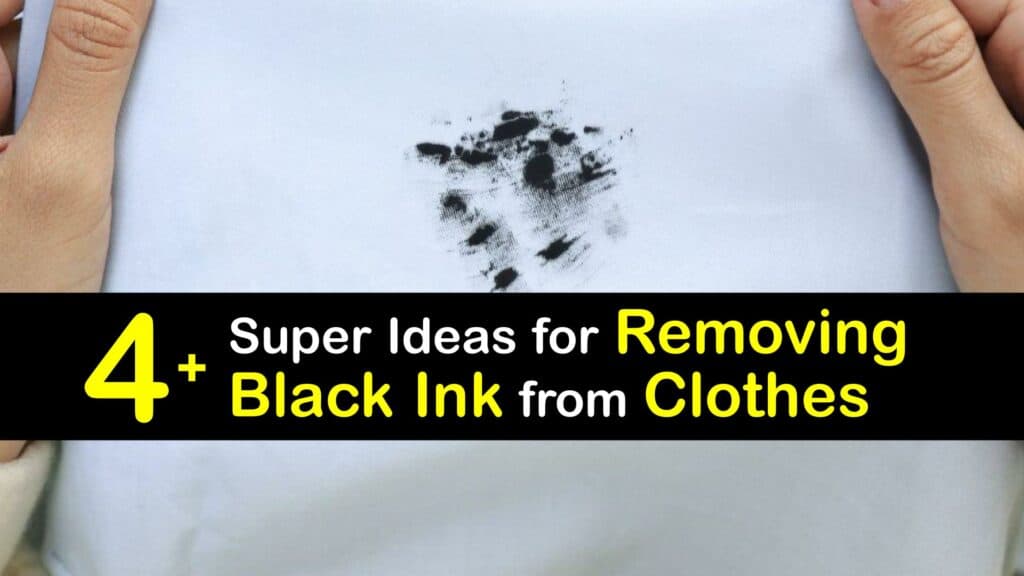 Removing Black Ink from Clothing
To learn how to get ink marks off your jeans and clothes quickly and easily, we have the best tips and tutorials to help you fight any stubborn stain. Discover how to identify and treat an ink-stained area, and learn easy techniques to level up your laundry game beyond baking soda.
How to Treat Water-Based Ink Stains
Water-based ink products are standard in classrooms and offices and include gel ink, fountain pen ink, and rollerball ink. These pesky stains show up where you least expect them, like shirt pockets and dress pants, and sometimes, ink smudges from your fingers even transfer to your clothing.
Removing black ink from clothing is easy with a bit of liquid laundry detergent and distilled white vinegar. Gently rub both sides of the stain with liquid laundry detergent and a clean cloth. Allow the laundry detergent to sit on the stain for ten minutes but not long enough to dry.
Pour equal parts filtered water and white vinegar into a bowl and soak the stain overnight. Rinse the stained clothing with warm water and throw it into the washing machine on the hot cycle.
Always air dry ink-stained clothing until you're sure the stain is gone; the dryer's heat bakes certain kinds of stains into fabric, making them much harder to remove.
How to Remove Oil-Based Ink Stains from Clothing
Oil-based ink includes everyday items like a ballpoint pen, dry-erase, felt tip pen, printer ink, and the dreaded permanent marker. These types of stains seem serious, but you can find out how to use alcohol to get ink stains off clothes to eliminate the stain for good.
Get a bottle of rubbing alcohol and a cotton ball; a sheet of paper towel works, too. Wet the cotton ball, blot both sides of the stain with alcohol, and let it sit for 15 minutes. Rinse the stain with hot water and repeat as necessary until the ink stain lifts from the fabric.
If you're out of rubbing alcohol, use a little hand sanitizer as a stain remover instead. Follow the same steps, and be sure to rinse with hot water. Ensure the sanitizer doesn't have dyes or moisturizers because those ingredients might further stain the fabric.
How to Get Black Ink Out of Clothes with Nail Polish Remover
Did you know it's possible to get black ink off clothes with a little nail polish remover? Most nail polishes are made of an oil-based polymer that requires a solvent to break down. Acetone nail polish remover is just the ticket for nail polish and oil-based ink stains, too.
Acetone is effective but tough on fabrics but should be used sparingly. Apply your preferred nail polish remover to a cotton swab or piece of paper towel and gently blot the pen ink stain.
The nail polish remover melts the ink particles into a soluble consistency, making it much easier to wash out with hot water. Always do a spot test to ensure there's no fabric discoloration.
How to Remove Black Ink from Clothes with Milk
Believe it or not, using milk on ink stains has been recommended for over a hundred years, and it does work. If you're curious how to get black ink out of clothes with a milk bath, stick around for this quick tutorial.
Find a suitable bowl, fill it with enough milk to cover the pen stain, and let the stained garment soak overnight. Milk contains microscopic solids that push stubborn pen ink particles out of the fabric and allow the ink to come off a little easier.
Rinse the clothes in warm water, and toss them in the washing machine as usual. Milk works well when working with an acid like vinegar. Add a little vinegar if you need an extra boost after the milk bath. The ink stain should completely vanish, leaving your favorite shirt looking refreshed.
Try a Bit of Bleach for Stubborn Ink Stains
Removing black ink from clothing doesn't have to be a chore. If you don't have time for lengthy pretreatment strategies, add a bit of bleach to your laundry.
Chlorine bleach provides the extra stain-fighting support you need when you've got tough ink stains on your best white shirt. Don't forget about your colors; try any variety of color-safe bleach to remove pesky permanent ink stains for good.
If a pen happens to go through the wash, you will also need to follow our ways to remove pen ink from the dryer drum or washing machine. Eliminating these stains will ensure that none of the ink will transfer onto your clothes.
We hope you liked these top tips for how to get black ink out of clothes. The best way to fight ink stains is to identify the kind of ink stain you have and respond accordingly. For oil based ink stains like ballpoint pen ink, printer ink, and permanent marker, try something with high alcohol content, like rubbing alcohol or hand sanitizer.
Use white vinegar and liquid laundry detergent or dish soap when treating water based ink stains like gel ink or fountain pen ink. Remember to wash with warm or hot water for ink stain removal, and don't put your stained garment in a hot dryer until the ink disappears completely. Follow these stain-fighting strategies, and you can tackle any ink stain.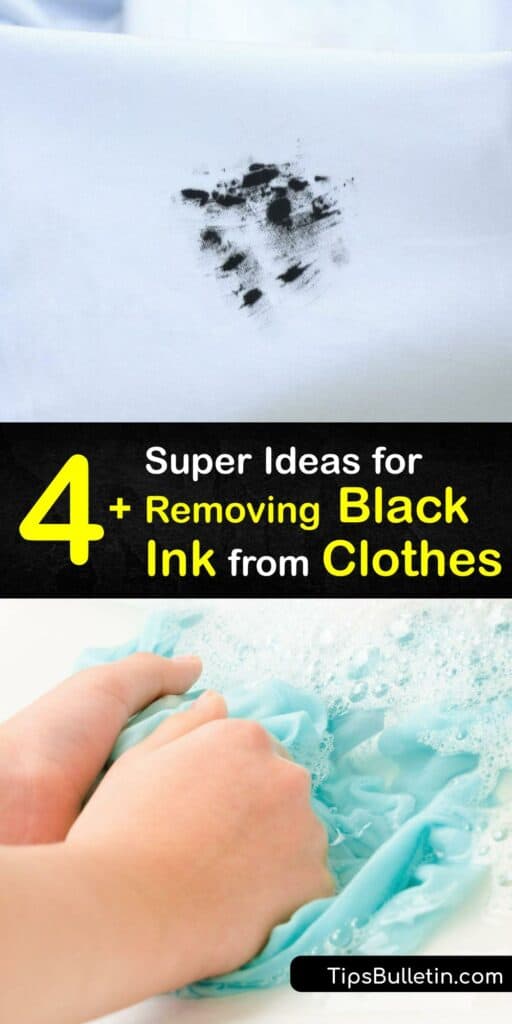 If you loved learning how to get black ink out of clothes, share this article with your friends on Pinterest or Facebook and help them stop ink stains, too.