Blood is a complex stain; it's made of liquids like water and plasma and contains solids like red blood cells, white blood cells, and platelets. These biological stains are challenging to get rid of and sometimes require a multi-step process. Learn how to get blood off walls safely and effectively with our thorough how-to guide.
The human body is a marvel. Your body makes blood, and your heartbeat creates blood pressure to push the blood to your vascular system, capillaries, arteries, veins, and vessels. This fantastic framework transports oxygen, nutrients, and blood to the cells in your body. It also means that a small cut has the potential to leave a large blood stain behind due to increased blood flow.
Removing the entire blood stain is important because lingering bacteria invites odors, unsanitary conditions, and bugs. When it comes to blood stains, the quicker, the better; old blood stains are more difficult to remove from surfaces than fresh blood. Remember to protect yourself with rubber gloves when cleaning blood as it contains harmful pathogens.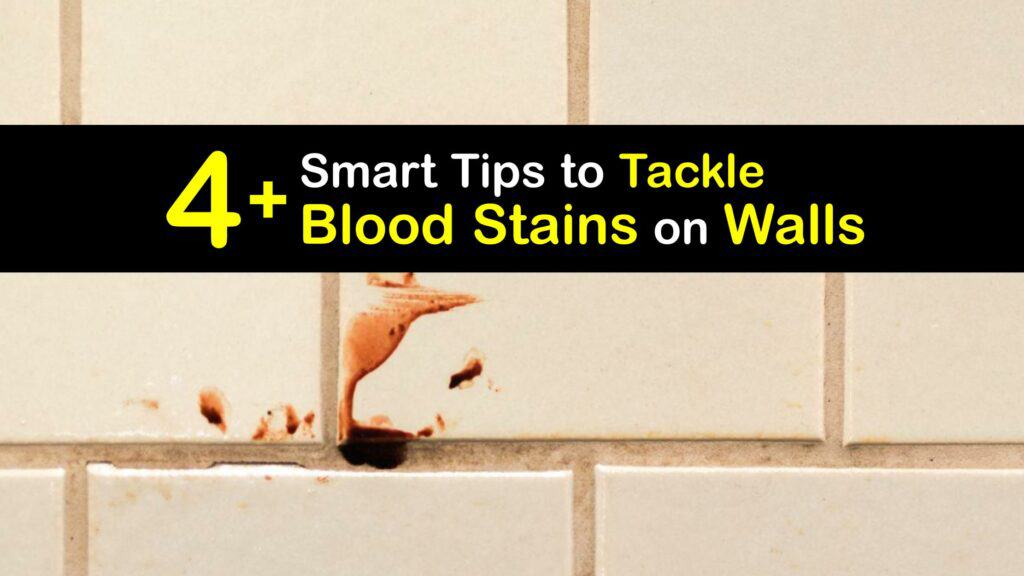 Discover How to Remove Blood from Walls and Floors
Blood stains on household surfaces are no joke and require certain precautions and steps to ensure everything is clean and sanitary. Our incredible tutorial explains how to remove stains and clean blood safely and effectively. We have some beneficial tips for cleaning dried blood from painted walls, and have included some terrific safety tips, too.
How to Get Blood Off Walls
Blood stains call for immediate action. The longer the blood stains sit, the more challenging they are to eradicate. As the blood stains dry, plasma proteins form a sort of connective tissue that binds to fabrics and porous surfaces. These elastic fibers become even more set in place with heat; always use cold water to deal with blood stains.
Begin your cleanup with a paper towel or rag; soak up as much liquid as possible without pressing it into the drywall. To make your own heavy duty wall cleaner, pour a few drops of liquid detergent or dish soap into a bucket of cold water and stir it. Add a tablespoon of white vinegar for extra antibacterial protection.
Next, get a clean cloth or sponge you don't mind disposing of afterward. Gently blot the blood on the painted wall, and rinse the cloth with soapy water. Continue until the wall stain disappears.
Detergent works well against other issues, such as pencil marks and grease stains, too. It's always best to tackle stains with something mild before moving on to more intense options.
Try this easy option to get blood out of a fabric couch, being mindful of the type of material you are dealing with.
Removing Blood with a Magic Eraser
The Mr Clean Magic Eraser is an excellent tool for removing the odd blood stain from your walls after a kitchen accident. There's no special trick for how to remove blood from walls with a Magic Eraser; wet the sponge and lightly scour the stain.
The Magic Eraser sponge is safe for use on painted walls, but the texture of the Magic Eraser is slightly abrasive and shouldn't be used on finished wood paneling or stained furniture. The Magic Eraser also works on other stains like permanent marker stains, Sharpie stains, and grease stains.
Bacteria and other harmful pathogens linger on porous surfaces like fabric and sponges. It's always best to dispose of anything used to clean blood; do not put the sponge back in the closet for later use.
Cleaning Dried Blood from Painted Walls
Removing dried blood from a wall with a painted finish isn't as tough as you might think. Of course, effective stain removal depends on the size of the stubborn stain and the materials you have available, but it shouldn't be a problem. Use this remedy to mix a vinegar based shower tile cleaning solution or overall bathroom cleaner just as easily.
Cleaning dried blood from painted walls or if you need to remove dried blood stains from carpet requires you to rehydrate the blood for easier removal. Start by gently scraping away the top layers of dried blood with a paint scraper or putty knife. Wet a paper towel with cool water and blot the dried blood until it liquefies.
Fill a bucket with cold water, baking soda, and vinegar. Avoid using warm water to clean painted walls that have dried blood because it makes the stain tougher to remove. Gently soak the blood out of the paint with a cloth or an old rag. Continue until the blood stain disappears and your walls look as good as new.
Choose an Appropriate Enzyme Cleaner
Discover how to get blood off walls with an enzymatic cleaner. Many professionals opt for enzyme cleaners to deal with biological spills and stains like blood because they're incredibly effective.
The proteins that make blood so tricky to get rid of are made from long chains of amino acids. Regular detergents have trouble breaking these amino acids apart completely; that's where a good-quality enzyme cleaner comes in handy.
Protease enzymes are the active ingredient in many commercial blood removal products. Protease enzymes break down the amino acid chains into smaller pieces that are easier to remove.
The downside of enzymatic cleaners is usually the price tag. The better a product is, the more it seems to cost. However, your peace of mind might be worth it.
Call a Bioremediation Specialist
As a general rule, blood stains larger than the size of a dinner plate usually require a bioremediation specialist to ensure thorough cleaning and proper sanitation. If your walls look like something out of Project Zomboid, you might need to hire a professional.
When you've exhausted your tips for how to remove blood from walls, contact your local bioremediation expert. Bioremediation specialists, also called biohazard cleaners, use microorganisms to remove pollutants like blood from your home. Many companies offer this service for a reasonable price, and it's worth it in many cases.
Once the cleanup is complete, consider repainting the area. Choose a good-quality primer and a new paint color to change the look of your room. Remember that plenty of industries can assist you in large-scale cleanup projects; you're not alone.
We hope you get some long-lasting value from our tips teaching how to get blood off walls. Depending on the circumstances, you might need a professional cleaner.
However, for minor blood stains caused by a nicked vein, blood vessel, or capillary while cutting onions, it's ok to use simple household items like a Magic Eraser, liquid detergent, or a homemade enzyme cleaner.
Always employ safety precautions when cleaning up other people's blood. There are many harmful pathogens out there, and sometimes people don't know they are infected by common diseases like hepatitis. Safely dispose of blood-soaked cleaning materials by sealing them in a leak-proof bag and placing them directly into the outside trash bin.
Blood stains on walls happen for a variety of reasons, and some of them are tragic. Don't be afraid to reach out to professionals or consult the National Institute of Cleaning if you feel overwhelmed. Often, we don't realize the true value of a helping hand until it arrives.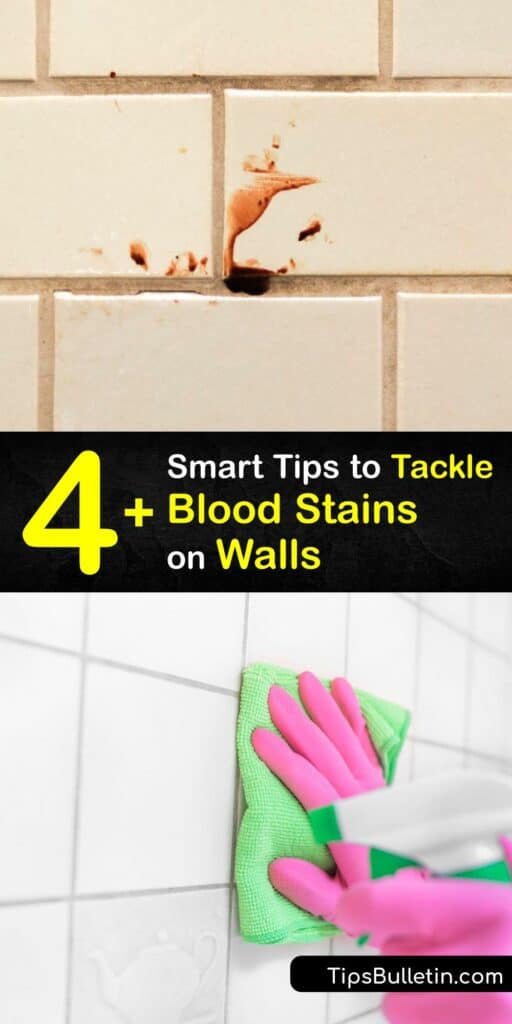 If you enjoyed our advice on how to get blood off walls, share these tips with friends on Facebook and Pinterest who want valuable cleaning strategies.