Learning how to get dog smell out of a couch is crucial for anyone with a canine companion. The living room is the center of the home, and the sofa is a central gathering location for family and friends, making it essential this area is clean and welcoming. The smell of dog urine or dirty dog is undesirable and off-putting.
A bad stench makes your sofa a miserable place to hang out. Fortunately, knowing how to remove dog odor from the couch ensures this isn't the case. It's possible to love and enjoy your dog without having a stinky home.
Getting dog smell out of the couch can be easy when you use tried and true home remedies and rely on supplies like distilled white vinegar, apple cider vinegar, and baking soda. Dog odor can be stubborn, particularly if you have more than one pet. Skip expensive store-bought items and rely on at-home solutions to keep your couch odor-free.
How to Remove Dog Odor From the Couch Quickly
Figuring out how to get dog smell out of a couch is tough for brand new dog owners and seasoned pet lovers alike. While dogs are wonderful pets who bring abundant happiness to their families, they tend to leave a scent behind.
If your puppy has potty accidents, or your older dog likes to play outdoors and track dirt inside, your couch has likely suffered some consequences. The smell of dog urine, poop, wet dog, or general dog smell is dirty and unappealing.
Thankfully, getting dog smell out of the couch is uncomplicated with budget-friendly home remedies. When foul odor takes over your living room and permeates your family's seating area, save a trip to the store and use supplies from your pantry to oust the stench.
How to Get Dog Smell Out of a Couch with White Vinegar Cleaner
Whether you want to remove an old urine stain or erase dog and cat pee smell, white vinegar is a fantastic tool for pet owners. Distilled white vinegar has long been utilized as a stain remover, odor eliminator, and brightener.
This natural substance contains acetic acid – a mild acid that can erode the bonds holding the pet smell in the fabric of your seats. Blend potent distilled white vinegar with antibacterial tea tree oil for a pleasant-smelling, highly effective pet deodorizer.
Blend the ingredients in a spray canister and shake. Saturate the smelly material, leave the liquid to sit for a few minutes, pat up any excess with a paper towel and dry naturally. Repeat as desired until the smell of the dog is replaced with a gentle tea tree scent.
Getting Dog Smell Out of the Couch
While commercial air fresheners are a common choice for getting pee off the couch cushions, they contain toxic substances that are unsafe for your dogs and your family. Essential oils are a safe and natural alternative to fragrance your home without harmful chemicals. From lavender to peppermint, there's an essential oil to suit your taste.
Choose the essential oils to suit your home aesthetic and create an aroma you love. Shake the oils and water in the spray bottle and spritz your sofa until damp. Let your couch air dry and repeat as needed.
Removing Dog Smell from Your Sofa With a Steam Cleaner
A thorough steam clean removes pet urine odor and cleans your sofa if the couch smells like dog and pet hair. An unpleasant smell is usually not far behind, whether your pet has had accidents, drooled, or left pet hair on your seating.
A steam cleaner uses hot steam to penetrate your couch's material, destroying odor-creating bacteria and lifting dirt particles. Always use a steam cleaner following the manufacturer's guidelines to avoid damaging upholstery.
If your dog is a particularly heavy shedder or produces a lot of dander, steam clean regularly to prevent the build-up of stench causing dirt in your seats. Carpet cleaning with an appropriate carpet cleaner is excellent if you steam clean your sofa and notice the smell lingering in other areas.
Get Dog Odor Out of the Couch Fast
If you prefer a natural upholstery cleaner, consider raw, unfiltered apple cider vinegar to eradicate the dog or cat urine smell. Since it's slightly acidic, apple cider vinegar erodes the bonds holding dirt to material, so it's quickly released. To avoid discoloration, mix apple cider vinegar into a simple solution before applying it to upholstery.
Shake the apple cider vinegar and water together, spray your sofa liberally, and allow it to air dry. Repeat until no pet smell remains.
Baking Soda Will Remove Dog Urine Smell From the Sofa
Baking soda is a household cleaning titan, so it's unsurprising that it's one of the quick ways to get dog hair off the couch. An unwelcome pet smell makes your home appear dirty and your sofa an undesirable place to spend time. Baking soda powder is a budget-friendly, readily available option to destroy pet odors.
Sprinkle baking soda powder over your seating area, paying extra attention to nooks and crannies where dog hair, dander, and the resulting pet smell may be hiding. Leave the baking soda on the fabric of your sofa for a few hours, ideally overnight.
Baking soda is an odor eater that gets to work absorbing the foul odor from your couch, so when you vacuum, the smell is eliminated, too.
Enzymatic Cleaner is an Odor Eliminator
Enzyme cleaning solutions are formulated to tackle the most challenging pet stain. An enzyme is a natural chemical that breaks down a specific substrate. In the case of enzymatic pet cleaners, these items have enzymes that break down the molecules known to cause pet odor, such as dog and cat urine, feces, and body smell.
Since enzymes are naturally occurring, they're safe to use around your pet. Be sure to read the product labels when shopping for an enzymatic pet cleaner to deodorize your sofa.
Take note of the surfaces the cleaner is designed for and the instructions for use. An appropriate enzyme cleaner works rapidly to eradicate the dog smell from your couch and is handy for accidents or deodorizing other areas.
Hydrogen Peroxide Pet Odor Remover Spray
Whether you have urine, pet, or poop smell, hydrogen peroxide is an excellent way to address a pet stain or odor on your sofa. Hydrogen peroxide is a brilliant tool for difficult pet odor due to its propensity to clean and deodorize.
Combine the power of hydrogen peroxide with dish soap and baking soda to craft this efficient homemade deodorizing spray for your couch.
After combining the ingredients, spray the mixture directly onto the sofa until the entire surface is damp. Use with care as hydrogen peroxide may brighten upholstery with deeper colors. If you're unsure how safe hydrogen peroxide is for your couch's color or fabric, perform a test patch in an inconspicuous location before spraying liberally.
If you're a canine lover, finding out how to remove dog odor from the couch ensures your home smells clean and inviting for your family and guests. While dogs bring much joy, they also bring questionable odors, and the sofa tends to be a magnet for these smells.
Sometimes, a deep clean or running the air purifier isn't enough. Sitting on a couch and being overwhelmed by the scent of dog urine or pet odor is unappealing.
Fortunately, keeping your couch clean is virtually effortless with a few clever home remedies. Skip expensive commercial cleaners and use everyday products like distilled white vinegar, baking soda, or your steam cleaner to say goodbye to a stinky sofa for good.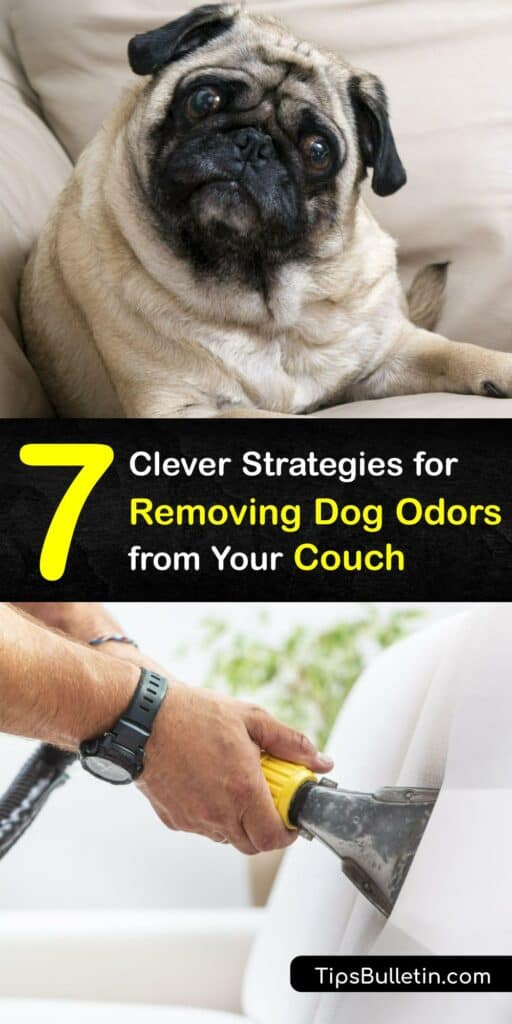 If you loved this article on how to get dog smell out of a couch, please share these brilliant tricks for getting dog smell out of the couch with your friends and family with pets on Pinterest and Facebook.