Getting food coloring off hands can be simple and cost-effective with everyday items found at home.
My Quick and Cheap Ways to Remove Food Coloring
Start by washing your hands with soapy water to tackle any fresh dye.
If the dye persists, use a dab of toothpaste or shaving cream and rub it in circular motions on the stains.
Apply a little lemon juice mixed with salt or vinegar to break down tougher stains.
For stubborn dye, create a baking soda and vinegar paste and apply it to the affected areas.
If all else fails, reach for a bit of rubbing alcohol or acetone-based nail polish remover to finish the job.
When I discover a food coloring stain on my hands, I first rinse them under warm water using regular dish soap. It's great at cutting through the dye, especially if the stain isn't set in yet. For tougher stains, I reach for toothpaste or shaving cream as they are mildly abrasive and often do the trick to scrub the dye away effectively.
If I find the stain is still holding on, lemon juice provides a natural acid that helps to break it down without being too harsh on my skin. Sometimes, if the stain is particularly stubborn, I'll make a simple paste with baking soda and vinegar, which usually gets the dye off after a few applications.
Lastly, if those methods haven't completely cleared the dye, I carefully use a bit of rubbing alcohol or acetone-based nail polish remover to erase any remaining traces. These methods work well and don't cost me a fortune since I use products that I already have at home.
We all have tubes of artificial food dye or gel food coloring in the kitchen cabinet to dye Easter eggs or add vibrant colors to homemade frosting. Unfortunately, the coloring tends to end up on your fingers, and a dye stain is tricky to remove from the skin, especially if you don't notice it right away. We put together a range of tips to show you how to get food coloring off your hands using simple solutions.
You use your fingers to carefully twist open the top of a tube of food coloring, and you set the cap safely to the side.
So far, so good. You proceed to add a few drops of the bright color to the bowl, gently replace the cap, and set the coloring on the counter. Only then do you realize that somehow you got food dye on your hands. We've all done it. It seems that no matter how hard you try, it's impossible to avoid getting this dye on your hands.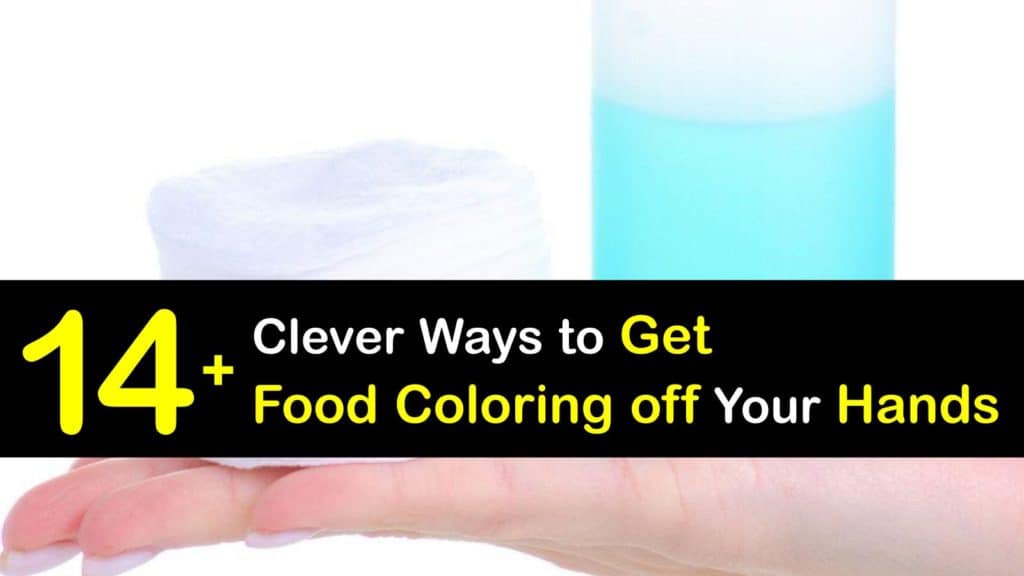 Ways to Remove Food Dye Stains from Hands
Color dyes are fun to work with, whether you use them as egg dye, hair dye, or food color, but they are also a pain if you accidentally get some on unintended areas, like your fingers.
The coloring quickly penetrates the skin, leaving behind a stubborn stain that's challenging to remove. While the best way to clean away these stains is to wash your hands, there are times you don't notice it until it's set into your skin.
Fortunately, there are many ways to get food colouring off your hands, even if you have sensitive skin.
The Basic Way to Remove Food Coloring from Hands
We don't often notice stains on our hands until the project is complete. However, removing the stain is easy if you discover food dye or hair color stain as soon as it happens. The simplest way to get food coloring off your hands or the way to get hair dye off your hands and fingers if the stain is fresh is to use warm, soapy water.
Apply a small amount of dish or hand soap to your hands and scrub them beneath warm water. Keep applying more soapy water to your hands to remove as much of the stain as possible.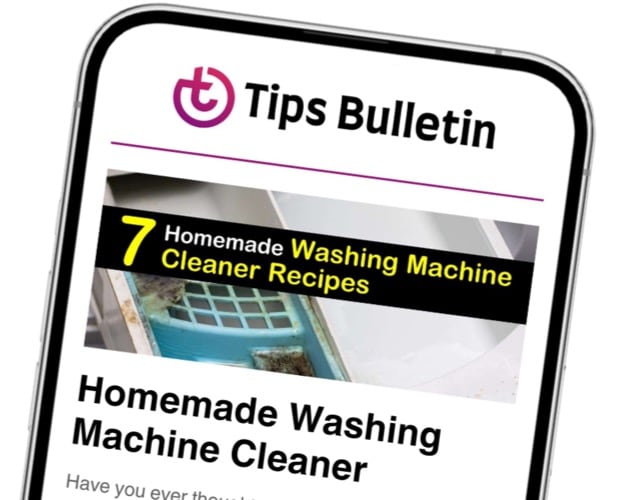 Finally, an email that Transforms Your Home.
Get the latest home and garden tips from our experts, delivered straight to your inbox.
Use a washcloth or soft-bristled toothbrush to gently work the soap into the dye stain, and then rinse the area clean with water.
Remove Food Coloring from Your Fingers with Shaving Cream
While we usually think of shaving cream as a foam to make shaving easier, this product has many other uses. It's also one of the best ways to remove food coloring from your fingers.
Apply shaving cream to the dye stain on your hands and rub it in with a circular motion to remove fabric dye from your skin. Let the cream sit for about half a minute, and wipe it off with a washcloth. Repeat the steps if any stains remain, and rinse your hands with clean, running water.
Get Food Coloring off Your Hands using Rubbing Alcohol
Rubbing alcohol is an inexpensive liquid with many purposes, including disinfecting, degreasing and cleaning surfaces, and removing ink or dye stains. Here is how to get food coloring off your hands or take hair dye off skin using rubbing alcohol.
Apply some rubbing alcohol or hand sanitizer to a cotton ball and dab it on the stain on your hand. Reapply more of the solution to a fresh cotton ball if necessary until all the dye is gone. Rinse your hands beneath running water and dry them with a towel.
Here is How to Get Food Coloring off Hands with Toothpaste
Toothpaste is essential to clean your teeth, but it's also useful for cleaning other surfaces, especially if it contains baking soda. Find out how to clean food coloring from hands and fingers using the tube toothpaste from your bathroom.
Use a non-gel or whitening toothpaste for optimal results. Apply the toothpaste to the stain and scrub it in a circular motion with your fingertips for two minutes.
Rinse the area beneath running water and check if the dye is gone. If it's still present, repeat the steps and wash your hands with water before drying them with a towel.
Using White Vinegar to Remove Food Coloring from Skin
White vinegar is a cheap, natural, acidic liquid that just about everyone has in the kitchen. It is necessary for pickling foods, works great for cutting grease, and removes food coloring from your fingers.
Pour some white vinegar into a container and dip the corner of a washcloth in the liquid. Rub it on your stained hand until the dye fades.
If the vinegar irritates your skin, consider diluting it with water. Use a fresh section of the cloth with more vinegar to avoid spreading the stain, and rinse your hand thoroughly after the stain is gone.
Here is How to Get Food Coloring off Hands with Lemon Juice
To use a natural method to clean your hands, try lemons, as they are the perfect alternative. Lemon juice contains citric acid that works wonderfully to break down stains, including a food coloring or hair dye stain.
Combine the lemon juice and salt in a small bowl to form a paste. Use your fingers or dab a cotton ball into the mixture and rub it on the stain with a circular motion. Keep reapplying the paste until the dye is gone, and rinse your hand under running water.
Gently Cleaning Away Food Coloring Stains with Baby Oil
If you've tried other strategies and the stain remains, use oil to break up the dye for quick cleaning. Baby oil is an excellent choice over harsh dye removers and is perfect if you have sensitive skin.
Apply baby oil to a piece of cotton and press it on the dye stain for half a minute. Apply more oil to a fresh cotton ball and rub the stain in circles, making sure not to spread it around your skin.
Repeat these steps until the dye is gone, and then rinse your hands with warm water to remove the oil.
Making a Homemade Paste to Remove Food Coloring
If the food coloring stain is set and soapy water doesn't do the trick to remove it, try making a homemade scrubbing paste by combining vinegar and baking soda. The baking soda's alkalinity and the vinegar's acidity work together to create strong cleaning action.
Pour a little white vinegar into a small bowl or container and shake just enough baking soda into the liquid to form a paste. Dip a paper towel into the mixture and use it to clean the dye stain from your hand.
Reapply more of the paste with fresh paper towels until the stain is gone, and rinse your hands with clean water.
How to Use Nail Polish Remover to Get Food Coloring off Skin
Another great liquid to remove food dye from the skin is fingernail polish remover. However, it's important to use one that contains acetone for the best effectiveness since it strips away paints and dyes.
Place a cotton ball over the top of an opened bottle of fingernail polish remover and tip the bottle over to soak the cotton.
Press the damp ball on the dye stain and rub with small, circular motions to prevent the dye from spreading further. Repeat the steps until the food coloring is gone, and then rinse the area with water.
Using Hydrogen Peroxide to Remove Food Coloring Stains
Although you may consider using bleach to remove stains, this chemical irritates and damages the skin. However, hydrogen peroxide is a mild bleaching agent that is safe to apply to the hands and works well to break up dye stains.
Soak a cotton ball or swab with hydrogen peroxide and rub it directly on the dye stain. Use freshly soaked cotton to clean the area until the food color is gone. Rinse your hands under cool, running water and dry them with a towel.
Getting Food Coloring off Skin with Salt
Salt crystals are great for gently scrubbing away stains, and combining salt with white vinegar creates a natural cleanser for removing food coloring. However, avoid this method if you have sensitive skin, dry skin, or cuts on your hand.
Pour a couple of tablespoons of table salt into a small bowl and add a few drops of white vinegar to make a paste.
Apply the mixture with your fingertips or a paper towel to the affected area and rub it gently to remove the dye. Reapply the paste as needed to remove the stain and rinse your hand beneath running water.
Using Cooking Oil to Remove a Food Coloring Stain
Oil works wonders at loosening up stains from ink and dye. While we prefer to use baby oil, this isn't a product everyone has in their home. Here is how to use cooking oil, like olive oil, to remove food coloring from your fingers.
Pour some olive oil on a cotton swab or ball and rub the stained area. Any cooking oil works, but we prefer olive oil since it's better for your skin.
Use a fresh swab or ball to apply more oil and rub the spot gently until the stain is gone. Rinse your hand under warm water and dry it with a hand towel.
Using Stronger Products to Remove Stubborn Dye Stains
If none of the simple methods work to get food or hair coloring off your hands, consider using commercial products. Many are available on the market that safely dissolve paint, stain, and dye from many surfaces, including your skin.
Commercial Dye Stain Removal
There are a variety of dye removal products, and it's vital to read the label for precautions and directions before using them on your hands.
Some good choices are Framar Color Killer and Ion Stain Remover, and they usually come in handy wipes for quick and easy cleaning.
Cleaning and Treating Your Hands after Removing Food Dye
Depending on the technique you choose to get food coloring off your hands, it's essential to treat them properly afterward. Some solutions leave a residue on your skin, and others have a drying effect.
After removing the dye from your hands, clean them with mild hand soap and warm water to remove residue left behind during the stain removal process, and dry them with a soft towel.
Acetone, salt, lemon juice, vinegar, and other solutions tend to dry out the skin, so apply lotion to your hands after they are clean.
Ways to Prevent Getting Food Coloring Stains on Your Hands
A cure to a problem is always prevention. Now that you understand ways to get food coloring off your skin after a mishap, it's a good idea to take preventative steps before working with dyes in the future.
There are two ways to protect your hands from getting food coloring stains. One is to apply a thin coat of petroleum jelly to your fingers to prevent the stain from absorbing into your skin.
The other is to put on a pair of latex or rubber gloves when handling tubes of food dye. It's also useful to spread out old rags or layers of paper towels on the work surface to avoid staining the table or countertop.
If you do get food dye on your hands, wash them immediately with soapy water to stop the stain from setting.
Easter egg dye, food coloring, and hair color stains are some of the trickiest to get off your skin, and these dyes inevitably end up on your hands while working with projects.
While soapy water often removes the color if you wash your hands right away, sometimes a different approach is required. Fortunately, all you need is some shaving cream, cooking oil, or another common household item to get your hands clean.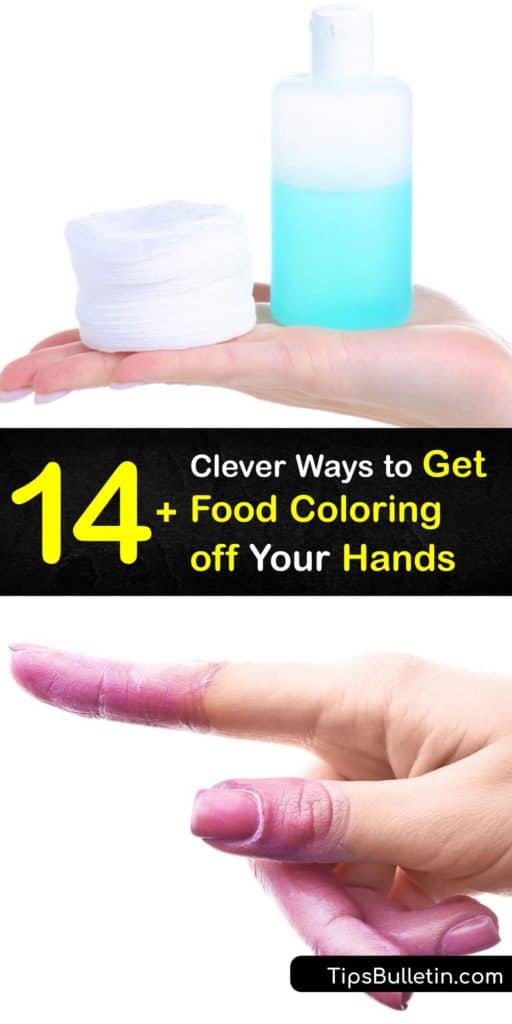 Now that you know how to get food coloring off hands so you can go about your day stain-free, why not share our food dye stain removal tips with your family and friends on Pinterest and Facebook?