As nasty as we think rats are, they are clever and industrious critters that can make the most of a bad situation. They are also mischievous and destructive, and you don't want them taking up residence inside your vehicle. Learn common signs of a rodent problem, how to get rats out of your car, and ways to keep them from returning.
The inside of your car is the perfect place for rodents to call home as they escape cold temperatures and predators. They are not concerned for your belongings as they settle inside the engine compartment, chew car wiring, and gather nesting material from the air filter.
Rats don't care if they nest in old or new vehicles as long as it's near a food source. It's essential to stop rats from chewing wires and avoiding car damage in the vehicle interior and engine bay.
Ways to Get Rats Out of Your Car
Car rats are a problem, especially if it's a heavy rodent infestation. Fortunately, there are simple ways to get rats out of a vehicle and prevent rodents from ruining the car engine. There are also solutions for a homemade bug remover for your car if you're dealing with a different type of infestation.
Do You Have Rats in Your Car?
It's easy to tell when you have a rodent infestation, but it's not always noticeable when you have just one or two rats living in your car. Learn what to look for to indicate a rodent problem in your vehicle.
Rat droppings are the most apparent symptom of rodents, but urine is another indication that leaves an odd smell. Look for claw or bite marks on objects. Other signs of rodent damage are leaves, twigs, and other rat or mice nest materials, chewed car wires, and random pieces of pet food and bird seed in the engine compartment.
Natural Ways to Get Rid of Rats in a Car
Many prefer to use poison or traps to eliminate rodents, but these are hazardous if you have children or pets. Find some quick solutions to repel rats at home and natural ways to get rid of rats in a car.
Rats hate the smell of certain plants, and growing them around the driveway where you park your car at night is an excellent way to keep rodents away from your vehicle. Lavender, mint, elderberry, and daffodils are plants that repel rats and mice.
Another natural way to deter rodents is to use peppermint essential oil, which leaves your car with a pleasing aroma. Apply a few drops of the scented oil to cotton balls and place the cotton inside your vehicle to keep the pests at bay. You can also set a minty cotton ball on the top of each tire before bed to prevent rats from getting into the engine.
Getting Rats Out of a Car With Traps
Traps are ideal for quickly getting rats out of a car without poisons and chemicals. Set up a trap with bait and find out where to place it for optimal results.
Set and bait a rat trap with peanut butter and place it on a front tire. Avoid using a mouse trap that is too small for rats. After dark, the rat emerges from hiding in search of food, discovering the peanut butter and leading to its demise.
Check the trap each morning and discard the dead rat appropriately. For a humane method to trap rats, consider a catch-and-release mouse and rat trap instead.
How to Get Rats Out of Your Car
Repellent sprays are excellent for getting rid of rats in a car engine, and there are a few different types. Explore how to prepare two rodent sprays to send rats looking for better places to nest.
An ammonia and vinegar spray is great for getting rats out of a car. It mimics the odor of predators and is easy to prepare as a spray. Combine a cup of ammonia and vinegar in a spray bottle and apply the liquid around your car.
Consider using essential oils as an alternative if you cannot stand the scent of ammonia and vinegar. Fill a bottle with a cup of water, add two teaspoons of eucalyptus, peppermint, or lemon oil, and spray the solution on the affected area.
Tips for Keeping Rats Out of Your Car
While there are commercial and natural ways to get rid of rats in a car, it's always better to keep them from entering your vehicle in the first place. Learn rat-repellent tips to ensure your car remains rodent-free.
Rats love to eat leftover fast food and other items. The best way to make your vehicle less attractive to rodents is to clean it regularly to remove the trash. In addition, keep the area around your car tidy by keeping lids on garbage cans, putting away pet food, and hanging a bird feeder as far away from your driveway as possible.
Rodents hate the light, so consider keeping rats out of your garage by turning on the light before going to bed to keep your vehicle well-lit. Check for droppings, chewed wires, and other rodent signs routinely, and use a mouse or rat trap or repellent as needed.
Rats are a common problem no matter where you live, destroying homes and cars while spreading germs and diseases. Luckily, traps and repellents get rid of rodents, and car cleaning and maintenance prevent rats from becoming an infestation.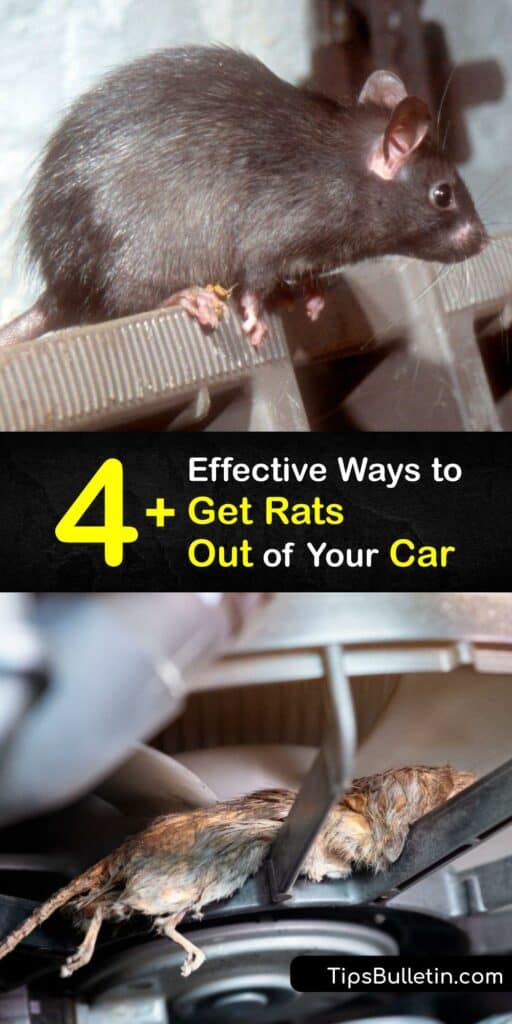 We hope that learning how to get rats out of your car keeps your vehicle rodent-free, and we'd love it if you'd share our tips for keeping rodents out of a vehicle with your family and friend circle on Pinterest and Facebook.