Have you ever tried to keep your toilet clean only to find you inadvertently made it worse due to blue staining? Many bathroom cleaning products are colored bright, green, or blue with artificial dyes. If this sounds familiar, it's wise to figure out how to get rid of blue stains on the toilet seat.
These colorants make it easy to spot areas where you've already applied the cleaner, yet they become a bother when they stain the porcelain of your toilet bowl, around the toilet seat, and inside your toilet tank. If you haven't used a blue-colored cleaning product on your toilet, the rings of discoloration could be caused by hard water buildup or rusting.
Blue marks on the toilet and the seat make your bathroom look shabby and uncared for. Learning how to remove blue toilet cleaner stains is vital to maintaining your bathroom. Discover simple hacks for getting rid of blue stains on the toilet seat to ensure the process is effortless.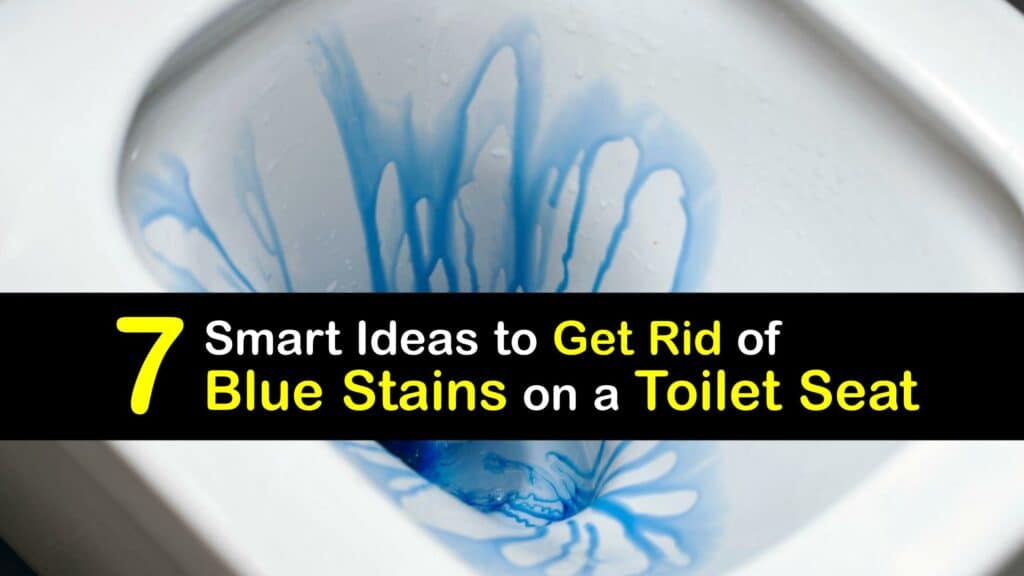 How to Remove Blue Toilet Cleaner Stains Fast
Explore ideas for ways to remove stains from porcelain toilet bowls to ensure your commode is presentable and hygienic for your family and visitors.
It's frustrating to try to clean your bathroom with the best intentions and end up with unsightly colored dye stains on the toilet. Try getting hard water stains off the toilet seat and bowl with white vinegar, bleach, baking soda, lemon juice, or a Magic Eraser.
What Causes Toilet Bowl Stains?
Dealing with a blue toilet seat or toilet bowl is inconvenient. There are several causes of blue or green colored blemishes inside your toilet bowl, around the toilet seat, and on the lid. Often, it doesn't matter how much time you spend scrubbing with your toilet brush; the stains won't budge.
Stains caused by artificially dyed toilet cleaners tend to be more vibrant. Hard water, copper, and rust spots are dull and often raised. Regardless of the cause, it's vital to eliminate the discoloration quickly and restore your toilet to look clean.
Blue marks on the toilet seat and lid are easy to reach. If the staining is inside the bowl, turn off the water to the toilet by screwing the stopper on the water inlet closed and flush until the bowl is empty so it's accessible for treatment.
How to Get Rid of Blue Stains on the Toilet Seat
Distilled white vinegar is excellent for everything from removing yellow colored sweat from bedsheets to getting blue stains off the toilet lid. The acetic acid in white vinegar breaks down the bonds holding the blue stain to the plastic of the toilet seat or the porcelain of the bowl.
While applying undiluted white vinegar to the toilet bowl is safe, mix it with water for use on the plastic seat and lid.
Measure and pour the vinegar and water into the sprayer, swirl to blend, and spray liberally over the blue discoloration. Leave the vinegar on the blemish for at least half an hour to allow the acetic acid to dissolve the pigment.
Wipe with a clean damp cloth and leave your toilet to dry. If your toilet seat is painted or stained wood, choose an alternate option, as white vinegar may destroy the finish.
Getting Rid of Blue Stains on the Toilet Seat
Traditional chlorine bleach has long been considered an apt bathroom cleaner ideal for removing a challenging blue toilet stain. Combine bleach and water to craft a potent cleaner to remove blue toilet rings.
Put on the rubber gloves and add the bleach and water to the basin. Soak a cloth in the bleach mix and apply it to the colored stains. Let the bleach sit on the toilet bowl or seat for at least ten minutes before thoroughly scrubbing the region and rinsing. Open the windows and work in a ventilated room while cleaning with bleach.
Baking Soda for Cleaning Green Stains off Toilet Bowls
Baking soda is a pantry staple and a perfect natural cleaner for removing blue stains from the toilet seat. Baking soda powder, or bicarbonate of soda, dissolves tricky stains without toxic chemicals. Clear the blue marks off your toilet seat by making a baking soda stain removal paste.
Add equal parts of baking soda powder and lukewarm water to a small bowl and stir until combined. Apply the paste to the dyed areas of the toilet seat, rest it for 20 minutes, and wipe away with a damp cloth. Repeat the baking soda paste treatment if the blue color is still visible.
Lemon Juice Erases a Stubborn Toilet Stain
Lemon juice is a safe and natural option to get blue cleaning solution stains off the toilet lid. Like all citrus fruits, lemon juice contains citric acid, which dissolves hard water residue, rust, or artificial colors to leave your toilet seat clean.
Apply undiluted lemon juice directly to plastic or use equal measures of lemon juice and water on wooden toilet seats. Rest the lemon juice cleaner on the stain for 30 minutes before wiping it with a damp cloth.
A Magic Eraser Lifts Dye Stains
A Magic Eraser is a clever way to clean blue toilet solution out of the bowl or off the seat through gentle abrasion. Magic Erasers are melamine foam blocks with hundreds of tiny air pockets. Check the eraser package to ensure it's appropriate for the material you plan to use it on.
Unwrap the eraser, dip it in water, and squeeze it a few times. Rub the melamine foam eraser back and forth over the toilet bowl ring until it's no longer visible. When you're unsure if a Magic Eraser suits the type of toilet seat you are cleaning, test it in a small hidden location first.
Stop Your Toilet Bowls From Turning Blue
Removing blue toilet cleaner stains is a hassle. Save time by avoiding stubborn stains on your toilet seat and bowl with simple techniques. Consider making one of the best homemade toilet cleaner without blue dye whenever possible. If you must use a colored toilet cleaner, apply it to the water inside the toilet tank, where it's diluted before it can stain.
Set up a cleaning schedule for your toilet. When dyes are allowed to sit, they sink in and bond with the surface, making them harder to remove. Regularly lifting the pigment from your toilet makes the task more manageable.
Did this article illustrate how to remove blue toilet cleaner stains? It's disheartening to clean your toilet only to find it stained bright blue.
Store-bought cleaners are convenient but have downsides, including toxic substances and unnecessary dyes. Use our uncomplicated tricks for dealing with stubborn stains on your toilet seats to make cleaning them up effortless.
If this article helped you understand how to get rid of blue stains on the toilet seat, please assist your friends and family with getting rid of blue stains on the toilet seat by sharing this info with them on Pinterest and Facebook.