Are you getting itchy and uncomfortable bites from sitting on your sofa? Fleas are an inconvenience for most pet owners. Though our four-legged companions are an endless source of fun and affection, the additional guests they transport into the house aren't always as great. Find hacks for how to get rid of fleas from a couch to take back your living room.
Your dog or cat might pick up fleas anywhere, from your backyard to parks or directly from other pets. Once they travel indoors, fleas infest your pet's hair and other suitable locations, such as soft furnishings and pet bedding.
Getting rid of fleas from a couch seems daunting for many people. Fleas burrow deep into the upholstery, laying their eggs and coming out to bite when a blood source is near. Left unchecked, a few fleas on your couch become a full-scale home infestation. Explore the best tips for how to remove fleas from a couch to oust these annoying insects without damaging your furniture.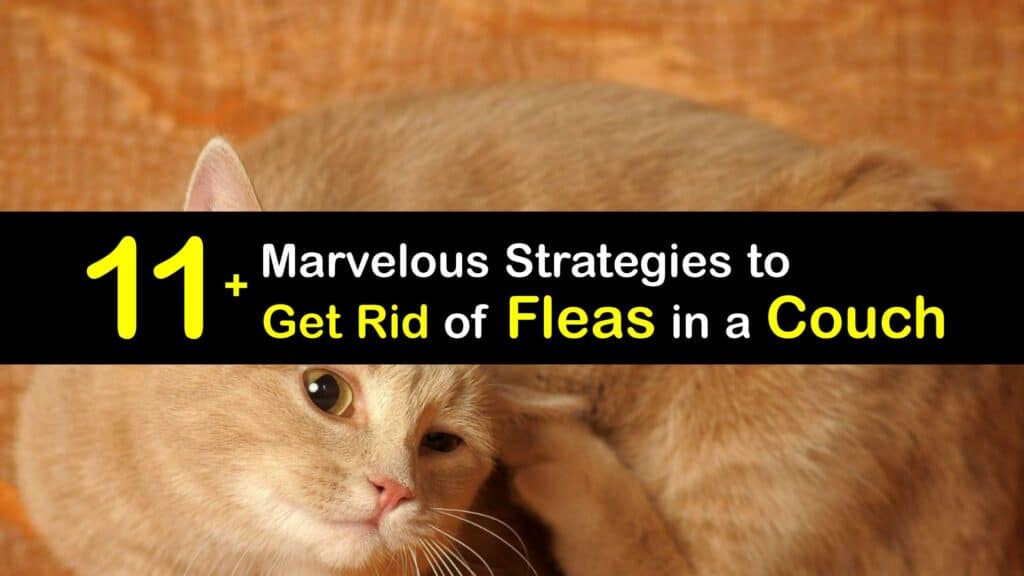 How to Remove Fleas From a Couch Quickly
Don't let getting rid of fleas from a couch be a source of stress. If fleas bite you and your family while you relax on the sofa, it's essential to begin pest control promptly. Though flea bites are not life-threatening, they are uncomfortable and could carry diseases or lead to flea allergy dermatitis.
Discover how to get rid of fleas from a couch with baking soda, dish soap, lemon juice, diatomaceous earth, DIY witch hazel spray, vacuuming, steam cleaning, or soapy water traps.
You'll also need to find ways to get fleas off your body as well. Follow our guide for an essential oil flea repellent for humans to ensure that all these nasty bugs are off you.
Signs of Flea Infestation
Understanding the indicators of flea presence in your carpet or furniture is crucial. Knowing the signs helps you identify a flea infestation in the early phases to treat it before it becomes a widespread problem.
Although having fleas feels embarrassing, it has no bearing on the cleanliness of your home. Most pet owners struggle with a flea invasion at some point, and even people who don't keep pets can be affected. Begin flea treatment when you notice fleas on your couch and quickly eradicate these nuisance insects.
Preparation for Removing Fleas From a Couch
A few basic preparations ensure your flea control is efficient and lowers the risk of the bugs returning. Wash fleas out of couch cushions on a hot water cycle to kill and clear away the bugs and their eggs. Collect any removable soft furnishings from your sofa, such as blankets or throw pillows and launder them.
Check your family pets for fleas and treat them if required. Getting fleas out of your upholstery or leather sofa is pointless if flea larvae from your pet immediately reintroduce them once the process is complete.
It's vital to note that the flea life cycle lasts a few weeks. Unless you eradicate every adult flea, egg, and larva, more hatch and necessitate repeat treatments.
How to Get Rid of Fleas From a Couch
There's a wide range of store-bought flea powders for treating upholstered furniture, yet most contain toxic chemicals. A box of baking soda powder is a cheap and readily available alternative to destroy flea eggs and larvae on your couch without bringing dangerous substances into your living space.
Pick up a box of baking soda from the baking aisle and sprinkle a fine layer over your couch. Leave the baking soda on the sofa fabric overnight to dehydrate flea eggs and larvae and prevent them from hatching.
In the morning, use your vacuum on a high suction to gather all the baking soda, dead eggs, larvae, and adult fleas. Repeat the baking soda treatment every two days until no signs of fleas remain.
Getting Rid of Fleas From a Couch Using Dish Soap
If you've dealt with fleas on your pet before, you might know Dawn dish soap is an adept flea killer. Pet owners often use liquid dish soap to kill fleas and the eggs on their pet's coats, yet many don't realize it also removes fleas in furniture.
The surfactant in dish soap coats the exterior of the fleas, suffocating them. Mix Dawn dish soap with water to make a DIY flea spray for the house that is safe and cost effective.
Measure the dish soap and warm water into the sprayer, close the lid, and shake it vigorously until combined. Spray the soapy water over all fabric or leather surfaces on your couch, leave it to sit for ten minutes, and wipe it with a damp cloth.
Choose a dish soap with no colorants to avoid accidentally staining your couch with the flea spray. Repeat the spraying every two days until the fleas are gone. It may be wise to condition your leather couch after using the flea spray to prevent drying.
Lemon Flea and Tick Home Spray
A lemon juice spray is the perfect approach if using a disinfectant spray for a couch to get rid of bugs that smells great is vital. The citric acid found in all citrus fruits, including lemons, kills fleas and their eggs due to its acidity. Pick up some fresh lemons, and make an all-natural flea spray for your couch that leaves it smelling great.
Quarter the lemons and fill the pan with water until they're just covered. Set the pot on heat, bring it to a rolling boil, and leave it to cool. Strain out the chunks of fruit and pour the liquid into a spray bottle.
Mist your sofa often to eradicate fleas. Lemon juice might lighten dark sofas, especially those in UV sunlight. Test the lemon treatment on a small patch before using it on your couch.
Diatomaceous Earth Is a Natural Remedy
Diatomaceous earth kills fleas naturally. It destroys fleas by piercing their rigid outer shell. The white powder is made from the fossilized remains of plankton, so it's safe for pets and people.
Wear a mask while working with diatomaceous earth to keep the sharp particles out of your lungs. Sprinkle diatomaceous earth over your leather or fabric sofa and leave it overnight. Vacuum away the diatomaceous earth powder in the morning and repeat the treatment weekly to eliminate fleas.
Witch Hazel Flea and Tick Spray
If you're searching for the best flea spray for getting fleas out of a leather couch, a homemade witch hazel-based treatment is a fantastic approach. Use this spray on couches, recliners, pillows, blankets, or carpets. Witch hazel is safe for upholstered and leather furniture.
Measure out and transfer the ingredients to the spray bottle and swirl to combine. Douse your couch in the witch hazel flea spray, and cover all surfaces. Lift removable cushions, spray them on both the front and back, and leave them leaned against the wall while both surfaces dry.
Repeat the spraying every two days until flea activity halts. Test the suitability of the spray for your sofa by applying a tiny amount in a remote region, waiting for it to dry, and checking there are no signs of discoloration or fading.
Killing Fleas by Vacuuming
Vacuuming is an ideal solution for cleaning dead fleas from a couch after using other approaches or to get rid of fleas. We traditionally use our vacuum for carpet cleaning, but most models come with an upholstery brush for furniture.
Spend time vacuuming every surface of your couch. Lift removable cushions to vacuum the edges and underneath, and use a thin attachment to get into cracks and crevices. Fit the brush attachment onto the hose of your vacuum cleaner and suck up adult fleas, juvenile larvae, and flea eggs from furnishings.
Seal your dust bin contents or the vacuum bag in another plastic bag and dispose of it outside to prevent fleas from escaping and reinfesting. Vacuum every day until you see a decrease in flea activity
Steam Cleaning for Flea Control
Steam cleaning is an uncomplicated way to disinfect fleas from couch upholstery. A steam cleaner uses high-temperature steam to penetrate deeply into the material and padding of your sofa and destroy fleas and their eggs.
Check your couch care instructions to ensure it may be safely steam cleaned. Plug in and fill up your steam cleaner according to the manufacturer's directions, and steam clean your sofa carefully.
Take off removable cushions and steam clean both sides to ensure no flea larvae are missed. It's wise to steam clean your sofa again in a week to prevent remaining fleas from reestablishing a population.
DIY Adult Flea Trap
Traps are a clever way to draw fleas from your sofa without worrying about fading. A basic dish soap trap won't harm your children or pets if they accidentally find it while it gathers fleas. Some soapy water, a bowl, and a lamp are the ingredients for an efficient and reusable homemade flea trap.
Mix the dish soap and water in the bowl and set the solution close to your sofa with the light shining on it. Fleas are drawn toward the light and the water, particularly overnight. They jump into the bowl, where they drown.
Check the soapy water trap each morning, empty the contents, and reset it. In addition to killing fleas, the soap trap helps you monitor the progress of your flea treatment. Fewer insects in the bowl indicate better flea control.
Commercial Pest Control Treatments
Hardware stores carry many products intended to kill fleas. There are several items to choose from, from flea powders containing potent insecticides to foggers and fumigation tools. Be sure whichever product you select kills immature fleas, adults, and eggs, to break the lifecycle completely.
Read the directions carefully and ascertain that the treatment is safe for the type of couch you have, whether upholstery or leather. Follow all safety precautions while using store-bought flea treatments to ensure the safety of your family and pets.
Tips to Prevent Fleas
The likely culprit for bringing fleas into your house is your pet. Invest in a flea treatment for your pet to keep the fleas on them and your sofa to a minimum.
Popular treatments include a flea collar, which contains chemicals to deter fleas from jumping onto your dog, or flea shampoo and a flea comb, which, when used, regularly kills fleas and their eggs on your pet so they don't spread to your furnishings.
Routinely vacuuming your carpets and furniture is one of the most convenient ways to reduce the flea population. Set up a schedule and clean your carpets and soft furnishings at least once weekly to collect any fleas and eggs.
Wash your pet's bedding frequently and pay attention to areas they prefer to hang out. If you're struggling with fleas on your sofa, they're likely in other places. Focus your cleaning and vacuuming in these locations to keep fleas under control.
Consider treating your carpets or fogging the entire building to eradicate all insects and prevent reinfestation of your couch.
After reviewing this article, are you confident about removing fleas from a couch? Fleas and bed bugs can live on a leather sofa even when the furniture is cleaned consistently. Bed bugs or fleas have undeserved stigma as they can take hold in even the cleanest environments. As pet owners, we do everything possible to keep our furry friends happy. A flea problem spilling over onto the couch is irritating.
There's no need to throw away your sofa if it becomes a hotspot for flea activity. Save time and money by using everyday items to get rid of fleas safely to make your sofa a pleasant place again.
If you benefited from this article on how to get rid of fleas from a couch, please aid your friends or family in getting rid of fleas from a couch by sharing it on Pinterest and Facebook.