Termites can cause extensive damage, but don't worry; there are effective ways to get rid of these pesky insects quickly and affordably.
Install bait stations using sugar and boric acid.
Use a bug zapper to attract and kill flying termites.
Plant termite-repelling plants like catnip and marigolds.
Apply boric acid powder to infested areas.
Dab orange oil in drilled holes in infested wood.
To tackle a termite problem with bait stations, I mix sugar with boric acid in equal parts and place it in a cardboard box near the termite activity. This mixture lures termites, and they bring the boric acid back to their colony, eliminating many termites over time.
I also set up a bug zapper in the affected area as it attracts and kills the flying termites with its electric pulse. It's quick and can reduce the number of swarmers buzzing around my home.
I like to surround my home with termite-repelling plants; this not only keeps my garden beautiful but also acts as a natural deterrent for future termite swarms.
Boric acid powder is a fantastic termite killer. I sprinkle the powder around areas with termite activity. As termites pass through the powder, they carry it back to their colony, where it acts as a slow-acting poison.
For more direct action, I drill holes into the infested wood and apply orange oil. The oil contains D-limonene, which is lethal to termites and their eggs, and repeated treatments help to penetrate deep into the wood and eradicate the colony.
Termites are a frequent household nuisance, especially in humid and warm areas. While flying, wood, and subterranean termites may appear troublesome to eradicate, they are destroyed quickly with the right tools. Learn how to get rid of flying termites with practical ideas to kill flying termites once and for all.
Several natural ways to get rid of flying termites are highly effective in removing this pest from your home and yard. Like carpenter ants, flying termites or termite swarmers target wood and are often mistaken for flying ants.
Termite colonies create billions of dollars in annual damage. As with a bed bug invasion, a termite infestation is an experience most homeowners hope never to have.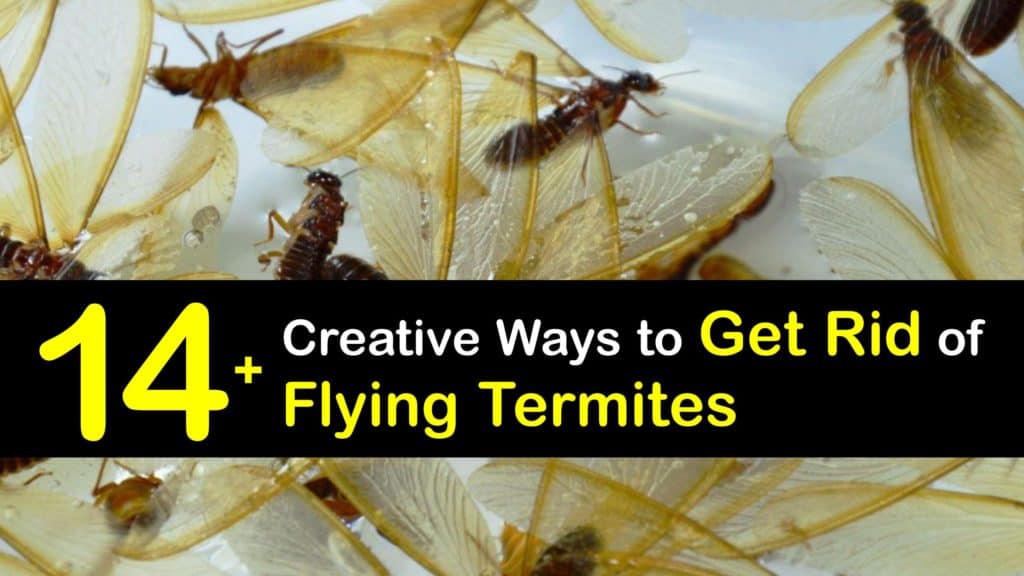 Getting Rid of a Flying Termite Problem
Subterranean termites, dampwood termites, and drywood termites are the three main varieties of termites, and each is a big threat to your house and property.
Flying termites, often known as swarming termites and confused with flying ants, are mature reproductive termites. Subterranean termite swarmers develop inside the colony of worker termites when the conditions are ideal.
They leave their underground homes to mate and launch a new termite colony. Seeing winged termites in a flying termite swarm is a sure sign that urgent pest control – specifically termite control – is necessary.
Regardless of which type of termite you have, it's critical to address your termite problem as soon as possible to avoid a termite infestation destroying your yard or home's structural integrity.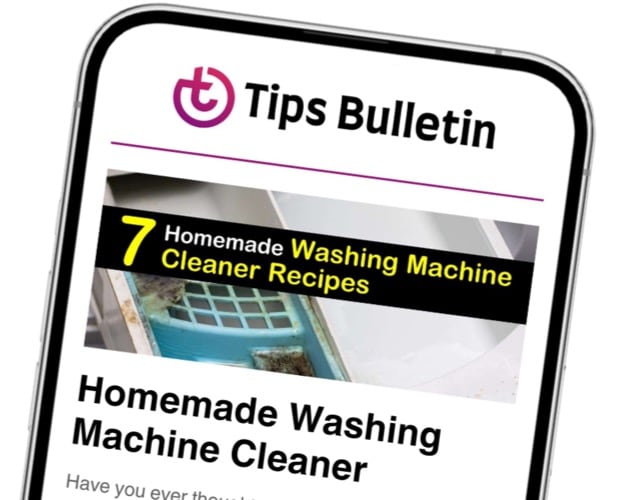 Finally, an email that Transforms Your Home.
Get the latest home and garden tips from our experts, delivered straight to your inbox.
A swarming termite group is a sure sign termite colonies are close by and posing a risk to your home. Fortunately, there are simple pest control measures to kill flying termites and natural ways to get rid of flying termites so you may kill flying termites and protect against invasion.
Kill Flying Termites to Protect Your Home
Termites of all kinds serve an essential role in ecology because they recycle wood into the environment. Despite this, their eating habits are disruptive and cause a slew of issues for homeowners.
Subterranean termites live in the ground and migrate to trees, fencing, and other food sources via mud tubes. Dead trees and wooden structures are home to drywood termites, whereas dampwood termites prefer live wood with higher moisture content.
The worker and swarmer termite, sometimes known as flying termites, are two species that commonly infiltrate homes. The flying termite is a flying insect with clear termite wings and dark brown or black coloration.
Flying termites are among the most prominent indications of termite infestation and indicate termite colonies are close. Termite droppings, often known as frass, are evidence of termite activity along with tiny wood heaps of pellets.
Subterranean termites leave mud tubes comprised of earth, wood, and residue around the base of your home. Bubbling or uneven paint owing to moisture inside the wall is another sign of termites. Thankfully, knowing how to get rid of flying termites and their colonies helps protect your home.
How To Get Rid of Flying Termites using Bait Stations
Bait stations are an innovative way to kill flying termites without spraying chemicals in your house. These helpful traps use sugar as bait to attract the bugs and poison them with boric acid, which they bring back to the termite colony, causing additional termites to die.
Fill the base of the cardboard box with a half and half mixture of sugar and boric acid, and mix thoroughly. Set the bait station close to the termite location.
If you're not sure where the termite colony is, construct a few stations and scatter them across the vicinity to provide plenty of opportunities for termite swarms to find the termite treatment and take the bait.
Try this recipe for homemade carpenter bee and termite bait to see how well it works for you. It may be best in conjunction with other pest removal solutions.
Kill Flying Termites with a Bug Zapper
Although it won't address the colony, a bug zapper offers some relief if a termite swarm of flying termites has invaded your home. Set up the bug zapper in the corner of a dark room. The termite swarmers are lured into the bug zapper, where a solid electrical pulse destroys them.
Natural Ways to Get Rid of Flying Termites – Plants
Similar to the concept of companion planting, certain plants help protect your yard when termites swarm. If you saw a winged ant, then realized it was a termite swarmer, or had a positive termite inspection, consider freshening up the garden.
Some beautiful plants have the bonus of being one of the best natural ways to get rid of flying termites, making them a perfect choice.
Plant these flowers to create a natural barrier around your home.
Kill Flying Termites with Boric Acid
In the United States, the subterranean termite has the largest nest of any insect. Their mud tubes connect their colonies to food sources, and these tubes are an easy way to recognize if you have a termite problem. Rapidly get rid of termites in the soil and flying termites using boric acid.
Note any termite activity in your yard, such as mud tubes or infested woodpiles. Cover these areas with boric acid, making sure to get into gaps and cracks as you sprinkle the powder. As the termites walk over the dust, it adheres to their bodies, and they die once they consume it.
This is also an excellent solution for getting rid of wood mites and other bugs.
Eradicate Flying Termites with Orange Oil
Orange oil treatment is a simple technique to kill termites. The oil contains D-limonene, which melts down the exoskeleton of termites and kills their eggs. This home solution is one of the best natural ways to get rid of flying termites.
Wearing the safety glasses, drill holes in the afflicted wood and squirt several drops of the orange oil inside to allow the oil to permeate directly to the places the termites are feeding.
Continue this process every several days until the flying termites are no longer present. The orange oil kills the flying termite, worker termite, and Formosan termite on contact and is effective in drywood termite colonies and dampwood.
Essential Oils for Killing Flying Termites
Many essential oils contain insect-repelling qualities, and they are great for keeping termites at bay. Cedarwood, orange, tea tree, clove bud, and garlic are good examples of oils termites dislike.
Depending on your preference, use these oils alone around your home and infected structures, or dilute them with distilled water to make a powerful anti-termite spray and DIY carpenter ant killer spray.
If you're unsure if the pest in your home is the winged ant or the termite swarmer, an essential oil spray works well for either, making it a practical and safe solution.
Get Rid of Flying Termites – Yard Work
What attracts flying termites and what are termites attracted to? The answer is excessive moisture, wood, or a mix of the two. Removing things that attract termites helps keep them out of your yard. The damp provides an environment for them to dwell in, and wood offers food. Minimizing these things means they are much less likely to invade your space.
Removing as many damp patches and wood constructions as feasible helps make your environment less appealing and are one of the natural ways to get rid of flying termites.
Termites Don't Like Extreme Temperatures
Extreme heating and cooling naturally wipe out a termite population, and employing heat to eliminate these pests is straightforward. All you need is a lot of water to eliminate termites in the yard.
If you see a termite swarm indicating you have a termite problem in your yard, boil water and carefully add it to a pot or watering can. Pour water onto any termite colonies o destroy them. After a week, repeat these measures to guarantee all termites are eliminated.
Kill Flying Termites with Neem Oil
Neem oil is a popular natural insecticide to kill the carpenter ant, bed bug, flying ant, and more. The oil is a naturally present pesticide derived from the neem tree and successfully destroys a termite colony.
Use a cotton ball to rub some neem oil over the affected area or squirt it into the wood. Coat the locations where the termites eat with the oil to entice them to consume it. Repeat the process weekly until the flying termites are gone.
Get Rid of Flying Termites in the Yard
Wood chips and shredded bark are the most frequent mulches homeowners use in their landscapes. Those items are made of plants containing cellulose, which termites love. To protect your garden from termite infestation, use inorganic mulch like gravel or rubber chips instead of plant-based products.
If you don't want your garden feature to become a termite target, use a non-wood construction material for yard structures – it also attracts carpenter bees. Choose concrete, vinyl, or metal for your porch or deck.
Landscape features come into contact with both the earth and your property. Termites would be delighted to reside in the undisturbed, confined soil beneath your hardwood deck and feed on it, and it's only a short distance from there for the termites to access your home.
Garlic Oil – A Natural Termite Killer
Garlic oil has insecticidal characteristics, making it ideal for eradicating termites. While this method takes longer to execute than other remedies, it is easy to set up and perfectly eliminates a smaller termite colony.
Fill a bottle with the water and place a few drops of garlic oil in it. Shake the container firmly and spray the infested areas. Add clove oil to the mixture to make it even more potent.
How to Get Rid of Flying Termites Using Parasitic Nematodes
Beneficial nematodes are small parasitic organisms that burrow into the bodies of termites. When they get inside, they emit a bacterium to kill the termites. This procedure takes just a few days and is simple to implement.
Follow the manufacturer's directions for particular measurements when introducing a beneficial nematode to contaminated soil or wood. Combine the parasitic nematodes with water and spray over the infected area with a spray bottle.
Use Diatomaceous Earth to Eliminate Termites
Diatomaceous earth is a natural powder that is non-toxic to children and animals. It kills termites by dissolving their outer shell, causing them to get dehydrated and die. Applying diatomaceous earth to flying termites will kill them.
Put on a mask before applying the powder, then spread a thin layer of the powder over the affected areas, paying particular attention to cracks and crevices, as well as any other areas where termites have been discovered. Continue this procedure every day until the pests are eliminated.
Naturally Remove Flying Termites with Cardboard Traps
Kill flying termites or target a termite swarm with cost-effective and straightforward cardboard traps. Prepare these traps and set them anywhere you see termite swarmers.
For one of the best home remedies for trapping termites, get strips of cardboard and pile them on top of each other to simulate damp wood. Set traps near regions where you suspect a termite colony is present and leave for a week. Take the cardboard to a safe location and burn it once the termites are caught inside.
Commercial Termite Treatments
Many home and garden stores have a wide range of commercial termite treatments. When using a commercial termite treatment, be sure to read any safety warnings and follow the manufacturer's guidelines so you achieve the best result.
Prevent Flying Termites Inside Your House
Termite treatment is not a pleasurable experience, so it's good to safeguard your home to prevent further termite infestation.
Inspect for any moisture near the foundation as you go around the exterior of your home. If you find decaying or damaged wood in your house, make sure it's free of termites and remove it as expediently as possible.
A professional termite inspection helps note any termite-infested areas and identify issues to be addressed for future prevention.
If you see a termite swarm, check that it is winged termites and not the flying ant. Termites and flying ants look similar and are sometimes confused, but they are not the same.
Both insects have four wings. The termite wing is uniform in size and length, transparent, and twice as long as the length of its body. The flying ant's front wings are larger than the back and more proportional to their bodies.
The discovery of a termite colony in your home or wooden structure, or the sighting of a termite swarm, is cause for worry. However, there are straightforward ways to get rid of these flying termites if you know what works to reliably kill flying termites. Your house will be termite-free in no time with these natural ways to get rid of flying termites.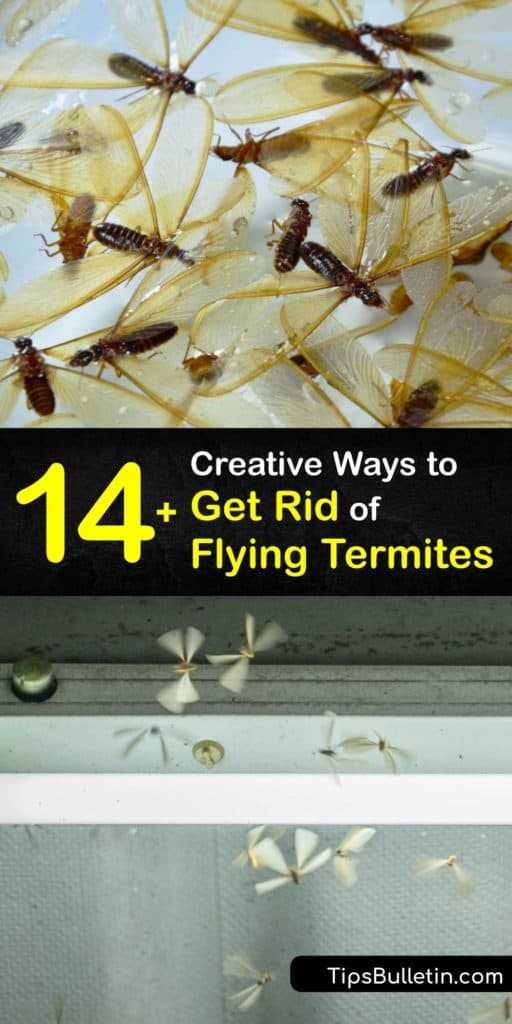 If you loved this article on how to get rid of flying termites, please share these creative tips on natural ways to get rid of flying termites with your friends and family on Pinterest and Facebook.