It doesn't take long after the year's mosquito eggs hatch that you become sick and tired of swatting at these pests. It's not enough that they buzz around our ears all night long, but they leave us covered in swollen, itchy bites as well. Learning tricks for how to get rid of mosquitoes inside the house is your best shot at ridding your home from them each year.
Every year, there are thousands of health reports of mosquito-borne illness here in the United States. Though they are rare, some of the most common are the Zika and West Nile viruses. There are even some more serious ones, like yellow fever and dengue fever, that are occasionally reported.
Whether they come from the Culex mosquito or the Asian Tiger mosquito, everyone should be trying to get rid of mosquitoes at home to protect themselves from these annoying insects. Keep reading if you're ready to get rid of mosquitoes inside and outside your home.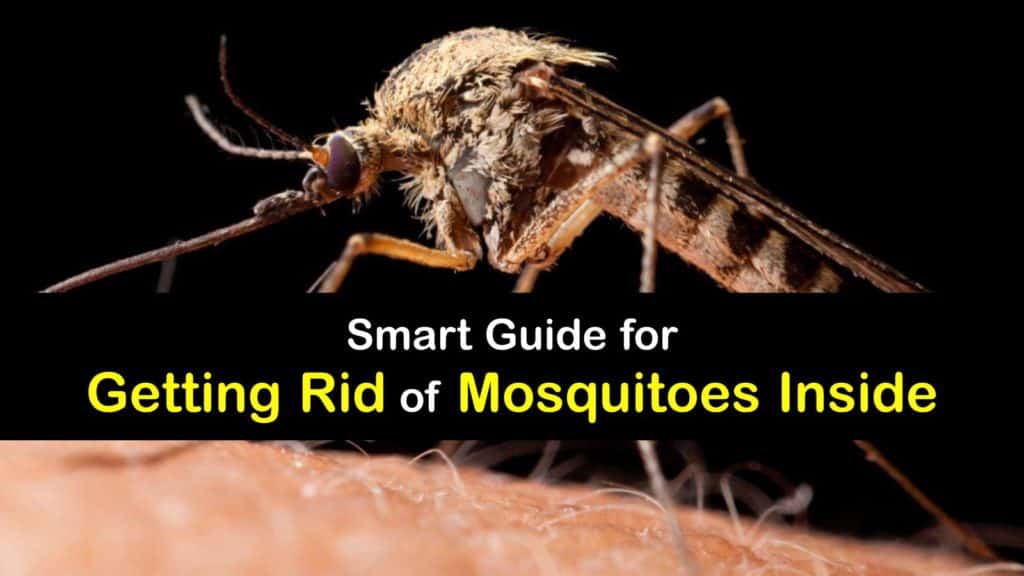 Ways to Get Rid of Mosquitoes Inside the House
It's one thing to keep mosquitoes away from patio areas and another trying to get rid of mosquitoes at home. Sometimes it feels like an impossible task. No matter what you do, they keep finding their way back.
Controlling mosquitoes isn't possible, but repelling them certainly is. This short article is full of tips to help you understand how to get rid of mosquitoes inside the house for good.
Before you get rid of mosquitoes inside, it helps to understand their life cycle. Mosquito breeding must occur before an adult mosquito can lay eggs, eventually turning into mosquito larvae.
A mosquito larva lives in water and molts several times before becoming a pupa. The young pupa does not feed during this stage but they become adults.
The mosquito is a small insect, with most averaging between 0.2 and 0.35 inches in length. Male mosquitoes do not need blood, unlike female mosquitoes, who require blood meals to produce their eggs. So, whenever you get swarmed, the females are looking for or have already found a drink and laid eggs.
How to Get Rid of Mosquitoes Inside the House
Repelling mosquitoes doesn't mean that you can shut your doors and windows and never have a mosquito bite. They may not be as small as bed bugs, yet these tiny insects can find their way indoors through even the tiniest cracks.
First, check all of the seals around your house. If any aren't completely sealed, you need to caulk them. Double-check that your window screens don't have any holes in them. This is helpful for against all types of bugs, from getting rid of basement crickets to spiders and ants.
What attracts mosquitoes to humans? Mosquitoes are attracted to carbon dioxide. Any amount that seeps out of your house draws them in. The best way to implement pest control is to eliminate their most likely chance of getting inside.
This is one way to get rid of gnats and flies in bathroom areas, too.
Using a Mosquito Trap
Once you've had all the gaps and holes inside the house filled, one of the best mosquito control tips is to use a mosquito trap, which can also work for many different types of small flies and gnats.
If any bugs make their way inside the house, the ideal way to kill mosquitoes inside the house is with a trap that lures them in and kills them. While there are some products you can purchase online, one simple DIY insect trap is to leave a cup of soapy water in the house.
Ultrasonic Insect Repellent
Another form of mosquito repellent to get rid of mosquitoes at home is an ultrasonic machine that repels all sorts of insects. The machine emits a sound at a frequency unheard by humans. Most bugs aren't willing to come anywhere near these devices.
Natural Insect Repellents
When most people hear the word insecticide, their minds naturally think of harsh chemicals. However, you can create a DIY insecticide at home without harmful ingredients.
Tea tree oil is a very effective product to repel mosquito bugs or try using apple cider vinegar mixed into a little soapy water.
To make this easy to use homemade mosquito repellent, mix one part tea tree oil, one part lemon eucalyptus oil, and ten parts witch hazel in a spray bottle. Spray the solution around parts of your home that have the most mosquito activity.
Chemical Insecticides
Some people prefer something with a little more bang for their buck and don't mind using chemical-based sprays. When using these types of products, use extreme caution.
Clear out the area that you're going to spray. Before handling it, make sure you wear proper attire, such as long pants, long-sleeved shirts, a mask, and closed-toe shoes.
Follow the directions and prepare the exact amount. Remove any sentimental belongings from the area and keep it well ventilated while you spray to ensure you aren't breathing in any chemicals. Once the spray is applied, wash your body and clothes thoroughly before touching anyone.
Getting Rid of Mosquitoes Outside
The mosquitoes inside the house are only coming from one place, and that place is outside. Mosquitoes depend on stagnant water to lay their eggs, so you might already be able to guess where their increasing numbers are coming from.
How to Get Rid of Mosquitoes at Home
Your best shot at keeping mosquitoes away is to eliminate any stagnant water that could be around your property. These areas include bird baths, planters, ponds, or old tires; pretty much anywhere a good amount of water can pool. When you remove the stagnant water, you remove their ability to lay eggs.
Some people have started to invest in Mosquito Dunks, which are placed in standing water where eggs are laid. Over about 30 days, toxins are released into the water, and the larvae are killed.
Outdoor Mosquito Zapper
If you and your family like to hang out on the back patio, it helps keep the mosquito numbers down if you have a bug zapper. These machines attract mosquitoes using carbon dioxide and UV light. Once the mosquito gets close enough, they get a zap and die instantly.
Burning Citronella
Citronella candles use a natural scent that most mosquitoes tend to steer clear of. Many homeowners burn them while they are outside to keep all sorts of pests away from the patio. When you are looking for ones to buy, try to find those that use a high percentage of citronella so they work the most effectively.
Candles that have large wicks are also ideal because they create more smoke, which is another smell that mosquitoes tend to stay away from. There are also Deet candles which work just as well.
You can also try burning coffee grounds you have left over from your morning wake-me-up. Coffee grounds repel mosquitoes and smell great to most people.
Thermacell Units to Repel Mosquitoes
Thermacell units are small devices that release mosquito repellent into the air and protect the space around you. Use them inside or out. However, be careful if you have cats because there is often a chemical used that is unsafe for them to be around.
Plants that Repel Mosquitoes
A natural and beautiful way to keep large numbers of mosquitoes away from your house is to plant species that work as natural repellent. Garlic, onion, basil, mint, and citronella plants are all good solutions to keep nasty bloodsuckers at bay and repel mosquitoes naturally.
Welcome Their Natural Predators
If none of the above repellent tactics are working for you, one sure way to keep the populations down is to welcome some of their top predators to your yard and have them do all the hard work for you.
Bats, birds, and dragonflies all love feeding on these insects. You can attract them by building bat houses, installing birdseed that specifically attracts mosquito-eating birds, or planting more vegetation around a small pond to attract the dragonflies.
Installing Mosquito Netting
A mosquito net is a great tool that you can use both inside and outside the house. Some people wrap it around their bed while they sleep at night, and others have it installed on their patios. Either way, if there aren't any holes, mosquito netting is a simple solution for someone trying to avoid any bug bites.
Hiring a Professional
Those who have tried all of the tips listed above and are still dealing with huge swarms of mosquitoes should look into hiring a professional. Many lawn care services spray before the breeding season starts. They can also help with regular fogging or improve your drainage.
Although many of these services aren't cheap, they are highly effective and what most people turn to when some of the less intense methods aren't helping.
Nobody likes a mosquito buzzing in their ear while they're trying to fall asleep. Even worse, nobody enjoys waking up in the middle of the night because they're unbearably itchy from dozens of mosquito bites. We hope these methods to get rid of mosquitoes inside have helped you eliminate this annoying problem.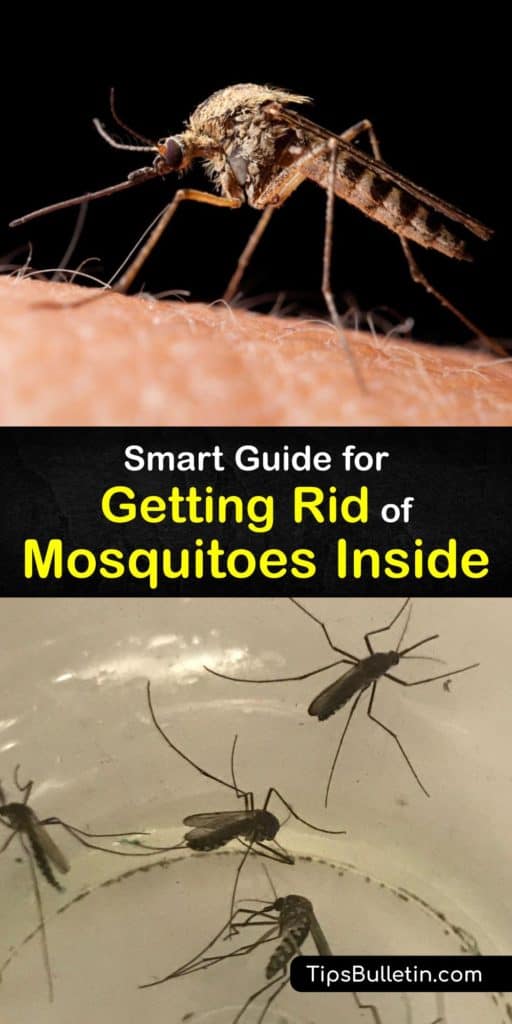 If this article explaining how to get rid of mosquitoes inside the house has helped you take back control of your home, share these simple DIY ways to get rid of mosquitoes at home on Facebook and Pinterest.