Nutsedge is a perennial grass-like weed found in lawns all across the United States. While this invasive weed prefers warm-season turfgrass, it's not uncommon to find it sneaking into those cool season yards, as well. No matter which season grass you have, the moment you see it, you want to know how to get rid of nutsedge. Fast!
Nutsedge plants come in two varieties: Yellow Nutsedge (Cyperus esculentus) and Purple Nutsedge (Cyperus rotundus). Even though both are difficult to remove without proper weed control products, the Purple Nutsedge variety is usually the most challenging to remove.
Due to the numerous nutsedge tubers strung together in a chain on the stems of a nutsedge plant, Purple Nutsedge spreads at an exponential rate. Your strategy for how to get rid of nutgrass depends on the type of nutgrass and level of infestation. Regardless of what the condition of your lawn is, or what kind of weed inhabits it, getting rid of nutgrass is as simple as following these simple steps below.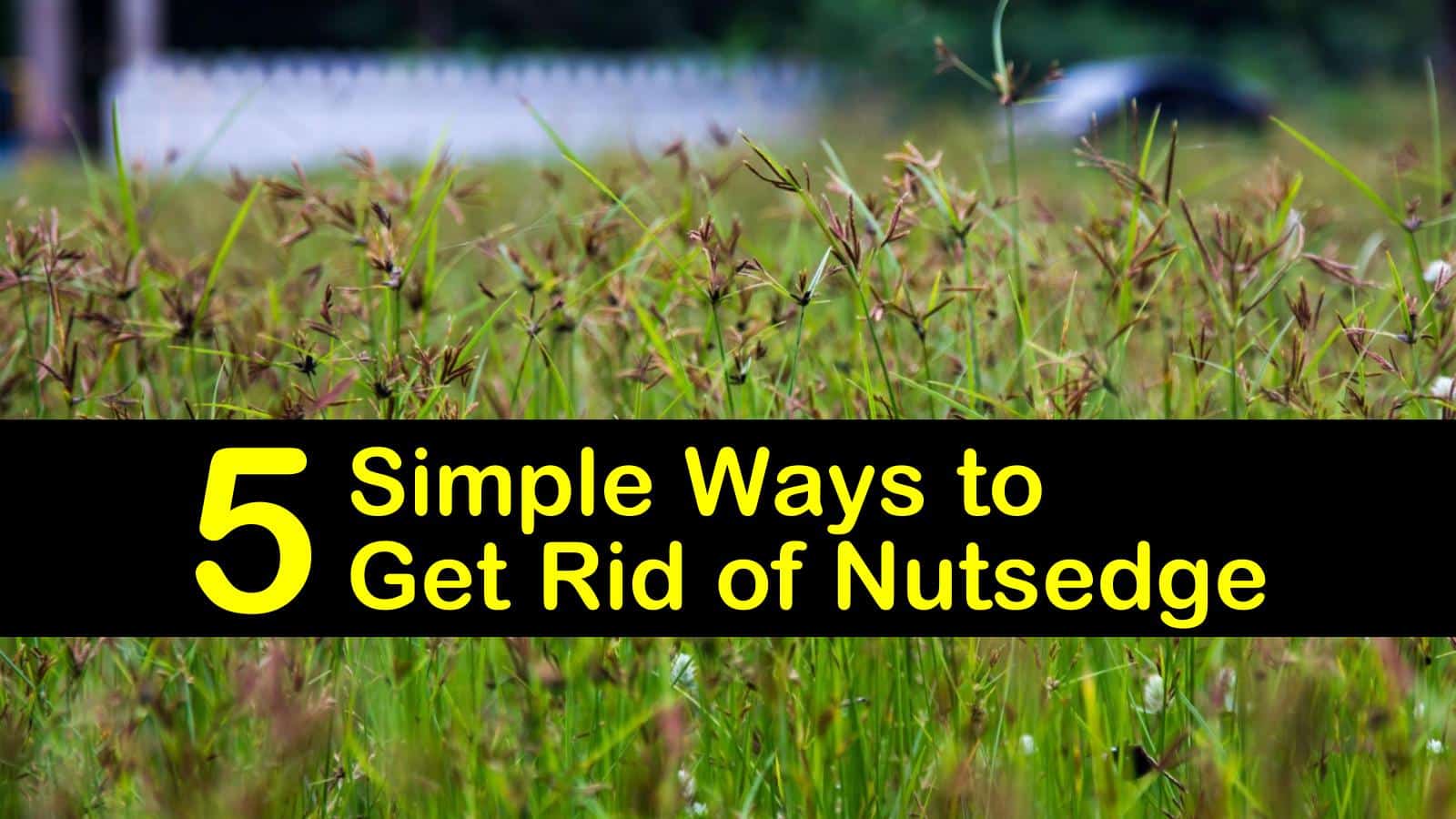 Getting Rid of Nutgrass
Nutgrass weed is similar to other grassy lawn weeds like crabgrass in that it isn't always detectable at first. Unlike dandelions, who produce noticeable flowers and a fluffy white seed head, young nutlets blend into the grass with ease.
Fortunately, we also discuss some helpful tips to help you determine if you have nutgrass on your lawn or not, and have the best homemade nutgrass killer remedies for you to employ to eliminate this annoying and invasive weed.
Identify Whether You Have a Nutsedge Problem
The biggest problem with nutsedge is that you don't always realize you have it right away. Because this grassy weed blends into the rest of your yard so well, you often need to know what you're looking for and be actively looking for it, before you identify the problem.
Look for patches that appear out of place, usually spots of grass that are a slightly lighter color than healthier clusters in your lawn.If you identify an area you believe is nutsedge, check the number of blades sprouting from the stems first. Normal grass rhizomes, or stems, produce two leaves out of one shoot.
Nutsedge rhizomes produce three blades. For a closer inspection, tear off the stem and examine the shape and interior. Normal grass rhizomes are round and hollow, while nutgrass has a triangular stem with a solid interior. If the plant in your hand checks all the nutsedge boxes, it's time to move onto the removal process.
Get Rid of Nutgrass by Hand
One of the easiest and effective ways to control nutsedge is to remove it by hand. This strategy is crucial to use in areas like flower beds, where a tough weed killer may also destroy your beloved plants.
It's also the best way to ensure you remove all parts of the plant right down to the root system. Use this system to kill weeds but not grass, flowers, or veggies. It may take a little time, but it's worth it.
How to get rid of quackgrass, nutsedge, and other annoying weeds in the garden or lawn starts with wetting the soil surface. This step softens the earth around the roots and makes it easier for you to pry the plant loose. Next, dig into the soil with the shovel until you've uncovered all parts of the plant.
It's important to note that the root systems may grow up to a foot and a half deep. As a result, yanking them out too soon may leave part of the roots still in the ground and leave you with the same weeds in the future.
If you don't remove all of the roots, then this only allows the plant to grow back in the future. Finally, once you remove the plant, stems, tubers, roots and all, toss it into a trash bag to prevent it from spreading.
Natural Nutsedge Control
If you plan on using natural weed control to eliminate nutsedge plants from your yard, then use a nutsedge killer like sugar. When using this method to get rid of nutgrass organically, apply it during the early spring, while the nutsedge plant is still young.
Not only is sugar quite effective at killing nutsedge but it also nourishes the rest of your lawn. Begin the process by wetting the lawn with the spray setting on your garden hose. Don't soak it, but allow it to get good and moist.
Next, spread the sugar across your yard so that it is distributed evenly. A garden spreader may be helpful or, for large areas, use a sifter to treat the grass faster.
Afterward, lightly mist the lawn with water again, being careful not to overwater and dissolve the sugar. Repeat the process in one month to eliminate any missed areas.
Getting Rid of Nutgrass with Chemical Control
If using a natural solution isn't working, there are several store-bought solutions available to free your lawn from weeds. Most companies produce specific chemical control products to eliminate nutgrass.
If there's a particular brand you prefer, check the label first to see if it is designed for dealing with nutsedges or uses chemical compounds such as halosulfuron or bentazon. You can also use a non-selective spray with the product glyphosate, though this wipes out all vegetation in the area.
These brands produce a weed killer designed explicitly for eliminating sedge plants. Apply the chemical weed killer using a sprayer, preferably on the hottest or driest time of the day, to speed up the process of drying out the weed. Add the herbicide by spraying only a couple of square feet at a time to produce an even layer of weed killer.
Follow the directions for your preferred brand for the best use. In any case, you likely need multiple applications to be successful. Warm-season grass may require only two sprays, while the cool season varieties may take up to four tries before eliminating the nutgrass for good.
Prevent Future Weeds from Growing
After you finally get rid of all the weeds in your lawn, take precautions to keep new plants from forming. Applying a pre-emergent herbicide to your lawn treats the soil to much-needed nutrients, while also preventing any root stems you missed when pulling from germinating.
Mowing your lawn at a higher height also strengthens it, providing it with a stronger defense against any new weeds. Mulch is another beneficial option that works under most circumstances, though stronger nutsedge continues to grow even after mulching.
Poor drainage is another significant contributor in allowing nutsedge access to your yard. Nutgrass thrives in wet soil, meaning if you don't have the proper irrigation systems in your yard, you leave it a prime candidate for nutsedge growth.
Maintaining the moisture levels in your yard is an excellent way to prevent future outbreaks of nutsedge, while also providing your yard with much-needed lawn care.
Now you have a few new ideas for getting rid of nutgrass, as well as a full-proof plan to remove this invasive weed from your yard. The most critical part of removing any weed is to use caution when uprooting the plant; that way, it doesn't spread to other parts of the lawn. Also, use preventative measures to keep your yard weed-free year after year.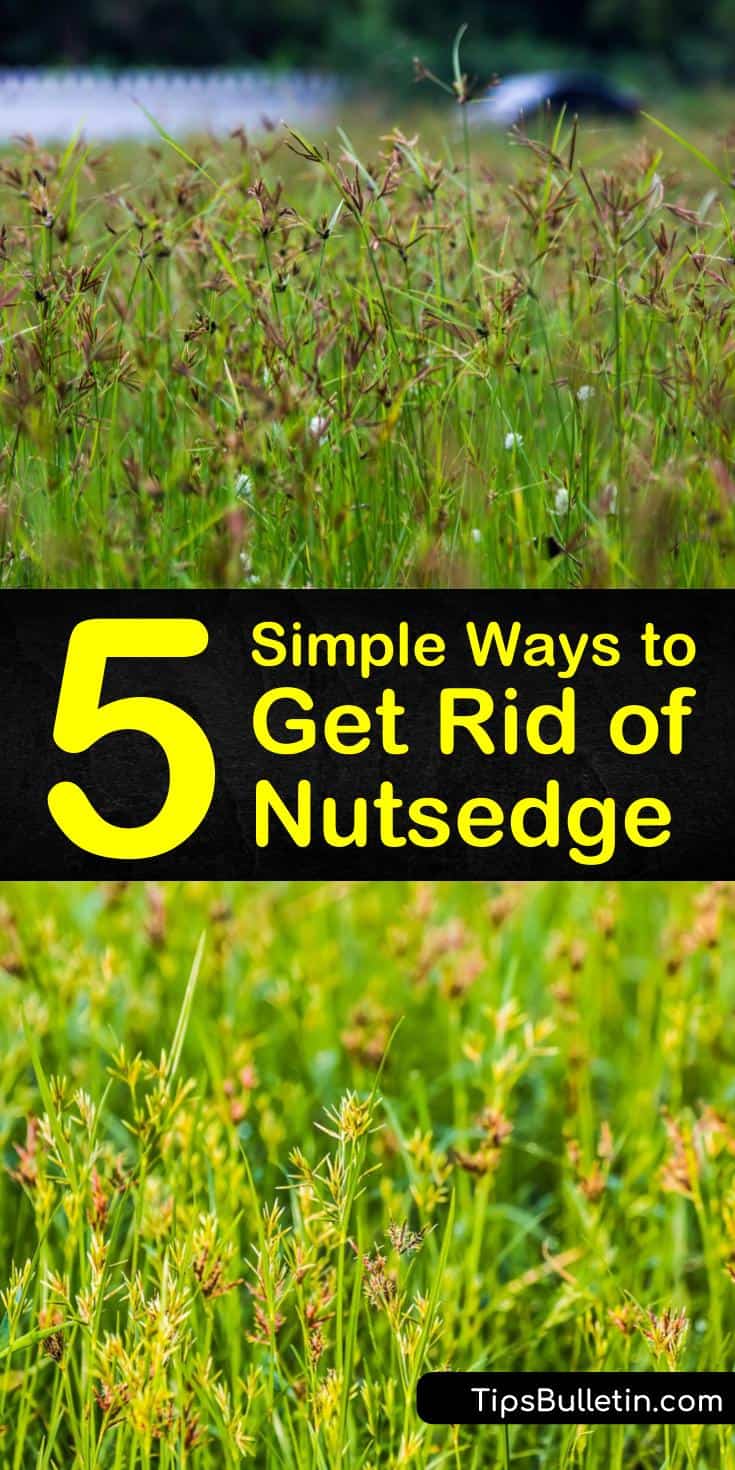 We hope you enjoyed these quick and easy steps for how to get rid of nutgrass. If these easy nutsedge removal tips helped you reclaim your yard, then pass on the favor to your friends and family by sharing how to get rid of nutsedge on Facebook and Pinterest.