There are many methods for how to get rid of rats in the garden. To recover your outdoor workspace and say goodbye to rats once and for all, choose a rat control approach to fit your preferences and the supplies you have.
The optimal rat control plan is different for each person. Some gardeners want to get rid of the rats as quickly as possible. Others are worried about using poison or cruel traps on their land and injuring pets and wildlife. Rats are disturbing and dangerous to your health, and they destroy your yard or patio, not to mention your plants.
Rodent droppings and the stench of rat urine are unclean. If you spot evidence of rodents, explore how to get rid of rats outside. Don't turn to expensive and dangerous commercial rodent treatments or a costly pest control service. Follow easy tips to make getting rid of rats outdoors a breeze.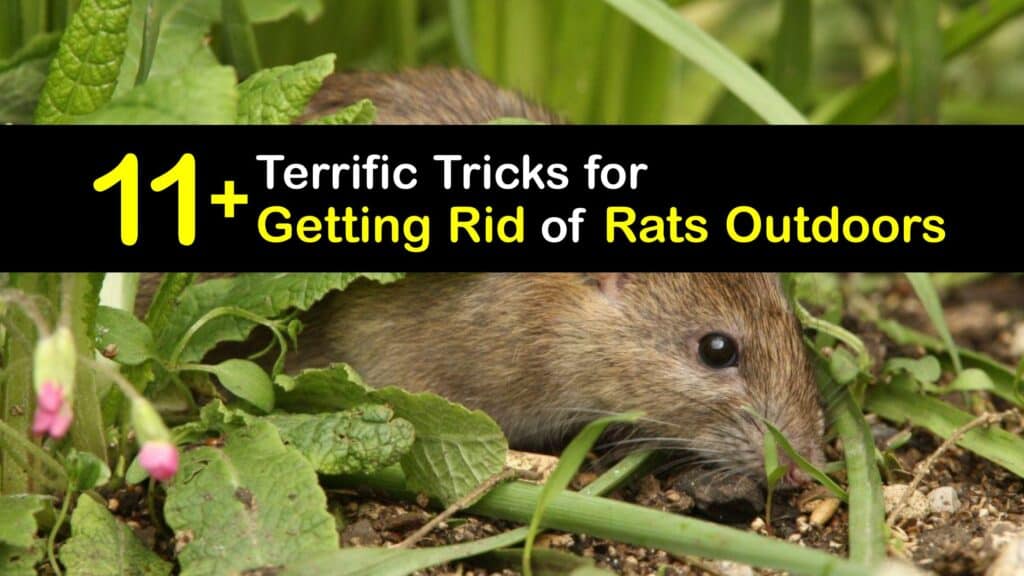 How to Get Rid of Rats Outside
Do you need to learn how to get rid of rats in the garden? We often hear about the trouble of having rats in a building, yet these little pests in your yard are more than a minor inconvenience.
Rats are as destructive outdoors as they are inside. From destroying bird feeders, devouring pet food, or digging up vegetables, rats aren't welcome guests in most gardens. Luckily there are multiple simple tricks for getting rid of rats outdoors so you can reclaim your outdoor hang-out quickly.
Signs of Rat Activity in Your Yard
There are several indicators if you suspect a rat population is wreaking havoc in the garden. Seeing a live or dead rat is a surefire sign pest control is required. Rat droppings, the pungent stench of rat urine, or a rapidly emptying bird feeder are others. Be sure to follow our easy ways to get rid of rat urine smell if the scent lingers around your home.
Perhaps the most upsetting for avid gardeners are the rat burrows. Rats dig down into your beds and containers, leaving noticeable damage and holes in the soil. As soon as you note rodent presence, stop the invasion and halt the damage before it worsens.
Species Behind an Outdoor Rat Infestation
Numerous types of rats could be behind the chaos on your property. Several rat species target residential buildings and the surrounding property in search of food.
If you're unsure which species of rat is causing your issues, don't worry. Though each breed of rat differs slightly in size, shape, color, and preferences, the control measures are the same.
Getting Rid of Rats Outdoors With Live Traps
Rats are caught alive in live traps, so you can relocate them far from your garden without touching them. Live rat traps are less cruel than glue or snap traps and do not harm children, pets, or wildlife. Using a live rat trap and freeing the rodents in an area where they won't cause issues is the ethical and kind way to handle rats.
Follow our method to set up a bucket rat trap. Balance a spoon over the bucket on a counter with a small dollop of peanut butter on one end. As the rat climbs up the spoon to consume the peanut butter bait, the spoon and rat both fall into the bucket. Check your trap and release any rats twice daily. Repeat until no more rodents are caught.
Deter Rats From the Garden With Essential Oils
If you're searching for an ethical and safe way to get rid of the rats in your yard, essential oils are a simple and affordable answer. Make an herbal rat repellent with lemon oil, peppermint, and even household cinnamon.
Create a natural rat-repellent spray, or add essential oils to a cotton ball to distribute the aroma. Pour one cup of water and ten drops of rat-repelling essential oil into a spray bottle. Spray surfaces in your garden with this solution. Rodents are discouraged from staying on your property by the spray's aroma.
Use Cayenne Pepper to Repel Rats
Rodents have delicate noses and a highly developed sense of smell. Like essential oils, rats hate the smell of spicy substances such as cayenne pepper. Cayenne pepper is extremely spicy, and its odor is repulsive to rats, so they quickly exit any place where it's present.
Though unpleasant if consumed in large quantities, cayenne pepper is affordable and won't harm children or wildlife. Sprinkle cayenne pepper around your garden, focusing on problem regions to deter rats.
Use a Snap Trap to Fix Your Rat Problem
A snap trap is the quintessential mouse trap we often see depicted on TV. Rats are lured into spring and snap traps using food, such as peanut butter or fruit, on a weight plate. When the rat climbs on the scale, the snap trap releases, killing or severely hurting the rodent.
Snap traps harm your family and pets, and helpless wildlife accidentally set them off. These traps are cruel and messy and frequently demand headless or maimed rats' cleanup. Snap traps are the last resort after all other less inhumane options have been exhausted, particularly outdoors.
How to Get Rid of Rats in the Garden With Glue Traps
Similar to glue traps for cockroaches, sticky rodent traps are huge pieces of cardboard with an adhesive attached to one side. When the rats tread on the glue, they become caught and left to die. Like snap traps, glue traps are best used when all other options are exhausted.
Glue traps are effective at catching rats, but they are cruel. These traps stick to anything they encounter, including bare feet, garments, animals, children, and wildlife. An adhesive mouse or rat trap is single-use and cannot be used again. If you use a glue trap, there is a high chance of discovering a living rat to dispatch.
Upcycle Old Cat Litter to Aid in Rat Control
Rats avoid your home if they know you have a cat because they are a cat's natural prey. If they detect cat pee odor, they flee to avoid being pursued. Used kitty litter lets you eliminate outdoor rats in your yard without pesticides, though it isn't the most pleasant to handle.
Scatter dirty cat litter in paper cups and distribute them in your garden to scare away rats. Ammonia is an excellent sensory deterrent because its molecules smell the same as cat urine. If you don't have a cat and want to use this strategy, use cups of ammonia to simulate the scent.
Mothballs Are Ideal Pest Control for Rats
Mothballs are a cheap solution to get rid of your rat problem despite being extremely poisonous. Pick up a pack of mothballs at your local hardware store. Rats are instantly scared away by the strong smell mothballs or naphthalene balls generate.
Mothballs should only be used with discretion since they could be hazardous to you, your children, and pets. Wearing rubber gloves, strategically place the mothballs near entrances, on the patio, and in the garden. Always place mothballs in locations where it is unlikely that your kids, pets, or wildlife will touch them.
Use a Commercial Rat Bait Station
If you're uncomfortable attempting your rodent control, head to the hardware store and pick up some preloaded bait stations. The bait stations are boxes you set outside your buildings for hands-off pest control.
Usually laced with poison, bait is located inside the station. Choose a poison that doesn't carry up the food chain. Use bait stations as directed for a labor-free way to eradicate rats outside.
Natural Ways to Prevent Rats Outside
Rats search for a reliable food source and ample hiding spots. Making your backyard less appealing reduces the likelihood they'll take up residence. Follow these easy ways to get rid of rat holes in the yard by eliminating the temptation for rats to create a nest.
Perform regular cleaning and eliminate easy access to food and shelter to discourage rats from making your yard their home.
Precautions for Rat Removal
Outdoor rodent control comes with different considerations and responsibilities than treating rodents inside your house. Be mindful of eradicating the rats and how your efforts might affect local wildlife, much of which is protected by law.
Rat poison has devastating effects on an ecosystem. Poison baits or ingesting a poisoned rat kills pets directly and endanger children. Unethical traps like glue and snap traps can potentially catch and injure birds, pets, and other innocent animals.
Be considerate with pest control. Use humane methods and reduce the threat to non-target species with modifications such as placing glue traps inside a box with a small hole.
A rat infestation can happen to anyone. No matter how meticulously you keep your garden, these little critters move in, and it seems impossible to get them out. If they're tearing up your flower beds or eating all your bird seed, it's time to discover how to get rid of rats outside.
Use manageable do-it-yourself ideas to eradicate rats from your outdoor space and save money on hiring an expensive pest control service.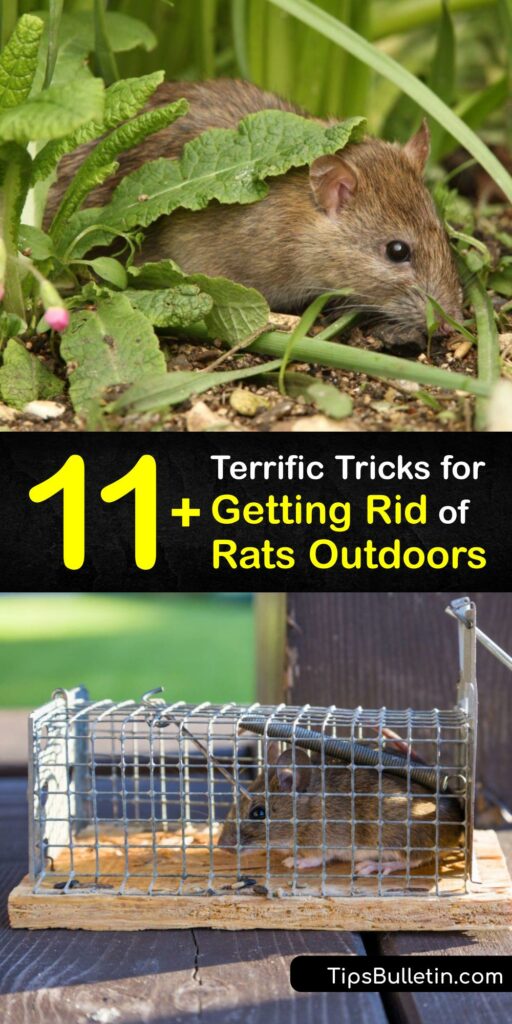 If you loved this comprehensive article on how to get rid of rats in the garden, please share this knowledge with your friends and family who are getting rid of rats outdoors on Pinterest and Facebook.