When rodents invade, it's time to sort out how to get rid of rats in the house fast. Having a rodent infestation feels embarrassing, yet many homeowners struggle with mice or rats entering their property. If you spot rat droppings or see a dead rat, don't reach for the rat poison or call an expensive pest control service.
Explore tips on how to get a rat out of your room and take care of rat removal quickly and safely. Many factors contribute to rodent issues. An abundant food source like unsealed pet food, readily available shelter, or excess nesting materials make your space attractive to rats.
Read on to discover the best ways to remove rats in the garage fast and evict your unwelcome guests. In addition to being jarring and making your residence seem dirty, rats carry disease and destroy structures and possessions. Don't wait if you find evidence of rat activity. Use uncomplicated DIY tricks to eliminate the rats.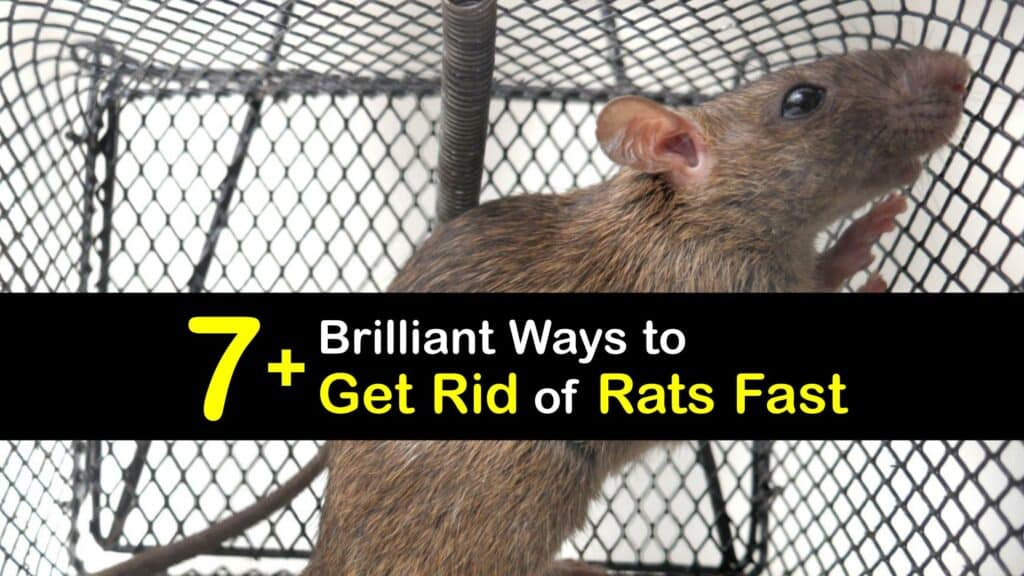 How to Get a Rat Out of Your Room
Do you know how to get rid of rats in the house fast? Discovering a rat population under the same roof is a nightmare. Rodents are a disaster for the structural integrity of buildings, the safety of valued possessions, and even your health.
Disease control and protection of your personal property demand a prompt response to a rat population. It's daunting to think about pest control, yet the best way to get rid of rats fast is to use simple methods.
Don't risk exposing your family and pets to a dangerous poison bait station. Use home remedies for getting rid of rats while saving money and avoiding harmful chemicals.
Essential Facts About Rat Infestation
Look carefully around the area for mouse or rat droppings or a rat burrow, a hole created in bedding materials like clothes or paper. Rodent evidence includes chewed wires, torn paper or fabric, and damaged food.
It can be challenging to determine whether rat activity is the root of noises in your garage without seeing a dead or live rat. Fortunately, all rat species cause similar disruptions, and any indicators of disturbance point to the need for pest treatment.
Whether dealing with mice or rats, the protocol to eradicate them is the same. Discover budget-friendly tricks to repel rats and the ideal rat traps to remove them permanently.
How to Get Rid of Rats in the House Fast
Boric acid is commonly used to eradicate pests. This affordable pesticide is sold at most hardware stores and works quickly to eliminate rats from your rooms. Since they must ingest the boric acid for it to take effect, combining it with a suitable bait such as peanut butter is vital.
Mix the boric acid and peanut butter until thoroughly blended and shape into several small balls. Leave the rat cookies in rooms with high rodent activity. Rats find and ingest the cookies and are dispatched.
Keep children and pets away from regions treated with boric acid, as it is dangerous for humans and animals. Since peanut butter is as enticing to dogs and kids as rats, exposing them to the cookies could be devastating.
The Best Way to Get Rid of Rats Fast
A live trap is a gold standard in rat removal whether you have black or roof rats. Though several types of traps are available, none are as simple to construct and as humane as a live trap.
Live traps catch rodents alive for easy relocation. Live traps are less messy than their inhumane counterparts and pose no risk to your family or pets. Use a spoon and a bucket to create an uncomplicated live trap.
Put a dollop of peanut butter or another suitable food bait like chicken on a spoon. Balance the spoon on the counter's edge and set the bucket below. The rat ventures onto the spoon to retrieve the food, tipping the balance and tumbling into the bucket below.
Check the live trap every day. Relocate a captured rat by putting a cover on the bucket and transporting it away from your property for release. Reset the trap and remove rats until no more are caught.
The Fastest Way to Get Rid of Rats
A glass and coin trap is another example of a straightforward live trap that is simple to set. Like the bucket, the glass acts as a container to hold the rat until it is removed. The glass trap does not risk injuring or dismembering the rodent and involves no messy cleanup.
Place the food bait on the ground or another surface and cover it with the upended glass. Lift one edge of the glass and stand the coin on its edge beneath so the glass lifts on one side.
As a rat shimmies under the glass to reach the food, it dislodges the coin and becomes trapped inside. Slide the plastic sheet carefully beneath the rat and glass and move the rodent to a more suitable location. Reset the trap as necessary and check it at least once per day.
Kill a Rat in Your House with a Glue Trap
Glue traps or sticky traps are useful to catch a rat in the attic or basement, but they can be considered cruel. Like glue traps for cockroaches, sticky traps are huge pieces of cardboard with an adhesive attached to one side. These traps stick to whatever they encounter, including bare feet, garments, animals, and children.
You are likely to have to contact a rodent if you use a glue trap and may need to dispatch a suffering rat. When the rats tread on the glue, they become caught and are left to die. An adhesive mouse or rat trap is single-use and costly compared to humane options.
Use Essential Oils for a Rat Problem
Like multiple rodents, rats respond well to scent deterrents as they have a pronounced sense of smell. Rats detest the odor of several essential oils, making them a safe and natural tool to drive them out. You can make a cheap homemade rat deterrent with essential oils and eliminate rats without using toxic substances.
Pour one cup of water and ten drops of your favorite rat-repelling essential oil into a spray bottle. Spray the entire residence with this solution, inside and out. A cotton ball soaked in essential oils may also be left in a rodent activity area. Rodents are discouraged from trying to enter your property by the oil's sharp aroma.
Getting Rid of Rats Indoors with a Snap Trap
A snap trap is the stereotypical mouse trap with a killing arm and bait, yet is not the wisest choice. Snap traps are suitable as a last resort after employing more effective, compassionate, and eco-friendly pest control techniques.
A snap rat trap is inhumane because it often hurts rats; they suffer a torturous and prolonged demise. These traps are messy and frequently involve cleaning up rats that have been beheaded or malformed in other ways.
When the rat climbs on the scale, the snap trap releases, killing or severely hurting the rodent. Rats are lured into spring and snap traps using food, like peanut butter or fruit, placed on a weight plate.
The user must empty the trap while removing the dead rats. Snap traps are dangerous and harmful to your family, pets, and helpless wildlife that could accidentally set them off.
Maintenance Measures for Rodent Control
Follow some straightforward tips to make your dwelling less appealing to rodents and aid pest control efforts.
Keeping your home clean and not easily accessible to rats helps prevent an initial infestation or stops them from returning after treatment.
A rat infestation is a miserable experience. Fortunately, taking care of a rodent issue is easy once with the proper knowledge and some readily available tools. Find out how to get a rat out of your room and halt the damage caused by these pests.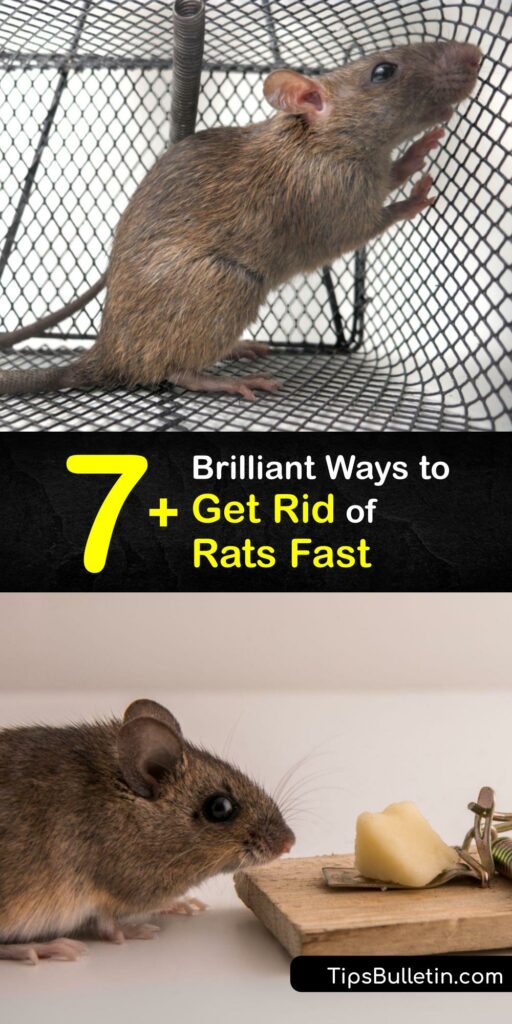 If you loved this illuminating article on how to get rid of rats in the house fast, please share this knowledge with your family and friends looking for the best way to get rid of rats fast on Pinterest and Facebook.