Nothing ties a new outfit together better than a stylish pair of patent leather or suede boots. Unfortunately, suede shoes are vulnerable to scuff marks and water stains, leaving them with unsightly blemishes. Learn how to get scuffs out of suede shoes using safe and effective methods and keep their fashionable appearance.
You try your best to keep your footwear clean, whether they are a canvas, leather, or suede shoe. However, it's not long before they accumulate loose dirt and tough stains like an oil stain, salt stain, water stain, or scuffs. While a suede or leather cleaner removes everyday dirt, it doesn't always remove stubborn scuffs.
A scuff mark is a discoloration on your shoe, usually resulting from one shoe rubbing against the other or scraping your shoe against another hard surface. This abrasive action marks the shoe surface, and unique cleaning methods are necessary to restore the suede material.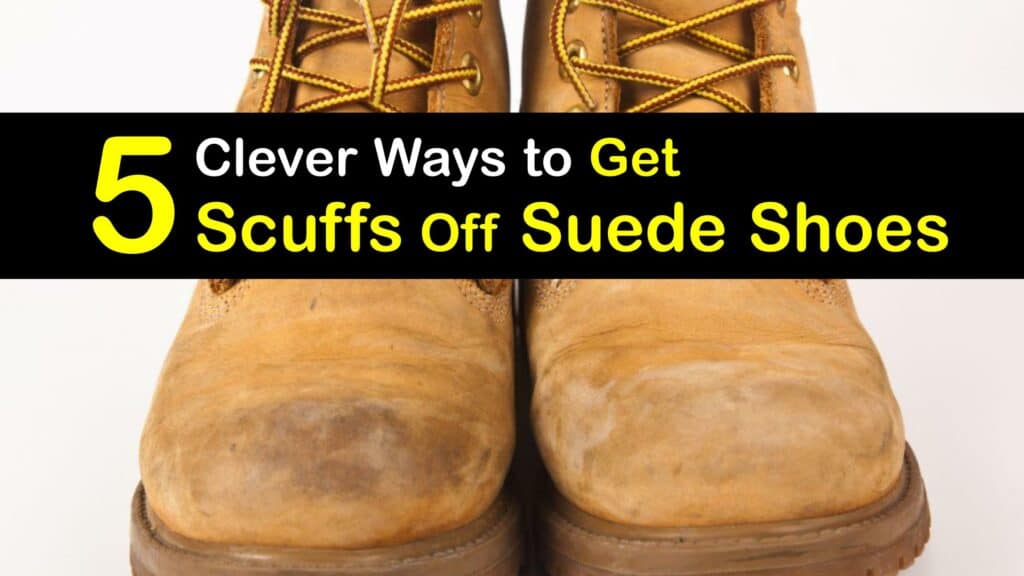 Ways to Get Scuff Marks Out of Suede Shoes
Cleaning suede and leather shoes is relatively easy if you use the proper cleaners for the job. However, shoe scuffs are a little more challenging to remove. Follow a few simple steps to get a scuff mark off suede footwear and keep them in tip-top shape.
How to Clean Scuffs off Suede Shoes
The best way to clean your suede footwear with mild stains and scuffs is to perform an overall cleaning. Discover how to clean scuffs off suede shoes and remove everyday dirt.
Before removing scuffs, make sure your shoes are dirt-free by using a suede shoe cleaning product. If you don't have a suede cleaner, use a small bit of liquid dish soap and warm water. Dampen a cloth with soapy water and clean the shoe surface without getting it too wet.
Allow them to dry completely, and rub a suede eraser or a pencil eraser over the scuffs to remove them. Finish by giving your shoes a good brushing to restore the nap. Use a suede brush or nail brush to brush the shoe nap in the same direction rather than back and forth.
Removing Scuff Marks From Faux Suede Shoes
Removing scuff marks from faux suede shoes is not much different than cleaning traditional suede shoes. While many cleaners remove stains, petroleum jelly or Vaseline is a good choice for eliminating scuffs.
Apply some petroleum jelly to a clean rag and use it to buff the scuff mark off your shoe. Once the scuff is gone, clean the area with a damp cloth, let the shoe dry, and brush the shoe surface.
How to Get Scuffs Out of Suede Shoes With Vinegar
Vinegar is mildly acidic and is an excellent alternative to other cleaners for removing scuffs from shoes and boots. Find out how to use white vinegar to get a scuff mark or stubborn stain off your suede shoe.
Pour a little white distilled vinegar on a clean cloth and use it to take scuff marks off shoes easily. If you don't have vinegar, try using an acetone-based nail polish remover. Swipe the shoe with a damp cloth to remove vinegar residue.
Using Baking Soda to Clean Suede Shoes
Baking soda is one of the most common household products, and it has many uses, including removing scuff marks from faux suede shoes. Discover how to clean scuffs off suede shoes with this miracle powder.
Scoop out a couple of tablespoons of baking soda into a container and add just enough warm water to form a thick paste to mix your own suede cleaner recipe. Apply the cleaning paste to the scuffed area off your shoe with a dry cloth, and use gentle back and forth action to scrub the mark away as one way to wash suede sneakers and footwear. Wipe the powder from your shoe with a paper towel and clean it with a damp sponge.
Restoring and Caring for Suede Shoes
Since suede is a natural material, it's vital to protect the fabric after using a cleaner. Restore the suede nap surface and keep your shoes looking new.
After removing scuffs from your suede shoes, you may notice that the nap looks disheveled. Use a brush to fluff the suede pile and give it a finished look. Brush the surface with moderate to firm pressure, and move the brush in the same direction.
Suede and water do not get along, so take care when wearing your shoes during rainy weather, and dry them with a towel as soon as you get home.
Use a suede stain protector or waterproof spray to protect your shoes from the elements. Follow the directions for your product and apply it to the suede to help your boots repel stains and prevent water spots.
While it may be tempting, do not apply a leather conditioner or shoe polish to suede footwear since these products are more suitable for leather and vinyl shoes. If you don't plan to wear your footwear for an extended period, wrap them in paper and store them in a shoe box. Insert a shoe tree into each shoe to keep the shape of your shoes during storage and help to uncrease shoes that have wrinkles over the toe area.
While scuffs are tough stains to remove, especially if they're on white shoes, there are ways to get suede shoes clean. The key is to use the proper suede cleaner and an eraser or brush to restore the suede nap.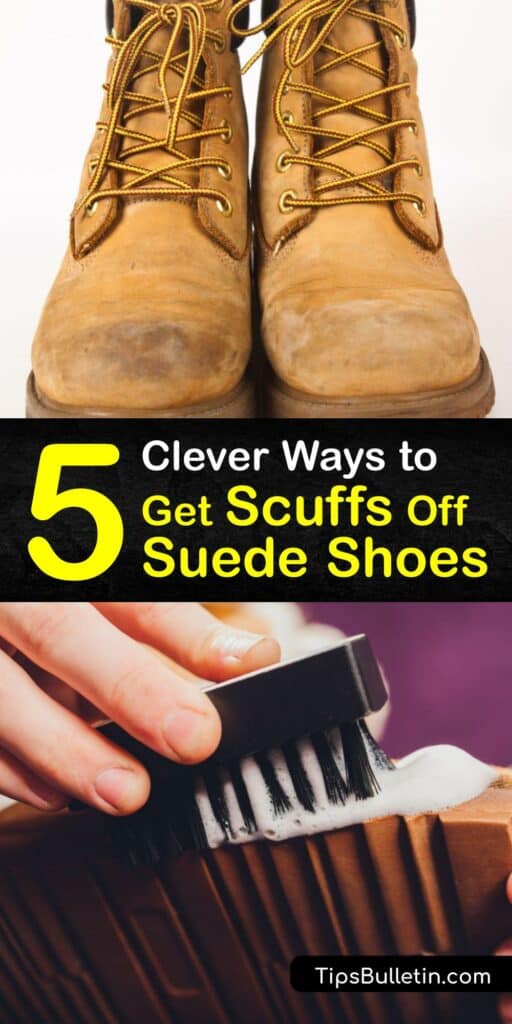 Now that you know how to get scuffs out of suede shoes and keep them looking their best, why not share our suede shoe scuff removers with your friends and family on Pinterest and Facebook?