You slip on your new patent leather shoes and discover an unsightly scuff mark on one of them. Unfortunately, wiping at the scuffed area with your thumb doesn't remove the spot, and you're all out of leather cleaner. Before changing your entire outfit to match a different pair of boots, learn how to get scuff marks off shoes using simple methods.
There is nothing quite like a good pair of shoes to tie your entire look together, whether they are a pair of sneakers, vinyl shoes, or leather boots. Everything is in its place and perfectly matched, and you're ready to start your day – until a careless step leaves a black scuff mark on the side of your shoe.
You're not the first person to scuff a favorite pair of shoes, and you won't be the last. While a shoe scuff looks like a permanent scar on your footwear, these marks are easier to remove than you think. The key is to use the proper strategy for the shoe material and apply a little bit of patience.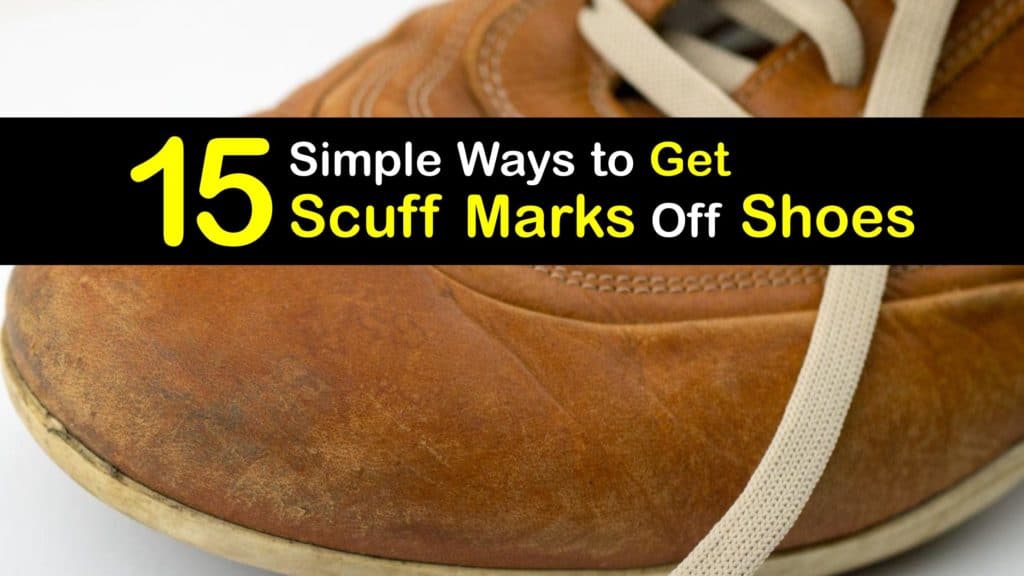 Removing Scuff Marks from Shoes
Removing scuffs from your shoes is simpler than you think, and you don't need a special shoe cleaner to get the job done. There are a variety of items around your home that work wonders to remove a scuff stain, and some of them may surprise you.
Find out how to use everything from baking soda and a pencil eraser to rubbing alcohol to get your shoes looking new again.
What Causes Scuff Marks on Shoes?
Most dirt stains are simple to wipe off shoes with a damp cloth. However, a scuff mark doesn't come off quite as quickly. What causes those marks, and why are they challenging to remove from a shoe?
Shoe Scuffs
Shoe scuffs typically occur when you rub your shoes against another surface. It happens when one shoe rubs against the other and the rubber sole leaves a mark or when you bump your foot up against an object, such as a sidewalk curb, car tire, or door frame. The action discolors a section of your shoe or leaves an abrasion or scuff mark.
Removing Scuffs from Shoes with Baking Soda
Sodium bicarbonate (baking soda) is one of the most common household products, and you probably have a box or two sitting in your kitchen right now. This miracle powder is necessary for baked goods, it absorbs odors like a pro, and it's also great for removing scuffs from shoes.
Shake some baking powder into a small bowl and pour in just enough warm water to form a paste. Apply the mixture to the scuff marks with a soft cloth and rub the area with a circular motion to buff away the stain. Use a second clean cloth to remove the residue and inspect the shoe for remaining marks.
How to Get Scuffs Out of Boots with Nail Polish Remover
You may be surprised what to use to clean shoes. While the main job of nail polish remover is to get the polish off your nails, it's also helpful in removing scuffs from patent leather shoes and sneakers. Here is how to get scuffs out of boots with fingernail polish remover.
Unscrew the fingernail polish remover cap and place a cotton ball over the top. Tip the bottle over to dampen the cotton, and then rub it over the scuff mark with small, circular motions. Once the mark is gone, wipe the shoe with a clean damp cloth to remove residue.
How to Get Scuff Marks Off Shoes with a Pencil Eraser
One of the most straightforward ways to get a scuff off a shoe is to erase the mark with a pencil eraser. This works well to get scuffs off all types of shoes, from fabric to patent leather, and is the perfect quick fix when you're in a rush.
Press a pencil eraser on the shoe's scuff mark and rub the area gently in small circles. A white eraser works best since the pink ones tend to leave bits of eraser residue. However, either one is safe for removing the scuffs. When the stain is gone, use a paper towel to wipe away the eraser bits.
Using Rubbing Alcohol to Get Scuffs Off Shoes
Rubbing alcohol is a popular household liquid that kills many viruses and bacteria. However, it has other uses, including cleaning ink and permanent marker stains, loosening adhesives, and removing scuffs from shoes.
To clean Sharpie marks or scuffs, pour rubbing alcohol onto a ball of cotton or cloth to dampen it and gently rub the scuff mark with a circular motion. If you don't have any rubbing alcohol, hand sanitizer works just as well since it contains alcohol.
Removing Scuff Marks from Shoes with Petroleum Jelly
Another great way to get a scuff mark off a shoe is to use petroleum jelly. This jelly-like substance is a mixture of mineral oils and waxes, and it's safe to use on leather for a clean finish. Here is how to get scuffs out of boots with Vaseline.
Dab the corner of a soft cloth into the jar of petroleum jelly and then rub it over the affected area. Let it sit for a minute or so, and use another dry, clean cloth to buff the scuff off the shoe's surface.
You may also find that using petroleum jelly and a shoe tree serve as one way to remove creases from leather shoes and restore their original appearance. Getting wrinkles out of sneakers involves a different strategy, particularly if they're canvas.
Getting Scuff Marks Off Shoes with White Vinegar
If you have an old pair of scuffed shoes that need cleaning, a combination of baking soda and vinegar works wonderfully to remove the dirt and scuff marks. Use these two ingredients and a little bit of elbow grease to restore your shoe's appearance.
Pour baking soda into a small container or bowl and add just enough white vinegar to make a paste. Dab a cloth in the baking soda mixture and rub the paste over the scuff using circular motions. Rinse the cloth under running water and wipe away residue from the shoe before drying it with a towel.
How to Use Toothpaste to Remove Scuffs from Shoes
We all have a tube of toothpaste sitting on the bathroom sink, and it's useful for more than cleaning your teeth. Non-gel toothpaste is an excellent cleaner for polishing away shoe scuffs, and it works on both canvas and leather footwear.
Apply some white non-gel toothpaste to a clean toothbrush and gently polish the scuff mark with the paste. Use small, circular motions to clean and wipe the area with a damp towel to remove residue left behind from the paste.
Cleaning Your Shoes to Remove Scuff Marks
Sometimes the best way to remove scuffs from shoes is to clean the entire shoe, especially if your pair of sneakers go through a lot of daily wear and tear. While not suitable for suede or leather, it's ideal for cleaning fabric or canvas shoes.
The way to wash Vans by hand is to fill the kitchen sink or plastic tub with warm water and add a small amount of laundry detergent. Remove the laces and put your shoes in the soapy water.
Use a soft-bristle toothbrush to gently scrub the dirty and scuffed areas of your shoes and rinse them under clean, running water. Use towels to blot up as much water from your footwear as possible, and then let them sit out and air dry.
Using a Magic Eraser to Get Scuffs Off White Shoes
The Magic Eraser is a household staple often used for cleaning surface grime and stains. This handy tool is also beneficial for removing scuff marks from white shoes and boots, and it only takes a few minutes.
To keep white shoes clean and get rid of scuffs, get a corner of the Magic Eraser damp and rub it over the affected area of your shoe. When getting black scuff marks off white shoes, gently buff away the scuff mark in circles, and then let your shoe air dry after the stain is gone.
How to Get a Scuff Mark Off Leather Shoes
Unlike canvas, leather is a delicate material made from animal skin, and it requires extra care during the cleaning process. Here is how to remove a scuff mark from leather shoes and boots safely and effectively.
Start by using a shoe brush to remove grit and debris from the shoe. Brushing may also remove the scuff mark, but if it doesn't, a Magic Eraser, pencil eraser, or baking soda and water paste are safe to use on leather. For the way to to get stains out of leather like scuffs, rub one of these cleaners on the affected area and buff it with a towel after the stain is gone.
Polishing Leather Shoes after Removing Scuffs
It's vital to polish your leather footwear after cleaning away stains, dirt, and scuffs to prevent the material from drying out and cracking. Learn how to polish and condition your leather shoes to keep them looking their best.
If your shoes are dirty, start by using a leather cleaner. Otherwise, follow the directions for your leather conditioner brand and apply it to the shoe with a soft cloth.
The leather absorbs the moisturizer, causing the material to swell and soften while minimizing scuff marks. Finish the job by polishing the leather to make boots shine. Consider using a colored shoe cream to make the mark less visible to eliminate scuffs.
If you don't have any leather polish, a dab of petroleum jelly is a great shoe polish substitute.
Cleaning Suede Shoes to Remove Scuffs
Like leather, suede is made from animal skins. However, it comes from the underside of the hide and has a nappy, fuzzy surface, and special cleaning techniques are necessary to maintain the nap. Here is how to get scuff marks off your suede shoes.
Start by brushing the shoe with a suede brush using a back and forth motion to remove the scuff mark. If any stains remain, use a rubber cleaning stone to rub the area until it's gone. Use the brush once more to brush the nap in one direction and give the shoe a finished look.
How to Wash Canvas Shoes to Remove a Scuff Mark
While it seems like getting scuff marks off canvas shoes is relatively straightforward, the material absorbs stains and is a little more stubborn than vinyl or leather. The simplest way to get canvas shoes clean is to wash them in the washing machine.
Remove the laces and insoles and set the canvas shoes in the washing machine with your favorite detergent. Wash them with cold water using the gentle cycle and transfer them to the clothes dryer with a few dry clean towels.
To prevent damaging the dryer drum and make the drying experience less noisy, lace up the shoes, tie them together, and hang the laces over the outside of the dryer door when closing it to keep the sneakers from tumbling around.
Ways to Prevent Shoe Scuff Marks
If your shoes are brand new or you just finished removing dirt and scuff marks, it's a good idea to understand how to care for them and prevent future stains. Here are some shoe care tips to help keep your footwear in tip-top shape.
To prevent shoe scuffs, choose dress shoes that are low or medium gloss, look for styles with a protective bumper, and take extra care while you wear them.
Use cedar trees or foot trees in your footwear when you aren't wearing them, and set them on a shoe rack to prevent them from getting accidental scuff marks when not in use. If your shoes are leather, polish them to make shoes shine and prevent them from drying out.
A scuff mark on your favorite pair of shoes seems like a permanent stain, but that's far from the truth. Before you toss your suede or leather dress shoes into the back of the closet, there are ways to get your shoes clean and scuff-free with the right technique and a little patience.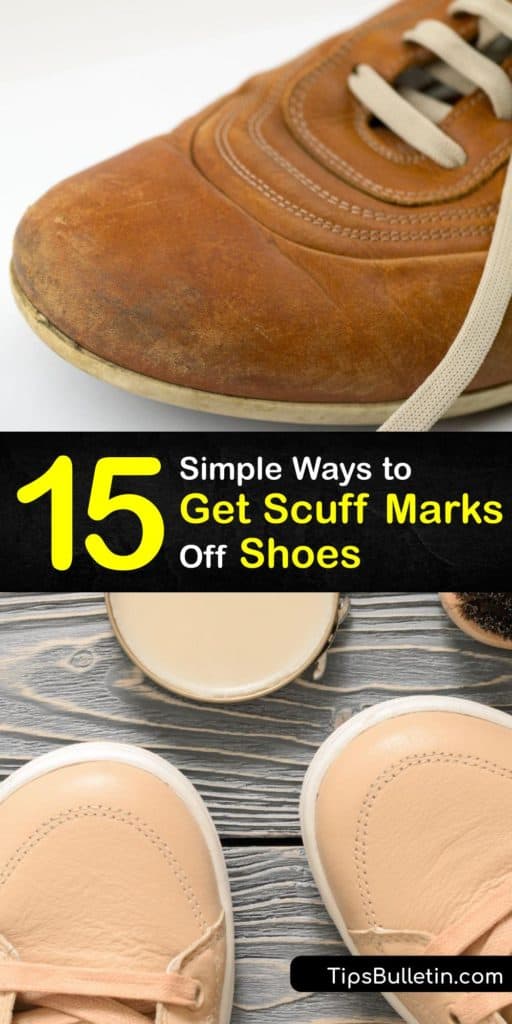 We hope that learning how to get scuff marks off shoes keeps your footwear looking new, and we'd love it if you'd share our shoe scuff removal tips with your family and friends on Pinterest and Facebook.