Socializing with smokers or hanging around the bonfire leaves a lingering smell on your clothes and shoes. Smoke particles readily cling to fabric and fibers, causing damage and, eventually, discoloration. Discover how to get smoke smell out of shoes and clothes with some stink-fighting tips and tricks.
Smoke makes its way onto your shoes through various avenues: smoke pits, barbeques, and even car exhaust. Every type of smoke odor is incredibly persistent and won't let go without a fight. In addition to smoke smells, about 125,000 sweat glands in a human foot contribute to shoe odor in general.
Your shoes take a real beating every day. Having a few shoe care skills at your disposal for unexpected events or to carry out preventive maintenance is helpful. Learn practical and effective strategies to help you extend the lifespan of your favorite footwear and get cigarette smell out of shoes quickly.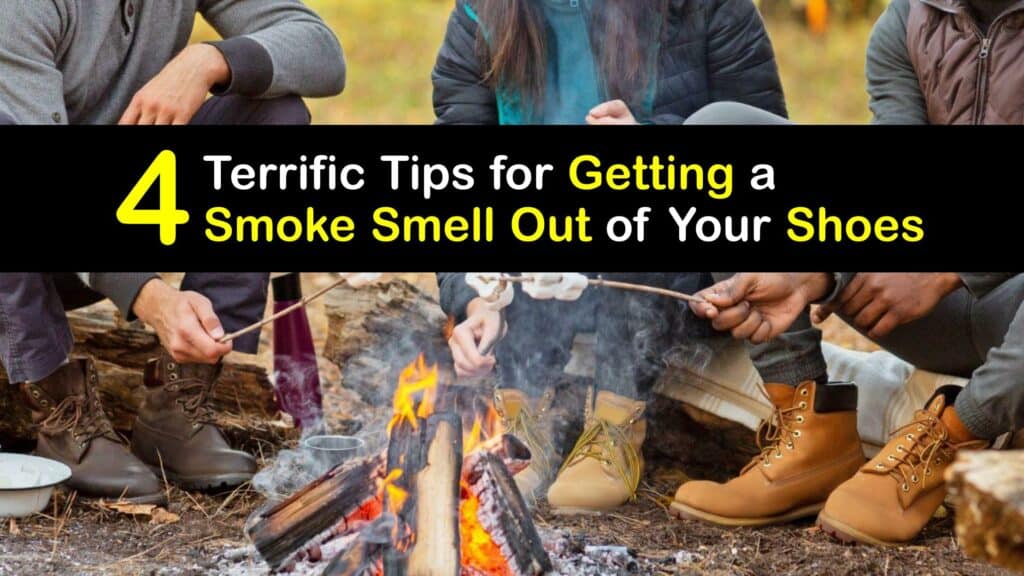 How to Remove Smoke Smell From Shoes
Pick up tips for getting smoke smell out of leather shoes. Some shoe materials can't be put in the washing machine with a bit of laundry detergent, making getting rid of any bad smell challenging. Find out how to refresh your favorite shoes; these tricks are a breath of fresh air.
Stuff Shoes With Odor Absorbers for Smoke Smell
Explore some time-saving ideas for how to remove smoke smell from shoes without a deep clean. You don't have to spend cash on fancy cleaning products. There are plenty of odor-absorbing items around your house, like dryer sheets, baking soda, or activated charcoal.
Use simple, everyday things to pull the smell from your shoes quickly and without too much elbow grease. Try a few drops of cedarwood essential oil on a tea bag, or fill a clean coffee filter with dry coffee grounds and pop one into each shoe. Some people swear coffee grounds act as an in-shoe air freshener; it's worth a try.
How to Get Smoke Smell Out of Shoes With Ice
Could freezing your shoes get rid of the smoke smell? Believe it or not, ice-cold temperatures work against just about any bad odor emanating from your footwear. Remove smoke smell from clothes the same way. The freezer is a great place to start, whether it's a mildew smell, gasoline, funky foot odor, or cigarette smoke.
Your freezer acts like an air purifier for unwanted odors by killing bacteria and forcing out smoke particles. If you're curious about how to remove smoke smell from shoes with the freezer, try these strategies.
Put your shoes inside a plastic bag and seal them up. Put the plastic bag in the freezer for at least 24 hours. Remove the bag and perform a smell test. You'll be surprised by how fantastic your footwear smells after a freezer treatment.
Getting Smoke Smell Out of Leather Shoes
Getting smoke smell out of leather shoes is more of a challenge, but it's not impossible. Leather is porous, and it's easy for smoke particles to become trapped.
Smoking in the house around leather furniture, running the fireplace, or even standing next to a bonfire allows smoke to penetrate the leather. Smoke can discolor and dry out a leather item over time. Since cigarette smoke sticks to leather, it's important to address the problem as soon as you can for fresher-smelling footwear.
Removing smoke smell from boots and shoes made of leather begins with plain white vinegar and water. Combine a healthy cup of white vinegar with warm water and use a soft cloth to wipe the surface of the leather item gently. Clean smelly leather boots as often as needed with this remedy.
Don't use too much of this homemade shoe deodorizer; a light rub-down is enough to remove cigarette odor. Saddle soap works great, too. Finish with a coating of leather conditioner to restore moisture to the leather.
Try the Dry Cleaner for Smoky Smelling Shoes
Did you know it's possible to get your smelly shoes professionally dry cleaned? Dry cleaning is an excellent way to care for delicate materials and expensive fabrics. Dry cleaning is often fast and perfect for smoky clothes with severe smoke damage.
If you're struggling with practical ideas for how to get smoke smell out of shoes made from delicate materials, consult your local dry cleaner.
We hope you enjoyed learning helpful tips for how to get smoke smell out of shoes. Follow our shoe care guidelines to stay on top of odor. Consider the air quality at the event you're attending; don't wear your good leather shoes to a backyard barbecue.
Next time your friends are smoking, stand near the window or air conditioner. Use simple household items like baking soda, dryer sheets, or activated charcoal as an odor eliminator. The quicker you address shoe odor, the better it is for your footwear.
If you enjoyed learning how to get smoke smell out of shoes, share this shoe care article with friends on Pinterest or Facebook who love fresh-smelling footwear.