Do you know how to get soy sauce out of clothes? Figuring out how to remove soy sauce from clothes might seem daunting, yet it's straightforward. A common ingredient in Asian cooking, soy sauce is a black condiment that often splatters and leaves dark, splotchy stains in its wake.
Does soy sauce come out of clothes? Going out to eat or hosting guests and inadvertently getting soy sauce on your clothes is embarrassing, and dealing with the dark brown blemish on your shirt or dress might seem overwhelming. Thankfully, soy sauce stains on clothing and tablecloths are easily removed if you act promptly.
Though cleaning up stains as soon as they appear is ideal, you can still use home remedies to get rid of dried-on stains. Use everyday products such as distilled white vinegar, dish soap, laundry detergent, and baking soda to oust dark marks. You likely already have what you need to remove a soy sauce stain in your home. Don't throw away clothes due to soy sauce staining.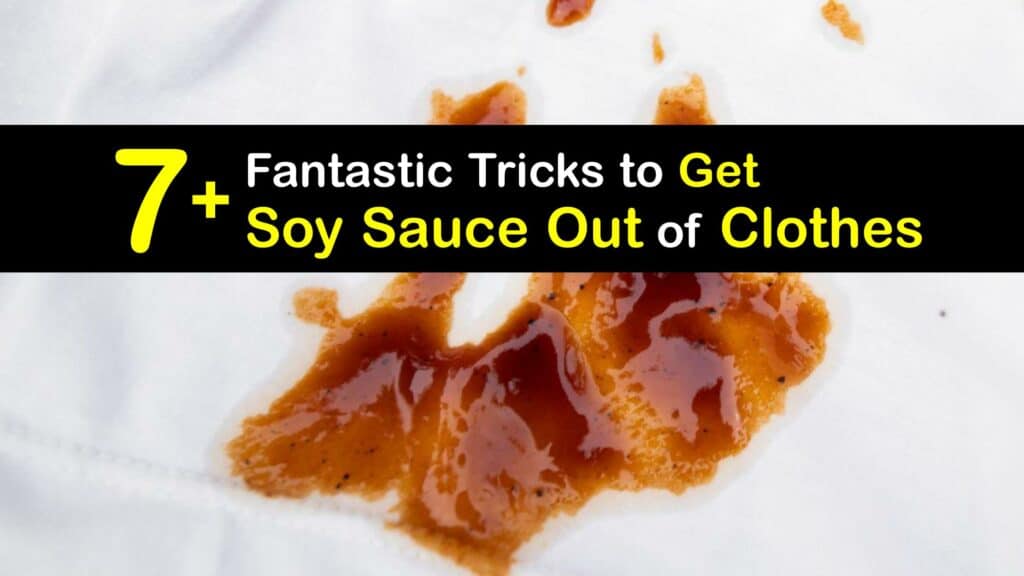 How to Remove Soy Sauce from Clothes
Soy sauce is undoubtedly a challenging stain due to the heavy pigment of the sauce. Employ proven home hacks to remove the sauce from your clothes and ensure you look great.
Does soy sauce come out of clothes? After an accident with soy sauce, most of us immediately wonder if such a dark stain is removable. Understanding how to get soy sauce out of clothes saves your favorite outfit from ending up in the trash.
Soy sauce is a tasty addition to many meals, yet its thin consistency makes it easy to accidentally splash the tablecloth or, worse, your clothing. Fortunately, soy sauce washes clean from most fabric types with the correct methods and supplies. Use uncomplicated tricks to wash the soy sauce out of your clothes with household products.
Does Soy Sauce Come Out of Clothes?
Does soy sauce stain clothing? Unfortunately, this dark brown savory sauce leaves a stain if it spills or splashes on fabric, including clothing. You might get lucky if you're wearing dark colors, but lightly colored garments are likely stained if you have an accident when cooking or eating soy sauce.
It's preferable to address soy sauce stains while wet before the color pigments dry and lock onto the material. Where this isn't possible, there are several simple at-home tricks to eliminate even dried-on soy sauce stains from your clothes.
As soon as the soy sauce spill occurs, blot it with a paper towel or a clean cloth to soak up as much sauce as possible. Rinse the article of clothing immediately, or choose a straightforward cleaning technique from the list below to remove the mark once you arrive home.
How to Get Soy Sauce Out of Clothes
The detergent solution you put in your washing machine is perfect for remedying a soy sauce stain on your clothes. While a regular wash cycle may not erase the mark, using your laundry detergent as a concentrate gives it more cleaning power.
Liquid laundry detergent is diluted with water during a wash cycle, reducing its concentration and ability to tackle heavy-duty staining. Using the detergent directly on the stained fabric allows better results.
Apply a large amount of liquid laundry detergent directly to the soy sauce stain, and work it into the fabric using your fingertips. Let the laundry detergent sit on the stained area for 20 minutes and rinse it with hot water. If traces of the brown color are still visible, reapply the detergent and rinse again until clean.
Use Oxygen Bleach to Remove a Soy Sauce Stain from Clothing
Unlike traditional chlorine bleach, oxygen bleach is tough on heavy staining without harming the environment. Oxygen bleach combines with water to release hundreds of little oxygen bubbles that penetrate deep into your clothing to remove all soy sauce residue causing the staining.
Always purchase a color-safe oxygen bleach to avoid fading your darker-colored shirts or altering the look of your clothes while cleaning. Treat the stained garment with oxygen bleach per the product label, rinse with cool water, and wash.
Try Dish Soap for Soy Sauce Stain Removal
The best stain remover for soy sauce stains is the liquid dish soap you keep in the kitchen. It's easy to remove an unsightly soy sauce stain off your beloved jacket or pair of slacks using dish soap. Because blood is an organic material, cleaning it with dish soap makes sense.
Dish soap removes tough organic stains from pots and plates, including grease and food stains such as soy sauce; mix dish soap into a solution with water for a no-fuss soy sauce stain remover.
Scrub the soy sauce stain with a clean towel and soft cloth dipped in the soapy water mixture. To remove the brown color from the fabric weaves, work the dish soap into the material before rinsing it with warm water. Continue until all the soy sauce is eliminated.
Erase Soy Sauce Stains with White Vinegar
White vinegar is well known for its ability to clean and has a wide range of applications in disinfecting and rejuvenating. Before use, dilute white vinegar with water.
Distilled white vinegar is inexpensive, regardless of whether you have a wet soy sauce stain or a dried soy sauce patch. Although its acidic qualities increase the effectiveness of its stain removal if used undiluted, straight white vinegar could damage your clothing.
Spritz the vinegar solution onto the soy sauce stain, work the mixture into the material, and leave for at least 20 minutes. Rinse the vinegar out and repeat if necessary. If you dislike the pungent smell of distilled white vinegar, add a few squeezes of fresh lemon juice to the cleaner for a more pleasant, fresh citrus scent.
Note: If put on an outfit and discover it's a little smelly, lightly spritz this mixture over the clothing as a way to deodorize clothes without washing them. You'll be pleasantly surprised with the results.
Baking Soda is a Stain Remover
Baking soda is a clever fix for a soy sauce stain on your favorite pants or shirt. Though it's best known for its use in baking, baking soda is a powerful stain remover featured in many DIY cleaning techniques. Blending baking soda powder with water makes it into a thick white paste for a mess-free application to your soy sauce stain.
Mix the powder and water into a paste and generously apply it to the stain with a clean cloth. Use this stain remover for getting a butter stain out of a shirt, too. Let the baking soda powder paste sit on the stain for at least an hour before rinsing clean. Repeat until no signs of the brown color of soy sauce are visible.
Try this paste as one way to get oil and grease stains out of clothes after washing and drying. Baking soda is an excellent stain remover.
Using the dryer after removing a stain can serve a dual purpose if needed. Shrink cotton pants while they dry after stain removal.
Remove Stains at Your Local Dry Cleaners
If you don't feel confident using a DIY tip to eradicate a soy sauce stain or have had an accident with a delicate fabric like silk, consider visiting your local dry cleaner.
Dry cleaners use a specialized dry cleaning solvent to break down and dissolve difficult stains without fading or wear, even on delicate garments. Share your concerns with your dry cleaner and use their professional stain removal service to restore your items to their former glory.
Other Tough Stain Types
Persistent stains come from greasy foods or heavily pigmented items. Soy sauce's color seeps deep into your apparel's fabric and bonds to the weaves; soy sauce is a challenging stain to remove if you don't have the proper knowledge. There are several other stains like soy sauce that require careful cleaning.
These organic and greasy stains respond well to the cleaning procedures used to remove soy sauce from clothing. Figuring out how to erase soy sauce stains pays off, as you can apply what you learned and take care of several organic or grease-based stains the same way.
Learning how to remove soy sauce from clothes allows you to enjoy this delicious accompaniment with your meal or include it in your cooking without fear of ruining your outfit. Though soy sauce is delicious, it is heavily pigmented and creates a stubborn stain when spilled on clothes.
If you spill sauce on the carpet, carpet cleaning helps. When soy sauce spills on your apparel, rely on proven home hacks to get rid of the unsightly marks and ensure your clothes represent you well.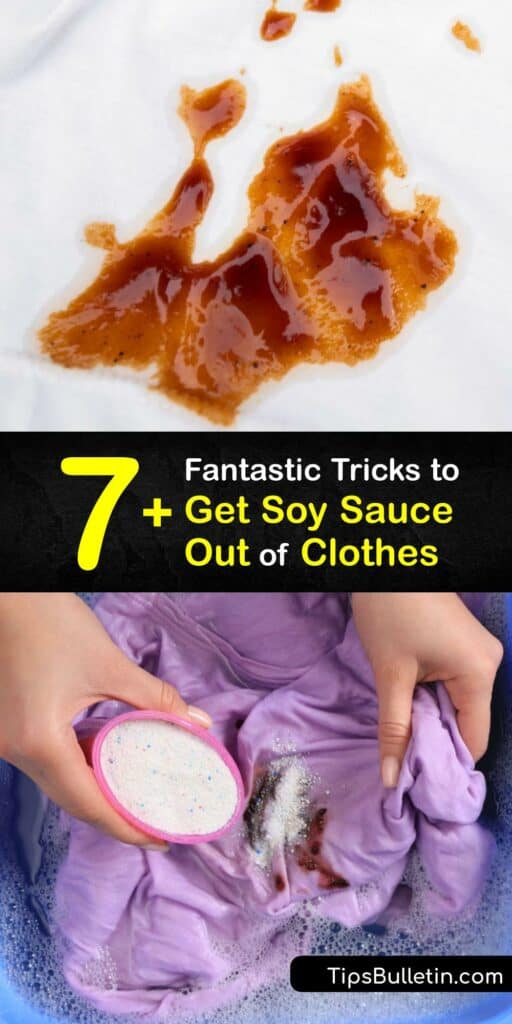 If you enjoyed this article on how to get soy sauce out of clothes, please share these brilliant tricks on how to remove soy sauce from clothes with your family and close friends on Pinterest and Facebook.