The walls are the art canvases of your dwelling. You paint them and decorate them with fine art, posters, and photos for self-expression. Tack helps this process, though it also becomes a hindrance after removal. If your walls have sticky putty stains and streaks, you need to know how to get sticky tack off walls as soon as possible.
Knowing how to remove blue sticky tack from walls properly is crucial since improper removal can harm paint or wallpaper. Blu Tack, commonly known as a sticky tack, is excellent for hanging ornamental things, holding picture frames in place, and adhering posters to walls without drilling.
However, getting rid of residual Blu Tack frequently results in a sticky mess that is difficult to clean. In addition, the oils in Blu Tack leave behind some unsightly stains. Find many uncomplicated methods for getting blue sticky tack off walls that won't damage wallpaper or paint.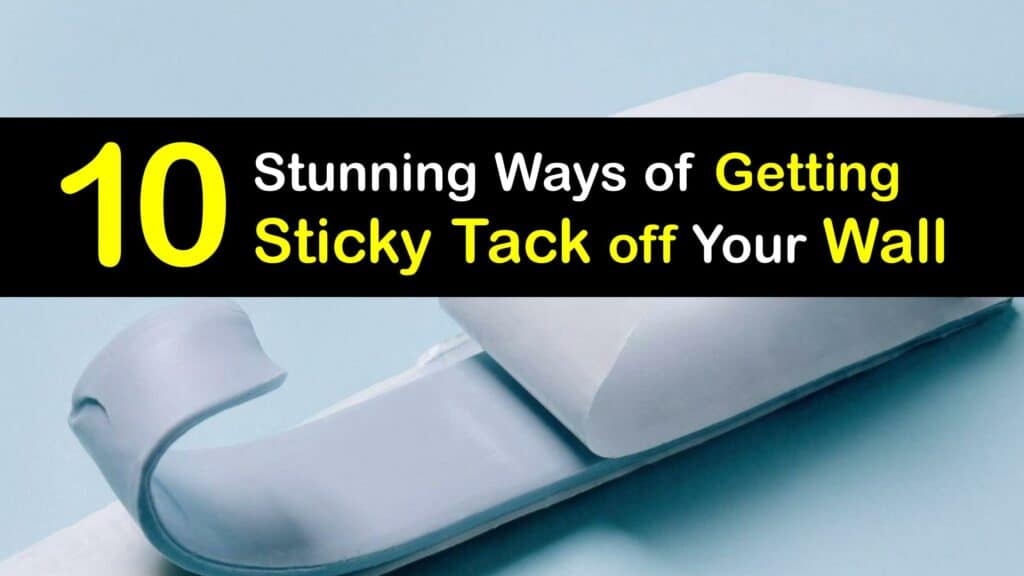 How to Remove Blue Sticky Tack From Walls
When it is time to reorganize and redecorate, it's prudent to know how to get sticky tack off walls. Sticky tack helps hang everything from kid's artwork to posters and recipe cards, yet getting blue sticky tack off walls is sometimes a struggle. Use everyday items like white vinegar and dish soap to make your own solution to clean walls and remove streaky tack marks to keep your walls pristine.
Removing Sticky Tack From Walls
Don't let adhesive residue and sticky tack ruin walls in your house. Adhesive products are valuable for decorating and temporarily hanging art or posters, yet they often create issues upon removal.
Explore uncomplicated at-home techniques to clear greasy, sticky stains from your walls to keep your space clean and chic.
How to Get Sticky Tack Off Walls With Dish Soap
Dish soap eliminates grease marks from pans and plates, making it perfect for tackling the oily stain left by sticky tack. Choose uncolored dish soap to avoid inadvertently staining your wall with dye while trying to erase sticky tack marks.
Spray the soapy water mixture onto the adhesive residue after thoroughly mixing it. Collect as much glue as you can remove by rubbing a clean cloth over it in a back-and-forth motion, and let the wall dry. Once there are no visible marks, recheck the wall for leftover glue.
Use White Vinegar for Getting Blue Sticky Tack off Walls
Most grocery stores carry distilled white vinegar, an inexpensive wall adhesive remover. Although white vinegar is frequently used for pickling and cooking, it is also beneficial for removing old wallpaper glue stuck to drywall and resistant sticky residue from walls.
Acetic acid, a weak acid, is a component in distilled white vinegar. It damages the links in the glue, causing them to break down and peel off.
Heat vinegar in the pan. Use the cloth to soak the tack adhesive in warm, not boiling, vinegar. Let the vinegar soak into the tack for a few minutes, peel away the residue, and wipe your wall with a clean, damp towel. White vinegar is safe for many different wall types, including paint and brick.
Get Poster Tack off Walls With Goo Gone
Consider buying an adhesive remover like Goo Gone if you aren't confident with DIY treatments. Goo Gone is a wise option to remove unsightly blue tack residue and grease stains from the walls in your household. Make a note of the surfaces you intend to clear from adhesive marks before shopping and choose a suitable cleaner.
Handle commercial adhesive cleaners carefully to protect you, your family, and your walls. If you don't have Goo Gone, a citrus based stain remover severs the bonds holding sticky to your wall for clean removal. Follow the label instructions for using chemical solvents.
Lift Sticker Residue With Nail Polish Remover
If you have some acetone nail polish remover in your beauty arsenal, you already have a potent adhesive remover. Acetone, a chemical included in nail polish remover, is a solvent and stain remover suitable for various cleaning purposes. Acetone dissolves sticky residue and tacky wall stains, making them wipe away with little effort.
Use a paper towel or fresh cotton ball dipped in acetone nail polish remover to massage over the gooey residue until all of the adhesive residue is gone. Put the old cotton ball in the trash, use a damp towel to remove the remaining acetone from the wall, and let the wall air dry.
Clean Sticky Residue off a Painted Wall With Olive Oil
Most adhesives, including tape, stickers, and white tack, are oil-based, so extra oil dilutes them. Get adhesive residue off plastic and your walls easily with olive oil without purchasing expensive cleaners. Apply olive oil to a clean cloth and rub it into the stain.
Putting olive oil or baby oil on the adhesive residue floods the adhesive. It causes the glue particles to scatter so they lose their grip and are simple to release. Let the oil rest on the glue stains for at least 20 minutes, then wipe with a clean cloth. Repeat the procedure until your wall is clean and free of adhesive residue.
Scrape Blue Tack off Drywall With a Putty Knife
Sometimes, what appears to be a stain is just a collection of old tack that is effortlessly removed. We often assume the worst if we find leftover tack on the wall. Check out less invasive strategies before resorting to more intensive methods which can damage your paint.
Start by blotting the tacky region with a fresh ball of tack. The new tack collects debris from the wall. Lightly scrape the discolored location with a putty knife, using the flat edge at an angle to the wall. If this doesn't eliminate the stain, move on to another cleaning idea.
A Heat Gun Is an Adhesive Remover
Melt tacky residue with a heat gun at a high temperature, making it simple to remove from non porous surfaces. Holding the heat gun eight inches away from the wall, start on the lowest temperature setting. Check the adhesive for signs of deterioration every 30 seconds.
Gradually raise the temperature until the glue stains are easy to remove with a blade or other fine edge. The residue becomes malleable due to heat breaking down the bonds attaching the adhesive molecules to the wall. If you do not have a heat gun, use your hair dryer.
Eliminate a Blu Tack Mark With Rubbing Alcohol
Rubbing alcohol is a mild solvent, ideal for erasing the last remnants of a sticky tack stain on your wall. Take a clean ball of tack and press it over the stained spot to lift old or dried bits of tack residue. Lifting excess tack before you begin prevents smearing and more discoloration.
Apply several drops of rubbing alcohol to a kitchen paper towel and wipe firmly in one direction. Move to a clean section of paper towel and repeat the process until all signs of the sticky tack are gone.
Eliminating a Blu Tack Stain From a Painted Surface
While removing blue tack marks or tape remnants from the walls is straightforward, there are a few steps to take to prevent damaging the wall finish. To avoid unintentional wear, choose non-abrasive cleaners.
Before using any cleaning products extensively, test them on a small, concealed section of your wall. White vinegar is one cleaning solution known to lighten darker paint colors. Even mild solvents like rubbing alcohol may cause your walls to fade.
When removing glue, always use light pressure; if you use too much force, you will have deep scratches that are ugly and difficult to fix. Knowing how to remove blue sticky tack from walls might seem tricky.
Blu Tack and other adhesives are a revelation in interior decorating. Tack forms a bond between a wall surface and light items like paper and posters to allow you to easily style your rooms.
Blue and white tack adhere to everything from a brick wall to a cork board and hold posters, pictures, and recipes, securely in place. When you take down your art, don't let tacky residue detract from your home's aesthetic appeal. Use uncomplicated home remedies to lift sticky residue off your walls.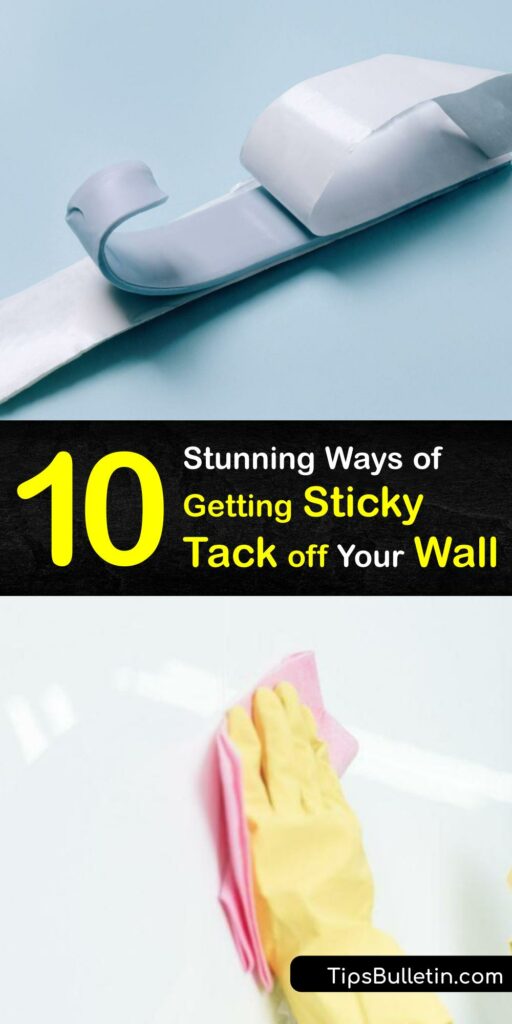 If you loved this stunning article on how to get sticky tack off walls, please share these smart tricks for getting blue sticky tack off walls with your friends and family who are doing home renovations on Pinterest and Facebook.