Discover how to get stubborn stains out of clothes and confidently tackle even the heaviest discoloration. Getting stubborn stains out of clothes is a laundry nightmare for many people. Whether it's a white t-shirt, your favorite pair of pants, or a delicate silk blazer, spills happen, and dealing with discoloration on your clothing is part of life.
Fortunately, a tricky stain doesn't mean your garment has to go in the trash. Multiple strategies lift unwanted pigment and restore the original color of an item without damaging or degrading the material. Use inexpensive tools such as oxygen bleach, dish soap, and white vinegar to remove stains from your garment without damaging it.
You look your best and represent yourself effectively if you are dressed neatly. Stains are unattractive and dirty. Find out how old dirt stains on clothes can be removed with products you already own to maintain the stylish appearance of your clothing.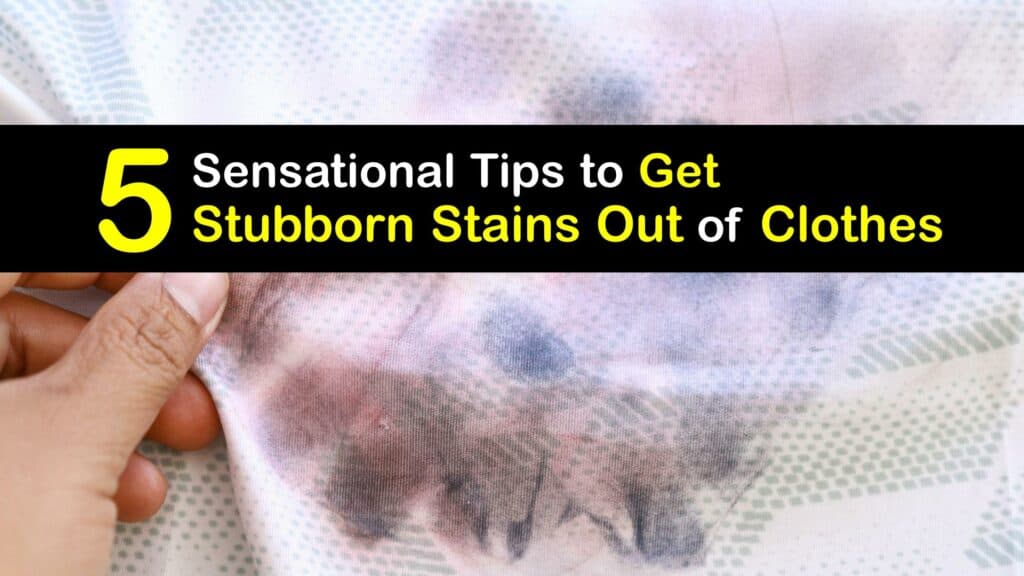 How to Remove Stubborn Stains From Fabric
You're not alone if you're unsure how to clean stubborn Sharpie stains off fabric and clothing. Many people are intimidated by getting stubborn stains out of clothes. As soon as a spill or accident happens, grab a paper towel and use a patting motion to soak up any excess liquid.
Never wipe or rub at a fresh stain, as this works the pigment deeper into the fabric. Blot up as much as possible and use a straightforward technique from the list below to remove difficult stains and ensure your clothes look clean and smell fresh.
Do Stubborn Stains Come Out of Clothes?
Clothes go through a lot during everyday life. Foods and things in our environment create blemishes when they touch our apparel. Though it seems like the end of the world when trying to get a grease spot off a t-shirt or sweater, rest assured the discoloration is reversible.
Whether you're dealing with organic blemishes, such as grass stains and blood stains, or the synthetic pigment in lipstick stains, several proven methods erase them.
How to Get Stubborn Stains Out of Clothes
A blood stain or grass stain doesn't wash out with regular liquid laundry detergent in the washing machine. If you're dealing with heavily-soiled baby clothes or a dried-on stain, use oxygen bleach as a prewash stain remover.
Mix oxygen bleach powder with water to make a soaking solution. Unlike traditional chlorine bleach, oxygen bleach creates no toxic byproducts and is safe for the environment. When oxygen bleach reacts with water, oxygen bubbles penetrate clothing to remove discoloration.
Combine the oxygen bleach powder and water in the bucket and soak clothes for at least half an hour before laundering as directed. Choose a color-safe oxygen bleach product to avoid accidentally fading dark colors.
If you don't have oxygen bleach, try soaking your soiled garments in water with a cup of baking soda overnight before putting them in the washing machine.
Getting Stubborn Stains Out of Clothes
Dish soap is designed to erase organic build-up and grease stains like food and oil off plates and flatware. Most people always have liquid dish soap on hand; if you're in a pinch, it's excellent for removing tough stains. Dish soap degrades wine, chocolate, and rust stains because they are all organic materials, and it rinses clean.
Use this soapy mixture to remove the imperfections by blending a quart of warm water with a quarter cup of colorless liquid dish soap. As the dish soap dissolves the bonds attaching the dirt stain to the surface, rub back and forth with a towel to remove the pigment. Wash your garments as usual after thoroughly rinsing them.
Removing Stubborn Stains From Clothing With White Vinegar
White vinegar tackles the toughest stains and brightens white clothes. White vinegar uses acetic acid to dissolve stains gently without harming the fabric. Don't let an old stain from tomato sauce or a coffee stain destroy your pants.
Dip a clean cloth in the vinegar and cool water solution, and wring it out. Use the cloth to rub the white vinegar into the tricky stain and allow it to soak for around 30 minutes. Clean the stained area with a toothbrush or a clothes brush and rinse the garment with cold water. If discoloration persists, repeat the process until it's gone.
Try Acetone for Stubborn Stain Removal
Nail polish remover contains acetone, a mild solvent, perfect for removing synthetic stains, including markers or paint from clothing. In most pharmacies, nail paint remover is inexpensive and easily accessible. Use a cotton pad or clean towel and a liberal amount of nail paint remover to massage the color of your clothing.
After removing the stain with a scrubber, wash your garments in the washing machine. Acetone comes with safety instructions and has a distinct chemical scent. Use acetone according to the manufacturer's directions, and only open the container outside or in a well-ventilated area.
Trying to figure out how to remove stubborn stains from fabric is frustrating, and giving up and throwing away your clothes is tempting.
Most types of stains, including organic ones like food and grass and inorganic ones like makeup, can be eliminated with patience and the correct methods. Use proven remedies to quickly eradicate stains and save your favorite outfit from the trash.
If you loved this enlightening article on how to get stubborn stains out of clothes, please share this essential knowledge with your friends and family who are getting stubborn stains out of clothes on Pinterest and Facebook.