Many people who use permanent marker pens regularly wonder, does Sharpie come out of clothes? Since it's designed to be permanent, Sharpie ink won't wash out in the washing machine and demands a specialized approach to removal. Discover how to get Sharpie out of clothes and use your favorite permanent markers without worrying about ruining your outfit.
Long-lasting and hard-wearing ink is vital for any permanent marker pen. The idea of a Sharpie is to ensure the ink remains in place; this makes them great for dozens of projects but no fun when they get on your clothes.
Learning how to remove Sharpie from clothes isn't tricky, and it's possible with a variety of different techniques and supplies. Sharpie removal can be as simple as tracing over the permanent marker stain with a dry erase pen or cleaning it with rubbing alcohol or hand sanitizer.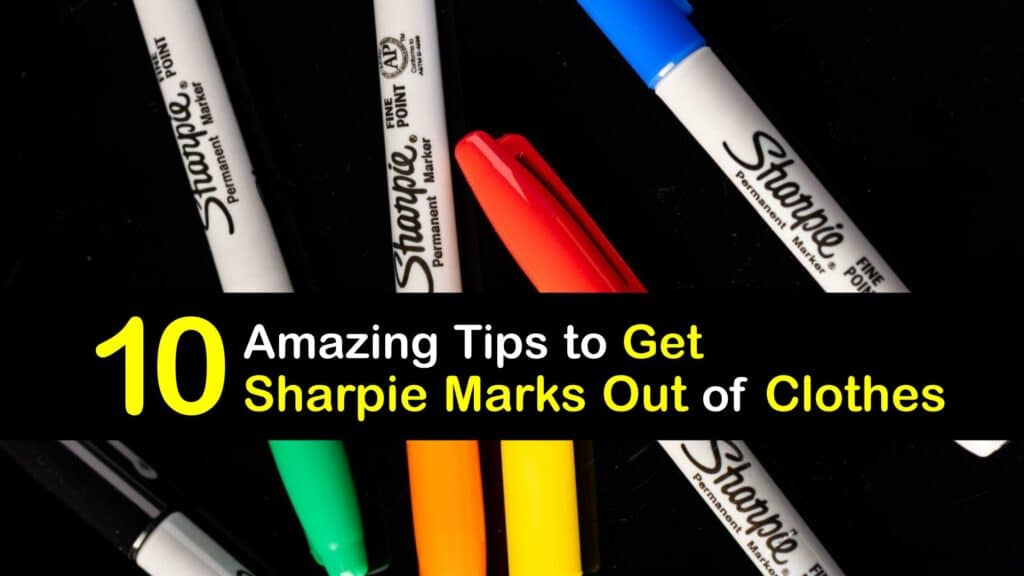 How to Remove Sharpie from Clothes
Arm yourself with knowing how to erase Sharpie from your clothes and enjoy the peace of mind of using your Sharpie marker pen without fear of accidents. A stain on your favorite dress or pants is stressful when you don't know how to get Sharpie out of clothes.
You immediately assume the worst and wonder, does Sharpie come out of clothes, or is my outfit ruined? Felt tip pen stains on your clothes make you look unprofessional and untidy, so removing the marks as soon as possible is paramount.
Once you understand how to remove Sharpie from clothes, it's straightforward to use everyday items around your home to quickly and safely remove permanent ink from your clothing, sheets, and other surfaces.
Does Sharpie Come Out of Clothes?
There's no doubt Sharpie ink is a stubborn stain, and many people are intimidated trying to remove it, similar to getting highlighter out of clothes. Since Sharpie marker pens are advertised as permanent markers, people automatically assume there's no way to clean up an ink spill, and their clothes must be destroyed.
Permanent marker ink holds up well, yet it's also readily removed using the proper cleaning substances to dissolve the strong bonds in the ink particles. With the correct solvents and techniques, you can remove permanent marker ink from your clothes at home.
Don't throw away your apparel when Sharpie gets on it. Trust proven home remedies to oust Sharpie stains and restore your clothes to their former glory.
How to Get Sharpie Out of Clothes with a Magic Eraser
Magic Erasers such as the Mr Clean Magic Eraser are wonderful products for removing Sharpie stains. These melamine foam blocks have hundreds of tiny air bubbles that use gentle abrasive cleaning to lift permanent ink from many materials.
When you get permanent marker on the rubber soles and accents of your shoes, pick up a Magic Eraser from the hardware or shoe store. Some erasers work dry, while others are best dampened. Check the product label for full instructions. Rub the melamine eraser back and forth over the Sharpie mark until no ink remains.
Use Rubbing Alcohol to Get Sharpie Off Clothes
Though rubbing alcohol likely lives in your first aid cabinet, it's a brilliant stain remover that works exceptionally well for removing Sharpie from leather and to remove permanent marker pens from clothes.
For a fast and simple way to remove ink stains from clothes with home remedies rather than a store-bought cleaner, soak the stained spot in rubbing alcohol and work the liquid in with your fingers. The alcohol breaks the bonds in ink, so the pigment washes away when you rinse it. Cover the mark in more alcohol, and continue treating and rinsing until the stain is no longer visible.
If you don't have liquid rubbing alcohol on hand, try hand sanitizer instead. Hand sanitizer contains a lot of alcohol, so it works in a pinch.
Removing Sharpie from Clothing with White Vinegar
Distilled white vinegar is a well-known multipurpose cleaner. This versatile liquid brightens, eradicates stains, and deodorizes under the most demanding conditions. Since distilled white vinegar is acidic, dilute it to avoid discoloring your clothes.
Shake the vinegar and water in a sprayer and saturate the Sharpie mark for 20 minutes. Wash your garments in the washing machine on the appropriate cycle and check the stain. If the Sharpie is still visible, re-spray and wash until it's gone.
Try this mixture as one way to get Sharpie off white shoes and clothing, too. Vinegar is a powerful stain remover.
Apply Nail Polish Remover to Get Sharpie Marker Out of Clothes
Nail polish remover or acetone removes dried nail polish, so this strong solvent is an excellent idea to get rid of Sharpie marks on your clothes and get pen ink out of pants and shirts. Acetone is sold at most pharmacies and cosmetic stores and is budget-friendly.
Apply some acetone to a cloth or cotton ball and rub it over the permanent ink until the mark fades. Since nail polish remover has a powerful smell, it is best used in a well-ventilated room or outdoors.
Use Concentrated Laundry Detergent to Remove Permanent Marker Stains
When we get a stain, most of us toss our clothes in the washing machine and hope it's enough to eliminate the issue. Sadly, a regular wash cycle is unlikely to do the trick with a stubborn stain like permanent ink.
The laundry detergent used in the washer is diluted with water and is typically not enough to remedy Sharpie marks. Using your laundry detergent in a more concentrated fashion boosts its cleaning potential, allowing it to lift even heavy stains like Sharpie. It often works for getting spray paint out of clothing and many other unfortunate stains.
Smother the Sharpie stain in laundry detergent right out of the bottle, rub it in, and leave it for about half an hour. Rinse the excess detergent and wash your clothes as usual to remove the ink stains.
Try Aerosol Hairspray for Sharpie Stain Removal
If you use hairspray to keep your hair in place, you already have a great Sharpie remover at hand. Aerosol hairsprays contain a high alcohol content; they're adept at destroying the chemical bonds in permanent ink to make it easy to clean, whether you need to take Sharpie marks off walls or have a spot on your shirt.
Lay your stained clothes on a flat surface and spray hairspray over the Sharpie spots until completely soaked. Use your fingers to rub the spray into the fabric by rolling it and working it together, and rinse with cool water. With a few repetitions, all the Sharpie washes out, and your clothes are saved.
Use Dry Erase Markers to Get Permanent Marker Out
A dry erase marker offers a convenient solution to remove permanent ink from several surfaces. This approach works best on smooth, flat areas like a whiteboard, though it's also worth trying on clothes and fabrics.
Color over the Sharpie stain with a dry erase marker until the permanent ink saturates with the dry erase ink. Let the inks settle for a minute or two, then use a paper towel or a dry cloth to wipe away the stain as you would with a dry erase marker.
Dry erase ink is soluble and readily removable. The erasable ink soaks into the Sharpie stain and loosens it by breaking down the bonds in the permanent pigment, so both pen marks wipe off clean.
WD40 Eliminates a Permanent Marker Ink Stain
WD40 is an industrial strength lubricant with many uses. This dark liquid usually comes in a sprayer and is available at hardware and auto parts stores. WD40 reaches deep into the bonds of fabric and other parts – a unique property that makes it excellent for removing unwanted Sharpie pen marks.
Spray the stained area liberally with WD40, then use a brush or cloth to scrub until the stain lifts and wash as usual. WD40 works well on clothes, shoes, walls, and tabletops. If you're concerned about greasy residue or staining, test a small discrete patch before applying WD40 to a larger area.
Toothpaste Destroys Permanent Marker Ink
An unexpected ink stain makes your outfit look messy. Fortunately, most of us have everything we need to remove Sharpie at home. Grab some toothpaste and a clean cloth – only use regular white toothpaste and not gel toothpaste to clean the ink effectively.
Squeeze a tiny blob of toothpaste onto the stained area, and work the paste into the stain with a clean cloth. Scrub in circles until the ink comes out of your clothes, rinse with cool water, and allow to air dry.
Sharpie stains may seem like a catastrophe, especially on your clothes or other fabric items. Thankfully, a marker stain doesn't have to mean the end of the line for your dress shirt or blue jeans. Sharpie ink is designed to be permanent and difficult to remove.
Learning about the cleaners that help break down and dissolve the ink is the key to removing it without damaging your garments. Next time you find Sharpie in unexpected places, don't stress. Use simple items to smoothly get Sharpie off your clothes, sheets, and furniture.
If you loved this article on how to get Sharpie out of clothes, please share these brilliant tips on how to remove Sharpie from clothes with your friends and family on Pinterest and Facebook.