Hats have long been used for everything from utility to fashion. A cozy wool hat keeps you warm in the winter, a big straw hat protects you from the sun, and a stylish hat allows you to express your style. If you love to accessorize your outfits with headgear, you need to know how to get sweat smell out of hats.
Though hats are universally loved, knowing how to remove sweat smell from hat insides seems challenging. Some hats don't come with washing instructions, so getting rid of body odor is a guessing game, while others are delicate and may fall apart if subjected to a conventional wash.
Don't suffer through wearing a stinky hat. Thankfully, there are many home remedies for getting sweat smell out of caps efficiently and without causing damage to your favorite hat. Follow our easy ways to wash a baseball cap in a washing machine to eradicate the sweat odor from your hat for good.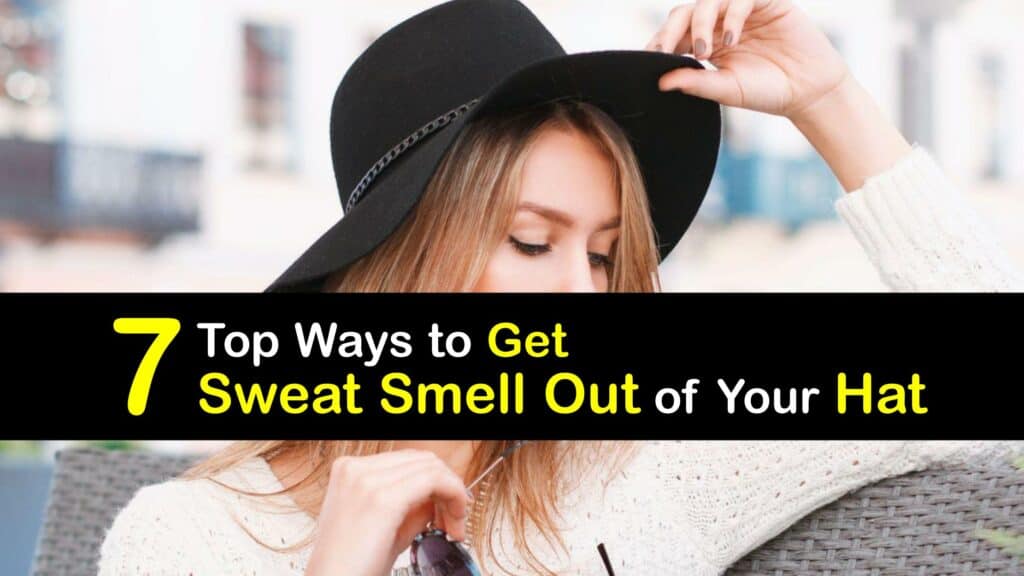 Home Remedies for Getting Sweat Smell Out of Caps
Learning how to get sweat smell out of hats saves you from the discomfort of wearing a smelly hat and prevents embarrassing incidents. You smell dirty and unhygienic when friends, family, and coworkers are close by and get a whiff of your stinky hat.
Use simple at-home tips for getting sweat smell out of caps to give your hats a thorough cleaning and deodorizing to ensure you stay trendy and smell fresh to make the best impression.
Why Your Hat Smells Like Sweat
Whether you wear your hat to the gym to work out or sport it for relaxing with friends, it's likely to develop a sweaty odor. Heads contain dozens of sweat glands, and like washing hair and clothes to avoid unpleasant odors, the same goes for our hats.
Hat care doesn't have to be a headache. Grab supplies from around the house and get your hats smelling clean in no time.
How to Get Sweat Smell Out of Hats
Distilled white vinegar is the perfect selection for removing a stubborn sweat stain from your white hat while beating body odor. White vinegar cleans and deodorizes while brightening your whites to leave a white ball cap looking as good as new. Mix distilled white vinegar with cool water for a simple sweat deodorizer for your hats.
Spray the inside of your hat liberally, pat up any excess water and vinegar, and leave to air dry in direct sunlight. Tea tree oil gives the cleaner a pleasing smell and combines its antibacterial properties with white vinegar's cleaning power. This method works perfectly for cleaning greasy spots off a baseball cap, straw hats, or delicates like wool berets.
Vinegar can also be used to get other types of stains off hats. For example, you can get sticker residue off a hat and clothing with vinegar. It's a straightforward method to remove a price tag or a sticker.
Removing Sweat Smell From a Baseball Cap
Baking soda is a practical deodorizer and stain remover that works without water to effortlessly eliminate the sweaty smell from your hat. This technique is ideal for all kinds of headwear, including ball caps and straw hats.
Lay your hat upside down so the inside faces upward, and sprinkle a fine layer of baking soda powder over the entire interior surface. Leave the baking soda to sit in your hat overnight and brush or vacuum it away in the morning. Baking soda is an odor-eater that absorbs smells like sweat from fabric to take the stink out of your hat.
Eradicate Sweat Odor From Baseball Caps
Your washing machine's laundry detergent is diluted with hot water, reducing its capacity to remove robust stains and odors. Concentrated detergent gets rid of stubborn sweat marks or a persistent odor.
Place your filthy hat on a hard surface, like a table, coat the interior with a generous amount of mild detergent, and leave for ten minutes. Wash your baseball cap as instructed in the washing machine or by hand with hot water.
The detergent breaks down the smell-causing particles as it sits on the fabric, so they can be removed by the washing machine. For straw or delicate hats, apply a little laundry detergent to a cloth and wipe the entire inside surface of the cap, leave it to sit, wipe away with a damp cloth, then air dry.
Get Rid of Body Odor From Baseball Hats
The purpose of liquid dish soap is to clean organic materials like food from dishes and pans. Sweat is an organic compound, so dish soap swiftly breaks it down, making it simple to remove stains and odors. Dish soap is most frequently used in the kitchen, yet it works well to remove sweat odor from caps.
Blend the liquid dish soap and warm water, and work the cleaner into the inside of your hat with a scrub brush. Use a soft cloth in place of a brush for straw hats or delicates. Let the cleaner sit on the interior of your cap for ten minutes before wiping it away with a damp cloth and air drying.
How to Remove Sweat Smell From Hat
Getting rid of body odor and stubborn perspiration stains from hats might seem difficult. Fabric conditioner aids in loosening sweat and grime to erase odor as it penetrates your hat's material deeply to loosen anything stuck to them.
When you put a stinking hat in the dryer with fabric softener, the heat amplifies the conditioner's actions. It makes it simpler to get the sweat out of the hat in the washer.
To remove odor and sweat stains, tumble dry your soiled hat as instructed on the label. Give it a fabric softening treatment before laundering it in your washing machine. If you have a straw hat or wool beret that's not tumble dryer safe, choose another technique for odor removal.
Color-Safe Oxygen Bleach is Excellent for Cleaning Hats
Clean your filthy hat and eliminate the musty smell of perspiration from the inside with oxygen bleach. Select a color-safe oxygen bleach to prevent damage to your hat, and carefully follow the label instructions. After the oxygen bleach process, wash your cap with cold water and let your hat air dry.
Because of its chemical makeup, oxygen bleach reacts with water to create hundreds of tiny oxygen bubbles. These microscopic bubbles reach deep within the weave of your hat's fabric to dislodge and get rid of particles and bacteria that cause odors, leaving your hat smelling fresh and clean.
Once you understand how to remove sweat smell from hat insides, you never have to worry about wearing a stinky hat again. A hat is a brilliant accessory to your outfit, yet when your hat smells like sweat, it becomes an uncomfortable and embarrassing problem. Trust proven home remedies to erase the scent of sweat and wear your hat with pride.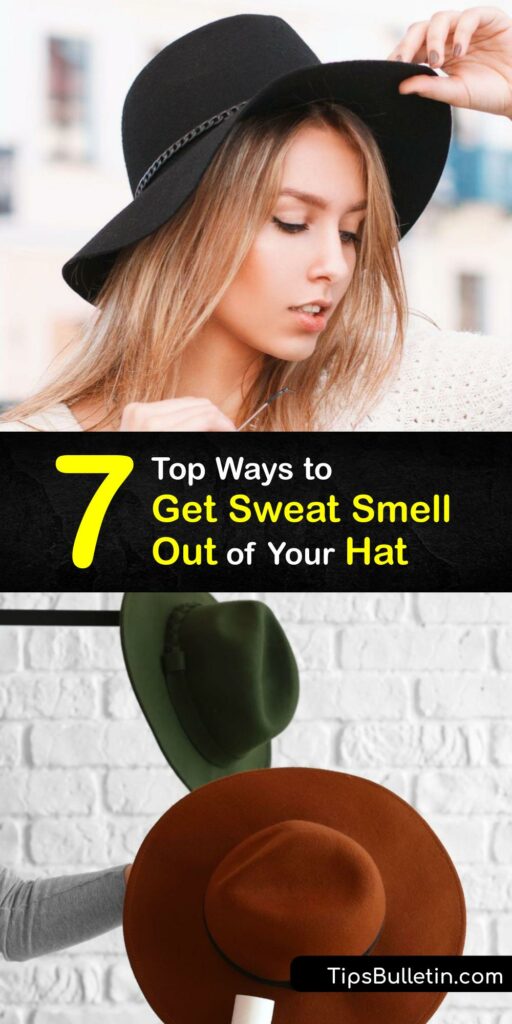 If you loved this article on how to get sweat smell out of hats, please share these brilliant tricks for getting sweat smell out of caps with your friends and family on Pinterest and Facebook.