North Americans deeply love tomatoes and all things pasta and tomato sauce related. Unfortunately, all those slippery noodles often mean tomato stains on shirts, pants, and accessories. Discover how to get tomato out of clothes in this fabulous pocket guide to tomato stains.
Why does pasta sauce stain your clothing and plastic container collection? The answer lies in the secrets of the tomato plant. Tomatoes are full of a compound called lycopene. This unique molecule is hydrophobic or water-repellent. Once tomato sauce comes into contact with the walls of your plastic container, which are also hydrophobic, it causes the pigments to cling to the container.
In addition to being hydrophobic, lycopene is resistant to high heat and soapy water. Many novices mistakenly push the excess tomato sauce deeper into the fabric using an incorrect cleaning method. Learn how to fight spaghetti sauce splatter on your shirt with fast ways to get red food stains off clothes and shoes the right way with our top tomato juice tips.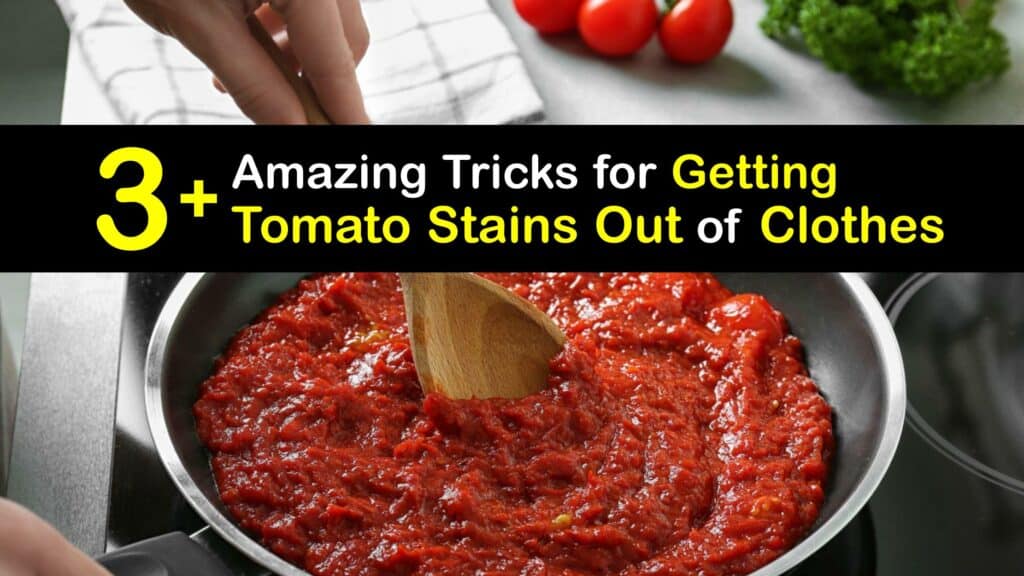 How to Remove a Tomato Stain From Fabric
Does a tomato stain come out of clothes? Yes, you can clothe yourself and eat rich, red pasta sauce at the same time. Learn how to treat tomato stains and save your favorite fabrics.
Not only tomato sauce but BBQ sauce will stain clothes and leave a red stain. Keep these cleaning tips on hand in case you wind up with a red or brown stain on your clothing.
How to Get Tomato Out of Clothes With Lemon Juice
It's tempting to finish your plate of pasta, but tomato sauce stains wait for no one. Removing a tomato stain from clothing is best done as soon as possible. Discover how to remove a tomato stain from fabric with a simple slice of lemon and some cool water.
Grab a paper towel or clean cloth to soak the excess pasta sauce from your clothing or carpet. Turn the garment inside out and flush the stained area with cool water through the back – push the remaining stain out instead of further into the fabric fibers.
Cut the fresh lemon in half, and rub it over the fresh stain for a minute. Rinse again, and wash as usual on the cold water cycle.
Getting a Tomato Stain Out of Clothes With Dish Soap
Dish soap is another unsung hero of the stain-removal world. Dish soap, dishwasher detergent, and laundry detergent make a fantastic spot treatment for those wondering how to get tomato sauce out of clothes without harming the fabric or spreading the stain.
Start rinsing the tomato sauce stain under cold water; be sure you're rinsing from the back of the stain outward. Add a tiny drop of dish soap and work the sauce from the fibers with your fingers.
Rinse until the water runs clear, and the stain is only slightly visible. Put your clothing in the wash and inspect the stained area before putting your clothes into the dryer.
Try Oxygenated Bleach for Tough Stains
Getting a tomato stain out of clothes sometimes requires a powerful push from a professional product. Oxiclean Versatile Stain Remover is an excellent option for clothing that won't tolerate the harshness of chlorine bleach.
Use Oxiclean Versatile Stain Remover with your regular liquid laundry detergent to eliminate any grease stain, ketchup stain, mustard stain, or tomato sauce splatter from last night's dinner. Oxy cleaners are ideal for a broad range of oil stains. Always follow the manufacturer's instructions and your clothing tag's care instructions.
Using White Vinegar to Clean Tomato Stains
Getting a tomato stain out of clothes doesn't have to mean fancy store-bought products. White vinegar and baking soda make a magnificent team to clean mustard or tomato stains off white clothing. Find out how to remove a tomato stain from fabric with a simple home recipe.
To begin the tomato stain removal process, sprinkle baking soda on the fresh stain and let it sit for a few hours. Brush the baking soda off and blot the tomato sauce with a vinegar-soaked sponge. Flush the stain with cold water and repeat the process until you're satisfied with the stain removal.
Tomato sauce stains are easier than you think to eliminate, especially with these tomato stain tips and tricks. We hope you had fun learning how to get tomato out of clothes and feel ready to revisit any sauce-stained garments you want to throw away.
To remove stains effectively, you have to act quickly. Turn your clothing inside out and run cool water through the back of the stain. Once the excess sauce is gone, follow up with lemon treatment for white or a dish soap scrub for colored clothes.
For stubborn stains, escalate your cleaning tools to the Oxiclean Versatile Stain Remover or a similar product that meets your requirements. If all else fails, contact the local laundry service in your area to weigh your options. Generally speaking, though, these tomato stain ideas should be enough to get you through the worst.
If you loved our tips for how to get tomato out of clothes, share this article with friends on Pinterest and Facebook who enjoy tomato sauce and would appreciate ideas for keeping the stains away.