Urine stains are a part of life. The great thing is that they don't have to be permanent. Discover how to get urine smell out of clothes with our quick and easy tutorials. These terrific tips and tricks work for pets and people and are effective on even the toughest stains.
All mammals have a bladder that expels urine as part of the body's waste management system. Hydrated and healthy humans tend not to produce smelly urine. However, some foods have the power to amplify the odor. The driving force behind the stink of fresh urine stains is usually dehydration. In humans and animals, dehydration causes the urine to smell of strong ammonia and other waste byproducts.
Further, urochrome is a chemical the body produces when breaking down dead blood cells; it makes urine yellow. Urine also contains protein, technically a protein-based stain, requiring cold water to treat. If you're intrigued, we have plenty more incredible and effective tidbits to help you crush urine stains at home.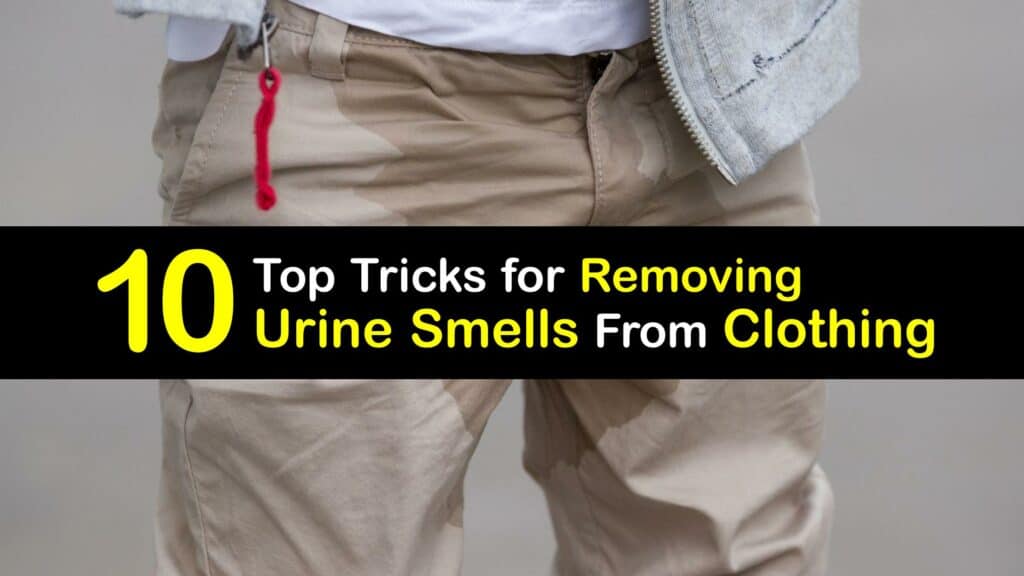 How to Remove Urine Smell From Clothes
To know more about urine stain removal, check out simple strategies for unbelievable urine cleansing results. Learn how to get rid of urine quickly, save your favorite clothing, and eliminate urine odor for good.
Getting Pee Smell Out of Clothes With Vinegar
Getting pee smell out of clothes is best done quickly. While it's not impossible to remove set-in urine stains, it's more challenging. Find out how to tackle soiled clothes and clean urine fast with a cold water and white vinegar soak.
When cleaning fresh urine stains on clothing, grab a few pieces of paper towel and gently blot up excess urine. Turn the garment inside out and flush it with cool water. Reversing the item helps push the urine particles out of the fabric instead of deeper into the fibers.
Use the sink, get a bucket, or find a rubber tub, depending on your garment size. Fill the bucket with cold water, and add a cup of distilled white vinegar. Ideally, you want to soak the item for a few hours, but 30 minutes is okay if you're in a rush.
Quality laundry detergent and a reliable washing machine are often enough to banish urine smell. Once the wash cycle is complete, give your clothing the smell test to check for lingering odor. Don't place your clothes in the dryer if they still smell of urine; the dryer's heat bakes the proteins into them. Instead, rinse and repeat.
Try Baking Soda to Dry and Deodorize
The baking soda brand Arm and Hammer refers to baking soda as "the small box with endless possibilities" – probably the most accurate advertising ever. Baking soda is the jack-of-all-trades around the house, and dealing with the occasional pee stain is no exception.
Once you blot the fresh urine with a paper towel, sprinkle a dusting of baking soda over the urine stain and let it sit for an hour. Rinse the clothing with cold water, and wash as usual. Some people add a half cup of baking soda to the washing machine. However, this may gum up your machine's moving parts over time.
Baking soda can also be used to quickly dry out a wet mattress with pee stains. Since a mattress can't be washed in a machine, using baking soda to dry out wet spots is essential.
Use Dish Soap to Break Down Stains
Dish soap is terrific for removing human urine smell from clothing when mixed with white vinegar and applied as a pretreatment before washing. Discover how to make this fantastic and effective urine-fighting spray.
Combine the ingredients in a plastic spray bottle, adding the dish soap last. Give everything a light shake to ensure the spray is well-mixed. Turn your clothing inside out and spray the back of the urine stain. Let your garment sit for 30 minutes, then flush thoroughly with cool water. Give it another spray if necessary, and wash it as usual in the machine.
Try Oxygen Bleach for Tough Urine Stains
Cleaning surfaces and clothing with chlorine bleach is an idea that became popular through mainstream cleaning companies and their marketing campaigns. In truth, we rarely require something as potent and potentially toxic as chlorine bleach around the home, even when dealing with urine.
Oxygen bleach could be the answer if you aren't a fan of chlorine bleach and want something a little stronger than vinegar and baking soda. Sodium percarbonate, or oxygen bleach, is made from soda ash. When exposed to water, the molecules release powerful oxygen that lifts dirt, stains, and urine. Getting pee smell out of clothes has never been easier.
Tips for Cleaning Cat Urine Out of Clothes
This section is for those more concerned about cat pee smell than human accidents. Explore fantastic tips to help you learn how to get urine smell out of clothes the cat has sprayed; no more throwing clothing away.
Feline urine contains many compounds, such as pheromones, creatine, sodium, and uric acid. Cat urine odor intensifies as it dries to deter other animals from their territory for as long as possible. For this reason, male cat urine smell or spray is particularly tough to eliminate.
When dealing with cat urine smell, you need to act immediately. Soak up all the urine with a paper towel, and evaluate the best cleaning method based on the fabric care instructions. When a cat urinates outside a litter box, there is often an underlying health issue. Take your cat to the vet and have them test for uric acid crystals or a urinary tract infection.
How to Clean Cat Urine Quickly and Effectively
Any lingering cat pee smell is the worst. The eye-watering aroma takes over the room and pretty soon the entire house. Get the jump on cat urine odor with our DIY stain remover.
This inexpensive, non-toxic recipe is ideal for anyone struggling with cat pee odor. Always do a small test patch when dealing with hydrogen peroxide, as it may strip some colors away.
Always start by soaking up the excess urine before using a stain remover. Sprinkle a half cup of baking soda on the stain, allowing it to sit for 15 minutes. Add the distilled white vinegar to the stain, letting the baking soda fizz. Blot away the excess.
Add hydrogen peroxide and dish liquid to treat any odor clinging to the fabric. Once you apply all the ingredients and scrub the stain, rinse the clothing in cold water and launder as usual.
Tips for Cleaning Dog Pee Out of Fabric
Pet puddles are one of the few disagreeable things about being a dog owner. Fortunately, dog urine is generally a little less stubborn than cat pee and is easily managed using simple ingredients, cold water, and a little elbow grease.
If your dog has an accident, you need to figure out how to remove urine smell from clothes. Soak up the dog pee with a paper towel, and rinse the garment in clean, cold water. Cover the stain with a 1-to-1 mixture of vinegar and water. Add a half tablespoon of baking soda and hydrogen peroxide to pump up the power.
How to Get Urine Smell Out of Clothes With Enzymes
Enzyme cleaners are another incredibly effective way to destroy urine particles, especially an old urine stain that won't budge with more traditional cleaning methods. Enzymatic detergents and cleaners are nothing new – there are many examples showing the efficacy of these kinds of cleaners against biological stains such as urine, blood, and sweat.
Enzyme cleaners are ideal for pet stains, pet urine, and general pet odor. Check your local pet store or grocery store for enzyme cleaners that are specifically protein-based. Otherwise, it won't clean these kinds of stains effectively.
Once you choose the best enzyme cleaner for your needs, either as a cleaning spray or laundry detergent, follow the directions on the packaging to take care of pet urine odor forever.
Make a DIY Enzyme Cleaner for Urine Stains
The one drawback to enzyme cleaners is that they tend to be costlier than many other cleaning products. If you're curious about how to remove urine smell from clothes by making a homemade pee cleaner with enzymes, try this recipe.
Take two cups of clean, dry citrus peels and chop them into half-inch pieces; the fresher the peels, the better. Use a funnel to add all the ingredients to the plastic bottle, screw the lid on, and shake it until the sugar dissolves. Unscrew the bottle to release any built-up gas, and place the bottle in a dark warm place to ferment.
Release the gasses a few times a day during the first 14 days of fermentation. Venting helps introduce oxygen and prevent the bottle from bursting. Generally, this mixture takes two weeks to ferment fully. Still, you may leave it for up to three months to intensify the potency of this homemade cleaner.
Try Dry Cleaning or Professional Laundry Services
Set in stains, especially cat urine, may require a professional's knowledge and expertise. Contact your local dry cleaners for advice if you're struggling to eradicate stubborn urine stains. They can often help with even the worst stains and odors, and the cost is pretty reasonable.
For tough pee stains on carpets, try a carpet cleaning company or inquire about renting a carpet cleaner for the afternoon; there are always options, even when dealing with the worst kinds of urine stains. Cleaning dog urine odor off the carpet at home can be difficult, but needs to be dealt with immediately.
We hope you enjoyed discovering how to get urine smell out of clothes and carpets with our stain-fighting advice. Kids, pets, and medical conditions sometimes mean pee stains, and that's okay because you know how to tackle anything that comes your way.
Always deal with urine stains as soon as possible, and use cold water against protein-based problems. Try baking soda, vinegar, and dish soap to destroy urine odors. Escalate to professional products like oxygen bleach or enzymatic detergents for set-in stains. Call professional cleaners for anything you can't handle yourself.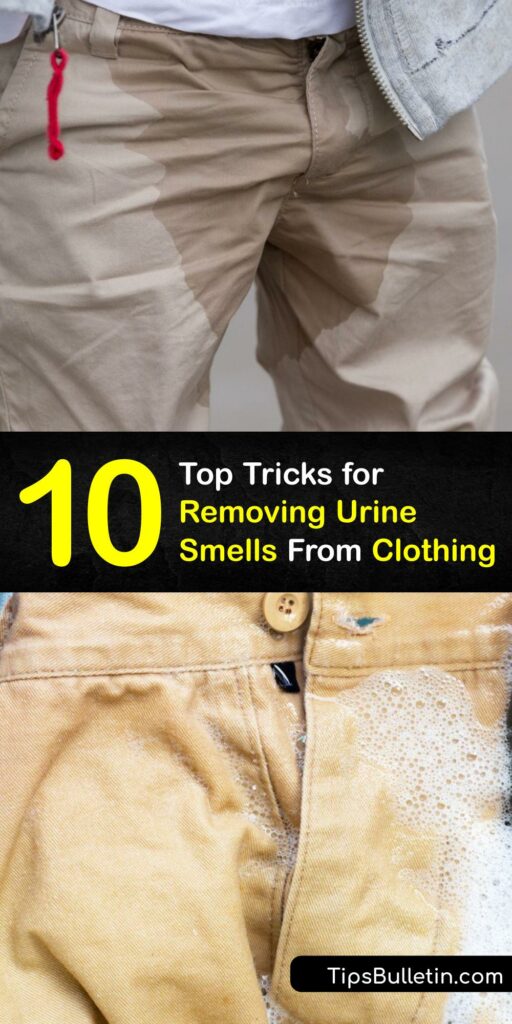 If you loved learning a little about how to get urine smell out of clothes quickly with our helpful hints, share this article with friends on Pinterest and Facebook who might appreciate some urine odor-fighting ideas.