The idea of greasing baking pans seems a lot easier than it actually is when you start baking. Some recipes call for you grease the pan before scooping the layers of yummy goodness into the pan, but it rarely tells you how to grease a cake pan. Do you use olive oil or butter?
What about nonstick spray or parchment paper? The possibilities feel endless, especially when you realize that each type of greasing agent serves a separate purpose. So now the task becomes understanding what to use to grease a pan, whether you are baking brownies, cupcakes, or cornbread.
All are delicious, though baking them can quickly go awry if you don't use the proper method. If the instructions aren't clear enough in the recipe you're using, use the following information as your guide to preventing cakes from sticking. Be sure to follow our methods to remove grease from pans when you're finished baking your cakes!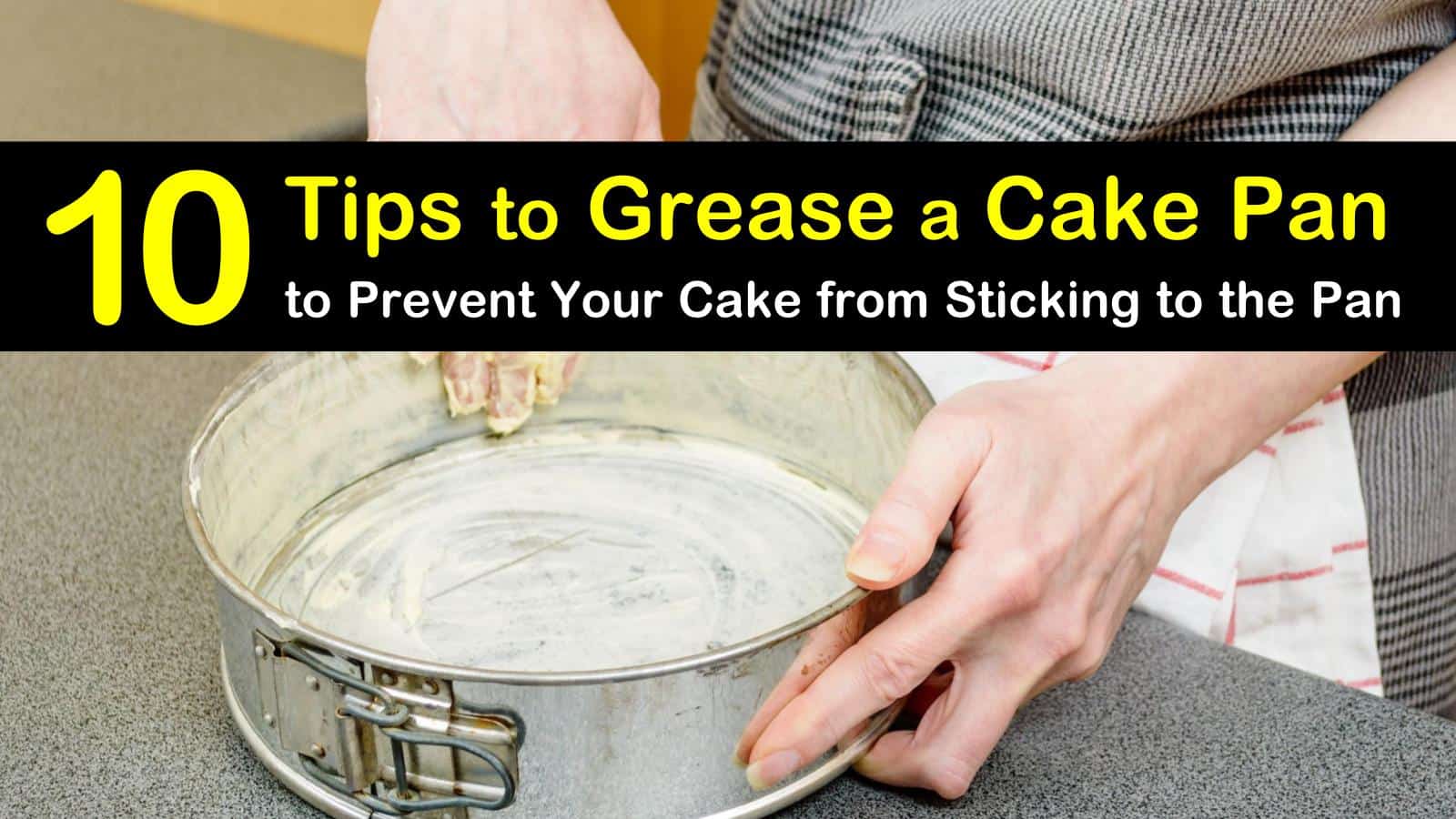 What to Use to Grease a Pan
Take note of these easy ways to keep your cakes and breads from sticking to the pan. Here are some supplies you may need.
Parchment Paper for the Bottom of Cake Pans
Using parchment paper is one of the best methods to use when baking and doesn't even require any grease at all. Adding a layer of parchment paper to the bottom of a cake pan prevents the dough from sticking while cooking.
It peels away easily after heating in the oven and can be cut to fit most pans. Beyond its effectiveness as a nonstick surface for pans, it also works with almost every baking task.
This method is especially helpful when baking cookies on a cooking sheet or pound cake in loaf pans. The only drawbacks to using parchment paper are that it is not as useful for "greasing" the sides of the pan and does not work well for bundt cake molds.
Use Cocoa Powder to Keep Brownies from Sticking
When it comes to baking brownies, some recipes will ask you to grease and flour the pan. Adding flour to the surface of your chocolatey confection doesn't sound too appealing when you think about it. As a delicious alternative, use cocoa powder instead to enhance the flavor and reduce sticking.
To use cocoa powder, start by greasing the pan using your usual methods. This routine may be adding butter or oil cooking spray. Afterward, sprinkle a light dusting of cocoa powder over the bottom of the pan, and pour the brownie mix over the top. Bake the brownies, and enjoy the extra burst of flavor.
Greasing Baking Pans using Coconut Oil
For muffins, coconut oil is a great option. Not only is it healthier than fats like vegetable oil or butter, but it can also withstand high temperatures without smoking or forming a coating at the base of the pan. It also has the potential to add extra flavoring to your muffins.
The flavor, however, is entirely optional and changes depending on the type of coconut oil you buy. If you want the flavor to carry over into your muffins, use the unrefined version. Otherwise, use the refined, flavorless option.
To add coconut oil to your baking sheet, apply it with a pastry brush and evenly spread a thin layer along the bottoms and sides of the muffin tin. If you don't have a pastry brush, a paper towel works, too.
Add an Oil-Based Cooking Spray
One of the most common greasers to use when baking is cooking spray. The primary ingredient in these sprays is vegetable oil, packaged in an aerosol can. The ease of using these sprays makes wanting to use them that much more persistent.
However, these shouldn't be used in every baking scenario. Bundt cakes, for example, require butter to retain a nonstick surface, and oil-based sprays are ineffective.
You also never want to use this type of spray on a baking stone for pizza. Some may think that seasoning a baking stone is similar to seasoning cast iron, using oils to coat the base, but doing this harms the baking stone rather than improving it. It may also cause smoking to occur during cooking as a result of caked-on oil deposits.
How to Grease a Cake Pan using Cake Release Spray
A cake release spray is another helpful resource to keep in your kitchen. This spray differs from regular cooking sprays by incorporating flour into its oil-based mixture. The best time to use the cake release spray is when baking in a nonstick pan.
Despite the label of being a "nonstick" pan, adding grease to the surface of these pans improves their ability to release the baked goods.
Using a nonstick cooking spray has the opposite effect, leaving a sticky residue behind that clings to the food. Instead, use a cake release spray to line the base of your nonstick pan.
How to Flour a Pan for Cake Batter
Whether you are making a chocolate cake or zucchini cake, the steps for greasing your cake pan are the same. The traditional grease and flour routine is ideal for preventing cake batter from sticking to the bottom of the pan. Start by greasing the pan with your oil of choice.
You can use a small dab of vegetable oil and apply it to the pan using a piece of parchment paper, or grease the pan using cooking spray.Next, flour the pan by adding a tablespoon of flour to the pan. Even out the layer of flour by shifting the pan about, almost as if you were sifting for gold.
Once there is enough flour to cover the bottom and sides of the pan, shake out any excess flour into the trash. Your container is now ready for that delectable cake recipe.
Use Butter to Grease Bundt Cake Pans
While the classic method of grease and flour still works for bundt pans, there is one special stipulation beyond that step. Unlike cake pans, which do well using most cooking sprays and oils, bundt cakes must use greases that are high in fat.
Mainly, using melted butter is the best way to grease the inside of the pan. Make sure you use a pastry brush to get into all the grooves and crevices of the odd-shaped bundt pan. Afterward, apply the flour the same way you did for the cake pan.
Try Cupcake Wrappers for Smooth Removal
Flouring a muffin tin for cupcakes is not necessary, especially when there are other methods available. For cupcakes, a regular baking spray is enough to scoop out those yummy treats without much issue. The exception to this rule is if the recipe calls for a different manner, though this would likely be related to flavoring over function.
You can also use a cupcake liner to prevent the batter from sticking to the sides. Your biggest worry when it comes to cupcakes is determining what color frosting to put on them.
Use Bacon Fat to Grease Pan for Cornbread
If you have any leftover bacon grease from cooking breakfast, don't throw it out. Save it for greasing your cornbread pans. The bacon grease complements the cornbread in a tasty blend of flavors. There are even several cornbread recipes that use bacon fat as an ingredient.
Adding just a little bit to the base of your pan will cause it to form a thin, crisp layer along the bottom and will prevent the mix from sticking to the pan, while also providing a little kick to your cornbread.
Baking in a cast iron pan also adds some of that bacon flavor back into the seasoning. This is how to season cast iron the easy way and add some extra flavor at the same time! Be sure to follow the proper procedures for cleaning a cast iron skillet after making your cornbread to preserve that delicious and beneficial seasoning.
Forget Greasing Your Angel Food Cake Pan
Not greasing your round cake pan feels a little wrong, but it is the best option for light sponge cakes like Angel Food cake. Because sponge cake uses egg whites to hold its shape instead of butter, adding grease to the sides results in the cake deflating.
When butter is the main ingredient for maintaining the cake's form, the butter can absorb into the oil-based greasing agent and grow along the walls of the cake pan. The egg whites, on the other hand, slide right off of the slick walls and are unable to expand upward.
America's Test Kitchen shows us the proper way of removing sponge cake from a round cake pan. Instead of adding grease, bake it without anything between the cake batter and the pan. Once the cake is ready, scrape the inside edges of the round pan with a knife to loosen the cake from the sides.
Flip it over onto a plate or use the middle part of the round pan to remove the cake. If necessary afterward, clean your scorched pan with a little bit of vinegar.
Even if the worst should happen and you have batter that sticks to your pans, whether they are stainless steel, copper, or aluminum, you can still get off the offending crumbs.
Wash with warm water, a little dish soap, and a scrubbie for an ideal copper cleaner that scrapes and rinses away crumbs before they get into the dishwasher. Greasing or otherwise preparing the pan ahead of time saves you these extra steps.
Now you have a plan for almost every cooking situation you can think of and a game plan for what to do next. Greasing a pan has become such a broad term that it's confusing to know which process it the right one to enact.
These nifty tips, however, will always point you in the right direction and allow your baked goods to slip from the cake pans seamlessly.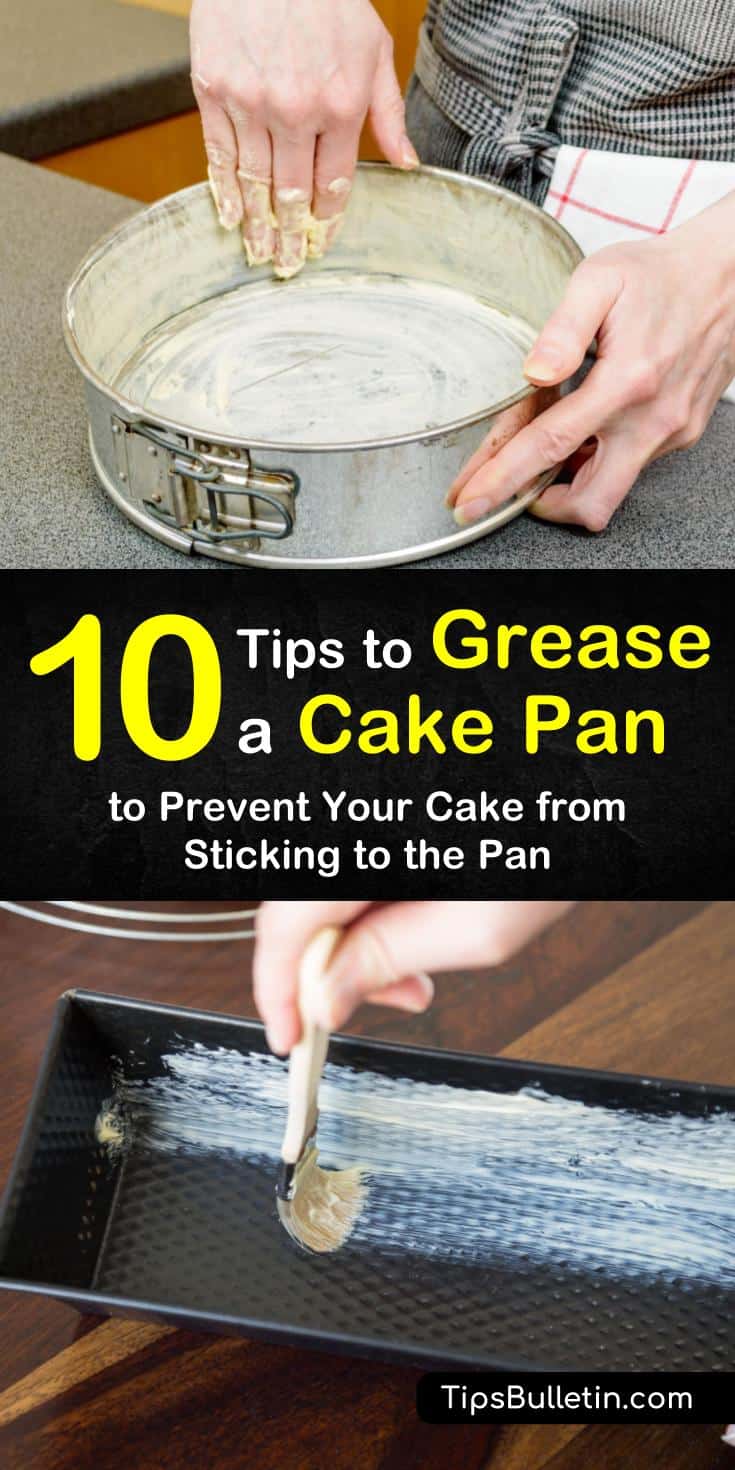 If you enjoyed learning what to use to grease a pan, make sure to let your friends and family know these helpful tips, too. Feel free to spread the word on how to grease a cake pan on Facebook and Pinterest.