Texture is one of the most critical aspects of cooking a good meal. When you use ingredients with a nice crunch, the meals become even more appealing. Knowing how to grow celery indoors is a simple trick for keeping crunchy veggies on hand throughout the year.
Can you grow celery indoors successfully so that the veggies still have all the flavor and texture they would outside? Not only is this achievable, but there are multiple ways to do it.
Growing celery indoors isn't as hard as you may think. Celery, or Apium graveolens, may be acclimated to cool weather, but they still find a way to thrive in various temperatures and hardiness zones.
To grow celery at home, all you need is a little patience. Before you know it, you'll have a bounty of celery stalks to use as the base in some of your most cherished dishes.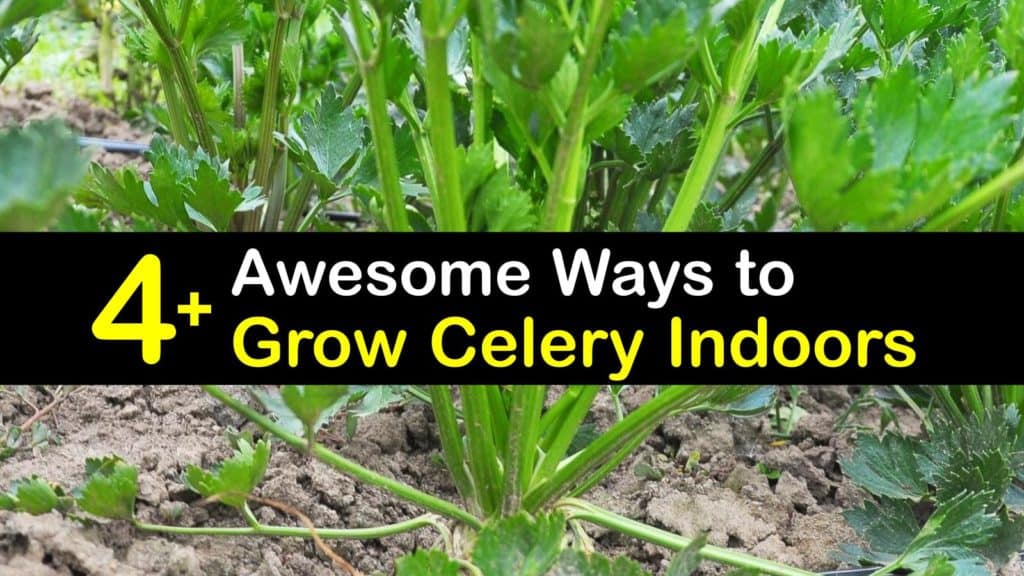 Can You Grow Celery Indoors?
Just like planting tomatoes indoors, growing celery indoors is entirely possible and may even give you a deeper appreciation for the plant. Celery plants might not immediately seem like the most exciting veggie in your garden.
Still, these cold weather crops offer various benefits to our bodies that only become more beneficial when we eat them every day. It's not surprising that with the amount of water in celery, they contain only ten calories per stalk and are incredibly hydrating.
But, low calories and hydration aren't the only things this plant has to offer. Celery is an excellent source of antioxidants that protect our organs, cells, and blood vessels from damage.
Vitamin C, beta carotene, and additional nutrients work to reduce bodily inflammation all over the body but especially in our digestive tracts, and reducing inflammation has proven to help with arthritis and osteoporosis.
How to Grow Celery Indoors
You've already asked the question, can you grow celery indoors, but now you need to learn the different ways to do it.
Growing celery indoors isn't too different from growing other plants inside. As long as you give celery a sunny windowsill and enough water, then the plant does the rest of the work.
Types of Celery to Choose from
Like all other plants, there are a lot of celery varieties for you to grow at home. Each of the three types of celery is grown for various reasons. Celeriac is grown for the root and often turned into a mash or puree.
Other people grow leaf celery for its fragrant foliage. The most common type of celery is stalk celery that gives us the crispy, crunchy stalks we love.
It's safe to assume that you grow celery for the stalks and, if that's the case, there are a lot of varieties. Golden Self-Blanching celery is extremely popular because the growers don't have to hill a soil base around the plant to protect it.
Red celery is an heirloom type with reddish stems and dark green leaves. There are many others, but regardless of the kind of celery you choose, they all have similar care requirements that are easy for even a beginning gardener to grow.
Growing Celery Indoors from Existing Plants
It's possible to regrow celery by turning an old celery base into new celery. This method is an exciting DIY strategy for celery growing. For this design, the base must be attached.
Pick up a bunch of celery from your local grocery store with healthy, vibrant celery leaves. Rinse the outer stalks under cold water to remove any dirt and use a sharp knife to cut the stalks from the base.
Use the individual stalks as you'd like and hold onto the bottom. Pat the base of the celery dry with a paper towel or clean cloth, and find a bowl that is twice as wide as the base.
Put four toothpicks into the sides of the base and set it so that it is cut side up in the middle of the bowl. Fill the bowl two-thirds high with warm water to come up the celery's sides and stimulate growth.
Celery needs full sun so set the bowl of water in a place with at least six hours of direct sunlight or under a grow light. Replace the old water with fresh water every other day until small green and yellow leaves appear from the top.
After about one week, fill a large pot with potting soil and plant celery so that the base is covered and the new shoots are visible. Water the plant and watch it grow.
You can grow garlic indoors the same way, but know that if you want to harvest the bulbs, you need to transplant them outdoors. Indoor garlic only produces the greens, which are a great addition to many recipes.
Grow Celery from Seeds
Learning how to grow celery indoors usually starts by planting celery seeds. Growing celery from seed starts indoors ten to 12 weeks before the last frost of spring. Soak the seeds in a small bowl of warm water overnight to make germination easier.
Drain the seeds and fill a pot with drainage holes at least eight inches high with rich soil. Scatter the seeds over the top and cover them with another quarter-inch of dirt.
Mist the seeds with a spray bottle so the mix is evenly moist, and then put the planting container in a warm and sunny area. Transplanting the young plants to your garden is safe after the leaves reach two inches tall.
In cool regions, transplant the celery in the early spring, and in warmer areas, plant them in the mid to late summer for an autumn harvest at the end of the growing season. Be sure to follow correct celery plant spacing to aid in disease prevention and allow plants to spread out.
Green onions make a great companion plant, while sweet potatoes may damage the plant. Keep this in mind when transplanting them outdoors. Mulch the plants' base to maintain moisture during hotter summers and only use pesticides if necessary.
Growing Celery in Containers
Another trick for growing celery indoors is to transplant them into larger containers instead of your outdoor garden.
As long as you keep the potting soil pH between 6.0 and 7.0 and keep the soil moist, the stalks should thrive. Ensure that they get six to seven hours of direct sunlight every day if you don't have grow lights at home.
Embracing Celery as an Ingredient
We all know celery is an excellent snack when topped with peanut butter or pimento cheese, but why don't we embrace the flavor of it in different ways? Celery soup is a savory meal that is easy to make and uses up a lot of celery when you have an excessive yield.
Heat the oil in a large pot and add the onion, cooking it for five minutes. When the onions turn golden, add the celery, garlic, and potatoes and stir. Sprinkle in the broth, water, bay leaf, cayenne, salt, and pepper, and put the cover on the pot.
Bring the ingredients to a rolling boil and turn the heat down to gently simmer for ten minutes. Turn the heat on the range off and discard the bay leaf. Use an immersion blender or regular blender and blend it into a smooth consistency before serving your guests.
Celery is a fundamental ingredient in the kitchen, and one of the easiest ways to ensure that you always have it is to grow it yourself and keep it in either your indoor or outdoor garden.
These growing-celery-indoors methods are truly unique and make life a lot easier in the long run.
If discovering how to grow celery indoors has made your life in the kitchen better, share these ways to grow celery inside on Facebook and Pinterest.