Ginger, otherwise known as Zingiber officinale, is a popular spice used for many dishes. Not only does the ginger plant provide a zesty taste to various foods, but it is also extremely healthy. When growing a ginger root in your garden, you must learn how to harvest ginger correctly.
Throughout this article, we show you how simple harvesting ginger is and the correct time to plant and grow ginger indoors. One of the great things about growing ginger is that you can take ginger rhizomes from your local grocery store and produce your own ginger.
Growing fresh ginger in your garden or indoors is straightforward and comes with several health benefits. Ginger is commonly used to treat various illnesses, like nausea, upset stomach, motion sickness, and irritable bowel syndrome.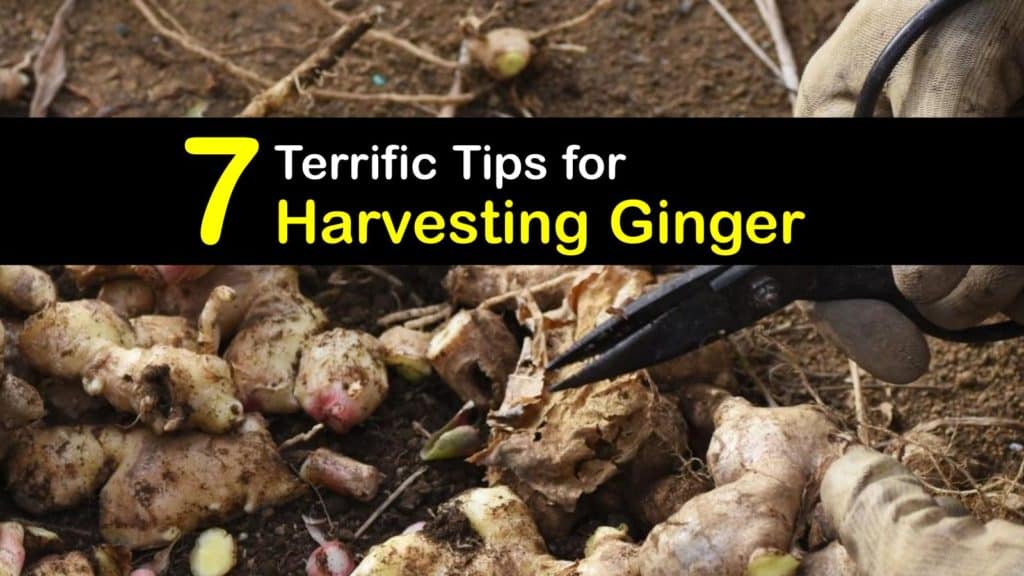 Benefits of Growing Your Ginger
Ginger promotes weight loss, reduces joint inflammation, and lowers blood sugar levels. With the vast array of health benefits, educating yourself on when to harvest-ginger and how to grow the plant is a valuable skill.
The ginger plant takes a long time to harvest compared to other fruits and vegetables, like when you harvest peanuts or tomatoes. However, planting fresh ginger as a houseplant or for consumption helps build a sustainable environment.
Growing your foods reduces your environmental footprint, saves money on groceries, and allows you to eat fresh foods without harsh pesticides or insecticides. Continue reading to gain insight on the best techniques to use when planting ginger root and caring for it properly.
How to Harvest Ginger Correctly
Learning how to harvest ginger the right way is effortless and essential to get the most out of the plant's harvest. Locate the base of a piece of ginger and gently pull it out of the ground. Use the same procedure to harvest garlic or beets.
We suggest wearing gardening gloves to harvest your ginger to protect your skin from the soil. If you want to continue growing ginger, only cut off part of the mature ginger and cover the rest of the root up with dirt.
Ginger can regrow when a part of the rhizome is left underground. So, harvesting and replanting ginger are possible at the same time.
As soon as you harvest ginger, rinse the plant off with warm water before consuming it. It is essential to rinse off the potting soil and any other germs and bacteria that reside on the ginger before using it as culinary ginger.
Knowing When to Harvest Ginger Root
Some people believe that correctly understanding when to harvest ginger is tricky. However, there are many indicators that a ginger plant gives that determine when it is ready to harvest.
When is ginger ready to harvest? Do not grow too impatient when planting ginger, as the plant takes several months until it is ready to harvest.
A ginger harvest is usually ready about ten to 12 months after the rhizomes have begun sprouting. When the ginger is ready to harvest, the leaves on the entire plant are yellowed and dried.
Another sign your ginger is ready to be picked is a wilting stem. If you dig up ginger before it matures fully, the rhizomes do not have tough skin and bruises when handling and washing.
Educating yourself on how to harvest ginger does not take a lot of time and helps you learn many telltale signs the plant is ready for harvest.
Planting and Harvesting Ginger from Rhizomes
Although ginger is a tropical plant that is accustomed to a humid climate similar to Hawaii, growing it indoors is feasible. The best way to start growing and harvesting ginger is to purchase a ginger rhizome from your local grocery store.
Starting the growing process out with a rhizome speeds up the plant's maturity compared to planting ginger from seeds. Soak the ginger in water overnight to eliminate the growth retardant that farmers often use, so the inhibitor does not interfere with new growth.
Plant the rhizomes with the growth buds facing upwards and spaced at least eight inches apart. Bury the plant at least three inches deep so the roots have ample room to grow.
After picking ginger, use the freezer and a well-wrapped packed to extend your ginger shelf life.
It's easy to freeze fresh ginger. Dividing your freezer bags into usable portions makes it convenient for your favorite recipes.
How to Grow Ginger Indoors
One great thing about learning how to harvest ginger and plant ginger are that it survives indoors all year long. If you reside in a climate with frigid temperatures during the winter, harvesting ginger is still possible.
Plant the rhizomes in a pot that is at least 12 inches in diameter. Utilize a grow light to ensure your ginger plant receives at least six hours of sunlight a day.
Imitating a ginger plant's natural environment is challenging. However, using a grow light and rich soil are two tools that help you produce the best ginger possible. We also suggest using a spritzer to keep the air that surrounds the pot moist and humid.
When to Plant Ginger Root Outdoors
If the weather permits, planting ginger outdoors is a great way to get fresh air and add nutritious food to your garden. The best time to grow ginger outdoors is early spring.
If there are still freezing temperatures in the springtime, start your ginger rhizomes indoors until the temperatures are warm enough for the ginger root to thrive outdoors.
When using a ginger rhizome from the grocery store, make sure to soak it in water overnight and then let it dry before planting it in the soil. It is vital to make sure the rhizome is completely dried out to promote quicker and healthier growth.
Understanding Ginger's Natural Environment
A common misconception is that a ginger plant requires full sun eight hours a day to thrive. However, ginger prefers partial shade, which is critical to know if you plan on growing ginger outdoors.
Sunlight helps the plant by transforming the organic matter required to sprout. Baby ginger plants are native to areas where the soil is moist. The best kind of soil to use for a ginger plant is one that is rich and loamy.
Additionally, ginger calls for soil that has good drainage, so the plant does not develop root rot or other deadly diseases that destroy its integral structure. If you grow ginger root in a pot, choose one with holes drilled in the bottom so overwatering is not a problem.
Additional Tips for Growing Ginger
Now that you know when to harvest ginger, some additional tips and tricks make growing ginger painless. Make sure the soil remains moist for your ginger plant.
Water acts like liquid fertilizer, providing nutrients that assist your ginger plant in developing. One way to retain moisture is to use a fair amount of mulch over the soil's top.
We also recommend adding a slow-release organic fertilizer to your ginger plant's soil. Fertilizer gives your plants extra nutrients that help the plant grow faster because of the added minerals.
When you add fertilizer to your ginger plant's soil once every month, you will harvest the plant sooner than when you do not use fertilizer.
Making fresh ginger and turmeric tea tastes even better after harvesting your ginger. Be sure to learn when does ginger go bad so you only use the freshest roots. Although ginger takes several months to grow and mature, it is simple to develop a bountiful harvest.
If you have a lot of ginger, experiment with the best way to store it. Preserved ginger is just as good as fresh, as long as you do it the right way.
Ginger usually grows in humid climates, but it also thrives when grown indoors under grow lights and proper watering methods.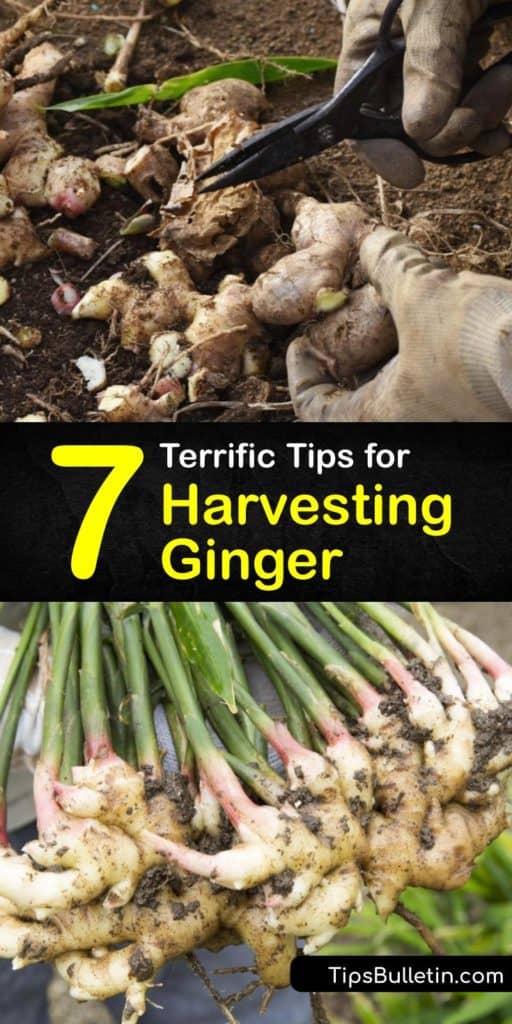 If you learned how to harvest ginger, please share this article about harvesting ginger with your gardening friends on Facebook or Pinterest.