Nothing is more enjoyable on a summer's afternoon than relaxing outside on a lounge chair or hammock – until the onslaught of summer bugs begin their attack with their insistent buzzing and mosquito bites. Learn how to keep mosquitoes away from patio using a variety of simple solutions and preventative methods.
Of all insects, mosquitoes are one of the most annoying pests. They are tiny and elusive, and you're often only aware of their presence when you hear their whining buzz and feel their itchy bites.
Moreover, unlike larger flying insects that are easy to swat, adult mosquitoes have a way of disappearing when you discover their presence. Instead of spending the entire mosquito season hiding indoors, why not take steps to eliminate these flying pests from invading your yard?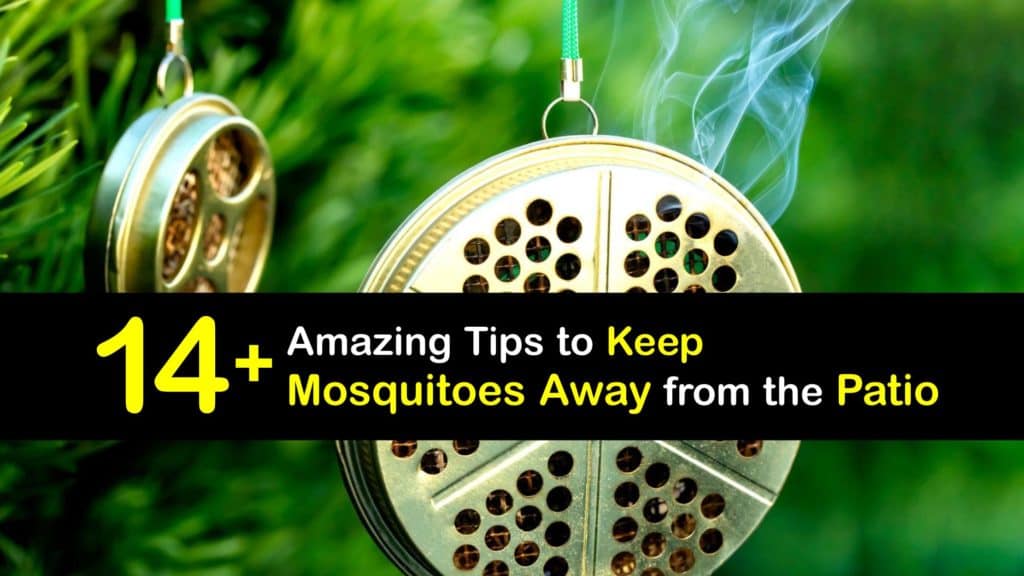 Repelling Mosquitoes from the Patio
While it seems that mosquitoes are invincible with their relentless attacks, there are many ways to repel mosquitoes and prevent them from spreading West Nile, Zika, and other diseases.
Like other insects, mosquitoes are part of nature. This doesn't mean we have to deal with them while enjoying an evening out on the patio or porch.
While it seems that mosquitoes are invincible with their relentless attacks, there are many ways to repel mosquitoes and prevent them from spreading West Nile, Zika, and other diseases.
Here are several ways to deter this pest from your outdoor space and tips for preventing them from becoming a nuisance.
Homemade Mosquito Repellent for the Patio
Lemongrass oil contains citronella, and rosemary oil has mosquito-repelling components. Combining them makes the perfect bug spray. Together, they make great natural ways to get rid of mosquitoes – this remedy only costs pennies.
This homemade mosquito repellent for the patio is easy to prepare and, unlike commercial bug sprays, it leaves your skin with a fresh scent.
Pour a quarter cup of Jojoba oil into a spray bottle and add several drops each of lemongrass and rosemary essential oils.
Screw the spray nozzle in place and shake the container well to combine the three oils. Apply the spray directly to the skin as needed. Shake before each use.
DIY Mosquito Net Curtains for the Patio
Netting is one of the best ways to keep mosquitoes off the porch, and it's relatively straightforward to install. Here is how to make DIY mosquito net curtains for the patio in a few simple steps.
Use a heavy-duty staple gun to attach the top section of the mosquito netting to the upper area of the patio frame. You may need several mosquito net panels, depending on the size of your outdoor space.
If using more than one panel, overlap them by an inch or two to ensure the mosquitoes cannot get quick access inside.
Pull the nets back when not in use and let them drape to the floor when you seek refuge from mosquitoes and other flying insects.
Changing the Outdoor Lighting to Deter Mosquitoes
While DIY mosquito net curtains for the patio are excellent at keeping this insect out of your space, there are times when a few find their way inside.
If you're still having an issue with mosquitoes, consider changing your outdoor lighting.
While they provide us with sufficient light to see at night, white bulbs act as a beacon for insects. Consider replacing them with yellow lights, or sodium vapor, halogen, and yellow compact fluorescent bulbs.
These lights are more efficient, emit less heat, and do not draw in bugs like other bulbs.
How to Keep Mosquitoes Away from Patio with a Fan
If you'd rather not spray yourself with DEET and don't have the time to prepare a homemade bug spray, the best mosquito repellent for the patio is an ordinary fan.
While it seems rather obvious, a fan is usually one of the last things people consider when trying to keep flying insects away.
Blowing Away Mosquitoes
Mosquitoes are tiny, not strong fliers, and it's pretty easy to blow them away from your sitting area with a fan or two.
Consider using two oscillating fans, a tall one and a short one, to blow away the mosquitoes at both standing and sitting levels.
Using Citronella to Repel Mosquitoes from the Patio
Mosquitoes cannot stand the light citrus scent of citronella and avoid areas that carry the smell. This homemade mosquito repellent for the patio uses citronella oil and lemon eucalyptus oil to drive away mosquitoes quickly.
To repel mosquitoes outdoors, pour a cup each of witch hazel and water into a spray bottle, add 30 drops of citronella and ten drops of lemon eucalyptus oil. Close the container, shake it well, and spray it around the patio area each time you gather outside.
How to Draw Bats to the Yard to Get Rid of Mosquitoes
While many fear bats, these nocturnal flying mammals are harmless to humans. In fact, they are highly beneficial to have in the yard, and one bat eats up to 600 mosquitoes per hour!
Plant a garden of fragrant night-blooming flowers and herbs that attract nocturnal insects and lure bats, and position a bird bath nearby to provide the bats with a water source.
Unfortunately, the standing water also gives female mosquitoes a place to lay eggs, and you must refresh the water daily to prevent the eggs from hatching.
Finally, install bat houses in nearby trees to encourage bats to roost in your yard and give them a place to call home.
Making a Mosquito Trap to Eliminate Mosquitoes
Mosquitoes are drawn to the carbon dioxide humans and animals release as they breathe, and setting up a trap that mimics this is a great way to catch and eliminate these pests.
To make this incredibly easy DIY mosquito trap, start by removing the cap and cutting a plastic two-liter bottle in half around the middle. Combine sugar and hot water in a container, let it dissolve, and then pour the liquid into the bottom section of the bottle.
Add the yeast to create the carbon dioxide reaction. Position the top of the bottle upside down into the bottom half to create a funnel. Tape the two sections together and set the trap on your patio to capture mosquitoes.
Installing a Bug Zapper to Kill Mosquitoes on the Patio
Bug zappers, or electrical discharge insect control systems, emit a UV light that attracts bugs. While they are not the most attractive thing to include on your patio, they help eliminate insects.
Zapping Mosquitoes
For one way to keep flies away outside and eliminate mosquito bites, hang the bug zapper from a shepherd's hook or tree approximately fifteen feet away from your patio seating area. Plug it into a nearby outlet, and follow the manufacturer's instructions for use.
Once the flying bugs make their way between two metal grids, they meet their end through electrocution. While these units aren't as effective at eliminating all mosquitoes, they may help lower the population.
Growing Plants around the Patio to Repel Mosquitoes
If you love nature but cannot stand the mosquitoes that come with it, consider using nature itself to repel them. Many beautiful plants look lovely around a patio, and the best thing about them is that mosquitoes hate them.
Basil and rosemary are culinary herbs that also repel mosquitoes, and you may find that they repel gnats around the patio, too. Plant these in pots on your patio to keep the pests at bay, and then harvest the herbs as you need them for cooking.
Other good choices are lavender, marigolds, citronella grass, catnip, and bee balm, and these plants look wonderful growing in a patio garden.
Lavender is a flowering herb that emits a relaxing scent, and marigolds have orange, yellow, and red ruffled flowers. Bee balm has purple blooms, citronella grass is ornamental grass, and catnip is a perennial herb that cats can't resist.
If you don't have a sunny location, there are shade plants that repel mosquito too. Try mint or lemon thyme.
Making a Homemade Mosquito Repellant with Lemon Thyme
Lemon thyme is an herb that releases chemicals that repel mosquitoes. While the plant itself doesn't necessarily deter the pests, learn how to use its power to keep the bugs from biting your skin.
Lemon Thyme Mosquito Repellent
Lemon thyme is a low-growing plant, reaching only four inches tall, and it's perfect for growing in a pot on the patio for getting rid of mosquitoes naturally.
Cut a stem or two from the plant, crush the leaves and stems between your fingers, and rub them on your skin to drive mosquitoes away. If you prefer not to rub it on your skin, tuck the crushed sprig in your belt loop.
Do Dryer Sheets Repel Mosquitoes?
Some home remedies may seem far-fetched but using dryer sheets to repel mosquitoes works. While not all fabric softener sheets keep these pests away, some brands deter mosquitoes from the patio.
Fabric Softener Mosquito Repellent
Many people claim that Bounce fabric softener sheets keep garden pests at bay. However, mosquitoes cannot stand the scent of lavender, and we find that using lavender-infused dryer sheets will deter mosquitoes in a pinch.
Ball them up and place them in your pocket while outside, or set them strategically around the patio area.
Using Patio Lighting to Deter Mosquitoes
If you plan on sitting outdoors after dusk, candles and torches are great ways to keep mosquitoes from ruining your evening. They light the area, provide ambiance, and using the right candles and oil keeps mosquitoes out of the patio.
There are a variety of citronella candles on the market, and they offer mood lighting for the patio while keeping mosquitoes away.
Tiki torches are also great at chasing away mosquitoes as long as you use citronella oil. However, keep in mind that the candles and torches are effective short-term, so don't light them until you're ready to use them.
Replace outdoor bulbs with yellow bug-repellent ones to get rid of moths outside naturally.
How to Repel Mosquitoes with an Oil Diffuser
While we usually consider using an oil diffuser inside the home to freshen the air and set the mood, these units are handy on the patio. Mosquitoes cannot stand certain essential oils, and using them in a patio diffuser keeps the space bug-free.
Position your oil diffuser in the center of the patio or near the seating area and use it with mosquito-repelling oils whenever you're outside.
Consider using geranium rose, citronella, peppermint, eucalyptus, lavender, marigold, lemongrass, or lemon balm for a fragrant addition to the patio that these pests hate.
Making a Hydrogen Peroxide Spray to Get Rid of Mosquitoes
Hydrogen peroxide is one of our favorite household products. There are so many uses for this liquid that it's hard to keep count, and now we add mosquito repellent to the list.
This DIY bug spray is simple to make and keep on hand for all of your outdoor activities.
To make this homemade mosquito spray for yard areas, combine water and hydrogen peroxide in a bottle sprayer and shake it well to mix. Label the container for everyday use and spray it around the patio perimeter as needed to drive away mosquitoes.
In addition, this spray will get rid of cobwebs around your patio or front porch, too.
Ways to Keep Mosquitoes Out of the Yard
While it's impossible to eliminate every single mosquito, there are many ways to stop them from getting out of control and becoming a nightly swarm. Here are some mosquito control tips to keep your patio as bug-free as possible.
The first step to ensure that your yard and patio are not overrun with mosquitoes is to perform regular yard maintenance.
Mow the lawn to eliminate tall grass and clean gutters. One of the best ways to stop a mosquito infestation is to get rid of stagnant water to prevent mosquito larvae from hatching. If you cannot get rid of the water, consider mosquito dunks to kill the larvae.
Another excellent form of mosquito prevention is to plant mosquito-repellent flowers and herbs. Grow them in gardens around the patio and position them in posts around your sitting area.
Install insect-repelling lighting around your home and light citronella candles and torches while sitting on the patio in the evening.
While we enjoy the busy buzzing of a bumblebee and the gentle fluttering of the butterfly, these aren't the only insects to visit the patio.
Unfortunately, mosquitoes frequent this area as well, and their presence is cause for concern since a mosquito bite may spread disease. Fortunately, there are simple ways to keep these pests at bay so that you can enjoy your time outdoors.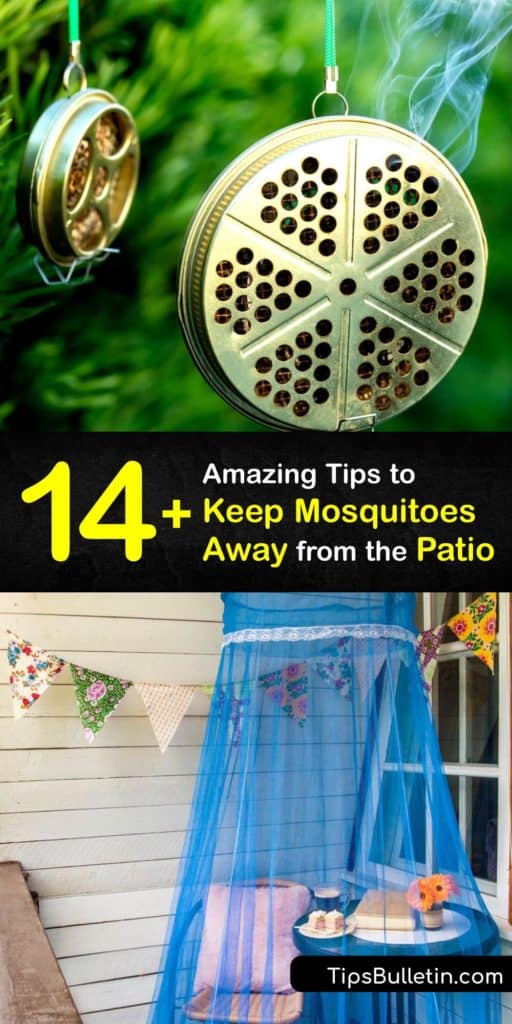 We hope that learning how to keep mosquitoes away from patio ensures that your outdoor summertime activities are pest-free, and we'd love it if you'd share our mosquito pest control tips with your friends on Facebook and Pinterest.