If you plan on growing squash plants or currently have cucurbit plants developing in your garden, addressing the issue of squash bugs (Anasa tristis) is essential to your crop reaching maturity. These pests got their name for their habit of feeding on the sap of crops in the Cucurbitaceae family. Learn how to keep squash bugs away from your garden to avoid the risk of destroying your squash plants.
Adult squash bugs are dark brown insects that resemble stink bugs. These insects target squash plants like zucchini to feed and lay clusters of eggs on your plants. Squash bug eggs hatch and develop into squash bug nymphs threatening squash plants.
Squash bugs feed on the fruit of your plants and the leaves and vines of developing crops. Squash bug damage in the garden occurs when adult bugs pierce the plant tissue to feed on the juices inside. As more bugs feed on your plants, they cause the plant leaf to collapse from the damage.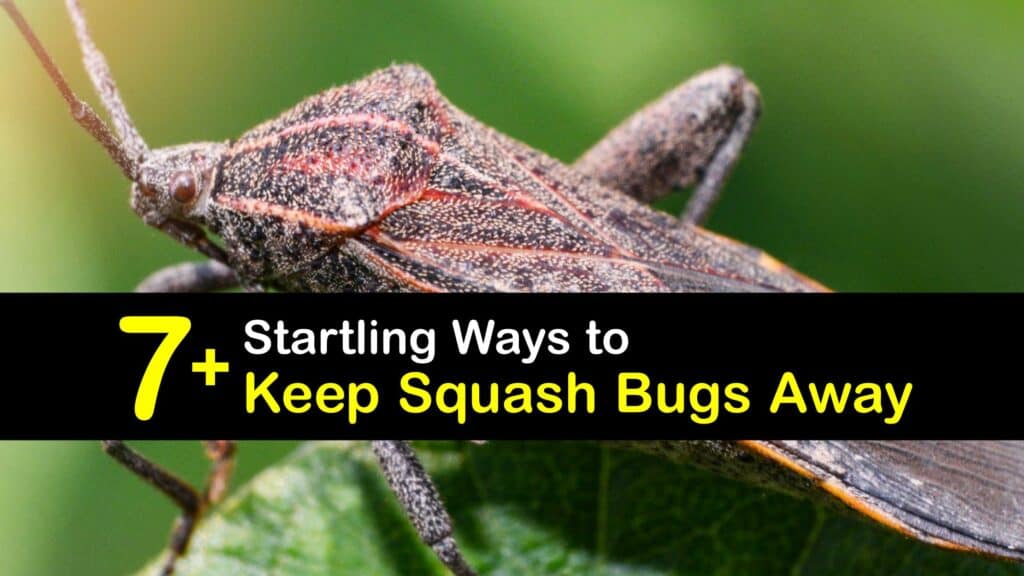 Natural Ways to Keep Squash Bugs Away
If you spot signs of squash bug damage in your garden or have dealt with these garden pests, learning what keeps squash bugs away is vital to protecting your squash plants. Squash bugs also carry bacteria in their saliva that causes plants to wilt or become infected with diseases like yellow vine disease.
With a combination of garden maintenance and innovative forms of squash bug control, you can keep squash bugs and other pests like squash beetles, squash vine borers, and cucumber beetles out of your garden.
Avoid Squash Bugs by Companion Planting
One creative way to keep squash bugs out of your garden and away from your plants is by companion planting. The system behind companion planting involves growing particular crops to benefit each other and your garden.
These benefits include a plant's ability to fix nutrient levels in the soil or repel garden pests. Many of the best companion plants for squash plants add color or have a distinct smell that squash bugs hate. There are various plants that deter squash bugs and other insects, too.
Nasturtium and marigolds are common companion plants that pair well with various plants. The smell of these flowers repels many insects, and the petals are edible once the flowers bloom.
Mint, catnip, and tansy all have unique scents that we either enjoy or don't notice; however, the smell of these plants deters squash bugs from getting too close.
Control Squash Bugs with Homemade Insecticide
Treating your garden with a homemade insecticide should become part of your routine if you're growing summer squash. Aside from squash bugs, spider mites cause damage to plants by feeding on plants and leaving webbing on the leaves. If left untreated, spider mite activity severely affects plant health.
To deal with these garden pests, create a homemade insecticide using everyday supplies like dish soap and rubbing alcohol. Insecticidal soaps are effective against insects because the spray erodes the protective coating on their bodies, causing them to dry out. Rubbing alcohol makes the spray fatal to pests like spider mites.
Mix the water and rubbing alcohol in a spray bottle before adding dish soap and mixing well. Treat your plants every three days by spraying the tops and bottoms of the leaves when killing squash bug eggs and the adult insects.
Note: This spray works on plants outside the garden for bugs that eat zucchini plants and other garden growers as well as potted plants inside your home.
Control Squash Bug Activity with Trap Crops
Like companion planting, trap cropping involves growing plants that squash bugs want to visit more than your squash plants. The best option is to plant Blue Hubbard squash for squash bug control.
Blue Hubbard is a type of winter squash introduced to the United States in the 1800s to replace lower-quality squash. Blue Hubbard acts as a trap crop when placed in the garden, drawing squash bugs and other pests in and away from other plants.
To effectively keep pests away from squash plants, try growing Blue Hubbard squash at the end of your squash plant rows. Pests focused on this plant make any forms of natural pest control you use easier.
Avoiding Squash Bugs through Crop Rotation
If squash bugs were a problem the previous growing season, you'll likely find them in the garden the following year. Once squash bug eggs hatch, the nymphs feed on your plants in summer and fall; however, many squash nymphs don't survive the winter. Adult bugs make it through cold weather by overwintering in the soil in your garden.
As the weather warms, the bugs reemerge, so one way to avoid squash bugs damaging your plants is to practice crop rotation. When it comes time to sow new seeds in the garden, avoid planting squash where you grew squash last year. This tactic lessens the number of squash bugs on your cucurbit crops as this is their only food source.
How to Keep Squash Bugs Out of Your Garden with Neem Oil
Neem oil is one of the ideal home remedies for keeping squash beetles out of your garden. The oil comes from cold-pressing the seeds and fruits of the neem tree. The oil naturally smells like garlic, which wards off harmful insects.
The chemical elements in neem oil interfere with an insect's nervous system and cause them not to feed on treated plants. Neem oil does kill squash vine borers and other bugs, too. Insects that ingest neem oil may also become unable to mate or process to the next stage in their life cycle.
Mix water with dish soap in a tank sprayer to lower the surface tension of the water and allow the oil to mix with it. Treat your plants according to the label instructions on the neem oil packaging to repel squash bugs.
How to Keep Squash Bugs Away with Garden Maintenance
Keeping your garden free of plant debris between seasons is something every gardener should practice, especially when dealing with squash bugs. Debris left in the garden provides the perfect shelter for squash bugs to hide under, but cleaning up your garden space goes beyond the garden bed.
When the temperatures rise, it's essential to check under stationery items like boards, wood pallets, and potted plants to find hiding places for squash bugs. Cleaning around these items will keep squash bugs out of your garden.
After cleaning up your garden and removing plant debris from the garden beds, thoroughly till the soil to disturb any bugs overwintering in the ground.
Using Diatomaceous Earth on Squash Bugs
When looking for natural ways to keep squash bugs away, look no further than diatomaceous earth (DE). Food-grade DE is a natural form of pest control that uses fossilized diatoms. The sharp crystalline fragments of these diatoms are harmless to humans and pets but fatal to soft-bodied insects.
Sprinkle DE around your garden to create a barrier that harms squash bugs and cabbage worms when they try to enter the garden bed. The sharp edges of DE cut into the bodies of these insects, causing them to lose moisture and eventually die out from the water loss.
Install Row Covers to Keep Pests Away
If you want pest control and protection from squash bugs that doesn't involve regular maintenance or upkeep, install row covers over your squash plants. Row covers are vital for gardeners because they protect crops from the weather, allowing them to extend growing seasons.
Covering your crops also protects them from harmful insects that feed on plant foliage. To prevent squash bug damage, place covers over your squash plants for the first four weeks of plant growth. Remove the covers to allow pollination as your squash plants begin to bloom.
Attracting Beneficial Insects through Companion Planting
While the purpose of some companion plants is to keep insects away, others are to draw specific bugs to your garden. Because most plants develop flowers to pollinate, beneficial insects like butterflies and bees visit your garden naturally.
Other helpful insects that may visit your garden include lady beetles, lacewings, and parasitic wasps. It's important these bugs visit your garden because they act as natural predators for squash bugs. These insects feed on squash bugs or lay their eggs inside, killing the host pest as the eggs hatch.
Disrupt the Life Cycle of Squash Bugs
Adult squash bugs lay egg clusters throughout late spring and summer. Each cluster contains around 40 eggs, and the eggs are typically yellow, brown, or red.
When looking for insect eggs in the garden, discover squash bug eggs on the underside of plant leaves. To prevent an infestation of nymphs once these eggs hatch, check your plants for new clusters and kill them in a bucket of soapy water.
Fill a container or bucket with soapy water and wear gloves to protect your hands. Inspect the underside of leaves and brush off egg clusters in the water.
Keeping squash bugs out of your garden means a bountiful harvest and not losing all your hard work to an infestation of squash bugs. Luckily, it is possible to prevent and control squash bug numbers before they cause fatal damage to your plants.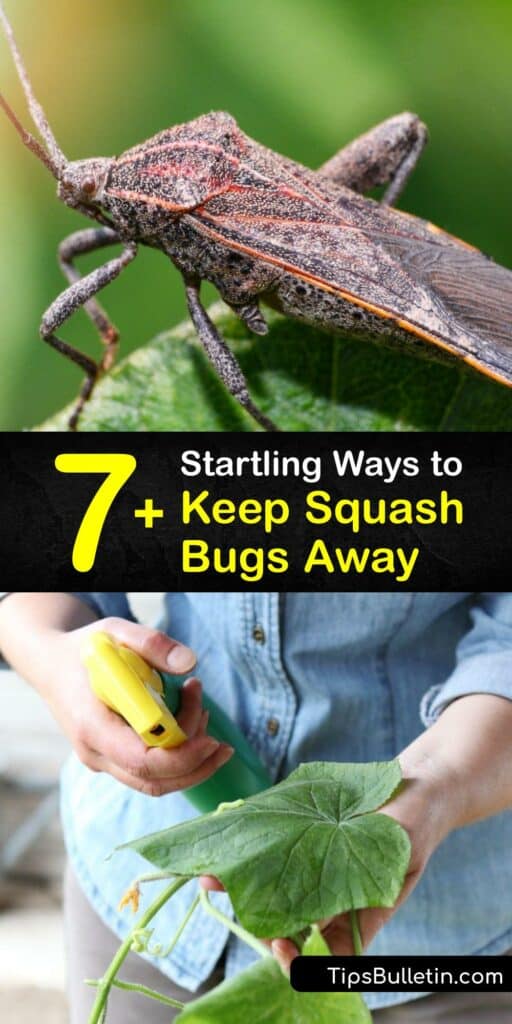 If this article helped you discover how to keep squash bugs away, please share our pest control tips with friends on Pinterest and Facebook to share the natural ways to keep squash bugs away.