Moles, voles, and gophers are animals that live underground, surviving off of insects and grubs. When these insectivores invade your lawn, they burrow small tunnels that leave a raised bump on the surface of your yard. These molehills kill the grass and leave behind small mounds of stacked dirt when they exit their tunnel, making it vital to know how to kill moles in your yard.
This article shows you how to kill or trap moles in your backyard using easy to follow DIY instructions. Killing moles in your yard is vital to restore your grass's health and keep your lawn looking healthy and lush.
The longer moles continue burrowing in your property, the more difficult it is to get rid of the aftermath of the mole tunnels successfully. It is critical to know how to get rid of moles and implement ground mole control in yard and garden areas.
We provide you excellent lawn care techniques and how to kill moles in your yard using simple home remedies to avoid hiring pest control services.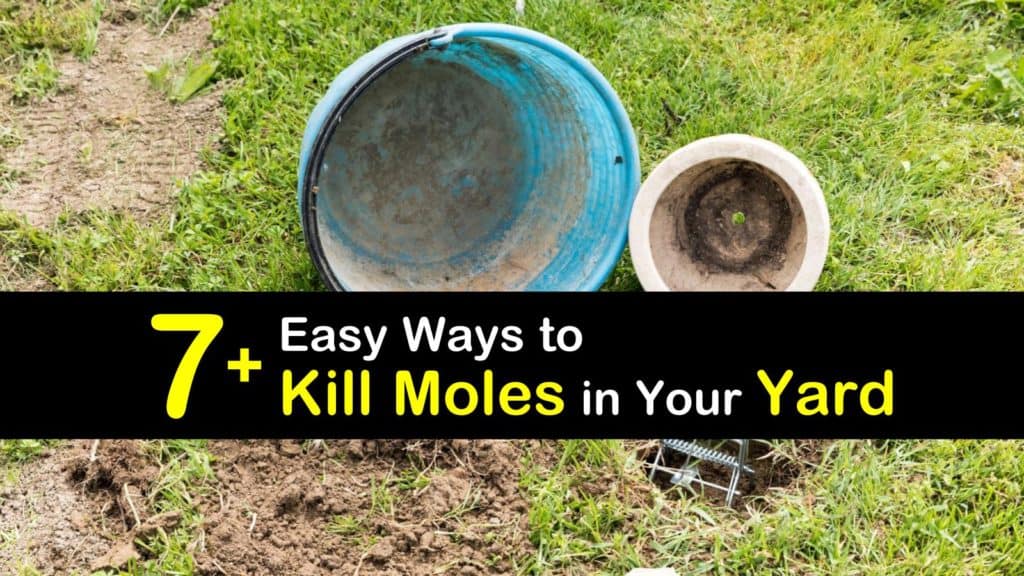 Learning the Necessary Steps to Get Rid of Moles
Effective mole control begins with understanding the correct steps to identify and eliminate these garden pests. It is also critical to decide whether you want to kill ground moles in the garden or scare them away.
No matter what mole removal process you want to implement, we show you how to get rid of moles causing destruction in your lawn. Additionally, we provide homeowners with ways to kill moles with mole bait.
Knowing How to Identify Moles
Knowing how to kill moles in your yard begins with successfully identifying them and knowing the signs of mole tunnels. Moles and shrews dig tunnels underground with their front feet to access their food source.
The tunneling causes small volcano-shaped mounds and raised ridges of dirt in your yard, killing your grass and ruining the overall look of your grass.
It is also essential to know what a mole looks like to kill moles. Moles average seven inches long and have huge webbed toes to dig mole tunnels with.
Additionally, they have long hairless snouts and tiny eyes that are impossible to see because they are covered by fur. A mole rarely comes to the surface, so knowing what they look like is crucial to killing ground moles in the garden or your lawn.
Killing Moles in Your Yard by Eliminating the Food Supply
One mole control technique is to eliminate the critter's food supply. A mole's diet mainly consists of earthworms, larvae, and other small bugs that live in the dirt.
Killing the grub worms in yard is a straightforward way to prevent an extreme mole infestation from overtaking your lawn. There are two ground mole repellent options, depending on how fast you would like to get moles out.
Use milky spore and nematodes for an effective mole repellent. Milky spore is a powdered substance commonly found online and at organic stores. The powder is eaten by the grubs in your lawn and kills within a few weeks.
Milky spore may take a few seasons to be successful. A more rapid approach is to use insecticides that immediately kill the grub and their larvae in your dirt.
Without an adequate food source, moles find a different location to feed. Insecticides are not sufficient for killing moles in your yard; however, it gets rid of them and will keep moles away – at least for a while.
Getting Rid of Moles using Castor Oil
Castor oil is another way to get rid of moles and gophers on your lawn without killing them. Creating a mixture of Castor oil and Dawn dish soap upsets a mole's digestive tract, making your yard less appealing.
If you are looking to kill ground moles with Dawn soap, create a mixture with the correct measurements.
To use this simple castor oil mole repellent recipe, pour the ingredients into a bottle with a spray nozzle and mix gently. Next, spray the affected areas of your lawn. Ensure you spray any holes where the moles have dug in your grass and cover them up with dirt after spraying.
We recommend you repeat this routine at least once per week to kill ground moles in the garden and grass that are damaged.
How to Kill Moles in Your Yard with Cayenne Pepper
Cayenne pepper is a hot spice that deters any tunneling animal from invading your yard. The hotness of the pepper upsets a mole's digestive system and makes your grass undesirable. It's one of the best natural ways to get rid of moles in your yard and it is easy to distribute.
After a mole consumes a small amount of cayenne pepper, it will either die or avoid returning to your yard. Identify where the holes in your lawn are and pour a small amount of cayenne pepper in the hole.
The moles consume the hot pepper as they burrow for grubs and earthworms and avoid returning to your lawn. Creating a cayenne pepper mixture is an additional way to use this technique.
Mix a ½ cup of the spice with water in a spray bottle and spray the affected areas. Using cayenne pepper is a long term solution for getting rid of moles in your garden or lawn area.
Kill Ground Moles in the Garden with Mole Traps
Mole traps are commonly found at home goods stores and are a quick and easy way to enforce mole control in your garden and lawn, just as it is one of the quickest home remedies for killing mice in or outside your house.
If you are concerned about the cleanup process regarding mole traps, there are now several hands-free devices that do not draw blood. The trap will catch a mole and kill it quickly and allows you to dispose of the critter without touching it.
Set up the mole traps at the holes you have located in your yard. The latest models of these traps have a signal to inform you when the trap has a mole inside it.
This easy method makes killing moles in your yard worry-free. Additionally, the clean up needed is minimal.
Using Poisonous Bait to Get Rid of Moles in Your Yard
There are many different kinds of bait to get rid of moles and other burrowing critters that have invaded and ruined your grass.
Depending on your preferences, poisonous baits kill the creatures, or some are non-lethal if you prefer that option. Most lethal options simulate moles' preferred food sources and quickly kill the animal within a day.
Pour the solution into the tunnels located in your yard to kill the creatures. Granules are the non-lethal alternative to get rid of the moles in your garden or backyard.
The active ingredient in a granular compound is Castor oil, which disrupts a burrowing critter's stomach and drives them away from continuing to search for food in your lawn.
Most granules require you to mix the substance with water before pouring the mixture down the tunnels.
Utilizing Mothballs to Repel Moles and Voles
Mothballs are an excellent way to get rid of moles and other critters that tunnel through your grass. If a mothball is of high enough concentration, it kills the mole in its tunnel.
Otherwise, the lower concentrated moth balls are non-lethal and repel a mole from your yard. The fumes excreted from a mothball release a pesticide inhaled by moles and deter them from your yard.
Understanding how to kill moles in your yard using mothballs is straightforward. Place one or two mothballs or a small number of moth flakes in the open holes found in your garden or grass.
After the moles inhale the fumes from the mothball, they are quick to evacuate the premises.
Ultrasonic Lights Scare Moles Away from Your Lawn
Using ultrasonic lights is one of the safest solutions to deter moles from ever invading your yard. These lights combine noises audible to the human ear as well as ultrasonic sound waves.
Ultrasonic sound waves are higher pitched and are heard by animals to repel moles and other critters. The loud and high-pitched sound waves are very annoying to a mole. Additionally, the devices are easy to install.
Place the ultrasonic lights in your yard and let the sound waves scare away moles, voles, bats, as well as spiders from infesting and destroying your grass.
Ultrasonic lights will not kill moles in the garden and grass areas in your yard. However, the devices prevent an invasion of moles from tunneling underground.
Protecting Your Garden from a Mole Invasion
Some individual plants and flowers naturally protect your garden from a mole infestation. A humane and all-natural way to protect your garden from moles is to plant marigolds, alliums, and daffodils in your flower beds.
These plants contain pyrethrins, a natural aroma that makes the soil in your garden undesirable for burrowing critters. Planting these flowers is best to do in the early spring as they require warmer temperatures and a significant amount of water to stay healthy.
Another reason planting these unique plants is a great way to prevent moles from digging tunnels is that the plants are not poisonous to other animals that may visit your yard.
Moles are destructive tunnel-digging creatures that cause significant damage to your yard. Additionally, they often create problems with your pets and destroy large areas of grass.
The raised mounds of dirt and the one-inch openings in your lawn are the first signs that you have a mole infestation.
Luckily, there are several homemade ways to either get rid of or kill the moles underground, like Castor oil, Dawn dish soap, and mothballs.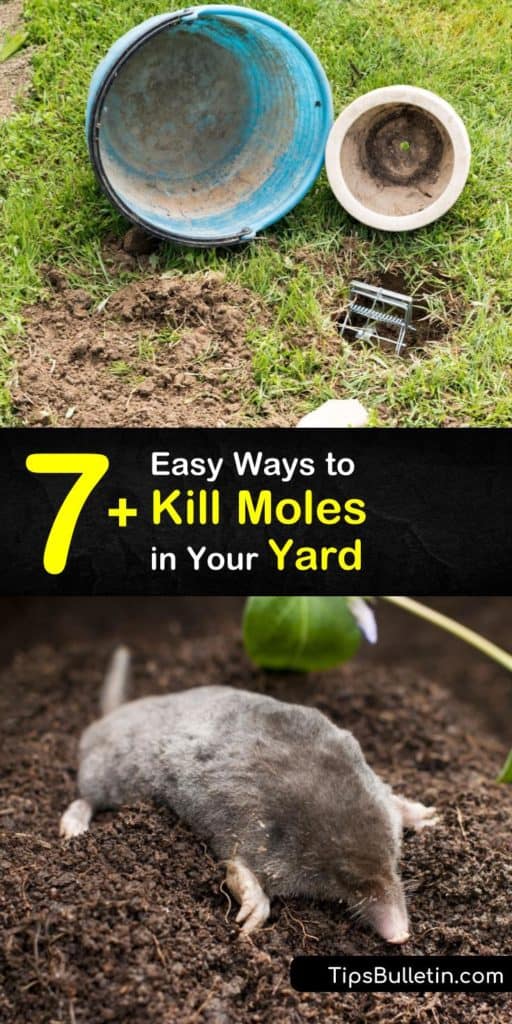 If these creative tips taught you how to kill moles in your yard, share this article that shows how easy killing moles in your yard is on Pinterest and Facebook.