Mulberry trees are like nature's best-kept secret, growing in the wild or garden setting. While they are easy-growing trees, it's essential to prune them to ensure you have a healthy tree. Find mulberry growing tips and learn when and how to prune mulberry trees for fruit production or shade.
If you've ever come across an area of the sidewalk covered with purple stains during the late summer, you've probably walked beneath mulberry trees. Unfortunately, these trees are notorious for dropping berries that stain. It's a good idea to get a jump on the season to capture those sweet and tasty fruits so they don't go to waste.
Mulberry trees grow wild and feral, or you can purchase them from nurseries. There are many different varieties, from the white mulberry (Morus Alba), black mulberry (Morus nigra), and red mulberry tree (Morus ruba) to the weeping mulberry and fruitless mulberry tree. With so many choices, it's helpful to know when and how to prune your tree species to get an abundant crop each growing season.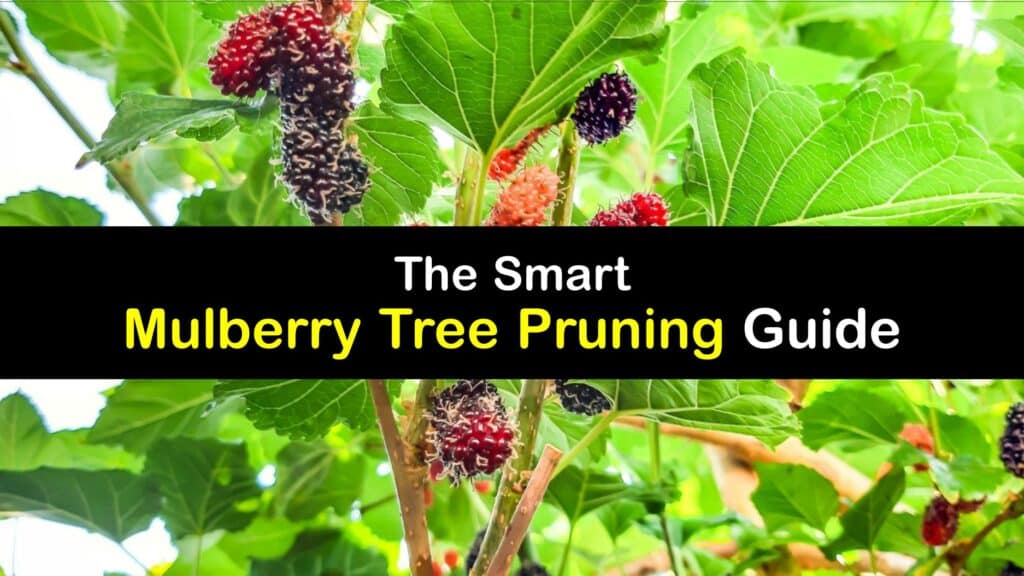 Growing and Pruning Mulberry Trees
Mulberries are simple to grow, and they flourish just about anywhere. Yet, there are a few things to consider when pruning mulberry trees. For example, are you growing a mulberry tree for the shade that provides food and shelter for birds, or is your primary goal to grow fruits for human consumption?
Discover when to prune mulberry trees based on your needs and how to prune them to promote vigorous growth. Explore tree care information, common problems when growing mulberries, and a tasty recipe for using ripe fruit at the end of the season.
Growing and Pruning Mulberry Trees
Mulberry trees grow naturally fall over North America, but they require a little TLC if you plant them in the yard. Learn some tips to help a mulberry tree grow by pruning and fertilizing your fruit trees at the appropriate time.
Black, red, and white mulberry trees (M alba) flourish in full sun and part shade, although increased sun develops more fruits. They are adaptable to clay, loam, or sandy soil with a range of pH levels, as long as it's well-draining.
However, they want deep and regular watering after planting and two to three gallons of water weekly during the first year. Once established, mulberry trees are drought tolerant, but prolonged drought conditions lead to the early dropping of unripe berries.
Mulberry plants are generally cold hardy, depending on the species, and do fine without fertilization, but yearly late winter feeding is beneficial. Routine pruning is unnecessary if mulberry trees grow in the wild. Still, it's helpful to prune cross shoots or damaged branches in late fall or winter.
When to Prune Mulberry Trees
Mulberry pruning is similar to pruning other trees, but when you prune depends on what you expect from the tree. Discover when to prune mulberry trees based on whether you grow them as ornamental trees for shade and birds or harvesting fruit.
Mulberry Pruning Times
The best time to prune blackberry bushes and mulberry trees is when the plant is dormant when you can see the tree's structure without being obscured by mulberry leaves. However, don't prune when the temperature is below 50°F as it is harder for the tree to seal wounds.
If your goal is to grow a mulberry tree for fruit, you should prune every year. A mulberry tree for shade and bird watching only needs pruning every two to three years.
How to Prune Mulberry Trees for Optimal Fruit Production
Trimming mulberry trees for fruit is a little different than pruning for shade. Discover how to prune away dead mulberry tree leaves and branches to ensure it develops an abundance of berries at the end of the season.
Make sure to use clean, sharp tools when pruning mulberries. Use a hand pruner for making cuts smaller than six inches, loppers for one to two-inch cuts, and a hand saw to remove branches larger than one inch. Avoid cutting branches larger than two inches.
Remove dead or damaged twigs and lateral branches that stretch too far from the center, and make cuts close to the trunk if removing whole branches. Do minimal trimming to ensure the tree produces plenty of fruit. Remember that berries grow on the previous year's growth.
How to Trim Mulberry Trees to Provide Shade
Extensive trimming is unnecessary if you're growing mulberry trees for their beauty rather than their white, red, or black fruit. Follow these tips for pruning mulberry plants to offer yard shade and shelter for birds.
In the early spring, remove dead, broken, and rubbing branches by cutting close to the tree trunk of your white, red, or black mulberry tree. Step back and look at the tree's overall appearance and prune any branches that give it an unbalanced look. Remove the stems that trail to the ground if you have a weeping mulberry tree.
Pruning Mulberry Trees That Are Too Large
According to the Royal Horticultural Society, pollarding is a pruning technique for mulberry trees that have grown too big for their space. It's vital to prune the tree correctly to prevent disease or leave the tree looking ugly or unsafe.
Mulberry Tree Pollarding
When your mulberry plant is still young and the scaffold branches reach desired canopy height, use garden shears to cut a smaller branch back to its base on the scaffold. Over the years, round callused knobs form from previous cuts of the young tree. Cut to the knob but not into it, and do not leave a stub that is more than a half inch at each knob.
Problems That Occur While Growing Mulberry Trees
Knowing when to trim mulberry trees is only half the battle since trees must deal with pests and diseases throughout the year. Explore some common problems you may encounter when you grow mulberry tree at home.
Various diseases affect all mulberry plants, whether black mulberry, red mulberry, or white mulberry tree. These diseases include armillaria root rot, bacterial blight, canker, popcorn disease, and powdery mildew. The best way to prevent these diseases from taking over your mulberry crop is to disinfect tools before and after pruning and treat them with a fungicide.
Armillaria rot is a fungal disease that discolors leaves, causing them to drop prematurely. Bacterial blight generates brown spots on leaves, flowers, and fruits. Canker is a bacterial disease that causes wilting leaves and peeling bark.
Popcorn disease forces fruits to become large and extended, giving them a popcorn-like appearance. A common fungal disease, powdery mildew develops a whitish powdery mold on leaves and twigs.
Pests are another problem mulberries contend with, including the fall webworm, glassy-winged sharpshooter, mealybugs, scales, and whiteflies. Fall webworms are yellow-green caterpillars, and you often see large nests of these pests at the end of branches. Glassy-winged sharpshooters are leafhoppers that feed on the sap of trees.
Mealybugs form in groups, feeding on plants while excreting honeydew. Scales are armored scale insects that feast on tree juice. Whiteflies hang out on lower leaves, sucking plant fluid which causes leaf dropping. Apply an insecticide accordingly if you discover any of these insects on your mulberry tree to prevent an infestation and crop loss.
Using Fresh Mulberries to Make Freezer Jam
Mulberry freezer jam is an ideal recipe for beginners; you don't have to go through the canning process. Make this simple jam with fresh berries from your mulberry tree to store in the freezer for up to six months.
Pour the orange juice and honey into a saucepan and add the mulberries. Simmer on medium-low for 20 minutes, stirring occasionally. Remove the pot from the heat and let it cool for five minutes before pouring it into a blender.
Blend until well combined, and pour the jam into half-pint jars leaving headspace to allow for expansion. Cool the jars in the fridge and place them in the freezer.
When deciding which fruit tree to grow in the yard, many overlook the mulberry tree and often choose a cherry tree or apple tree. However, this deciduous tree is simple to grow. Knowing when to prune goes a long way in producing delicious mulberry fruit for you and birds to enjoy year after year.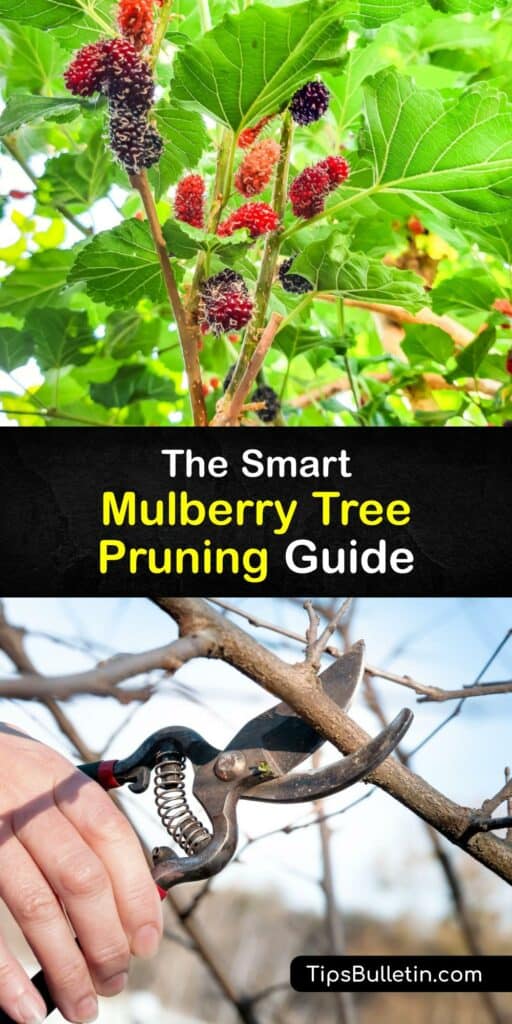 Now that you understand when and how to prune mulberry trees for optimal results, why not share our mulberry tree pruning and growing guide with your circle of family and friends on Pinterest and Facebook?