We use makeup remover on our skin, but knowing how to remove foundation from clothing is trickier. Once you master the art of removing foundation from clothes, you can use your makeup with confidence. Foundations come in a range of colors to match multiple skin tones. Still, you look unclean and unprofessional if they smear or spill on your clothes.
The use of makeup is essential to many looks. Foundation is generally paired with highlighter, eyeshadow, and eyeliner to highlight your features and the best parts of your appearance. Knowing how to take foundation off clothes is critical if you want to wear immaculate clothing without sacrificing your makeup.
Whatever color or intensity of makeup you select, the stains left on garments when it spills are difficult to remove. Learn excellent tricks for removing foundation from clothing so you can confidently wear your makeup, knowing you're ready for an accident if it occurs.
How to Take Foundation off Clothes
Although a specific technique is needed, you can remove foundation and other makeup from your clothing without lingering stains. Foundation has a lot of pigment particles and won't wash out in a typical wash cycle with ordinary detergent.
While removing foundation from clothes, rely on familiar products like rubbing alcohol, distilled white vinegar, and dish soap to keep your favorite clothes out of the trash. Explore innovative tricks for how to remove foundation from clothing and make quick work of even the heaviest makeup spills.
Does Foundation Stain Clothes?
Clothes are subject to many a tough stain, from blood stains to sweat stains from everyday wear. Cosmetic stains top the list since we use them and spill them on our clothes or smear them onto the fabric while dressing.
Foundation is designed with full coverage in mind and generally has a rich color and heavy pigment. This pigment clings to the weaves in the material of clothes and deeply discolors them. Waterproof foundation won't rinse out, and the resulting mark is distressing.
Wet makeup, like liquid foundation, drips and dries wet. Dry cosmetics like powder foundation or talcum powder sink into the material to leave a visible mark. Whether it's a foundation, eyeshadow, or a lipstick stain, a makeup stain ruins your look. Be sure to follow our tips to get lipstick out of clothes without rubbing alcohol.
If you notice a wet foundation mark, avoid rubbing. Blot it away with a clean paper towel and use a simple technique from this list to erase the lingering stubborn stain.
How to Remove Foundation From Clothing
If you own makeup, you probably have some makeup remover. Though it seems unconventional, your liquid makeup remover is a clever place to begin removing foundation stains from your clothes or bath mats. Use a cotton ball and dab a small amount of makeup remover onto a hidden spot on the fabric as a test.
Assuming the product doesn't fade the garment, rub the makeup remover over the foundation stain to remove it. Rinse the remover with cool water and launder your clothes in the washing machine with liquid laundry detergent as usual.
Removing Foundation From Clothes Using Dish Soap
Almost everyone has liquid dish soap for washing their cookware. Due to its stubborn cleaning properties, dish soap is a great way to remove liquid or powder foundation from your clothing and other fabric goods. Use this practical cleaner to eradicate even the toughest stains, from perspiration stains to foundation streaks on your sweater.
To remove the foundation stain, pour a few drops of unscented liquid soap into a bowl of warm water. Dunk a clean cloth and rub it back and forth over your clothing to lift the makeup from the fabric. Rinse the soapy water and makeup, and rewash until all the foundation pigment is eliminated.
Shaving Cream Eliminates Liquid Makeup Stains
Shaving cream helps remove accidental makeup smudges that make your attire look unkempt. Shaving foam successfully eliminates foundation stains since it is created from whipped soap. It's wise to include a jar of shaving cream in your cleaning supplies kit, though it is more often used for personal grooming.
Grab your shaving cream and a cloth. Squirt shaving cream directly on the foundation streak and rub it with a moist, clean cloth. Scrub your garment until the foundation stain is gone, then rinse with warm water and leave it to air dry. Don't try this technique with a gel shaving solution, as it won't remove the pigment.
White Vinegar Is a Foundation Stain Remover
It is standard to use distilled white vinegar as a blemish remover for anything from makeup to a grass stain. This adaptable liquid is perfect for removing the foundation from your clothing. However, white vinegar should always be diluted since it includes acetic acid.
Make a simple spray with distilled white vinegar and water to eradicate foundation prints without fading your shirt.
Spray the mixture of cool water and white vinegar on the foundation stain and let it stand for 20 minutes. After using a paper towel to remove any excess foundation and spray, wash your item in the washing machine using the recommended cycle.
Re-examine the stain. Apply the vinegar spray again and scrub the spot well if there are still signs of the makeup.
Distilled white vinegar is also the best way to get waterproof mascara off clothing. Consider keeping this makeup remover spray on hand to remove any small stains.
Rubbing Alcohol Erases Foundation Stains From Fabric
Rubbing alcohol is a great foundation remover that quickly gets makeup stains and removes grass stains from clothing. Use a cotton swab to press rubbing alcohol into the stained area and rub it in. Alcohol-containing products function well in an emergency stain situation. Try alcohol-based hand sanitizer or hair spray instead of liquid rubbing alcohol if needed.
Because alcohol is a mild solvent and disintegrates the bonds in makeup, it removes the color of the makeup after rinsing. Apply more alcohol to the foundation. Cleaning and rinsing should continue until there are no signs of discoloration.
Dry Clean if You Get a Foundation Stain on Delicate Clothes
If your silk blouse or wool cardigan has a nasty foundation stain, dry cleaning might be a wise option. Some people don't feel confident using DIY methods, and others prefer to entrust their delicate garments to a professional dry cleaner.
Whatever your reasoning, your local dry cleaner will help remove foundation marks from your clothing. Pat up as much of the foundation as possible with a paper towel if it's still wet. Once the makeup is dry, pack your garments and head to your neighborhood dry cleaner.
Figuring out how to take foundation off clothes can be daunting. You use makeup to look your best, so it's disheartening when it stains your clothes.
A layer of foundation is vital to many people, as it creates a base to build other makeup looks, covers uneven skin tone, and hides blemishes. Luckily, a foundation stain doesn't mean you have to throw your shirt in the trash. Tackle the most stubborn liquid makeup stains with proven hacks and restore your clothes.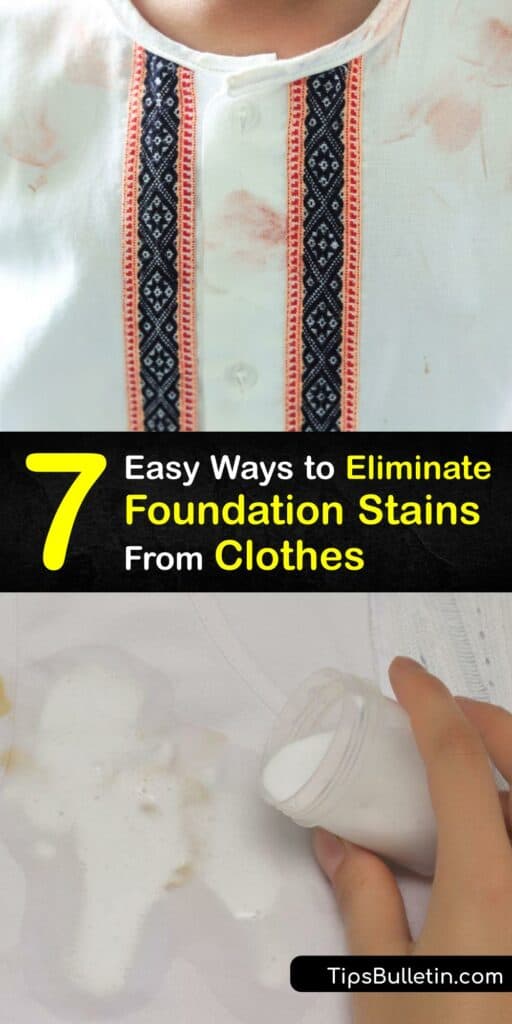 If you loved this insightful article on how to remove foundation from clothing, please share this knowledge with your friends and family who are removing foundation from clothes on Pinterest and Facebook.