It's hard to explain the feeling of sinking dread a homeowner feels upon discovering mold in the walls. Mold removal can be complex and time-consuming. However, you can learn how to remove mold from inside walls while saving time and money. This guide to mold removal will equip you with the knowledge you need to deal safely with fearsome fungi.
Mold and mildew are both varieties of fungi. Mildew is a surface mold that is usually powdery and white that doesn't invasively harm your building materials. Conversely, mold spreads by airborne spores and causes damage, destruction, and health concerns.
Mold spores arrive in your home through open windows and air vents. Mold loves to grow in places that provide a lot of natural moisture, such as a bathroom or basement wall. There are many kinds of indoor mold. The most common you'll come across are Cladosporium, Penicillium, and Aspergillus. Fortunately, our tutorials are easy and thoroughly effective against most kinds of indoor mold.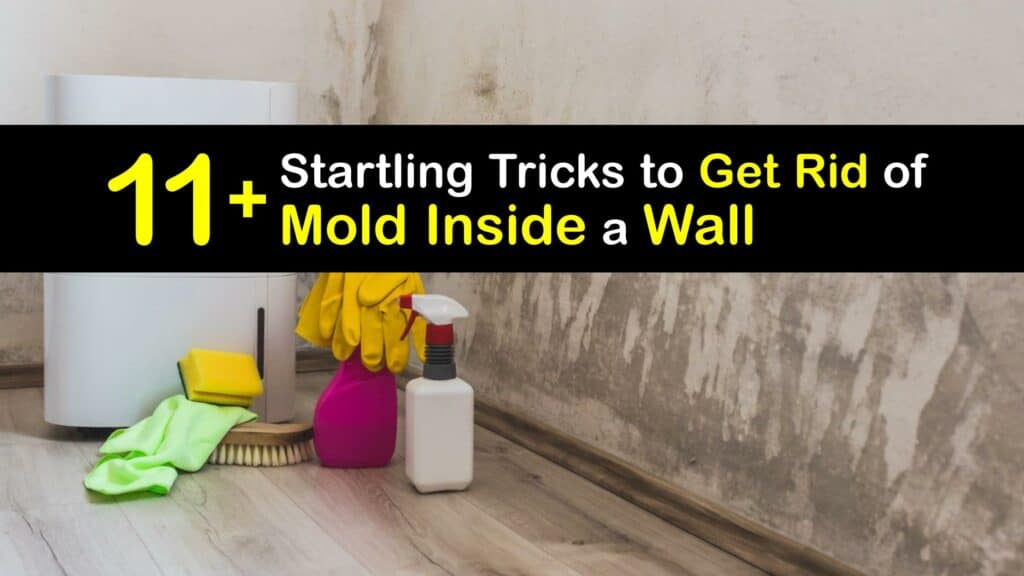 Tips for Getting Rid of Mold Inside Walls
Don't miss our great guide to all things mold removal. Find plenty of helpful tips here if you need assistance with your mold problem. You can even tackle how to get rid of black mold behind walls.
Control Humidity Levels to Help With Mold
Mold means you have a moisture problem. Getting rid of mold inside walls starts with controlling humidity and excess moisture to stop the continued progression of mold. Look for areas of your home that are naturally more humid and make some adjustments with an air conditioner or dehumidifier.
Humidity is how we measure the amount of water vapor in the air. The term "relative humidity" describes the humidity level inside your home. The measure of relative humidity is a percentage.
Home humidity levels should be between 30% and 40%. For reference, the average greenhouse has a relative humidity level of 50% or higher. Use a filtered air conditioner or a dehumidifier to maintain your levels accurately.
Start With Protective Gear When Getting Rid of Mold
Some people are sensitive to mold exposure, which may cause itchy eyes, skin irritation, runny nose, or respiratory problems. This is particularly concerning if you have asthma, immune suppression, and underlying lung disease.
Take precautions when working in areas with compromised air quality. When killing green mold, thousands of spores are released into the air, clinging to your clothing, nostrils, and mouth. Wear an inexpensive N-95 or P-100 respirator mask and non-porous rubber gloves, and finish with a pair of self-sealing safety goggles.
Before dealing with the affected area, turn off the air conditioner or furnace to prevent the spreading thousands of mold spores throughout the house. Use tape and garbage bags to seal the door cracks and the heating and air conditioning vents. Open the windows and set up a small fan to help blow the spores out and away from you.
How to Remove Mold from Inside Walls
Many mold remediation experts are starting to understand the relationship between chlorine bleach and mold. Mold is alive, and bleach is so chemically threatening that the colony pushes deeper into your wall material. If you must use bleach when killing mold, try a well-diluted bleach solution for real results.
Getting rid of mold inside walls with bleach requires safety gear and a well-ventilated area. Mix a half cup of chlorine bleach with one gallon of warm water. Use a scrub brush to scour the visible mold stain away, and rinse well.
Getting Rid of Mold With White Vinegar
White vinegar is strangely ideal for moldy conditions. While harsh cleaners tend to force the mold deeper into the wall as it attempts to defend itself, white vinegar is just acidic enough to disrupt and destroy mold without putting the fungus on high defensive alert.
Distilled white vinegar spray is excellent for surface mold and hidden mold. This spray should help in getting mildew off cement basement walls and quickly eliminate white mold, green mold, and blue mold colonies.
While generally safe for use on painted walls and porous material, always do a small test patch before spraying vigorously. Discover how to remove mold from inside walls with household vinegar.
Get a clean spray bottle, and pour in the distilled white vinegar. Use more if you have a larger area or clean. Spray the vinegar directly onto the affected area, and let it sit for an hour. Rinse away the mold, and wipe clean with a paper towel or disposable rag.
Use a Professional Mold Control Product
Mold removal specialists can access many cleaning chemicals exclusively available through industrial suppliers. However, many effective mold-killing chemicals are available at your local hardware store, big-box store, or even online.
Mold control products are usually antimicrobials that kill colonies in minutes and prevent regrowth after cleaning. Many are bleach-based or hydrogen peroxide-based cleaners that come in a convenient spray bottle. Choose the cleaner that meets your needs and environmental requirements, and always follow the manufacturer's directions.
Boric Acid Spray for Mold Removal
You may have a box of Borax somewhere around the house and have probably used it to repel bugs and other pests. Find boric acid in numerous modern pesticides. Use it to create a homemade deck mold cleaning solution. It works quite well against just about any indoor or outdoor mold infestation.
This recipe is super-simple; mix, spray, and scrub. Ensure the boric acid powder dissolves completely in the water. Spray the boric acid solution directly onto the mold growth and scrub the mold away. Rinse with water and reapply another spritz of boric acid to deter new mold growth.
Try Tea Tree Oil to Get Rid of Mold
Tea tree oil is a natural antibacterial and, more importantly, an antifungal. It has natural properties that disrupt the balance of the fungus infestation, making it easier to wipe out the colony. Cleaning mold off the ceiling without bleach will be especially easy with tea tree oil as a cleaning solution.
Find tea tree oil at your local grocery store or health-focused store. Ensure the bottle says Melaleuca alternifolia, which is 100% tea tree oil. Mix the tea tree solution, spray directly onto the mold, and leave it for 24 hours. The tea tree oil will clean mold and destroy any leftover spores.
Make a Hydrogen Peroxide Solution for Mold
Many professional mold control products are hydrogen peroxide based and work wonders on almost every mold problem a homeowner might face. Hydrogen peroxide is safer than bleach and does not release fumes or irritate exposed skin.
Mix 3% hydrogen peroxide with distilled white vinegar, and you have a potent anti-mold spray. Use this solution to attack mold colonies head-on. Spray the mold directly, leave it to sit for 15 minutes, and scrub the mold away. Rinse the walls and follow up with one more preventative spray.
How to Get Rid of Black Mold Behind Walls
Some types of mold are called toxigenic, meaning they produce "mycotoxins." These chemicals are toxic substances produced by fungus that, when consumed, may cause an allergic reaction in some.
Stachybotrys chartarum, or toxic mold, is most associated with adverse health effects. While there are few links between black mold and health issues in people who aren't hypersensitive or allergic, it's still best to treat black mold with the same caution as any other variety.
Discovering how to get rid of black mold behind walls is much the same as any other indoor mold. Use a light cleaning agent to disrupt and destroy the mold to the root. Then, maintain consistent humidity levels to deter regrowth.
Remove and Replace Building Materials for Extreme Mold Cases
Removing mold from inside walls is sometimes best done by creating a clean slate. Despite your most intensive efforts, it may be necessary to rip out the carpet or replace sheets of mold-infested drywall that you can't save.
In cases of excessive mould growth, assess the extent of the infestation and use your judgment. Contact friends or family if you need a second opinion. Don't be afraid to ask your local handyman for advice or a cost quote.
Use a Professional Mold Remediation Service
Professional mold remediation is sometimes required to remove black mold from inside walls, floors, and ceilings safely and effectively. The Environmental Protection Agency, or EPA, suggests you hire a remediation professional if the affected area is more extensive than ten square feet.
Don't take chances when it comes to high-volume mold cleanup and mold removal. Call around, get a quote, and let the pros handle it from here.
Conduct Scheduled Maintenance for Mold
Routine home maintenance is the best way to prevent mold growth at home. Save yourself the labor of having to remove mold from closet walls and other household surfaces by conducting regular maintenance.
Schedule regular inspections for leaking pipes, condensation, and points of excess moisture collection on porous surfaces. A watchful eye might stop an otherwise ugly mold infestation even if you don't consider yourself handy enough to fix it alone.
We hope you benefit from discovering how to remove mold from inside walls and household surfaces. Wet cellulose or paper products are particularly vulnerable to mold – cardboard, paper, ceiling tiles, and wood. Mold can even grow in paint, upholstery, carpet, and wallpaper.
If you've experienced water damage, it's essential to do a mold inspection and deal with the problem immediately with mild cleaners, professional products, or mold remediation specialists. Otherwise, you may not notice a mold infestation until it's well established. At this point, you should be able to see and smell the mold colony.
Additional steps like controlling humidity levels, providing good ventilation, and routinely repairing leaking pipes should help you prevent mold and keep household repairs to a minimum. Above all, be safe when dealing with indoor mold. Always wear safety gear and dispose of anything you use to clean to keep the mold contained.
If you enjoyed our exciting tutorials about how to remove mold from inside walls, share this article with friends on Pinterest and Facebook who like learning about mold removal.