Leather furniture or clothing items look great, but there's no denying that they are hard to keep clean. Maintaining the look of your favorite leather sofa or leather shoes is even more difficult when you get a stain.
Removing oil and grease stains is a challenge regardless of the material, but a delicate surface like leather needs extra care. That's why we're going to take you through how to remove oil stains from leather.
With the right cleaning products, you can get stains out of any leather surface. Thankfully, there are many ingredients you likely already have in your cupboards that make the perfect leather cleaner for stain removal.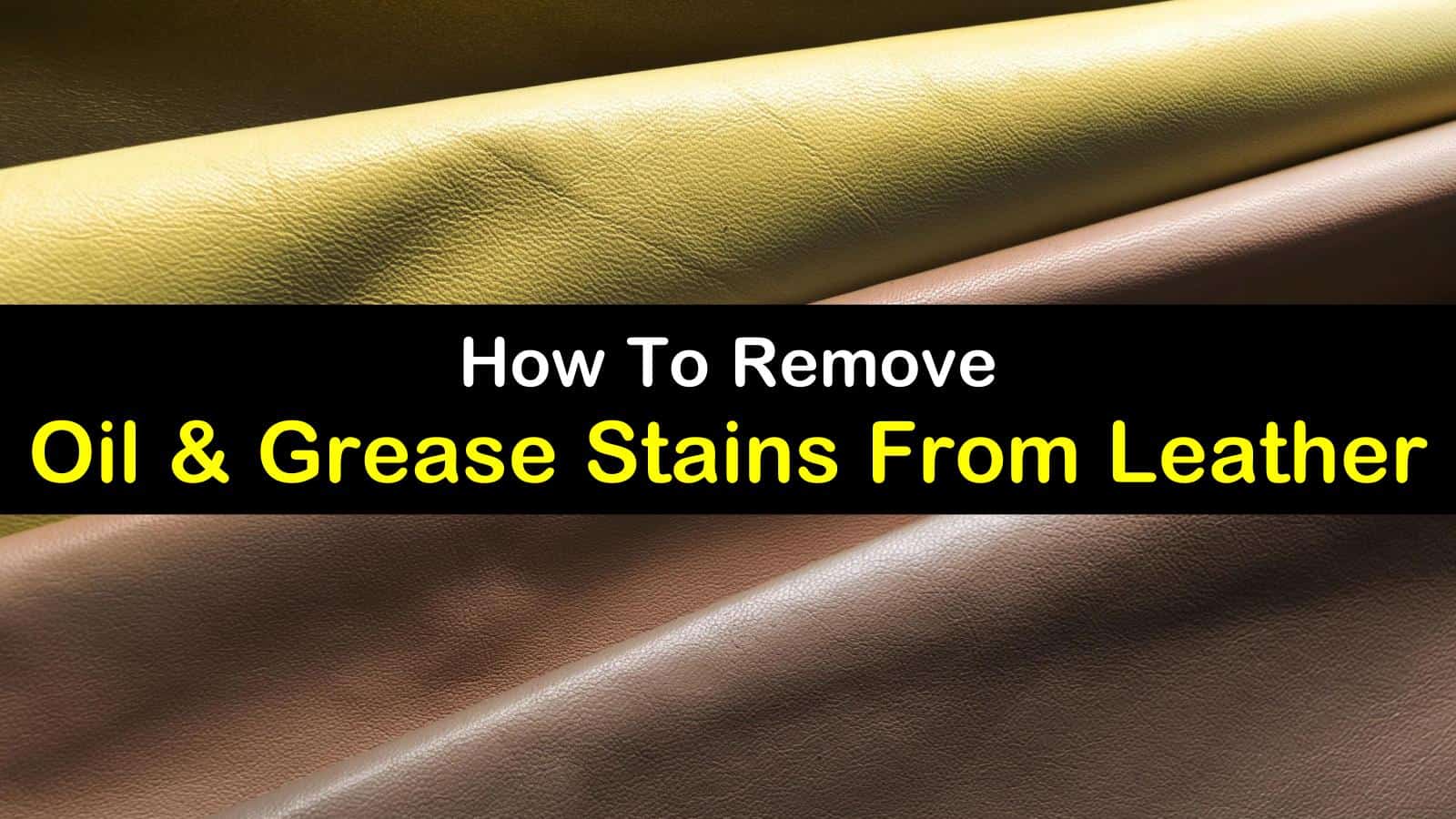 Removing Oil Stains from Leather
If you spill some massage oil on your leather couch during an at-home spa treatment or let a drop of olive oil splatter onto your leather bag while out for lunch, it's not the end of the world. To learn how to remove oil stains from leather, you need to know that time is of the essence.
For a recent spill, blot the oil with a paper towel or soft cloth to remove as much as possible. Once you've accomplished that, you can use one of the following household ingredients to remove the resulting stain.
Talcum Powder
Talcum powder, or baby powder, absorbs oil and pulls it out of the leather, making them perfect for getting rid of stains. Sprinkle some powder on the stained area, pressing it gently into the surface and let it sit. The next day, rub it off with a tissue.
Dishwashing Liquid
Drop a teaspoon of dishwashing liquid into a cup of water and dip a sponge into the mixture. Dab the oil stains carefully, stopping as soon as you notice the stain is gone.
If you touch it too much, the leather could lose its shine, so pay close attention. This method also works for getting oil and butter stains out of clothes.
Baking Soda
Mix one tablespoon of baking soda in a small bowl of water. Wet a microfiber cloth with the leather cleaning solution and blot the stain.
Be sure not to rub outside of the stained area when following this way to get oil out of leather shoes or your sofa. The oil should gradually seep out of the stain. Stop as soon as it is gone.
White Vinegar
White vinegar is an effective stain remover because of acetic acid. To protect the leather from its corrosive properties, mix with water. A ratio of one tablespoon of vinegar to one cup of water will suffice. Soak a sponge or cotton ball in the diluted solution and dab the stain.
Vinegar not only cleans oil stains from leather but can also be a great natural leather conditioner. Combine one part vinegar to two parts linseed oil and apply with a soft, clean cloth or towel in a circular motion.
How to Get Grease Out of Leather
Now that you know how to deal with oils stains, you're probably wondering how to get grease out of leather. Many of the same methods for removing oil work to clean grease stains, as well. The first step remains to blot the grease as soon as you notice it.
If you get a spot on your leather boots, grab a napkin and press down on the area. Cleaning leather is challenging because too much attention can damage the material.
This is why it's best to use gentle ingredients and watch carefully to see when all the oil or grease is gone. Just as with oil stains, you can use household ingredients to remove grease from leather.
Homemade Cleaning Solution for Leather
A simple cleaning solution or paste lifts grease stains without harming the leather.
Thoroughly combine ingredients in a bowl until they make a paste. Dip a cloth in the mix and dab it onto the grease stain. Be sure you aren't rubbing the leather, as this only spreads the stain. Remove the paste with a damp cloth, and dry the area with another clean towel.
This easy cleaning solution can also be used to get gum off of leather car seats. Sticky chewing gum can damage leather, so cleaning it off with a gentle solution is necessary.
Liquid Dish Soap
For smaller items, spot cleaning with dish soap and distilled water is a great stain remover. Combine the ingredients and dip a clean microfiber cloth in the solution. Gently pat the affected area, working with the grain of the leather.
With a clean finger, rub the solution into the leather until there is a gentle lather. Apply water to the spot as needed until the stain is gone. Pat it dry with a clean cloth. Multiple tries may be required for the grease to disappear entirely.
Natural Leather Cleaner
Natural ingredients pull out the grease and leave your leather stain-free.
Combine the ingredients in a small container and use the same dabbing and patting method as the other cleaning solutions.
With these easy leather cleaning solutions, you won't have to throw out your favorite leather belongings just because of a small oil or grease spill.
By using household items, you can also save a lot on professional cleaning treatments that would leave you with the same results. You may need to experiment to figure out the best stain remover for you, but we know these recipes can help!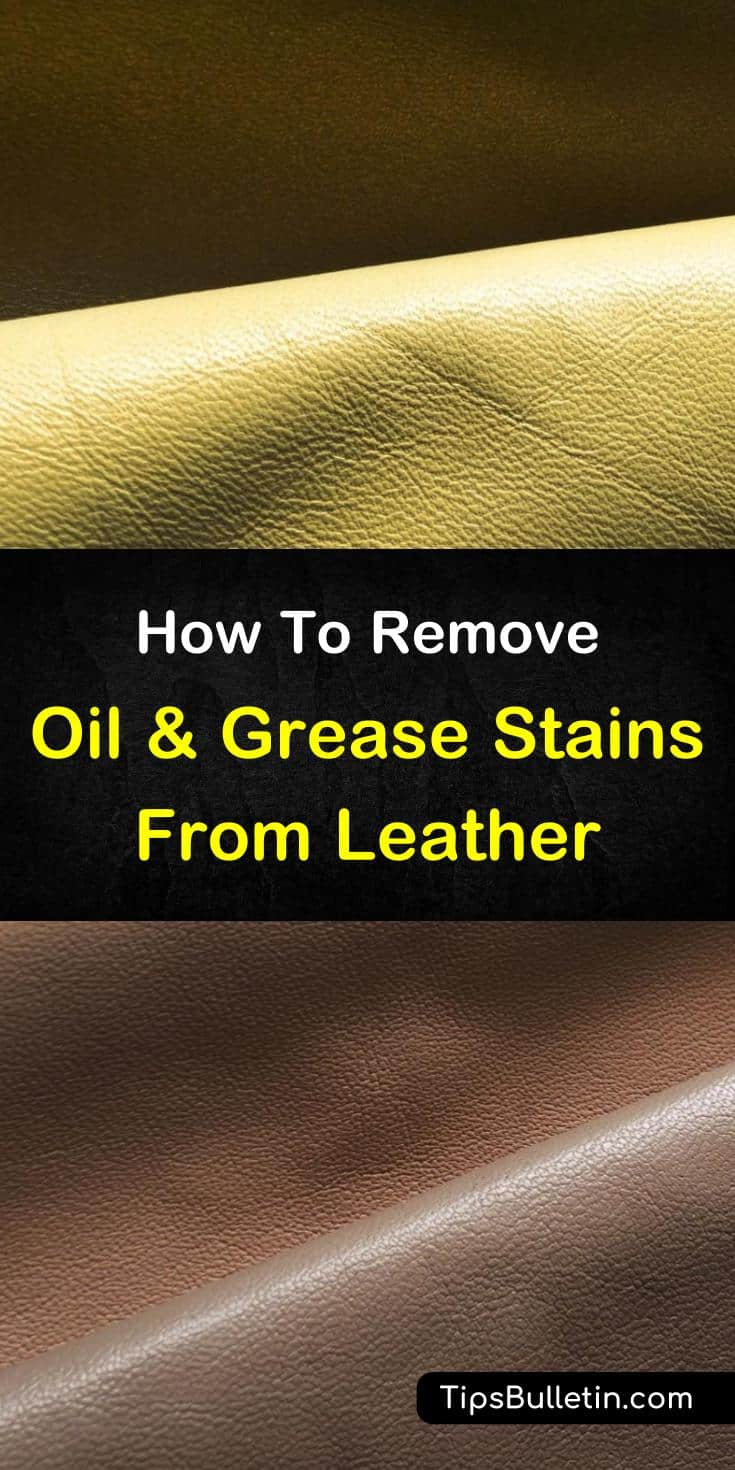 If you found these oil and grease stain removal tips helpful, we encourage you to share these cleaning methods with your friends!