Leather is a popular fabric for footwear, and most of us have a favorite pair of leather shoes or boots. Unfortunately, there are times when they get a stain, and oil is one of the most troublesome. Find out how to get oil out of leather shoes using a few quick and straightforward methods.
It's understandable to feel a moment of panic when you discover an oil or grease stain on your leather or suede boots. However, it's easier to remove oil from leather than you may think. The key is to get to the stain using the right cleaner for the job as soon as possible.
Unlike synthetic or man-made fabrics that you can toss in the washer and dryer to remove everything from an ink stain to a salt stain or water stain, leather is a natural material made from animal skins. While this material is durable, it requires special cleaning care to prevent damage.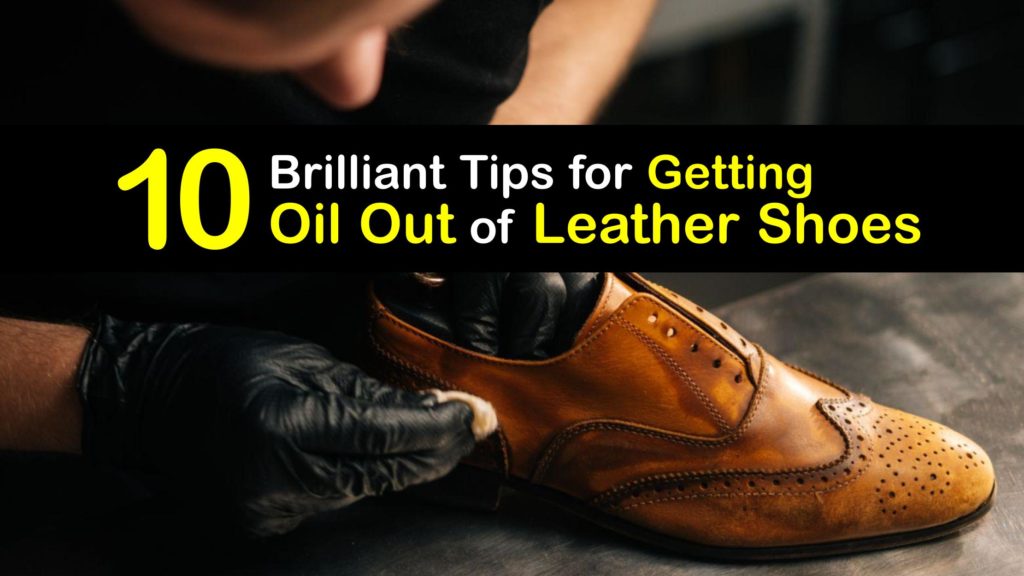 Ways to Remove Oil Stains from Leather Shoes and Boots
While cleaning patent leather shoes or a leather couch may intimidate you for fear that you'll ruin the material, there are safe and simple ways to clean leather boots. We put together several cleaning techniques to help you get an oil stain out of your leather shoes.
Spot Cleaning Leather Shoes While on the Go
The best way to prevent your shoes or boots from getting a permanent stain from oil is to take care of it immediately. However, this isn't always possible, especially if you're away from home. Discover how to treat an oil stain on leather while on the go.
Spot-Cleaning Shoes
If you notice an oil stain on your shoes, use a cloth, or paper towel or napkin to soak up as much grease as you can. Use the fabric to dab at the affected area to lift the oil from the leather surface, using fresh pieces of cloth as you work to prevent the stain from spreading further.
How to Remove Oil Stains from Leather Boots
If you've ever used kitty litter to soak up grease from the garage floor, then using corn starch to clean your leather shoes probably sounds reasonable. Here is how to remove oil stains from leather boots with cornstarch.
Place the affected shoe on a sheet of newspaper to catch the powder. For this leather stain cleaner, sprinkle cornstarch over the oil stain. The best way to get a grease stain out of leather shoes is to let it sit overnight as the powder soaks up the oil. Use a soft brush to gently brush away the dirty cornstarch. Check if any oil remains, and repeat the steps if necessary.
Cleaning Oil Off Leather Boots with Baking Soda
Baking soda is natural, cheap, and an excellent tool for cleaning oil off leather boots. It absorbs the oily residue without damaging the leather material, making it easier to get your shoes clean. If you used oil to take any gum stains off your leather and are left with an oil stain, try this DIY solution.
Combine baking soda and water in a bowl to form a paste-like substance. Set the boot on a flat surface and apply the paste to the oil stain. Cover it with a soft, clean cloth, let it sit for a few minutes, and use the fabric to gently rub the stain away. Wipe the area with a damp cloth and check to ensure the stain is gone.
Talcum Powder – How to Get Oil Out of Leather Shoes
Talcum powder is a mineral common in baby powder that absorbs moisture quickly. It's also great at soaking up oil off leather; you probably have a bottle in your home right now. Use this powder to clean motor oil off leather shoes.
Set the oil-stained shoe on a towel and shake some talcum powder over the affected area. Apply enough powder to completely cover the stain and let it sit for several hours. Once the powder absorbs the oil, use a soft toothbrush to brush the talcum away from the leather.
Using a Leather Cleaner to Get Oil Out of Leather Boots
There are many leather cleaners on the market if you'd prefer to use a traditional product to clean away oil and restore your shoe's appearance. Learn how to remove oil stains from leather boots with a commercial leather cleaner.
Follow the directions for your leather cleaner brand and apply it to the stained area to clean patent leather shoes or a leather boot. Gently scrub the area with a soft brush and wipe it with a clean rag.
To use saddle soap to clean your shoes, lather an even layer of the soap over your shoe and scrub the surface lightly for five to ten seconds. Work in sections and wipe the surface clean with a microfiber cloth. Finish by cleaning the entire shoe with a damp cloth to ensure none of the soap remains.
Cleaning an Oil Stain Off Leather Boots with Lemon Juice
Lemon juice is mildly acidic, and combining it with cream of tartar creates the perfect leather cleaner for removing tough stains. Use these ingredients to get an oil stain off your leather shoes.
Make a cleaning paste by combining equal amounts lemon juice and cream of tartar. Set your shoe on a flat surface and rub the paste into the oil stain using a small circular motion. Let it rest for about 20 minutes, and wipe away the residue with a damp cloth.
Lemon juice may work for getting motor oil out of clothes if you have a grease stain on your favorite shirt.
Removing Oil from Leather Shoes with White Vinegar
White vinegar is a standard household liquid with many purposes, and you probably have a jug or bottle in your kitchen. Discover how to use vinegar as a leather degreaser to remove oil stains from your boots.
Mix the water and white vinegar in a container and soak a cotton ball in the cleaning solution. Dab the cotton on the oil stain to remove it, using fresh cotton balls as needed until the residue is gone. Finish by wiping your shoes clean with a damp cloth and drying them with a towel.
You may also find that this home remedy acts as a paint remover from leather too. Vinegar is an excellent all-encompassing household product every home should have.
Can You Use Soap to Clean Oil Off Leather Boots?
Mild soap is safe to use on your leather footwear and is ideal for cleaning away oil residue after you absorb the stain with a powder. Clean your shoes with some soapy water and a soft cloth.
Mix the warm water and liquid dish soap in a container and use a sponge to apply the soapy water to the stain on your leather shoe. Avoid using too much of the solution since this may damage the material. Wipe away the oil carefully and clean away all residue with a damp cloth.
How to Treat Leather Boots after Cleaning
Use shoe polish, leather oil, and a suede brush to keep the leather fibers supple and prevent cracking after cleaning oil off leather boots. Take care of your leather footwear properly to ensure the material stays in tip-top shape. It also helps get creases out of leather shoes if you maintain them correctly.
Choose leather oil, mink oil, coconut oil, olive oil, Neatsfoot oil, or a leather conditioner to treat your leather boots.
Set your leather shoes or boots on a towel on a flat surface and remove the laces. Apply the leather conditioner or oil to the leather with a soft cloth, using circular motions. After conditioning the leather, buff the surface with a clean cloth to give it a shiny finish.
Ways to Care for Your Leather Boots
Clean tough stains off your leather shoes as soon as you discover them. However, it's equally important to care for your footwear daily to keep them looking their best and stand the test of time.
Clean your footwear as soon as it gets dirty with a leather cleaner or homemade cleaning solution. Condition your footwear every 25 uses or after cleaning your shoes and apply shoe polish once a month—weatherproof your boots to seal them by applying a beeswax product.
Never let your Nubuck leather or suede shoes stay wet. Instead, stuff the damp shoes with paper towels or a clean cloth and set them in a well-ventilated area to dry. Insert shoe trees into them when not used to keep the breathable fabric in shape for long-term storage.
Leather and suede shoes are stylish, comfortable, and durable, yet they are often challenging to clean, especially when they have stubborn stains from oil or grease. Luckily, several things in your home work wonderfully for removing oily stains from your footwear to restore their original appearance.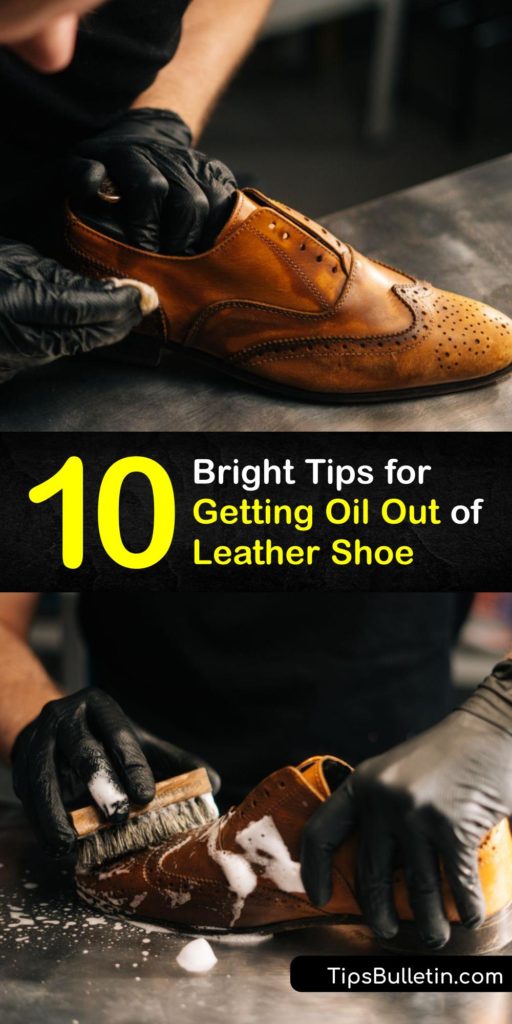 We hope that learning how to get oil out of leather shoes keeps your footwear looking its best, and we'd love it if you'd share our leather shoe oil stain cleaners with your social circle on Pinterest and Facebook.