Trees are a vibrant and vital part of our ecosystem; they provide shade, shelter, and many other benefits. However, fresh sap drippings are an ever-present concern that feels impossible to deal with. Discover how to remove sap from wood flooring and furniture with our pocket guide to sap elimination. These simple tips save you time, effort, and money.
"Sap" is a broad term in the botanical world. Many call sap the tree's lifeblood because it carries nourishment to the roots and branches. The sticky golden variety is officially called phloem; it's made of natural sugars created through photosynthesis and provides nutrients during growth.
Leaking sap from the knots happens for a few other reasons, too. It is either a response to seasonal changes, a defense against pests, or an attempt to seal wounds caused by pruning. Once you realize sap is there to nourish and protect the tree, it's harder to be annoyed by it. Fortunately, there are a few practical ways to deal with sap leakage; this fantastic guide covers some of the easiest.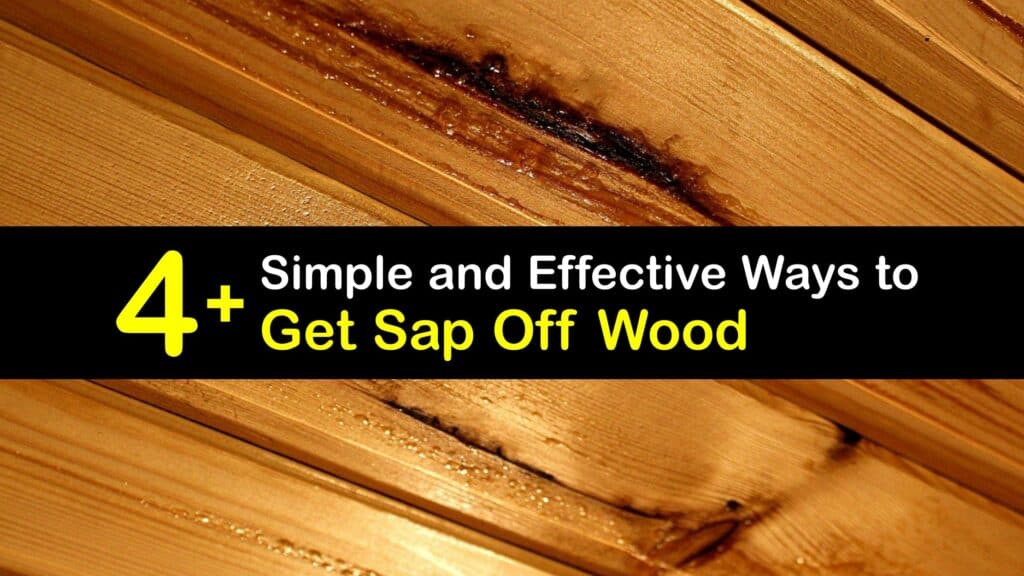 Top Tips for Removing Sap From Wood
When you have tree sap stains, warm water and detergent won't cut it. Learn how to get sap off wood with simple methods that really work.
Discover how to remove sap without complicated tools like a heat gun or belt sander. It's even possible to make your own organic wood cleaning solution with household ingredients. Are you ready to refresh your wooden surfaces or tidy up fresh lumber before you paint? Let's get started.
How to Remove Sap From Wood That's Already Dry
Commercial lumber companies kiln-dry freshly harvested lumber to crystalize the sap. However, certain species like maple, willow, and pine tend to produce excessive sap, making the process challenging. Consider your materials carefully if you're planning a home improvement project.
Discover how to remove sap from wood once it's already dry. Start simple with a chisel, putty knife, or an old butter knife, like you would for the best way to remove wax residue from wood. Position the chisel on the flat side against the surface of the wood. Gently push the chisel by the handle; don't hit the handle because it may gouge the wood.
Run the chisel along the wood to break up the pine sap; watch the hardened sap flake away. Go slowly, and exercise caution for both the wood and your fingers.
Lightly buff the affected area with fine 200-grit sandpaper to smooth things out. There may still be noticeable sap residue left over. We've got something for that, too.
How to Get Sap off Wood With a Solvent
It might be tempting to use soap and water, but hot water doesn't get hot enough to dissolve sticky sap; it must reach at least 140°F to melt. Often, there's a slight residue behind after cleaning dried sap. Discover some great tips for getting sap off wood and removing the residue for good.
A solvent is the best way to remove sap from wood. Fresh sap is more unpredictable than hardened sap, and turpentine can help. Turpentine is harvested from the resin of living trees and then processed into a specialized solvent through distillation. Turpentine is an excellent way to remove tree sap stain, making your job much easier.
Turpentine is a great sap stain remover and is readily available at any hardware store or big box retailer with a home improvement section. Dab a little turpentine on a rag or a scrub brush and work it into the sap in the direction of the wood grain.
Turpentine is toxic; it's essential to wear your safety gloves and work in a well-ventilated space. It's best to use turpentine sparingly; don't oversaturate the wood.
Always use caution when disposing of flammable rags or materials. A dab of mineral spirit is a suitable replacement if you don't have turpentine. It's even possible to use an oily nail polish remover that contains acetone in a pinch. Whatever you choose, use caution, and always test in an inconspicuous spot first.
Keep Some Goo Gone Handy
Few products seem to deliver on their promises, except Goo Gone. This miracle product does what it says; it removes sticky residue almost immediately. This incredible adhesive remover is surface safe for many household materials like carpet, clothing, laminate, metal, and freshly-laid hardwood floor.
Don't be afraid of that rogue pine tree any longer; buy Goo Gone as a spray or in a convenient bottle. Put a bit of Goo Gone on a soft cloth and gently wipe the affected area with short strokes going with the grain of the wood. You'll be amazed at how easy removing sap from wood is with Goo Gone in your corner.
Get Sap off the Deck With Oil Soap
Did you know that pine pitch is strong enough to penetrate deck sealant? Cleaning tree sap from your wood deck as soon as you notice it is the best option. Before removing sap from wood with this method, sweep your deck clean of dirt and debris, and fill a bucket with undiluted Murphy Oil Soap.
Mop the Murphy Oil Soap over the affected area, let it sit for 15 minutes, and then come in with a stiff scrub brush. Use a microfiber cloth if you need to be delicate, and always scrub in the direction of the wood grain. Hose down the deck with clean water, and wave goodbye to sap stain.
Clean Sap From Skin With Alcohol
Our tutorials show how to get sap off wood, but what about DIY tree sap removal from car paint or your skin? Warm water, dish soap, and paper towel often won't do it when removing tree sap, paint, and other sticky substances. Ditch the soapy water and save yourself some time with rubbing alcohol.
Dip a cotton ball into rubbing alcohol and gently rub it over the sap stain to clean dried crazy glue off a wood table or other wooden surface. The sap should lift without causing too much irritation. Olive oil is another hack that works surprisingly well as a sap remover for your car, deck, or skin. Rub it over the affected area and watch the sap vanish.
We hope you enjoyed our suggestions for how to remove sap from wood. This sticky substance can be challenging, but you have tools to make sap stains on wooden furniture and materials a thing of the past.
Remove crystalized sap by sanding or gently chiseling it away. When dealing with fresh sap, use a solvent. Always exercise caution because solvents are corrosive and can irritate your skin and lungs if misused.
Keep a bottle of Goo Gone handy for quick cleanup on delicate surfaces and Murphy Oil Soap for large areas like the deck. Stay prepared and on top of sap to increase your chances of success against unexpected sap stains.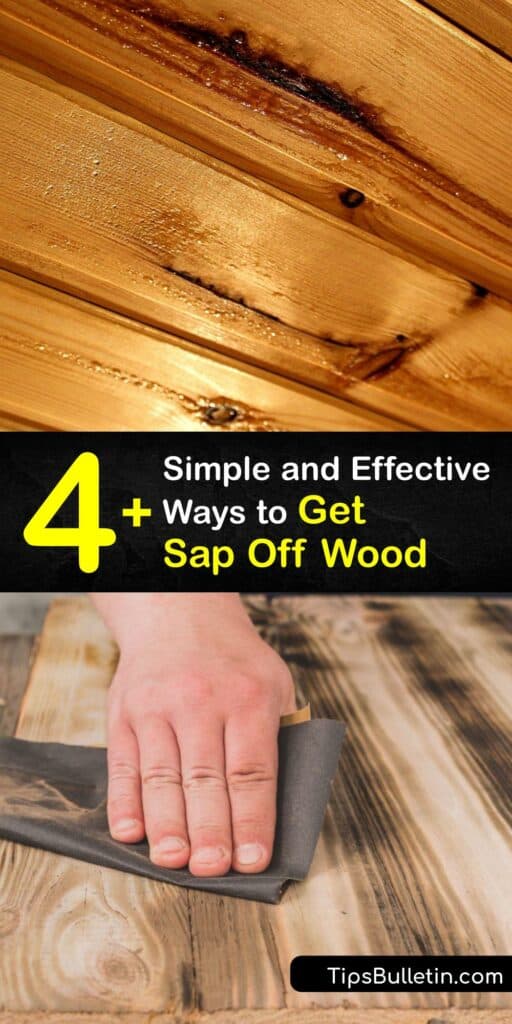 If you liked learning how to remove sap from wood, share this article with friends on Pinterest or Facebook who struggle with pine pitch stains in the backyard.