Removing water rings from wood is simpler than you might think. Here's how I do it:
I act quickly to use heat for fresh stains.
I dab on a little toothpaste for tougher marks.
I use mayonnaise for pesky, stubborn rings.
I apply petroleum jelly overnight for a gentle treatment.
I make my own furniture polish with vinegar and olive oil for a perfect finish.
Let me walk you through how I tackle those annoying water stains on my wood furniture. Firstly, I grab my hairdryer and set it to a low heat. I aim it at the stain, moving it back and forth for a few minutes. The heat draws out the moisture, and voila! The stain begins to fade.
If that doesn't work, I have another trick up my sleeve. I squeeze a bit of non-gel white toothpaste onto a soft cloth and gently rub it into the stain, following the wood's grain. It's amazing how often this works!
For those stubborn stains that just won't budge, I smear a layer of mayonnaise over the spot and cover it with a cloth overnight. It sounds odd, but the oils in the mayo often lift the stain clean off!
Sometimes, I find that nothing works quite like petroleum jelly. I smear a thin layer of it over the water ring before heading to bed and wipe it off in the morning with a damp cloth. More often than not, the stain is history.
Lastly, after I've removed the stain, I love making my wood shine. I mix equal parts of olive oil and white vinegar, apply it to the wood with a microfiber cloth, and buff it until it glows. It's a quick, easy, and eco-friendly way to keep my furniture looking its best.
Discovering an unsightly watermark on the rich wood finish of your decorative wood table is frustrating. While a water ring seems permanent, there are ways to get water stain marks off wood. Find out how to remove water rings from wood and restore the wood surface.
Wood is a beautiful thing, whether it's finished wood or unfinished wood, and there are many wood types, from pine and oak to bamboo and cherry. Wood's versatility makes it ideal for creating everything from wood furniture to wood floors. However, wood's beauty comes at a price since wood materials readily absorb stains.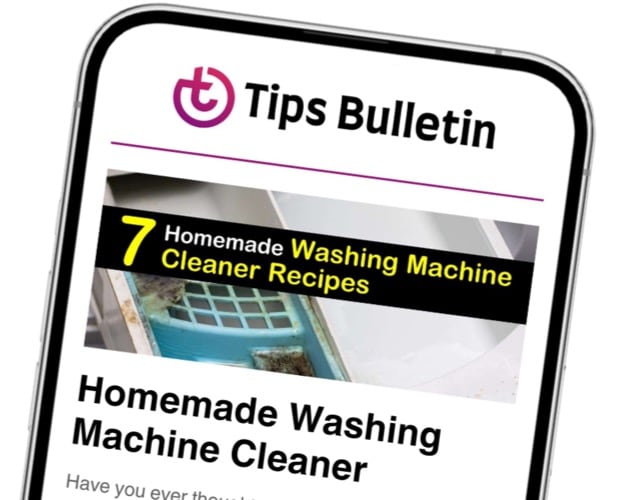 Finally, an email that Transforms Your Home.
Get the latest home and garden tips from our experts, delivered straight to your inbox.
There are various types of stains, and water rings are one of the worst. The water seeps into the wood finish, leaving light stains or white circles on the surface. Furniture polish is not always enough to remove stains, but there are other ways to eliminate a water stain from wood or, at the very least, minimize its stark appearance.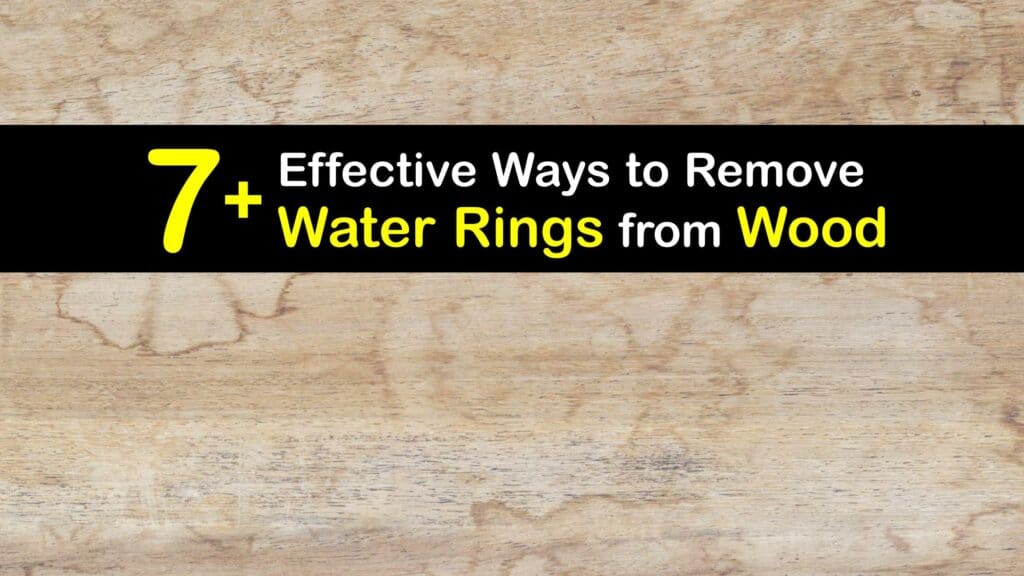 Ways to Remove Water Rings from Wood
While it requires a bit of effort, it is possible to diminish or remove water marks from furniture depending on whether it's a light or dark water stain. Read on for several cleaning tips to polish white water stains off a wood table and give it a clean finish.
What Causes White Rings on Wood?
Water is a clear liquid that contains no artificial ingredients, so why does it leave stains on wood? Learn what causes water marks and which types are easiest or more challenging to remove.
Water stains show themselves as white or light-colored spots or rings. Another common stain is white heat marks on wood furniture that appear like light ring stains. They happen when water condensation sits on a surface, leaving behind mineral deposits as the water evaporates. While removing them from most materials is pretty straightforward, wood absorbs the moisture, making it difficult to remove.
Something to consider when cleaning a wood stain is whether it is a light water stain or dark water stain. White water stains result from water seeping into the wood wax or finish and are simpler to remove.
Dark water stains happen when the water penetrates deep through the layers, reaching the wood. Unfortunately, a dark stain is the most challenging to remove.
How to Get White Rings Off Wood with Heat
The best way to remove white rings from wood is to act quickly. Heating the surface helps evaporate moisture from wood if the water mark is relatively new and has only been on the wood for a few days. Discover how to get white rings off wood with a clothes iron or hair dryer.
Empty the water from the clothing iron and preheat it on the lowest setting. Lay a cotton cloth over the stained area of wood to protect the surface while applying heat, and choose a fabric that doesn't have any decals.
Apply the iron briefly to the cloth and lift the material to see if the water ring diminishes. Repeat if it's still visible until the stain is gone.
If you are timid about using an iron on your wooden furniture, try a hairdryer to achieve the same results. Move it back and forth over the cloth for about ten minutes until the moisture evaporates.
Removing Water Rings from Wood with Toothpaste
Try toothpaste if heat isn't effective at removing water rings from wood. Non-gel, white toothpaste works wonders for removing many types of stains, including those from water, and you probably have a tube in the bathroom.
Squeeze some white toothpaste onto a soft cloth and apply it to the water stain. Use gentle pressure and rub the wood with the grain until the stain disappears. If the water mark persists, apply toothpaste with a soft-bristled brush, and scrub the area lightly for less than a minute to prevent scratching the wood surface. Wipe with a damp cloth.
How to Remove Water Rings from Wood with Mayonnaise
As strange as it sounds, mayonnaise is excellent for getting water marks off wood because it contains oil that seeps into the wood to remove stubborn stains. Use mayo to get a water stain off wood.
Slather a generous amount of mayo over the affected area with a spatula, and cover it with a clean rag. Let it rest overnight or for a few hours, as the fatty acids and oils work to pull the water stain from the wood. Clean the area with a damp cloth and dry with a soft towel.
Using Petroleum Jelly to Get Water Stains Off Wood
Petroleum jelly safely penetrates the wood surface like it does your skin, making it easier to lift away water stains. Here is how to get white rings off wood with a jar of Vaseline.
Use a cloth or rag to apply a thin layer of petroleum jelly to the water mark, and let it rest overnight. In the morning, wipe away the sticky residue with a damp sponge and check to ensure the stain is gone. If it remains, repeat the steps or try another stain removal method.
Removing Water Stains from Wood with Steel Wool
Steel wool is an excellent tool for removing water rings from wood, but be cautious to prevent damage. Use this material to remove water stains safely.
Rub some mineral oil into the water stain with fine-grain steel wool. Use a gentle, back-and-forth motion, working with the wood grain, and take care not to apply too much pressure.
Vinegar and Olive Oil Remove Water Stains from Wood
It's a good idea to give the surface a final cleaning and polish after getting water rings off wood to give it a complete look. Make a natural, homemade furniture polish for removing mold from wood with vinegar and extra virgin olive oil or a neutral oil.
Combine equal amounts of olive oil and white vinegar in a bowl and apply the mixture to the wood with a microfiber cloth. Consider adding a few drops of lemon oil to give the polish a fresh scent. Move in the direction of the grain, and finish by buffing the surface clean with a dry, soft cloth.
Can You Sand Wood to Remove Water Stains?
Sanding wood is the simplest way to remove watermarks, especially dark stains. However, it's only safe to sand unfinished wood since sanding stained, painted, or finished wood removes the surface.
Use fine-grit sandpaper for sanding the affected area, and never go against the grain since this causes an unmistakable trail of marks in the wood. Instead, use even, consistent pressure while going with the grain to sand the stain. Wipe away the dust with a damp sponge.
Try mineral spirits if you want to avoid sanding the wood. Put on gloves, apply some mineral spirits to a soft cloth, and rub it into the water stain. Wait a few minutes to check that the mark is gone, and buff it dry with a towel.
Easy Ways to Prevent Water Stains on Wood Surfaces
Preventing water stains on wood is definitely easier than removing them, especially if they're dark water stains that may become permanent. Follow some water stain prevention tips to ensure your wood furniture and floors remain in tip-top shape.
Wood sealers are excellent for protecting wood surfaces, whether furniture or wood floors; find them at your local hardware store. If you have an accidental spill on a table or floor, immediately wipe up the area with a clean rag and use the appropriate cleaner to remove residue.
To keep wooden tabletops safe, consider using coasters. A coaster keeps a water glass off the surface, preventing condensation from dripping on the wood, and they are great for adding a personal touch to the room.
It's understandable to feel disappointed when you discover a dark stain on your favorite piece of wood furniture. While it takes patience, there are ways to restore the wood's surface with the proper stain removal process.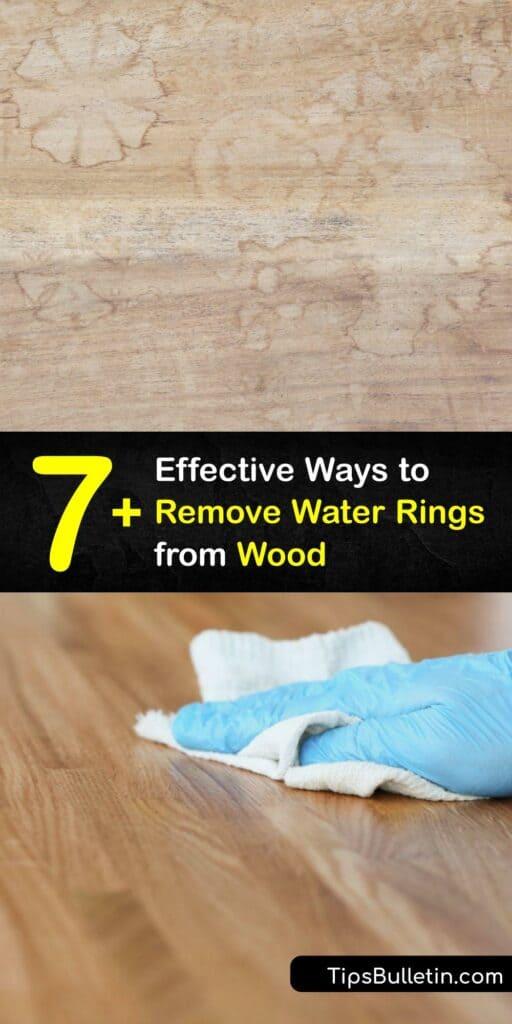 We hope that knowing how to remove water rings from wood keeps your wood surfaces looking their best, and we'd love it if you'd share our tips for removing water stains from wood with your family and friends on Pinterest and Facebook.