Knowing how to treat stink bugs saves you a headache. Stink bugs are notorious for their foul odor. They regularly invade homes in the colder months in pursuit of a cozy spot to spend the winter. Stink bugs are not dangerous to homeowners' health or property. Still, they quickly turn into an offensive annoyance in and around the house.
Stink bugs, like other pests, invade buildings in great numbers, making treating stink bugs particularly challenging. As a result, homeowners search for easy solutions to get rid of stink bugs before you have an infestation. Typically, stink bugs congregate on warm, west-facing sides and penetrate structures through gaps and crevices.
If they find the appropriate location, they exude pheromones or chemical messages to entice additional stink bugs to come along. Stink bugs assemble in upper levels and confined areas inside. They often wander up the tops of walls and snuggle into drapery folds. Use a stink bug treatment to oust these smelly pests from your property.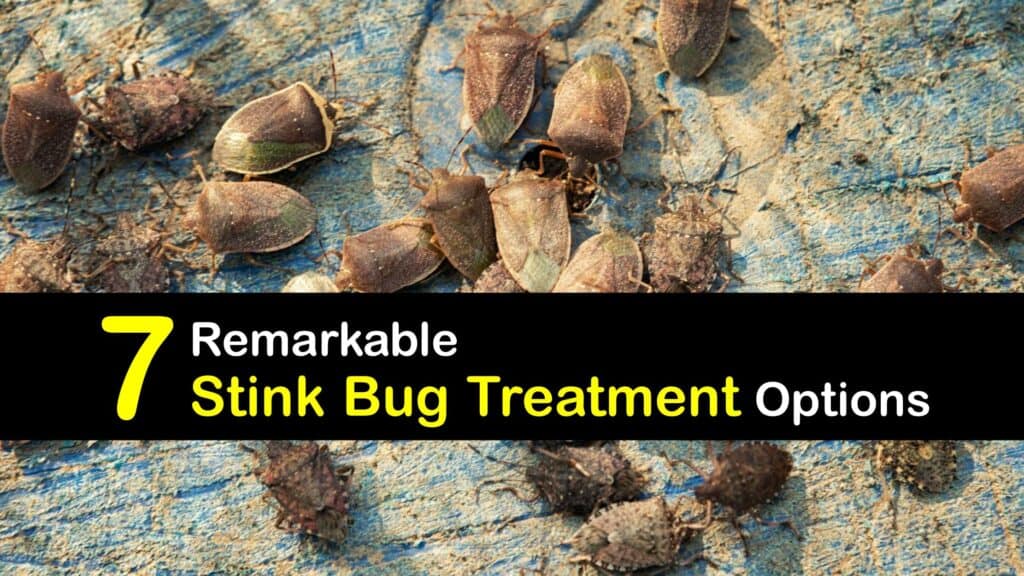 Everything to Know About Stink Bug Treatment
The smell alone makes it worth finding out how to treat stink bugs. Stink bugs received their moniker because they smell bad if threatened or crushed. Despite their diminutive size, these insects plague homes in North America.
Stink bugs generate a powerful stench that sticks to any surface they land on, whether a wall, curtain, rug, or anything else. They migrate inside your home even with the best precautions, especially during the colder months when they're searching for a safe place to spend the winter. Use an efficient remedy for treating stink bugs and remove these bugs quickly.
What Are Stink Bugs?
Known as the shield bug or boxelder bugs, stink bugs are an invasive pest found everywhere from North Carolina to Florida. Their name comes from the ability of the adult stink bug to release a foul odor if disturbed.
In addition to being stinky, this insect pest destroys plants. Though they're disruptive, thanks to their odor and feeding habits, stink bugs don't tend to bite humans. These shield-shaped bugs are divided into two major types, the green stink bug and the brown marmorated stink bug.
Signs of Stinkbug Invasion
Stink bugs feast on plant matter in the garden, from tree fruit to soybean pods. They enter under door sweeps and through cracks to invade buildings for shelter when it's cold.
Stink bugs are attracted to the shelter and warmth of your residence and tend to migrate toward bright lights. It attracts stink bugs in the same way that moths are attracted to warm bright lights. It's worth beginning pest control if you notice even a few insects to prevent a full-scale infestation.
How to Treat Stink Bugs With Dish Soap
One budget-friendly and readily available stink bug remedy is liquid dish soap, and most of us have some sitting by the sink. The brown stink bug breathes through pores on its waxy exterior.
Soapy water clogs up these breathing holes, causing the insect to suffocate. Blend liquid dish soap with water to make a potent stink bug-killing spray that won't harm your family or pets.
Shake the soap and water in the sprayer and spritz directly on stink bugs to dispatch them. Shake the bottle before using the spray.
Diatomaceous Earth Is Ideal for Treating Stink Bugs
Diatomaceous earth is a naturally occurring insecticide powder that lacerates stink bugs to kill them. Although getting rid of silverfish instantly or eliminating stink bugs immediately is not possible with DE, it doesn't take very long. Food-grade diatomaceous earth has many pest control applications, including bed bug control.
Sprinkle diatomaceous earth in areas of known stink bug activity. The powder destroys male and female insects before they lay more bug eggs and is effective against the adult and nymph.
Neem Oil Is an Organic Treatment for Stink Bugs
Neem oil is made from the neem tree extract and contains a potent active ingredient with insecticidal properties. Cold-pressed neem oil is a popular choice for addressing multiple kinds of insect pests as it's organic and non-toxic to pets and people.
The oil interferes with the insect's nervous system leading to its demise. Create a simple stink bug spray with cold-pressed neem oil and water.
Add the oil and water to the spray canister and swirl until blended. Mist the solution over areas where stink bugs have been sighted or directly onto bugs. It kills stink bugs on tomato plants and other garden plants easily. Per the Environmental Protection Agency, neem oil is a safe form of pest control and acts without harming beneficial insects.
Remove a Stink Bug Infestation With Garlic
Stink bugs despise the heavy odor of garlic and will promptly vacate in its presence. Garlic offers an inexpensive and organic option for stink bug control. Use fresh garlic cloves or garlic powder to craft a simple stink bug repellent spray and drive these pests out of your yard.
Peel and halve the garlic cloves, place them in the pot, and add water until covered. Heat the pot on the stove until the water boils, and leave it to cool. Strain out the chunks of garlic and add the liquid into a spray bottle.
Alternatively, use four tablespoons of garlic powder in two cups of boiling water. Shake the spray bottle and douse surfaces where stinkbugs congregate or spray directly on the insects.
Tips to Prevent Stink Bugs
There are many fast and easy DIY remedies to repel stink bugs and other insect pests. Spend some time looking for easy access spots on the exterior of your property to prevent stink bugs. Keep a close eye on places like the spaces behind siding and utility pipes, the gaps behind chimneys, and other openings. Use high-quality caulk to fill in holes and cracks.
Because lights attract stink bugs, try to use as little outdoor illumination as possible. Close window shades and switch off porch lights in the evening to keep light from coming in from the outside. Eliminating all moisture accumulation around your house reduces the likelihood of numerous bug infestations.
Look for clogged drains and leaking pipes. Keep food in plastic tubs and frequently dispose of trash in closed containers. Sweep floors and wipe counters to eliminate spilled crumbs and residue. Manage stink bugs by keeping branches and bushes well-trimmed. Keep firewood five inches above the ground and at least 20 feet from your house.
Stink bugs destroy crops and make your house stink. They multiply rapidly and usually take over homes in large numbers, so pest control is vital. According to Virginia Tech, integrated pest management is one of the best forms of stink bug treatment. Combine prevention strategies with a few ideas from this list to eradicate stink bugs.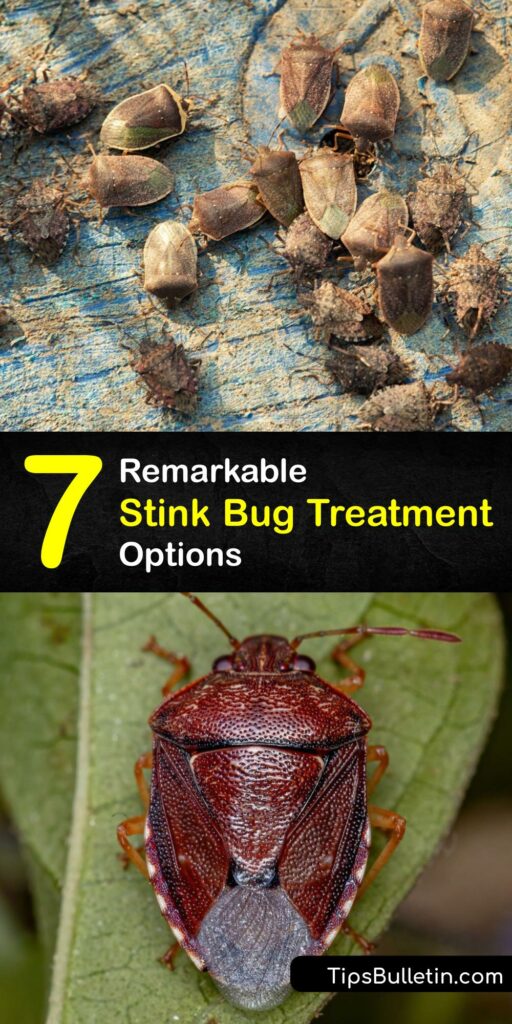 If you loved this informative article on how to treat stink bugs, please share these insights with your family and friends who are treating stink bugs on Pinterest and Facebook.