Stink bugs, which are sometimes referred to as shield bugs due to their shape, are bothersome insect pests that tend to wreak havoc in the garden. In this article, you'll find out the most practical strategies for how to keep stink bugs off tomatoes.
Numerous stink bug species are native to North America. The green stink bug is the most common species and lives in America's northern and southern regions, from the Mid-Atlantic to the Pacific Northwest and from Florida to California.
Stink bugs are sometimes confused with leaf-footed bugs, which are similar in size and shape. Native stink bug populations are typically kept in check by their natural predators, including birds, bats, spiders, and parasitic wasps.
However, the brown marmorated stink bug is an invasive pest from Asia that is now one of North America's most common stink bugs. They are distinguished from other species by their dark brown coloring.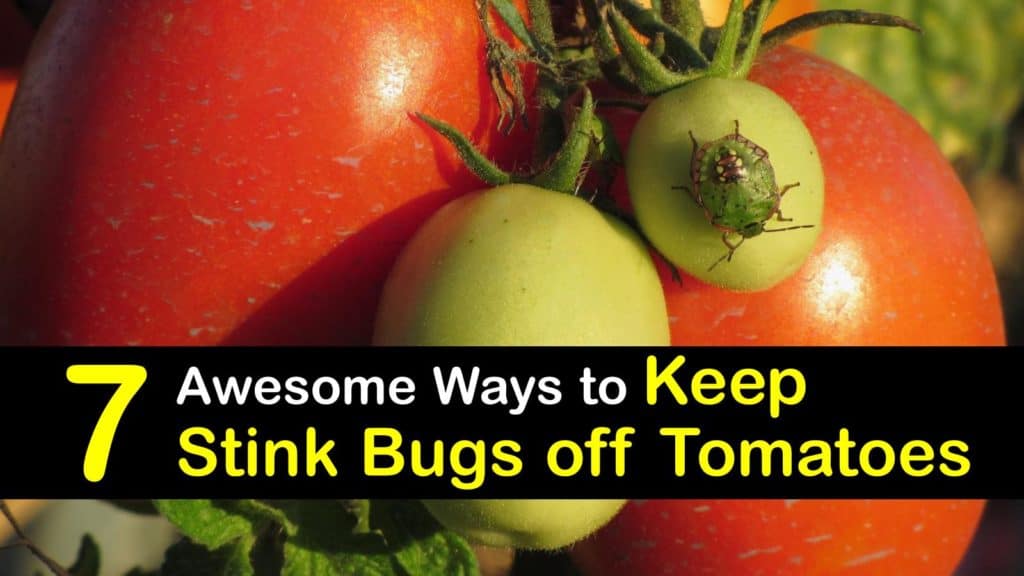 Getting Rid of Stink Bugs on Tomatoes
There are all kinds of tomato plant pests and bugs. The main damage that stink bugs cause is ruining the fruit. They feed by inserting their mouthparts under the tomato's skin and injecting an enzyme that liquefies the tomato flesh so the insect can drink it.
White, yellow, or light green discoloration appears around the feeding site. The extent of the fruit damage depends on the tomato's maturity when the stink bug feeds on it. Small, immature tomatoes typically fall off the vine after an insect attack.
Medium-sized tomatoes usually reach maturity but are misshapen and exhibit scarring. Stink bugs cause the least amount of damage to fully mature fruits, which only suffer small amounts of discoloration and are usually still edible.
There is also a risk of fungal disease spreading between tomato plants due to stink bug activity.
Getting rid of stink bugs on tomatoes is a straightforward process when you catch the infestation early and follow these easy pest control techniques. Read on for tips to repel stink bugs off tomato plants naturally.
Control Weeds
Keeping your garden free from weeds and other debris limits insect pests' opportunities to overwinter and breed the following spring. Diligent weeding from early spring through harvest is one of the best solutions for how to keep stink bugs off tomatoes.
To prevent stink bugs and other insect pests from spending the winter in your garden and reemerging next spring, remove old annual plants and cut back perennials to six inches above soil level in late fall.
Avoid composting any plant material that was affected by disease or insects. Stink bug eggs could potentially overwinter in a compost pile if it doesn't stay consistently hot enough to kill them.
How to Keep Stink Bugs off Tomatoes Naturally
Stink bugs tend to cluster together in central areas on a tomato plant, making an infestation relatively easy to target. However, spraying pesticides on your plants kills beneficial insects as well as the problematic ones.
Instead, first try removing the bugs by hand, spraying them off with the garden hose, or using a pheromone trap. Alternatively, try this easy way of making a DIY stink bug trap.
This is one of the easiest and best home remedies to get rid of stink bugs. Saturate an old towel with water and wring it out so that it is damp, not dripping. Drape the wet towel over an empty planter, tree branch, or garden fence so that it hangs vertically near the infested tomato plants and leave it overnight.
Early the next morning, you'll find the stink bugs on the towel drinking the water. Carefully pick up the towel without knocking the insects off and submerge it in a bucket of hot soapy water.
After a few hours, remove the towel and brush any remaining insects back into the water. Thoroughly wash the towel before using it for anything else.
Repel Stink Bugs off Tomato Plants with Neem Oil
Neem oil is an excellent natural insecticide, and it also works as a repellent thanks to its strong odor. The active compounds in neem oil act as a neurotoxin in many insects, disrupting core behaviors, including feeding and mating.
In some cases, neem oil may prevent larvae from maturing and block the insects' breathing holes. For the best results, apply neem oil early in the growing season to get rid of gnats in plants naturally and take care of stink bugs.
Kill Stink Bugs with Insecticidal Soap
For persistent infestations or to tackle little green aphids on tomato plants, you may need to resort to using a spray like insecticidal soap. The soap solution kills stink bugs by breaking down their protective outer coating and dehydrating them.
Either purchase a pre-mixed insecticidal soap product from your local garden shop or try making your own. Adding essential oils like lavender, lemon, eucalyptus, or peppermint oil to the mixture gives it an extra repellent boost.
To make this organic bug spray for tomatoes, blend the ingredients in a clean spray bottle. Spray the solution directly onto the insects or to kill tomato worms. Remember to check for insects on the undersides of the leaves, as that is one of the stink bugs' favorite hiding places. Reapply every few days until the infestation is gone.
Stink Bug Control on Tomatoes with Companion Planting
Companion planting is useful in several ways for getting rid of stink bugs on tomatoes. Numerous herbs repel insect pests through their scent. Some plants attract beneficial predatory insects that eat stink bugs.
Others act as trap crops to keep pests off of your more valuable plants. Aromatic herbs including catnip, garlic, lavender, and thyme deter stink bugs. Ornamental flowers like marigolds and chrysanthemums also repel stink bugs off tomato plants.
In addition to birds, bats, and spiders, predatory insects like parasitic wasps prey on stink bug populations. Plant marigolds, buckwheat, and purple tansy to attract beneficial predatory insects.
Certain species of stink bugs are actually beneficial insects because they're carnivorous. They feed on insects like aphids, earwigs, caterpillars, tomato hornworm, and even other stink bugs.
Predatory stink bugs hunt other insects both in their adult stage and as nymphs. Use trap crops like millet, buckwheat, clover, or sunflower to attract stink bugs away from your prize plants like tomatoes.
Once one of the trap plants is full of insects, pull the entire plant out and seal it in a plastic bag. Leave the sealed bag in the hot sun for several hours to kill the insects, then dispose of it in a sealed garbage bin.
How to Keep Stink Bugs off Tomatoes using Kaolin
Kaolin clay is a silicate mineral that, when dissolved in water, acts as an effective natural insect repellent. When sprayed directly on the stink bugs, it coats their bodies and disturbs them, causing the bugs to flee.
When applied to your tomato plants, it covers the leaves and fruit in a fine film layer that prevents the insects from feeding.
Kaolin clay is beneficial for plant growth, as well. It enhances photosynthesis and promotes a robust and healthy cell wall structure.
Best Pesticides to Use against Stink Bugs
Use pesticides in your garden only as a last resort to avoid killing beneficial insects along with the pests. Pyrethrin is a natural, organic insecticide compound derived from chrysanthemums.
Pyrethrin insecticide effectively kills many insects on contact, including stink bugs. The pyrethrin breaks down quickly when exposed to water and sunlight.
Permethrin and other pyrethroids are synthetic forms of pyrethrin designed to be more stable and longer-lasting. However, these pesticides are highly toxic to bees and other pollinators, even in small amounts.
Use great caution when applying it to your tomato plants, making sure it doesn't get on the flowers.
Both pyrethrin and permethrin are toxic to aquatic life, like fish and frogs. Always precisely follow the instructions listed on the product package, and use pesticides responsibly.
Aside from the unpleasant odor that inspired their name, stink bugs sometimes cause serious problems for homeowners when they attack your tomato crop.
Take advantage of the tips and tricks listed above to eradicate a stink bug infestation, and try companion planting to prevent them from returning to your garden.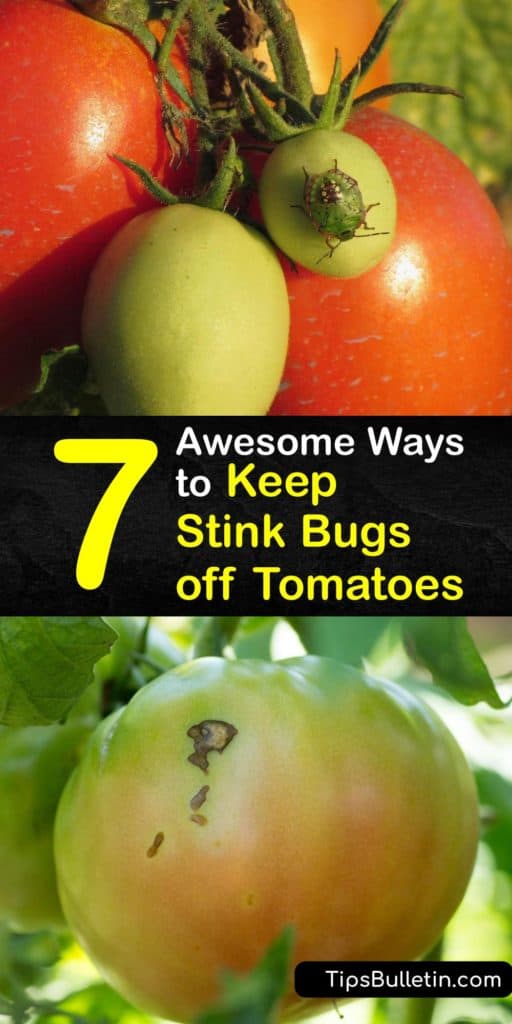 If you found these tips for getting rid of stink bugs on tomatoes helpful, please share this article about how to keep stink bugs off tomatoes with your friends and family on Pinterest and Facebook.