If your home garden is overrun with an increased grasshopper population, it's time to consider some integrated pest control management. Discover how to use neem oil for grasshoppers and other common garden pests with our all-natural guide.
Neem-based pest control strategies are nothing new. Azadirachta indica, or the neem tree, has been a central part of India's pest-fighting strategies for hundreds of years. Many plants naturally produce an insecticide to protect themselves. When we distill those natural properties into an oil, such as neem oil, we can harness those insecticidal properties against garden pests.
Grasshoppers are ground-dwelling insects from the Caelifera suborder. Adult grasshoppers range in color from bright green to brown and often have distinct red or yellow markings. Most grasshoppers have prevalent antennae and giant femurs with well-developed muscles for impressive jumping. While not particularly destructive, grasshoppers are still a nuisance. Learn how to deal with them safely and responsibly.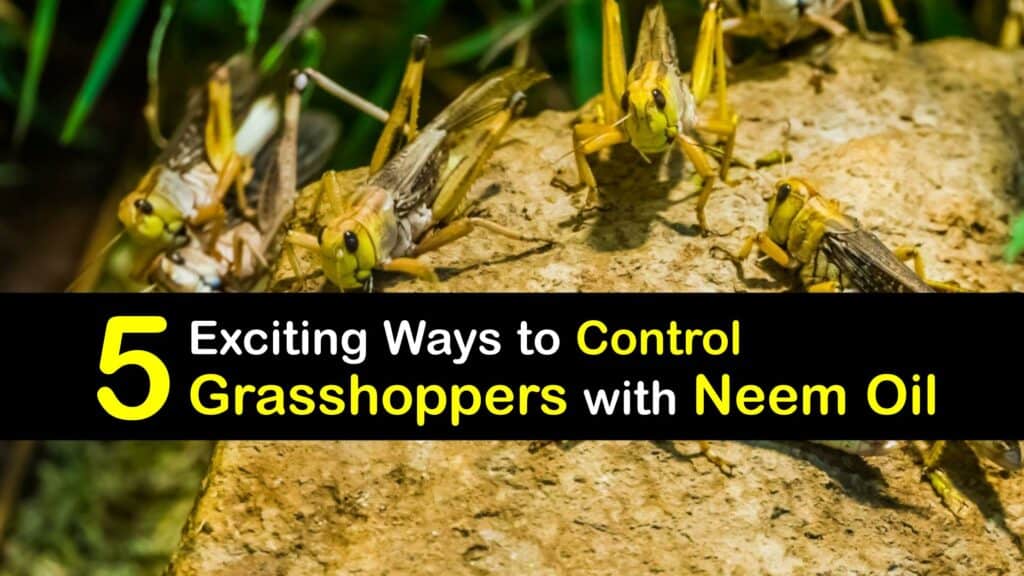 DIY Grasshopper Control With Neem Oil
Discover everything you need to know about grasshopper control with neem oil. Get rid of grasshoppers naturally and kill cucumber beetles with neem oil and an eco-friendly pesticide approach. Discover how to reclaim your outdoor spaces from the unruly mobs of grasshoppers, spider mites, and fungus gnats today.
Start With Soapy Water for Grasshopper Control
Before we jump into tips on using neem oil to kill grasshoppers, explore preliminary steps you can take before the infestation gets out of hand. Use a bit of soapy water for eggs or a small infestation; young grasshoppers and eggs wash away, and your plants are safe.
Mix two drops of mild, unscented liquid soap or dish soap and some warm water. Don't use boiling hot water, as this harm the plant leaf tissue and kills the plant. Be observant of signs your plants don't like soap. If they haven't wilted a bit by the next day, proceed with the occasional soapy water dump.
Neem Oil Spray for Grasshopper Pests
Does neem oil kill grasshoppers? Exposure to neem oil prevents pests like grasshopper nymphs, fungus gnats, and spider mites from procreating successfully, controlling the grasshopper infestation in your garden. You can make your own cricket repellent with neem oil to get rid of other pests as well.
Taking care of your garden with natural bug repellents is important to keep your garden healthy and free from toxins. Using neem oil for pest control is about long-term prevention, not short-term results.
This handy neem oil insecticide spray gives you complete control over the application process, which means ratios are adjustable to suit your needs. Wear gloves if your skin is sensitive; undiluted neem oil may irritate.
Gently stir the Castile soap into the water, then follow with neem oil; the Castile soap acts as an emulsifier, and mixing in this order helps with the process. Once your neem oil spray is thoroughly mixed, spray the plant leaves, the undersides, and around the base. Apply monthly for general protection through peak insect breeding times.
Try Garlic and Neem Oil to Kill Grasshoppers
Garlic is powerful, aromatic, and full of intense sulfurs that control grasshoppers and repel a diverse range of insects. Discover how to use neem oil for grasshoppers with a garlic boost in this fantastic neem oil and garlic spray recipe.
Mixing garlic and neem oil to repel grasshoppers is a great way to use two powerful ingredients in your garden. Roughly chop the garlic and let soak in two cups of water overnight. Add two more cups of water, a teaspoon of neem oil, and a drop of dish soap in the morning. Strain the mixture into a spray bottle. Apply to plants immediately.
How to Make an Effective Insecticidal Soap
Discover how to make an insecticidal soap with neem oil to kill grasshoppers and repel other insect pest varieties like the Japanese beetle and squash bug. This DIY insecticide even does double duty as an effective powdery mildew treatment. Use this insecticidal soap for grasshopper control or for every garden pest likely to come calling.
Fill the spray bottle with water, and pour in the soap, coconut oil, and neem oil; in that order. Give everything a good shake to ensure complete emulsification. Apply monthly, and keep an eye out for changes in garden health.
How to Use Neem Oil for Grasshoppers Long Term
Grasshopper control with neem oil is only part of a larger pest prevention strategy. While neem oil is a natural alternative to certain pesticides, it doesn't discriminate against our beneficial insects. Avoid flowers when spraying neem products to keep your local bee population safe.
Neem only should be used monthly and cycled out for another horticultural oil or pest control method to prevent resistance. Nature tends to control grasshoppers with natural predators like frogs, birds, and snakes. Setting out a bird feeder to encourage birds to the yard may be all you need.
Some gardeners employ help from a different kind of natural predator, like Nosema locustae, or sometimes the Beauveria bassiana fungus, which functions as a parasite to kill common garden pests. As a last resort, consider Nolo Bait. This biological insecticide kills the grasshopper slowly over 3-6 weeks.
We hope you picked up some terrific tips about how to use neem oil for grasshoppers safely and effectively. Neem oil works best as part of a long-term pest control plan and is a wise addition to your integrated pest management goals.
If you notice an influx of grasshoppers over the season, it may be time to break out the neem oil insecticide spray or a good garlic-based repellent. Remember to dilute and mix your neem oil with a suitable carrier oil like olive or coconut to help with emulsification. Always mix a fresh batch before use.
Keep an eye out for eggs or signs of other pests, such as leaf and fruit destruction. Identify the insect you're dealing with before you start an insecticide routine, and be careful to avoid areas where beneficial insects eat and rest; practical and responsible pest management is up to you.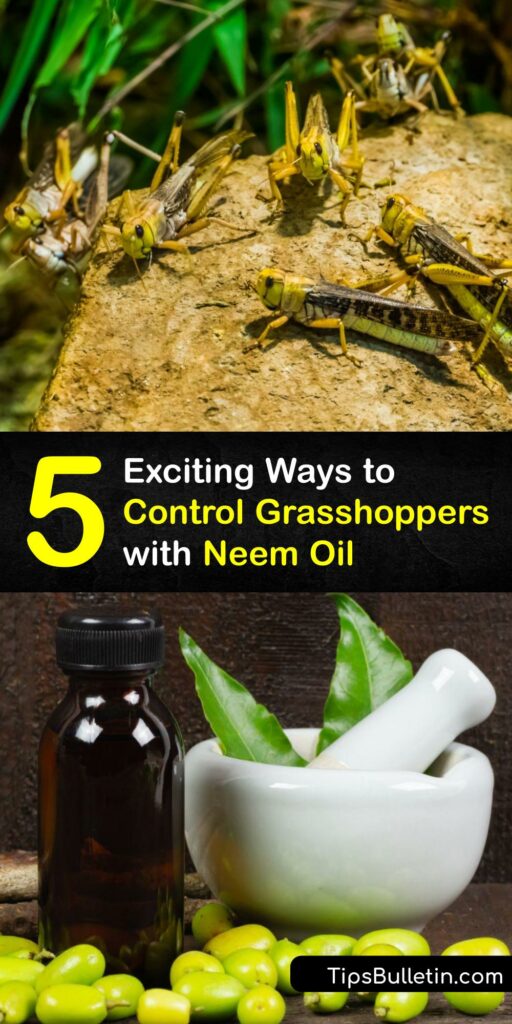 If you enjoyed our outstanding pest control tips for how to use neem oil for grasshoppers, share this article with friends on Pinterest or Facebook who need neem-based pest control ideas.