Any insect is a nuisance when it invades your home, and crickets are no exception. Many homeowners are frustrated by cricket noise and are eager for a homemade cricket repellent to act as a natural cricket deterrent to reclaim their space from insect pests. Like a bed bug infestation, crickets or grasshoppers in the home are annoying, unsanitary, and inconvenient.
Whether you have spider crickets, cave crickets, field crickets, the mole cricket, or are unsure which cricket pest has invaded, it's simple to make natural cricket repellent for both inside and outside your home.
Crickets like cool, dark, high-moisture areas with an accessible entry point, like a wet basement or crawl space. Once crickets move in, the male crickets and female crickets produce cricket eggs; from here, the infestation multiplies quickly.
Use a Natural Cricket Deterrent for Fast Results
As with bed bugs, timely pest control is key to effectively halting field cricket, camel cricket, spider cricket, cave cricket, chinch bug, and house cricket invasion and ensuring your homemade cricket repellent achieves pest control.
Unlike other insect intruders, crickets love the cold and wet; they try to come inside when the climate becomes warmer and drier than cold.
You'll probably see them indoors throughout the summer and fall, and if the conditions are right, they breed in your home and appear all year. They eat plants, fruits, vegetables, and animal wastes; keeping your home clean helps avoid them.
The best way to stop a cricket invasion is to keep them out; the solution is straightforward if they come inside. Numerous homemade cricket repellent ideas allow you to pick the best natural cricket deterrent for you.
To ensure success, use a natural cricket repellent as soon as you notice mole cricket nymphs, cricket eggs, or any male or female cricket populations.
Homemade Cricket Repellent with Insecticidal Soap
One of the easiest remedies for getting rid of cave crickets is a spray. An insecticidal soap mixture is a brilliant insecticide to kill crickets. This strategy works well and doesn't necessitate the use of harmful pesticides. Select a soap appropriate for the job from the local garden store. Dish soap is often utilized in home treatments but does not necessarily kill insects.
In a spray bottle, combine the soap and water. Spray a small section of your house with the mixture to see how it reacts. Check the next day to ensure there was no discoloration of the fabric, paint, or other damage.
The easiest and fastest way to kill crickets in your house is to spray the solution on all surfaces where insects congregate. Maintaining complete coverage is critical because any untreated regions could result in re-infestation.
Diatomaceous Earth is a Natural Cricket Repellent
Diatomaceous earth is well known for its insect repelling properties and is a popular choice for natural pest control. If you're looking for a non-toxic technique to get rid of crickets, diatomaceous earth may be the best option.
Diatomaceous earth is a thin, talc-like, off-white powder made of finely crushed fossilized marine phytoplankton remnants that lacerate crickets' exoskeletons, causing them to dehydrate and perish. Garden supply stores sell diatomaceous earth suitable for use around dogs and children.
Sprinkle areas where you have seen crickets or suspect they may be hiding and use the DE as a way to repel crickets from unwanted locations. Getting rid of crickets in the garden has never been easier than with diatomaceous earth.
Home Remedies for Repelling Crickets – Soapy Water
Soapy water is an excellent homemade cricket repellent and one of the cheapest ways to destroy a cricket infestation. Place bowls partly filled with soapy water in your crawl space or basement, where crickets are likely found.
Water attracts crickets, who swarm into these bowls and drown. Soap removes the waxy covering from the crickets' exoskeleton, so they drown faster.
Cedar Oil Cricket Repellent Spray
Another natural insect repellant is cedar oil. This recipe is also a homemade spray to keep flies away and an ideal homemade spider repellent spray. When crickets or other bugs touch oil, they undergo osmotic dehydration and die.
To make DIY insect spray, blend cedar oil and water in a spray bottle. Spritz the bug spray in all areas of cricket activity. Cedar oil homemade cricket repellent has the added benefit of being non-toxic and having a pleasant scent.
Use a Natural Predator for Outdoor Cricket Repellent
Predator insects are natural cricket repellent. Though impractical for use inside the house, natural predator animals and insects help to reduce cricket populations outside. Try adding salamanders, frogs, or toads to your yard to allow them to act as a natural cricket deterrent, provided you have the right environment to sustain these creatures.
Making your garden more appealing to insect-eating birds assists in natural predation, taking care of your cricket problem. If avoiding harsh chemicals is essential, going the natural predator route may be a viable option to reduce cricket pests in your yard and and your home, as fewer are close by and likely to enter.
Glue Traps for Cricket Infestation
A sticky trap is a simple to use cricket trap to quickly reduce house crickets population in your home. A sticky trap, sometimes known as a glue trap, easily eradicates crickets. Because cricket populations proliferate, killing a few crickets when you see them won't help in the long run.
Buy sticky bug traps, which are wide strips of cardboard with a strong adhesive, and place them in spots where crickets are a common sighting. Crickets walk over and become stuck to the traps and eventually die. Glue traps are also an excellent method to assess the severity of the pest invasion in your home.
Noting the number of crickets on the trap each day provides insight into how bad the attack is and is a useful measure to decide if progress is being made once treatment begins.
Seeing fewer crickets on traps generally indicates your pest control is working. Just take care not to walk on the traps since they attach to your shoes, socks, and skin.
Repel Crickets with Neem Oil Insect Repellent
Neem oil is a natural cricket deterrent and a DIY centipede repellent. Since crickets quickly take over your property, both inside and outside, neem oil is a natural insecticide to eliminate these pests and others. The compounds in this oil disturb the hormonal systems of insects, and the insects' ability to eat, reproduce, and lay eggs is compromised.
Use the bug spray on surfaces where insects congregate after swirling the ingredients together in a spray bottle until thoroughly combined. Get rid of crickets with materials you already have in just a few simple steps.
Most crickets stay outdoors with a few precautions, and any inside are caught in simple traps. If your property requires immediate cricket treatment, engaging the help of a pest control professional may be your ultimate solution. A cricket invasion is frightening, and figuring out how to get rid of crickets is worse.
The best technique to get rid of crickets depends on the severity of the infestation and what elements impact the insect's attractiveness to your homes, such as wetness, hiding spots, or thick grass and debris.
Whether you prefer a homemade cricket repellent or want to get rid of them quickly, choose the option best fitting your home and circumstances to eliminate these insect pests permanently.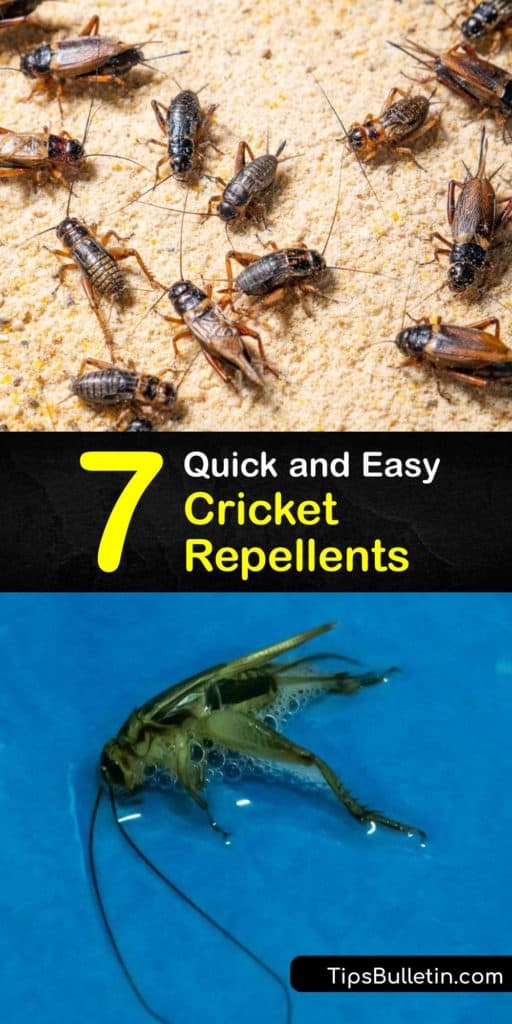 If you loved this article on homemade cricket repellent, please share these valuable tips on using a natural cricket deterrent with your friends and family on Pinterest and Facebook.