Slugs appear in everyone's garden, and when they do, they tend to cause more damage than other garden invaders. Though there are chemically-induced products to solve slug related issues, it's not wise to purchase them, as they are toxic to birds and other animals.
Have you ever tried creating your own natural slug repellent? Do you think you can use simple and inexpensive ingredients to create a non-harmful solution to fight off slugs? Have you thought about any tips or tricks to save your garden recently?
Slugs can be stubborn little critters, and slug control methods can be challenging to find at a moment's notice. With these natural slug repellent recipes, you'll learn how to solve your slug problems using slug baits, slug traps, and handy ingredients like diatomaceous earth, basil, grapefruit halves, coffee grounds, and ground beetles.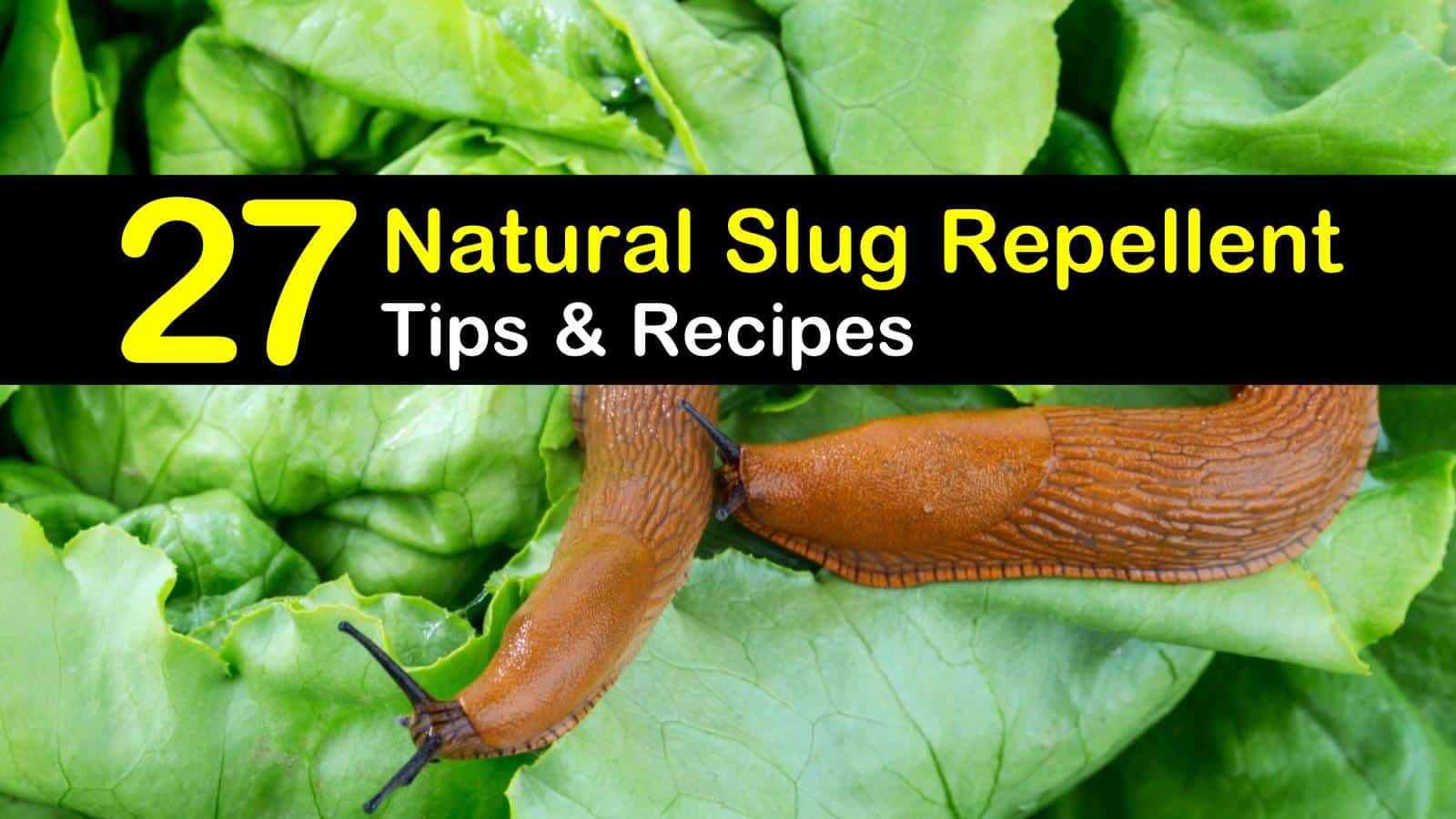 Get Rid of Slugs Naturally
Slugs are tiny, creepy crawly creatures. Because they're little, and because they have to get from point A to point B by squirming around, it can be challenging for them to get where they're going.
Border Control Slug Tip
If you're trying to keep the snails away from your flowers, wrap copper strips or copper tape around the bottom of the pots. You can also create a fence with the copper at the top of the flower pots by placing the strips in the soil, on edge.
Snail Repellent Technique
If you're looking for a non-toxic method to get rid of your garden slug problem, try using an electric shock fence.
Typically, the slug repellent fence runs off a nine-volt battery. When a slug reaches the fence, it will feel a mild shock (humans or animals cannot feel this shock). This fence will not kill the slug; it will merely act as a slug deterrent.
Natural Snail Repellent using Seaweed
Seaweed helps you in two ways; first, it helps vegetation grow in the garden. Second, seaweed acts as a natural snail repellent.
Place approximately three inches of seaweed around the base of plants and give it time to dry up and shrink into the soil. When the slugs finally make their way to the seaweed-filled earth, they'll immediately turn around and leave that plant alone. The reason for this is because seaweed is salty, and slugs do not like salt.
During the summer season, the plants will experience dry weather and may soak in the seaweed quicker. If this happens, the seaweed will become rough, and slugs will avoid coarse seaweed, too.
Effective Slug Deterrent: Diatomaceous Earth
Diatomaceous earth, also known as "insect dust," kills different types of insects, such as roaches and fleas, and is even an excellent way for how to kill grubs in your lawn. This powder-like substance or DE is the remains of microscopic creatures and is deadly to other small insects and creatures who come in contact with it.
Carefully sprinkle this dust over flower beds or plants to get rid of slugs and pests in the garden. Most bags of food-grade DE come with a convenient spreader to disperse the powder.
It may also be beneficial to use a face mask so that you don't breathe in the dust. The powder will seep into the snails' bodies and shred them from the inside out. In just a few days, the slugs will be too dehydrated to live.
Using Bran to Repel Slugs
Diatomaceous earth tears up the inside of a slug almost immediately, causing them to die; corn bran similarly kills snails. Instead of dehydrating the active slug predators, corn bran causes the snails' bodies to swell up and die.
Sprinkle the bran onto plants and gardens you'd like to keep slugs away from and check up the slugs occasionally. If they aren't snacking on the corn bran, you may have to blend it to make sure it becomes more powder-like.
Using Coffee Grounds to Get Rid of Slugs
If you're looking for a useful slug killer tip, grind up your coffee beans or head to the local market and pick up coffee grounds. Sprinkle the grounds on top of the soil you're protecting and watch the slugs run away.
Caffeine sometimes kills snails when they ingest it. Many snails do not eat plants that have been touched with a caffeinated spray or powder.
Natural Slug Repellent: Change Your Watering Schedule
Slugs like to roam around gardens and flower pots at night. They also want to be present when the soil is damp. Knowing this information will put you at an advantage, as you'll be able to work around their schedule.
Water your plants and veggies during the day. Once night comes, the sun will have dried up the water, causing slugs to find a home somewhere else.
Using Salt to Deter Snails
If all else fails, head to the soil where the slugs hide at night with a saltshaker. Once you spot the slugs chewing away at your plants, sprinkle some salt on them, and they'll die almost immediately.
Natural Slug Repellent Trap using Beer
Slugs are attracted to beer. Go to the store and pick up a can or two of beer. Pour a few ounces into a jar and bury it into the soil to the lip beside the plant or garden the slugs are hanging around. The snails will eventually crawl into these beer traps and drown.
Homemade Snail Killer: Eggshells
Crushing up eggshells at home is a great way to implement pest control methods for slugs. Once you've crushed eggshells into small pieces, place them around any plant, garden, or flower bed you want to keep safe from slug damage.
Remember, snails can move over sharp edges, but they don't like it. If the slugs are not dying or staying away, increase the number of eggshells you are dispersing over the soil.
Using Petroleum Jelly to Repel Slugs
If you want to keep snails away from the soil surface, grab a slippery substance that's not harmful to pets or humans and place it accordingly around the soil you want to protect.
Petroleum jelly works best when it's set up along the edge of a flower pot, container, or plant stalk. The oily substance makes it difficult for the slugs to pass and get into the soil.
Slug Repellent Trap: Grapefruit Peels
Snails love citrus, which means fruits like grapefruit and oranges are a weakness to them. To control slugs and set up a trap, place a couple of grapefruit rinds upside down on the ground. Make sure the slugs can enter the grapefruit.
Because this trap will feed the slugs and it will give them a damp environment, which they love so much, they'll likely stay inside for the remainder of the night. In the morning, pick the grapefruit up and get rid of the snails inside.
Using Slug Pellets to Repel Snails
Predators can get rid of slugs rather quickly, but when you don't have that option, you can use slug pellets. Keep in mind, if you're trying to attract natural predators, slug pellets will not help with this task, as they will deter them instead.
Sprinkle the pellets in the soil where the snails roam. Within a few hours, you'll start to see the slugs die. Pick them out of the ground and get rid of them.
Natural Snail Repellent using Caffeine
Snails tend to get into your beloved plants and flowers. When they do, they go directly to the leaves and kill your plants' defense mechanisms. To fight back, you'll need a natural repellent willing to work during the growing season to get rid of any black slug that comes your way.
Boil the water and mix with the coffee grounds until it's fully dissolved. Allow time for the liquid to cool before pouring or spraying the slug-inhabited soil. Within two days, the slugs should die. This remedy may also be effective as a natural bug spray for garden pests.
Using Iron Phosphate to Get Rid of Slugs
Slugs are afraid of one active ingredient: Iron phosphate. If you're using iron phosphate, be sure to purchase the liquid version. Pour the solution onto the soil.
Though the iron phosphate will disrupt the slugs' digestive systems and eventually kill them, it will also benefit the plants and flowers by providing a nutritious source of iron.
Natural Slug Deterrent Method
When in doubt, go the natural route and use your hands. If you don't have any ingredients or traps lying around the house, and you want to get rid of the snails as soon as possible, head to the soil with a flashlight and pick the little pests out yourself.
For the best results, monitor the soil during the early hours of the day or late at night when they come out of hiding.
Repel Slugs by Hoeing the Soil
Another all-natural way to ensure slugs don't keep coming back to your soil is to hoe the areas you see them in regularly. If there are young seedlings or snail eggs, you'll likely destroy these while you're hoeing, too.
Using Wood Pellets to Repel Slugs
Many people use small eggshells to repel snails, but you can also use things like sand and wood pellets, too. Slugs try not to leave slime trails over sand and wood pellets, as this cuts their bodies.
All-Natural Beneficial Insect Slug Repellent
Getting rid of slugs for an extended period can be tricky, but using nematodes makes the problem easier to solve. Nematodes can keep slugs away from your soil for up to six weeks.
Nematodes are typically watered into the soil using a plastic cup or similar container, like a plastic box. Once the parasitic worms enter the ground, they search for their slug prey and take care of the problem for you. In approximately three to five days, the slugs will die from their predators actively seeking them.
Using Ducks to Repel Slugs
Ducks are born slug predators, specifically the Indian runners and khaki Campbells. If these breeds are in your immediate area, allow them to stalk the slugs in your garden soil.
Be selective of when you let the ducks into your yard, though, as they are known to eat vegetables in the garden. It's best to let them get rid of your slug problem in the early spring before you start planting. After you've started planting, put up a fence around your vegetation; this will keep them from getting at your veggies, but it will also dismiss your slug problem.
Getting Rid of Slugs using Frogs and Toads
Frogs and toads love to snack on slugs. If you have the option, start planting your garden near a frog or toad habitat. Frogs need a pond to survive, but toads only desire to be surrounded by dark and moist soil.
Repelling Slugs with Beetles
Two types of beetles, the carob and rove, like to eat slug eggs and baby slugs. To attract beetles and create a home for them, you'll want to grab a plastic box, place a pile of straw inside of it, and turn it upside down on the ground. They'll come soon enough.
Natural Slug Repellent using Baking Soda
If you have some baking soda in the house, grab the box and start sprinkling the powder directly on the slugs, as this will kill the little critters. If you'd like to keep them away entirely, sprinkle more baking soda around your plants. There are plenty of other uses for baking soda in the garden, too.
Using Pine Needles to Deter Snails
Slugs don't like crawling over sharp edges, like eggshells and wood pellets. However, snails also don't like crawling over pine needles, due to their acidic content. Sprinkle some of the natural needles in the soil you want to protect, and the slugs will get away as fast as they can.
Using Hair to Repel Slugs
Use human hair to repel slugs. Be sure not to place a ball of hair in the soil, as this will not completely solve the problem.
Take strands of hair from a brush and spread them out over the soil. The plants will benefit from the nitrogen, and the slugs will tangle themselves up in the strands of hair and die.
Trap Slugs Using Pieces of Carpet
Cut up pieces of carpet and lie them on top of the soil. During the day, slugs will hide under the covers to avoid sun exposure. Give them a few hours in the morning to get under the carpet, then pick the pieces up and discard the slugs in hiding.
Homemade Snail Killer using Ammonia
Dissolving slugs can be tricky, but there is a way to do it.
Mix the ingredients and spray the soil with it. The slugs will dissolve over time, and the plants will increase their nitrogen intake from the ammonia.
Finding the right natural slug repellent to kill off slug predators and slug populations can be difficult, but with our homemade tips and tricks, you'll be running those garden pests out of their hiding places in no time.
Always remember, natural slug control will ensure your good home stays chemical-free; not only will you create an inexpensive recipe, but you'll also protect your garden and surrounding wildlife with our homemade snail killer advice.
Recipe for Natural Slug Repellent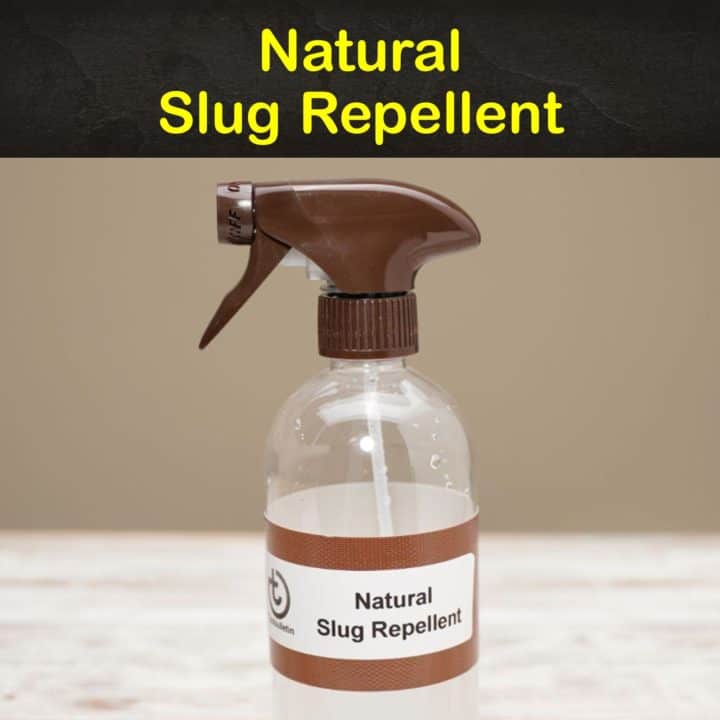 Natural Slug Repellent
Coffee isn't just for drinking!
Materials
8 ounces coffee with caffeine
8 ounces water
Tools
Measuring cup
16 ounce sprayer bottle
Instructions
Combine the coffee and water in the bottle.
Shake to mix.
Spritz slugs as needed.
Reapply if necessary after a couple of days or after it rains.
Notes
This deterrent may also repel unwanted insects.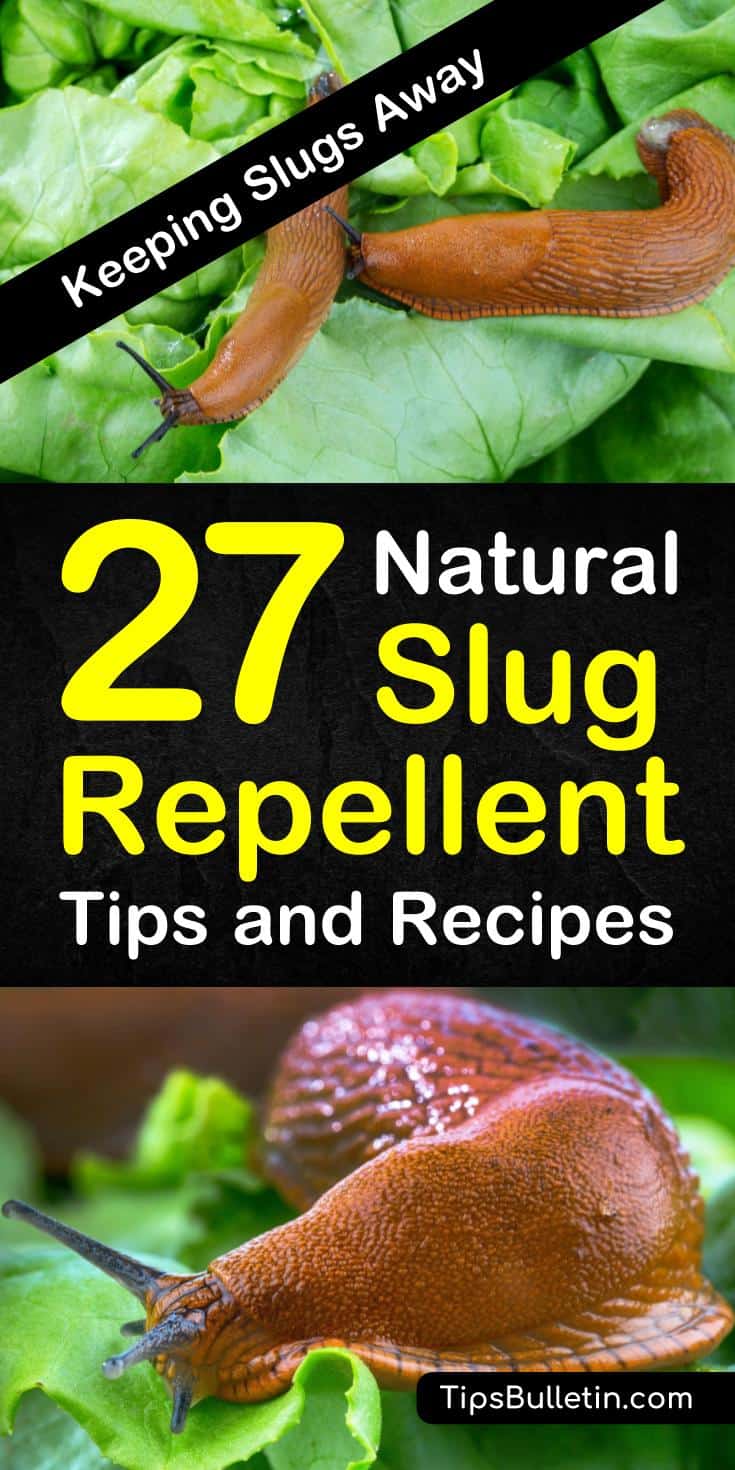 We hope you enjoyed reading our natural snail repellent tip guide. If you did, please share our homemade snail killer recipes and tricks on Facebook and Pinterest for your friends and family to see.