One of the best aspects of starting a garden is all the eye-catching colors you add to really make it pop. Not only does it increase curb appeal for both you and anyone who passes by your home, but it is also fun to play around with colors. Two of the most vibrant hues to add to any home comes from purple and red shrubs, making the vivid display undeniably visible to all in the area.
The range of how these colors come in to play on these plants varies widely, offering you many different alternatives to dress up your landscape. Some provide lovely purple or red flowers, with red flowers, in particular, attracting popular pollinators like hummingbirds.
In other cases, the plants showcase purple or reddish leaves year-round for a brilliant contrast to white or light pink flowers. If you only desire a brief look at these colors during certain times of the year, some species provide unique fall interest with their leaves.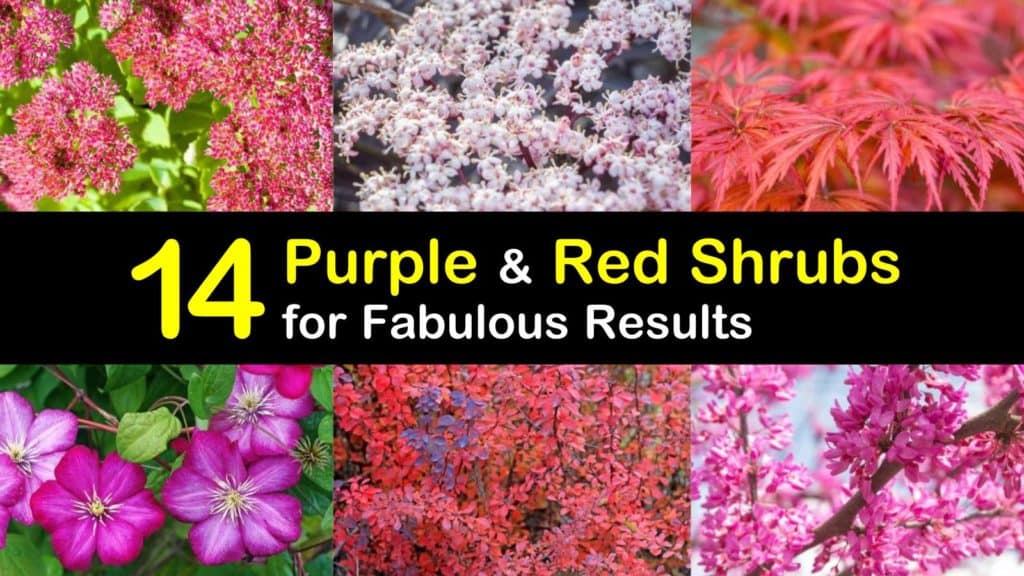 Vibrant Shrubs with Perfectly Wonderful Colors
The first step in finding your perfect purple or red plant is to determine how you intend to use it. Several different species range from small ground cover plants to floral statement pieces to wide-spreading trees. You might even choose to use one of each for a carefully coordinated landscape.
Purple Japanese Barberry (Berberis thunbergii f. atropurpurea)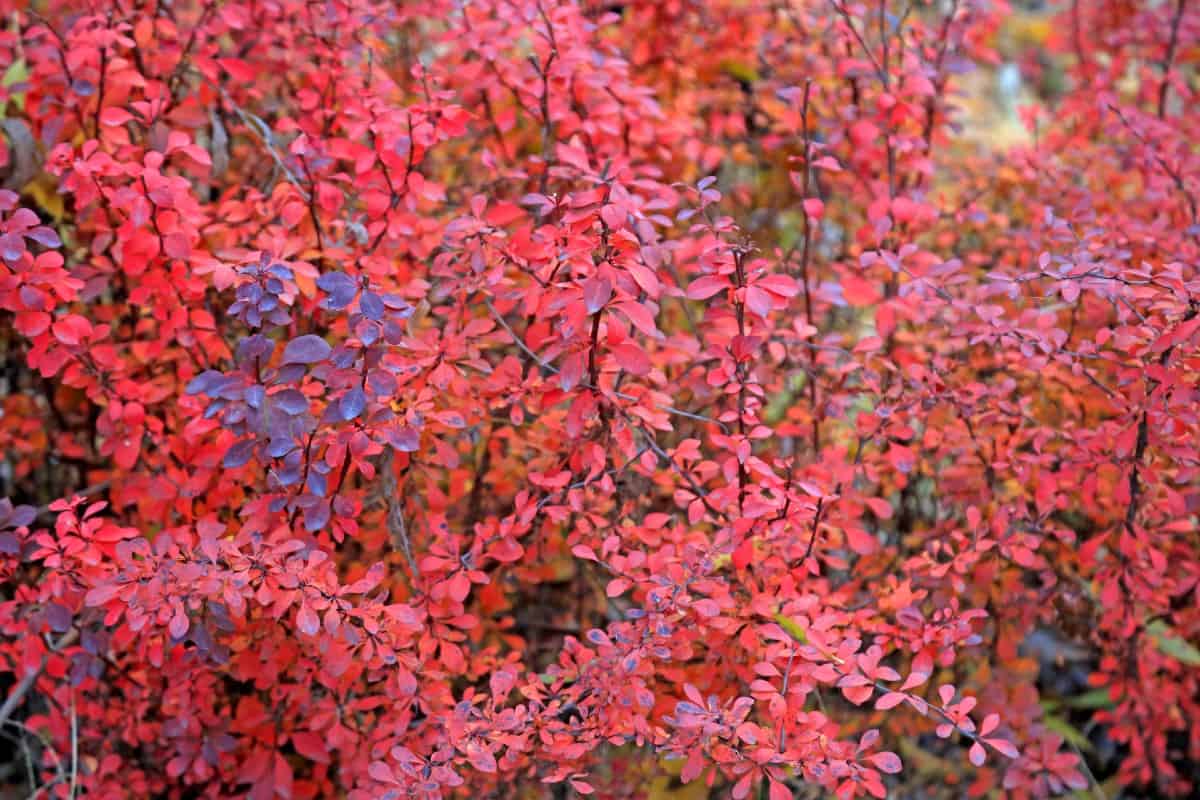 A gorgeous deciduous shrub to start with is Purple Japanese Barberry. The plant was brought from Asia centuries ago by early settlers after common barberry species displayed complications with black stem rust.
Many consider the plant invasive, however, so regular pruning is critical to its maintenance. Most gardeners use this barberry plant as a privacy hedge or to border flower beds.
They reach anywhere between 1-6 feet high, relying heavily on the variety within the species. They exhibit dark purple or reddish leaves from spring to summer, which brighten as fall season approaches.
Purple Spikerush (Eleocharis atropurpurea): Lovely Aquatic Plants for Ponds and Riverbeds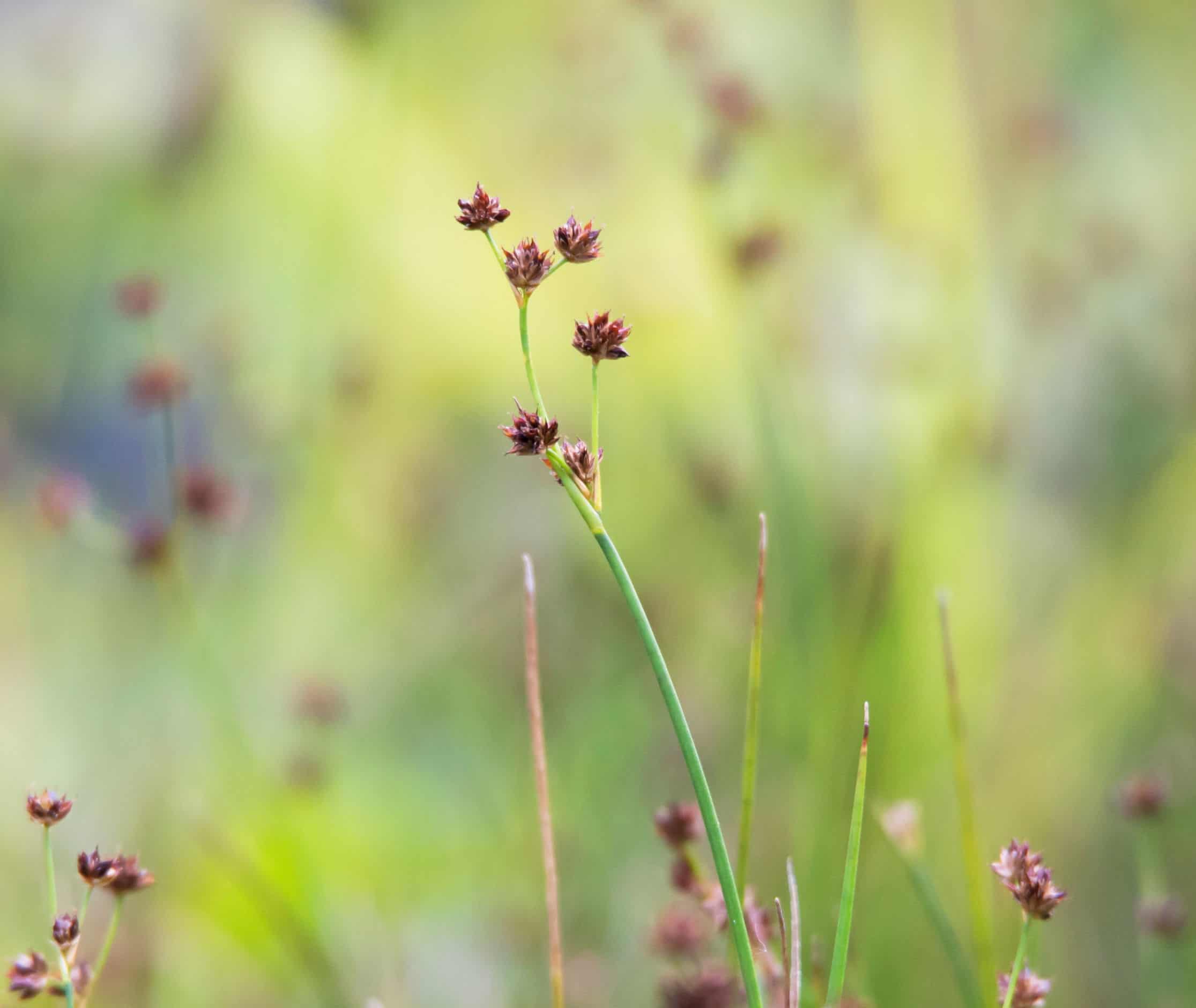 Another fantastic addition to your garden is the Purple Spikerush, a type of Spikesedge known for its aquatic tendencies. These small plants grow comfortably along slow-moving waterways or in wetlands. They also thrive when grown on the water itself.
These leafless spiky bushes possess very few problems in terms of pests or diseases, though aphids may plague the plants from time to time. The use of Spike Rush typically is to provide food for grazing animals, as well as a safe and secure nesting area for birds.
Forest Pansy (Cercis canadensis)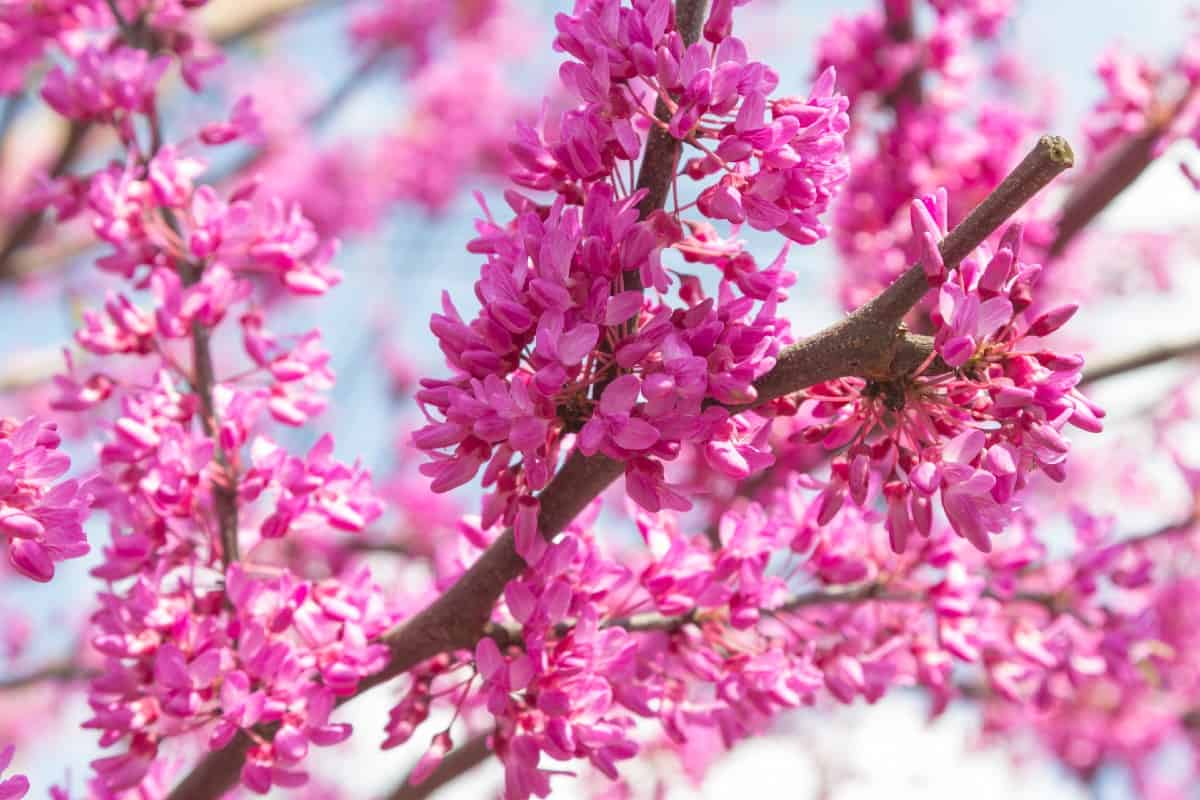 Forest Pansy is a type of Eastern Redbud – small trees or dwarf plants for landscaping with adorable heart-shaped leaves. They stretch up to about 30 feet tall, growing approximately two feet each year.
They prefer milder climates and proliferate throughout USDA hardiness zones 7-9. In early spring, the forest pansy flashes lovely pink flowers against a reddish purple backdrop of leaves.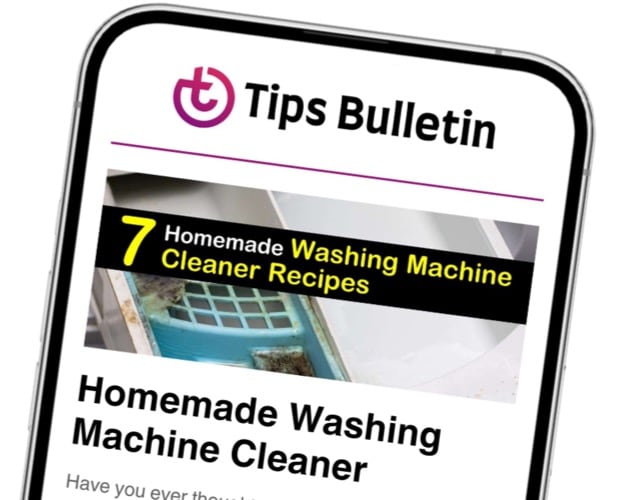 Finally, an email that Transforms Your Home.
Get the latest home and garden tips from our experts, delivered straight to your inbox.
The purple leaves lighten into a yellow or bronze color as autumn approaches, offering stunning color throughout most of the year. The trees are amenable to most soil types and tolerate both full sun exposure and partial shade.
Japanese Maple (Acer palmatum)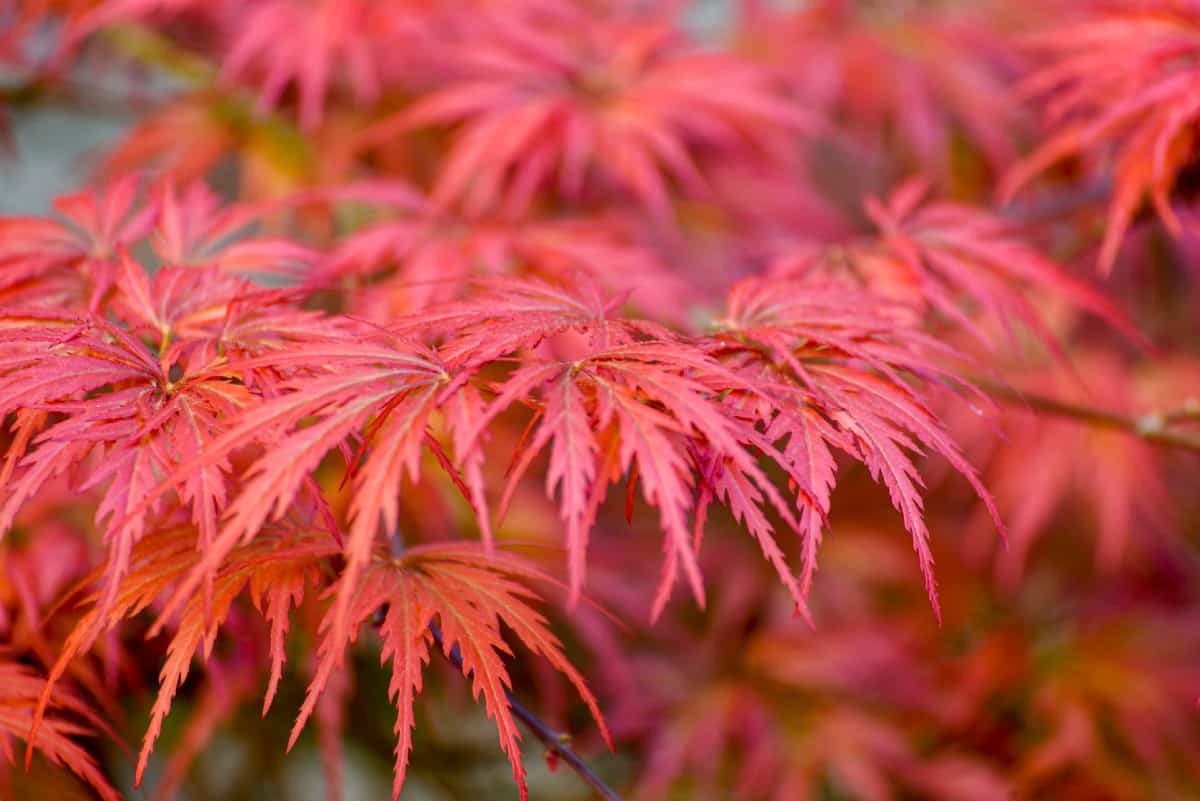 The Japanese Maple is a remarkable shrub that suits a wide variety of needs. Though the typical height of the plant reaches 25 feet, many also cultivate this plant as a bonsai tree.
The plant expands quickly over time, typically one foot a year, but growing it in a pot is a highly effective way to maintain its small stature. This maple tree is no stranger to color and offers impressive seasonal interest throughout the year.
Purple flowers appear in spring alongside vibrant burgundy leaves. As the seasons progress, the fall color shifts from a purplish hue to vivid red. Even the bark is a blackish-red color once the leaves fall away in winter.
Weigela (Weigela florida): Low Maintenance Plant with Striking Foliage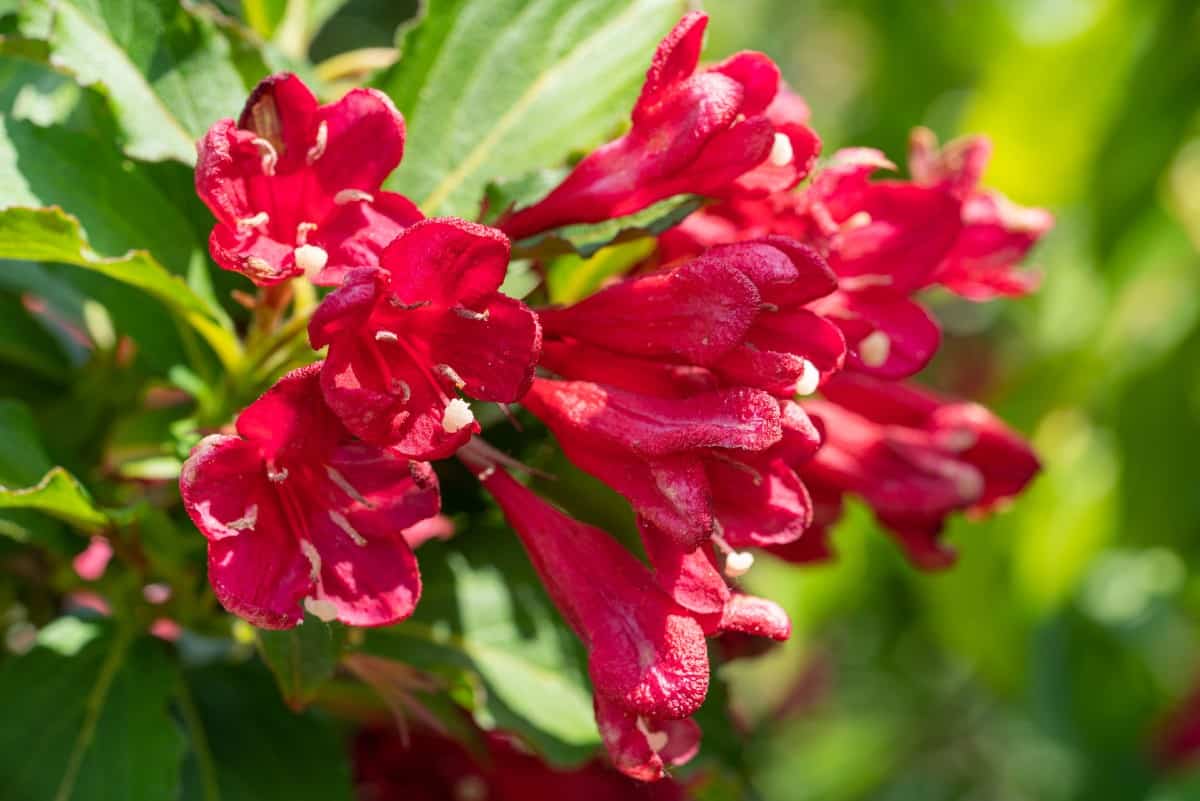 When looking for an easy-to-care-for specimen that looks amazing, Weigela is one of the best choices. The deciduous flowering shrub requires minimal watering and upkeep to maintain its healthy appearance and color.
It only grows to around 5 feet in height and width and is hardy to zones 5-9 in the United States. As the foliage emerges in spring, the plant starts out with bright green leaves with purple accents.
Those accents deepen into dark purple foliage as spring moves forward, and the plant matures. In summer, these lovely leaves join rosy pink flowers, whose color and trumpet shape are favorites among hummingbirds.
Western Blue Virgin's Bower (Clematis occidentalis)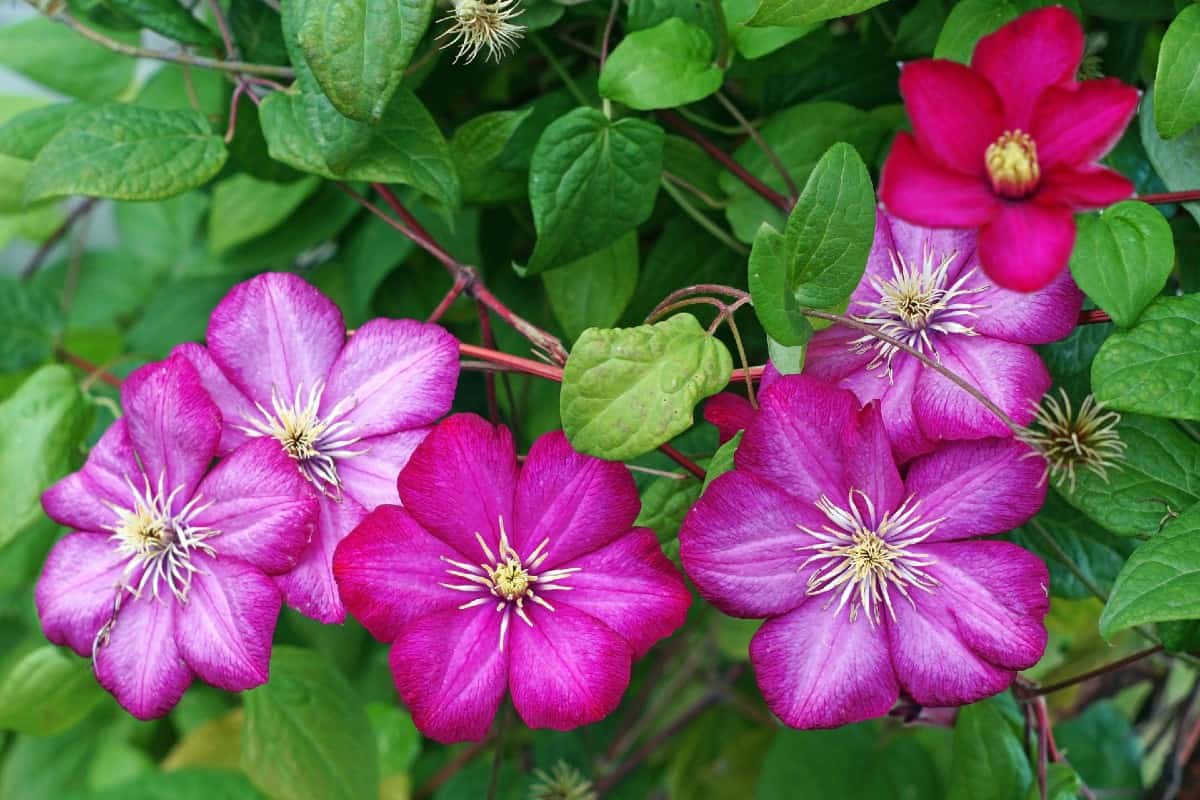 The next candidate for your garden goes by many different names, including the Purple Virgin's Bower and Western Clematis.
This influx of identifiers is partly due to the numerous incarnations of the plant that appear throughout the United States and Canada, varying only slightly in their characteristics to suit their environment.
Purplish blue flowers appear in late spring and last until midsummer. Historically, they held several medicinal purposes, including a preventative for grey hair and an anti-inflammatory. Find them most often in wooded areas or large open spaces.
Common Sage (Salvia officinalis): Shrubs with Lovely Purple and Red Flowers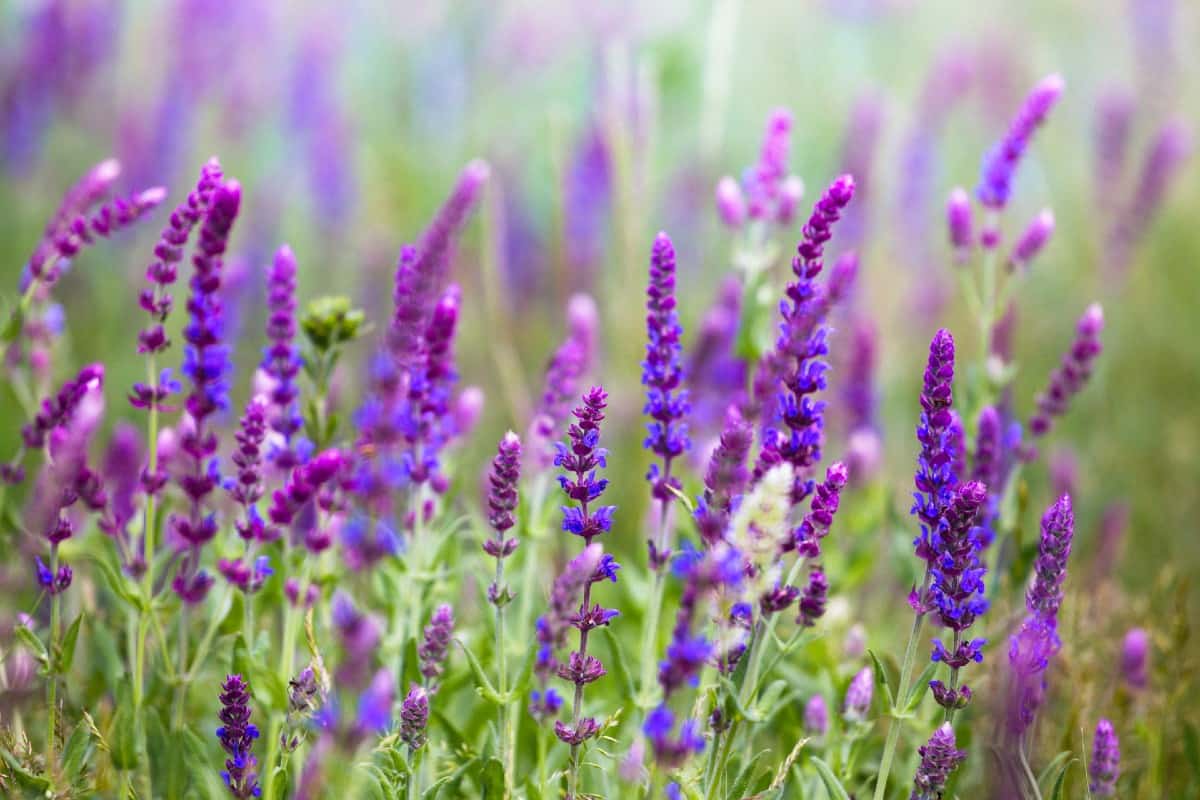 Selecting plants for their colorful foliage is not the only way to achieve those spectacular flashes of color. Plants like Common Sage provide these hues with their iconic red and purple flowers that appear in large clusters during the summer.
While some also produce pink or white flowers, the red and purple varieties are the most common. This perennial member of the mint family makes excellent cut flowers for both displays and potpourri and is relatively easy to care for.
They generate high volumes of honey and nectar for pollinators like butterflies to feast on, making them versatile and aesthetic in numerous ways.
Sage thrives in full sun conditions, though in expressly warm climates, partial sun, or at least some dappled shade in the afternoon hours saves them from scorching.
Black Lace Elderberry (Sambucus nigra)
If you are interested in a shrub that enhances the appeal of your flowers and other plants, then look no further than the Black Lace Elderberry. This bush develops deep purple leaves that are so dark they almost look black.
This trait doesn't portray itself in a dark and dreary way, however. The juxtaposition of these dark hues makes fabulous backdrops for flowers of all colors.
One example of how these colors seem to pop against each purple leaf is in spring when the plant blossoms with dozens of delicate clusters of pink flowers.
The flowers produce a citrusy scent and bear fruit starting in the fall. At only six inches in height, and with such incredible contrasts in color, Black Lace Elderberry makes a phenomenal groundcover.
Ninebark (Physocarpus)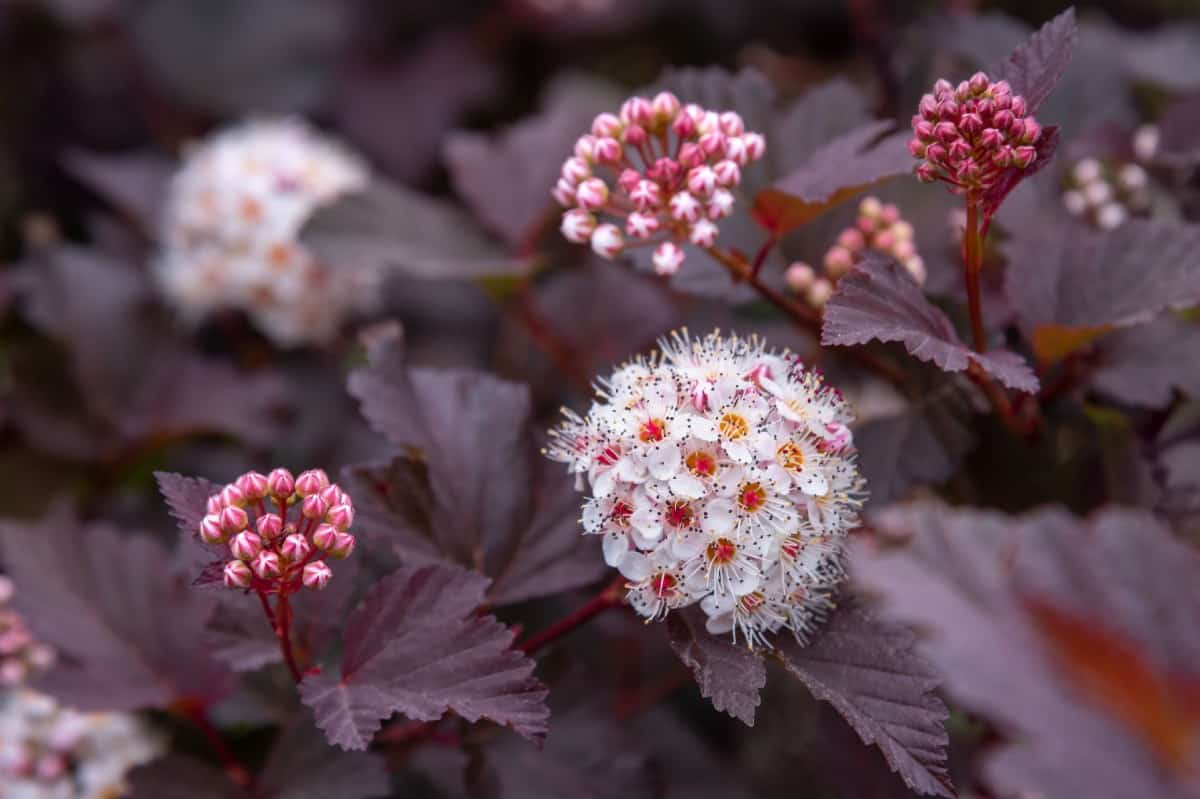 A most beloved shrub for interest in every season is Ninebark. The bush takes on a fountain shape with purple leaves that add to its immense appeal.
The leaves are maple-like and fade to pale green when exposed to too much sunlight in hotter climates or when kept in too much shade. White flowers bloom in late spring, displaying flashes of pink along with their creamy petals.
As fall arrives, bright red fruit adorns the plant, and the bark underneath is slowly exposed as the plant thins. Even the stems take on a dark reddish color that offers powerful allure as winter resistant shrubs that liven an otherwise bleak landscape.
Tatarian Dogwood (Cornus alba 'Kesselringii'): Fabulous Fall Color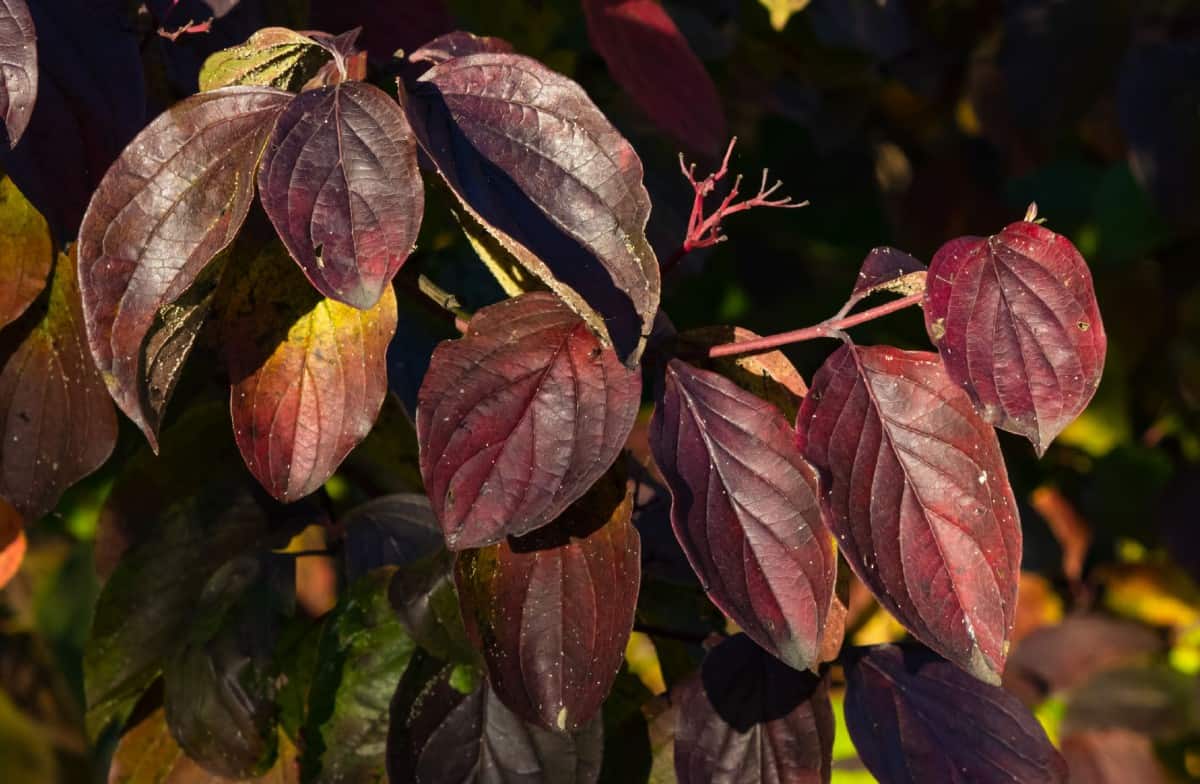 The color of your Tatarian Dogwood depends on the time of year you see it. Most of the time, the stems are dark red, which is significantly jaw-dropping all on its own.
As the winter months roll around, the deep red transforms into a dark purple that seems almost black. Flowers also pop up along this shrub around springtime, attracting pollinators of all kinds, especially butterflies.
The plant also maintains a moderate height that is easy to maintain, topping out at around 6 feet tall and averaging approximately 4 feet. These dogwoods are also deer and rabbit resistant.
French Hydrangea (Hydrangea macrophylla)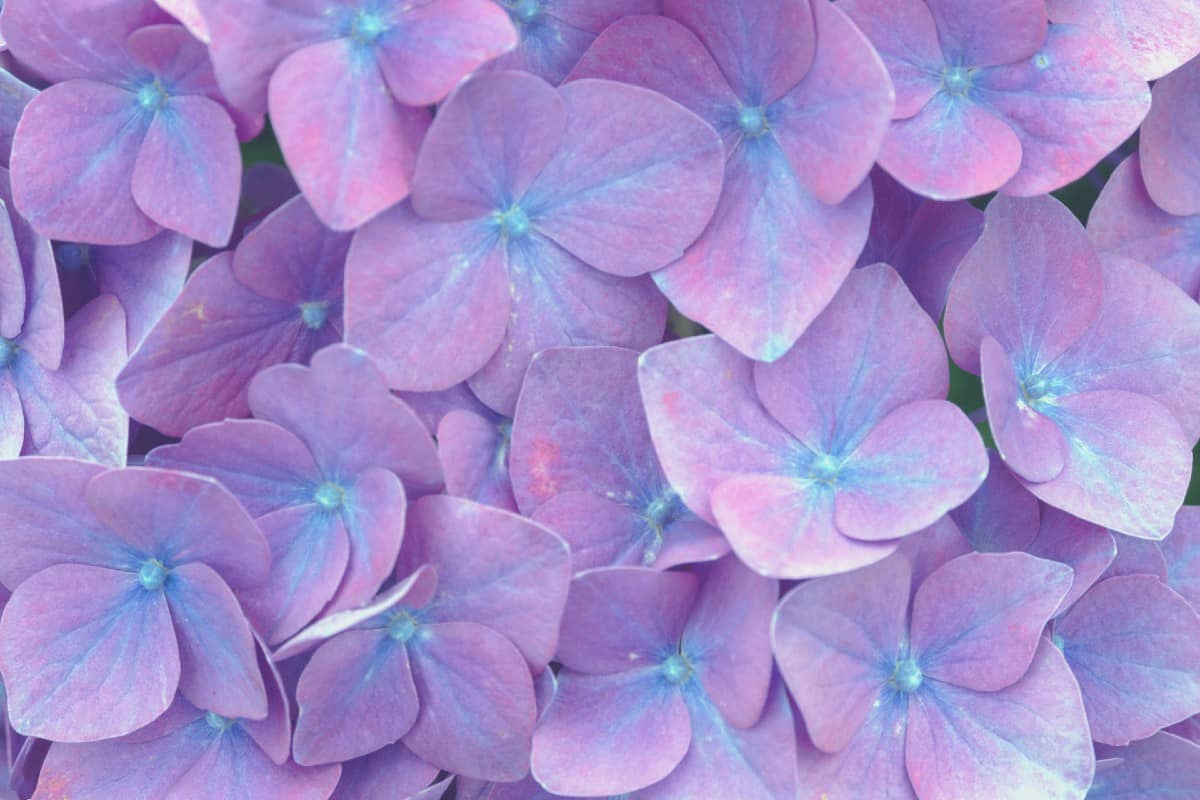 One of the most charming flowers to add to any garden is the French Hydrangea. Down South, these eye-catching shrubs appear in almost every landscape, and rightfully so.
Famous for their color-changing tendencies, these flowers are a gorgeous purple when maintained a certain way. Hydrangeas hold their color based on the pH levels in the soil, which is easily lowered by adding aluminum sulfate.
While it is possible to change the color, it typically takes about one year for the transformation to take place.
The most common pH level is between 6 and 7, allowing the flowers to be purple or pinkish-purple. A slightly lower pH level shifts the balance from pink to a bluish-purple hue.
Orpine (Sedum telephium)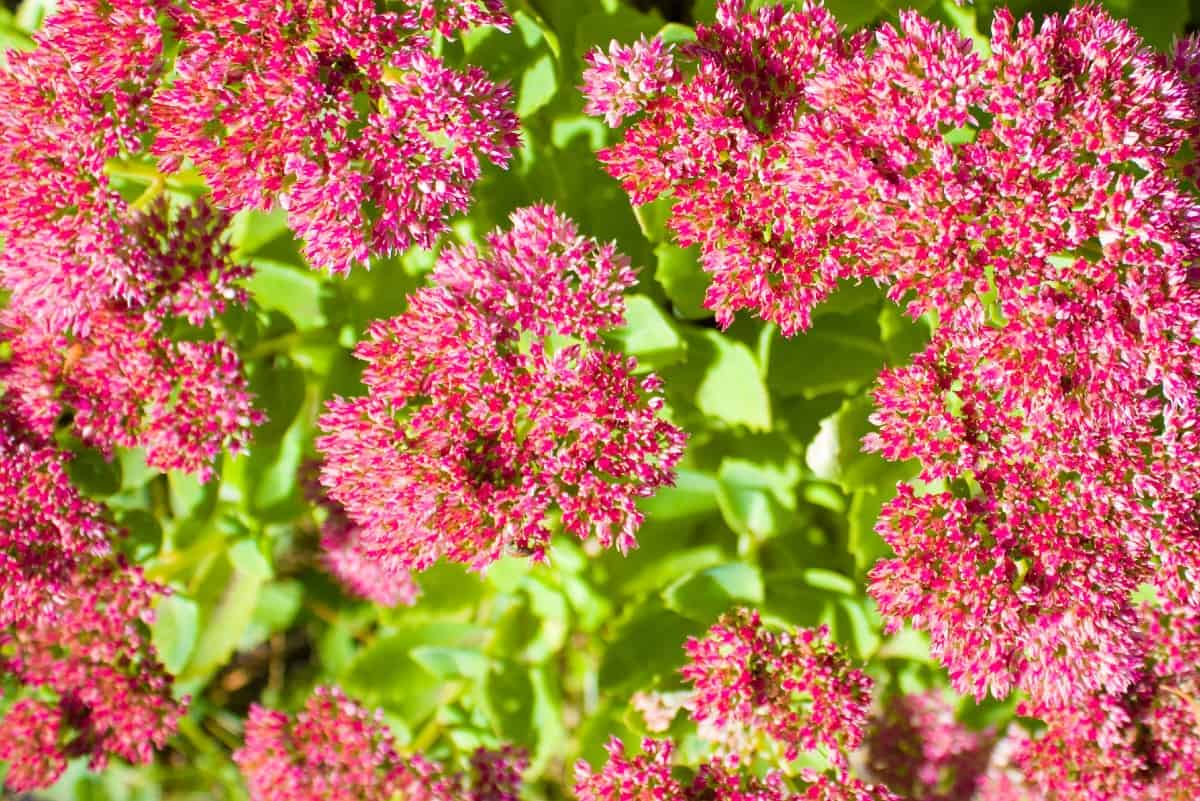 Stonecrop is practically a staple in any garden, allowing other plants to absorb more water while leaving the drought-tolerant sedum to take care of itself. Plus, no matter which species of stonecrop you choose, they always look fantastic in rock gardens.
Orpine is of particular interest to anyone seeking red or purple accents in their garden. Different varieties of this species allow both pink and purple flowers to bloom, starting in late summer.
These blossoms stay through the fall and help the plant reach no higher than three feet tall. Beyond their floral attributes, the fleshy leaves also add color throughout the year with their dark purple shades.
Coral Bells (Heuchera): Purple and Red Shrubs with Vibrant Foliage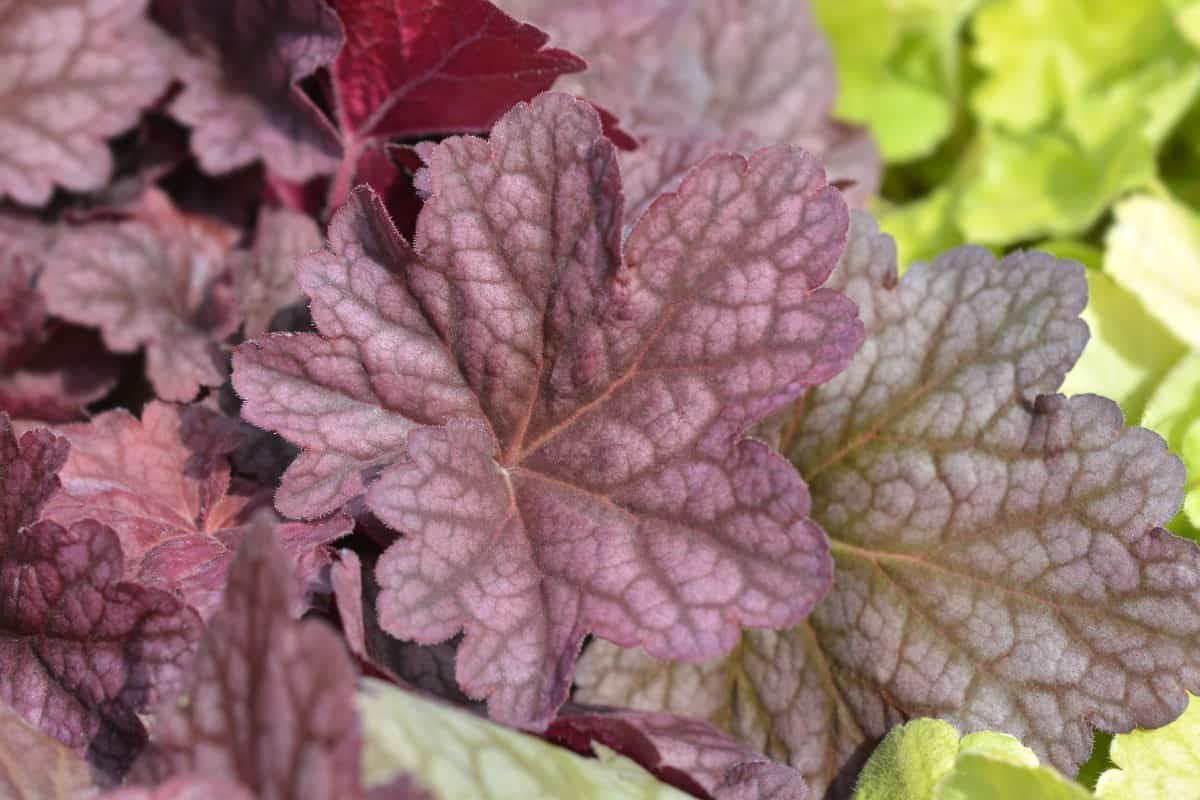 Coral Bells are purple evergreen shrubs widely prized for their eye-catching foliage. The richly-hued leaves come in various patterns from variegated greens and pinks to almost every solid color imaginable.
When searching for a type that exhibits purple leaves, there are quite a few subspecies that fit the bill, namely the Midnight Rose and Forever Purple subsets. In general, Heuchera is easy to grow and care for, needing little effort to look incredible.
The plants also love the shade, which is why so many make it into containers as attractive indoor plants. In summer, they sprout purple and pink flowers to match their pretty leaves.
Royal Purple Smoke Bush (Cotinus coggygria)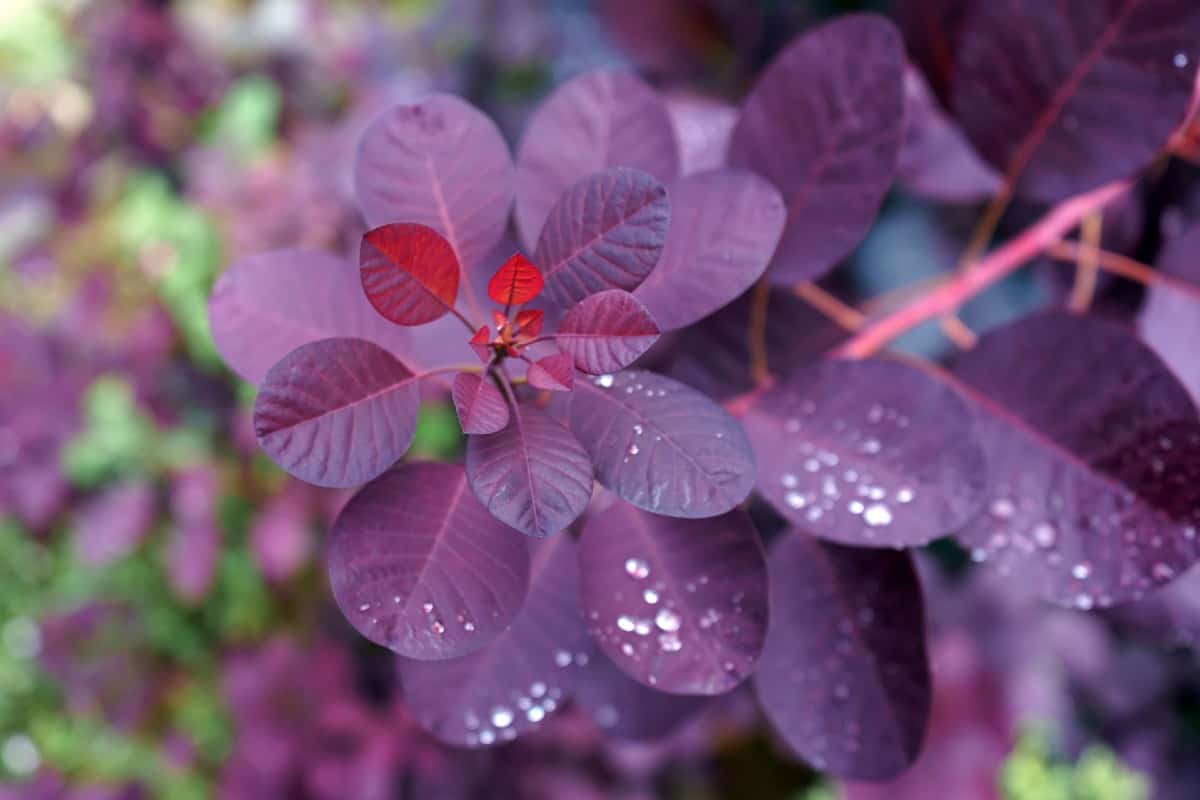 One shrub typically used as a specimen plant is the Royal Purple Smokebush. While these also make stunning privacy hedges, the dramatic effects of the leaves and flowers warrant enough awe all on their own.
The smoky moniker comes from the wispy plumes that bloom in late spring, generating a feathery cluster of pink flowers that look more like smoke than petals.
These spectacular flowers enhance the appeal of the vibrant leaves, which start as a maroon red in the springtime. As summer approaches, the leaves darken into a deep purple, much like a glass of dark red wine. By fall, they brighten back up to a rich red.
There are plenty of different plants to compare when selecting the perfect match for your garden, whether you are looking for shrubs for erosion control or specimen plants to brighten the area.
Each species brings its own unique characteristics and qualities to the mix, in addition to its vibrant splashes of color. No matter which one speaks to you most, you know the result will be stunning.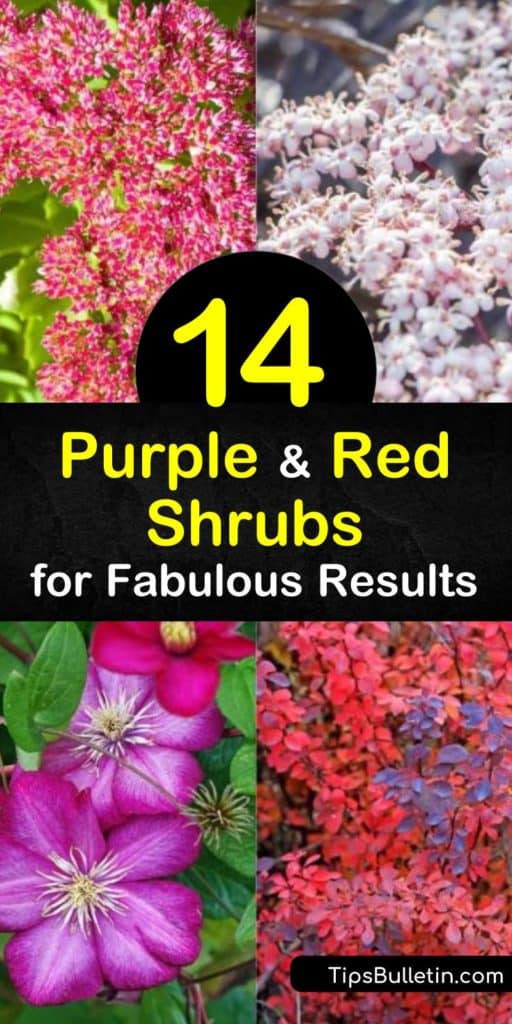 If these lively shrubs, trees, and other plant species inspired you to deck out your garden in a brand new color scheme, then remember to share your favorite purple and red shrubs with everyone you're friends with on Facebook and Pinterest.