As much as we'd all like a flat landscape around our home, this isn't always possible. Nature simply doesn't work that way. However, it does provide us with the remedy for hilly or uneven terrain with a variety of beautiful shrubs for slopes.
Heavy rain deteriorates sloping soil, often leaving the area barren of plants and grass. While it seems that gardening on a slope is a nightmare and impossible to do, this is not the case.
The key is to know the difference between plants, the type of root system they have, and their growing habits. Many shrubs are perfect for growing in less than ideal areas.
There are challenges, but growing bushes on hilly terrains is trouble-free using the right plants for the job. Vigorous growers with sturdy and robust root systems are ideal choices for challenging slopes, as well as shrubs that are disease and pest resistant.
Controlling Erosion with Slope-Friendly Shrubs
Understanding why steep slopes are rugged terrains for gardening and knowing what to look for in a plant are the first steps in landscaping with shrubs. After that, it's a matter of choosing your new favorite plants.
Why is it Hard to Grow Plants on Slopes?
Growing plants and shrubs on a slope is a difficult task due to erosion. Heavy rains erode the soil, slowly washing dirt and nutrients downhill.
Over time, the soil left over exposes the roots of plants, drying them out and making them susceptible to disease. Therefore, it's vital to choose the right plants for this growing condition to ensure a healthy landscape.
How Can I Stop Erosion on Slopes?
There are many landscaping ideas for controlling erosion, and some of them are easier than others. Building a retaining wall or a terrace are standard measures for keeping slopes in check.
They hold soil in place and channel water to prevent soil erosion. Growing ornamental grasses, wildflowers, native plants, and shrubs are other ways to stop soil from eroding.
The leaves reduce the amount of rainwater hitting the ground while the roots hold the soil together. Erosion control blankets are another popular option. These biodegradable blankets of mulch protect the ground while allowing plants to dig in deep.
What Should I Look for when Choosing Slope-Friendly Shrubs?
Shrubs with roots that stabilize the soil are the ideal choice for controlling erosion. Shrubs such as forsythia and sumac have a root system with intertwining shoots that diffuse heavy rains.
Some of the best plants are the ones that stand up to difficult growing conditions. Look for shrubs that are hardy, disease resistant, and drought-tolerant, and make sure they can grow in your hardiness zone.
Are Erosion Control Bushes Hard to Maintain?
Erosion control shrubs are no more difficult to maintain than other native plants. Follow the care instructions for your shrubs to determine if and when they require pruning.
Consider placing compost mats over the topsoil after planting your new shrubs to slow erosion, help the plants get a head start on strong root growth, and prevent weeds.
Golden Bell (Forsythia)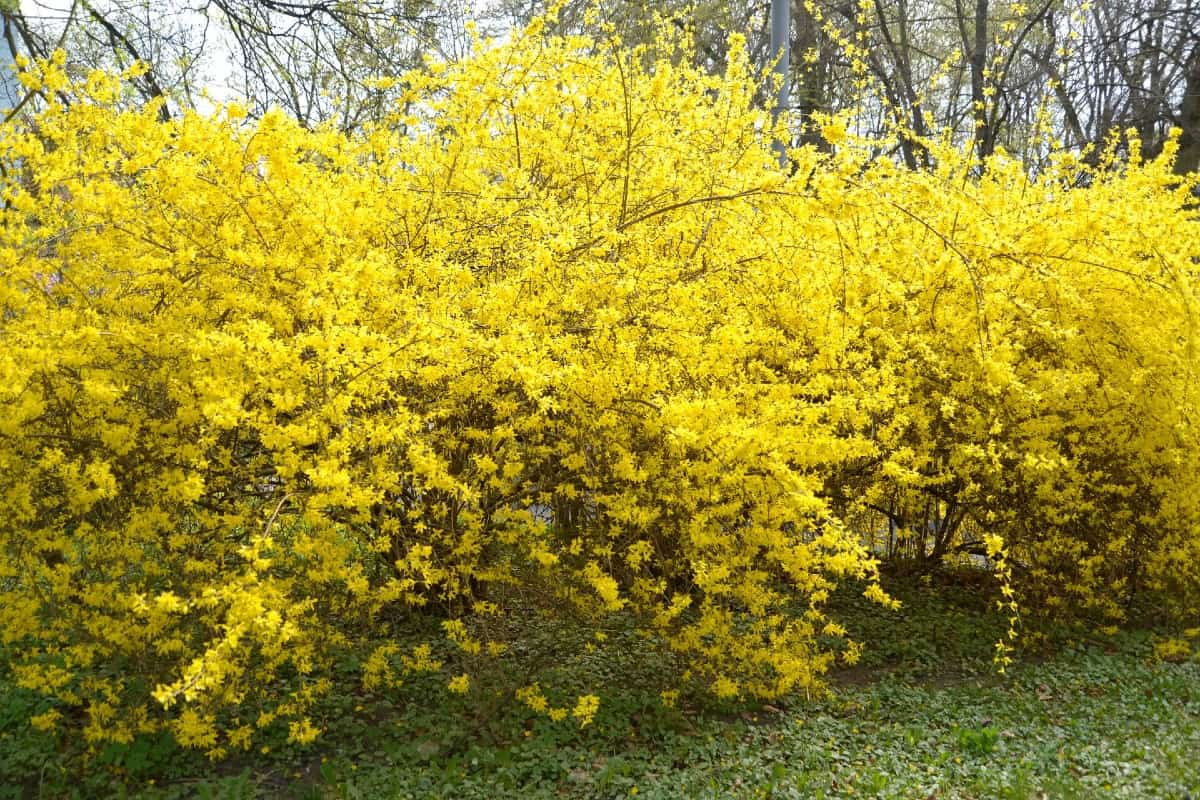 This deciduous flowering shrub has bright yellow blooms in late winter or early spring and green leaves that turn golden-yellow in the fall, with long, woody branches that give it a rambling appearance.
The tenacious root system of the forsythia shrub makes it an excellent choice for erosion control. Golden bell is drought tolerant and deer resistant.
This fast growing ground cover for slopes grows well in both sun and shade exposure and has a mature size of 9 to 11 feet tall. Forsythia is low maintenance and needs no pruning to flourish.
Creeping Juniper (Juniperus horizontalis) – Ground Cover Shrubs for Slopes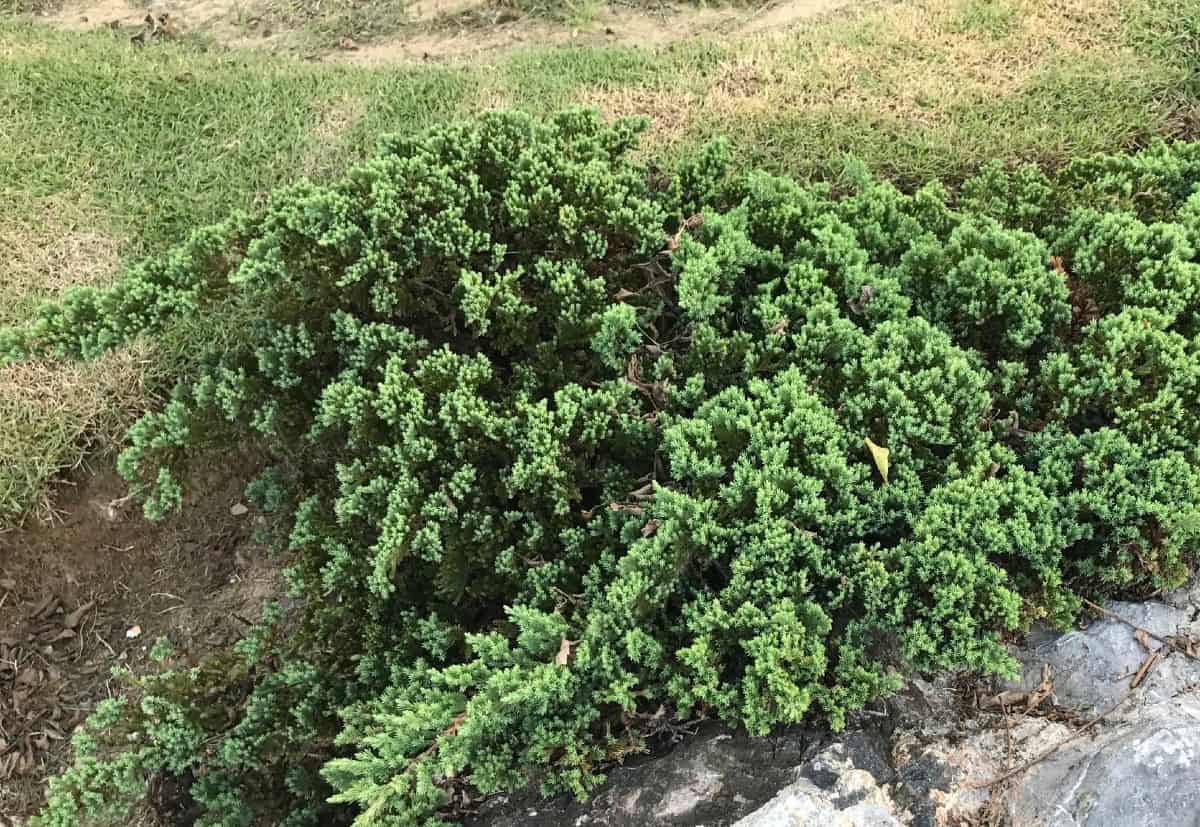 Junipers are versatile, compact evergreen shrubs and the creeping species is common for preventing weeds and taming steep slopes. These tough but fast growing ground cover plants sneak their way down a hill with their bright green foliage while preventing erosion of the soil.
Creeping junipers are sun-loving ground cover shrubs that generally grow no more than a foot tall. These ground cover bushes are suited for growing in hardiness zones 3 through 9. These cold-hardy evergreens provide the landscape with green color year round.
Plant some coastal trees nearby for extra interest at eye level and above and you can keep erosion under control while adding beauty at the same time.
Rockspray Cotoneaster (Cotoneaster horizontalis)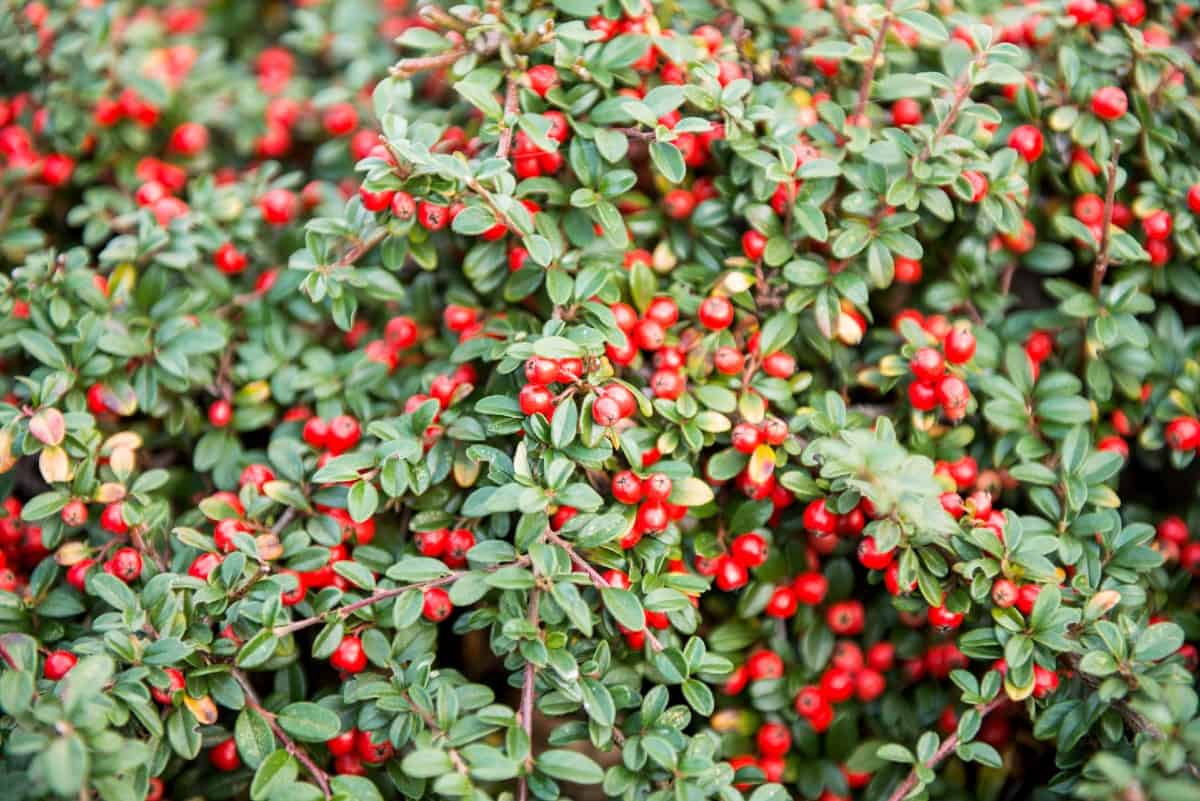 This shrub has a four-season interest with light-pink spring flowers, glossy green leaves in the summer, attractive fall foliage, and red berries through the winter. Rockspray cotoneaster is exceptionally simple to grow and attracts berry-loving birds.
This shrub strikes down roots wherever its branches touch the ground, so pruning is required if you do not want it to spread. It produces optimal color in full sun and is hardy in zones 5 through 7. Rockspray cotoneaster grows up to 3 feet in height and 8 feet in width.
Summersweet (Clethra alnifolia) – Sweet Scented Flowering Shrub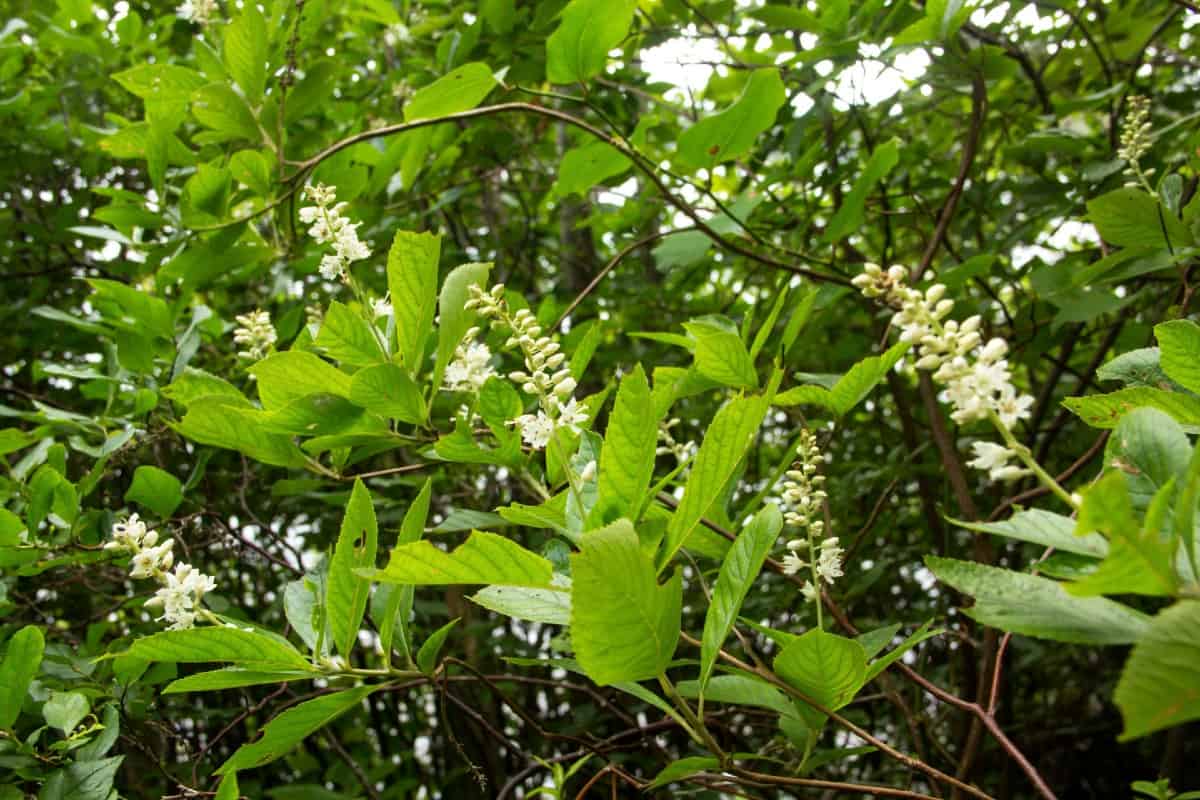 Summersweet, or sweet pepperbush, produces spikes of white flowers with a spicy fragrance that grows out of dark, green foliage. The leaves turn yellow to orange during the fall and attract bees, hummingbirds, and other pollinators to the area.
This ornamental shrub is adaptable to a wide range of conditions, including salt spray, and grows well in part to full sun. Summersweet shrubs grow 5 to 7 feet tall and spread 8 feet across. These attractive plants are hardy in zones 3 through 9.
Lace Shrub (Stephanandra incisa)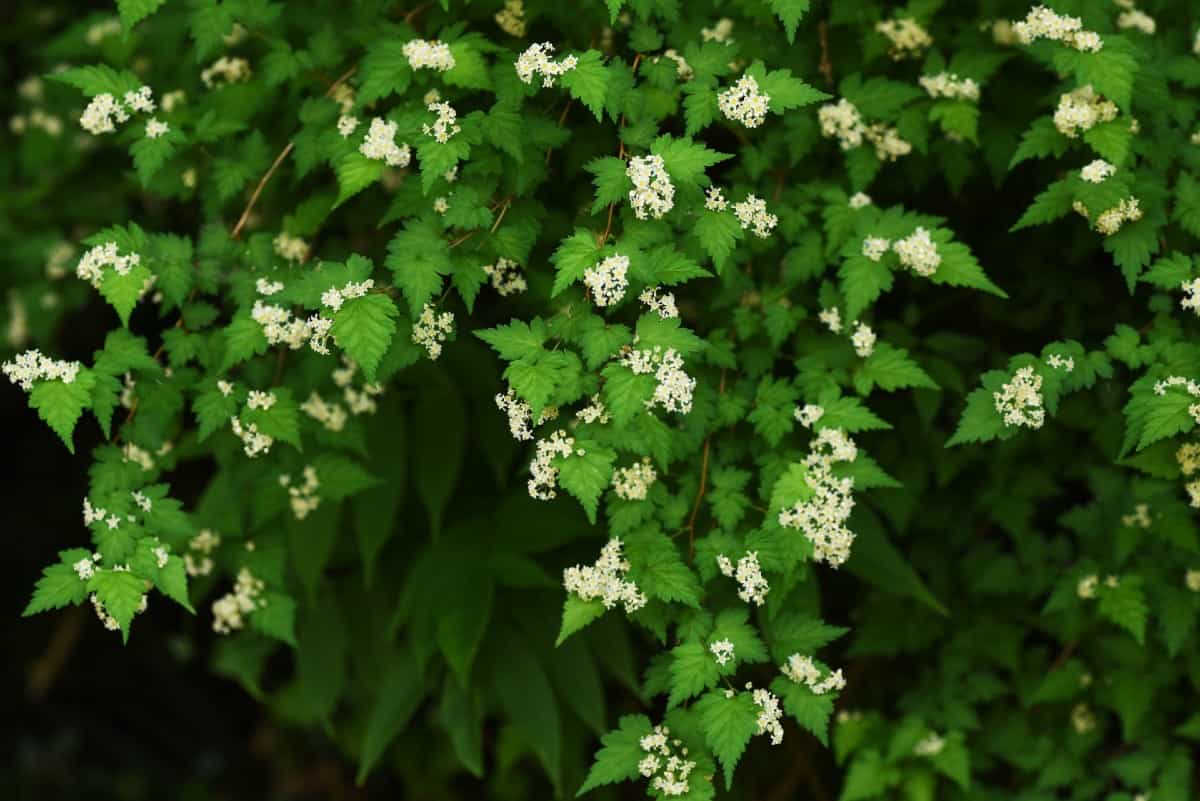 Lace shrubs are low growers with a dense, mounding form and ornamental, arching branches. They have late spring yellow-white flowers and bright green leaves that are maple-shaped and turn yellow and orange during the autumn.
This shrub spreads rapidly through rooting stem ends and root suckers and has a mature size of 1 to 2 feet tall and 4 feet wide. Lace shrubs grow best in hardiness zones 4 through 7 and have no severe disease or insect problems.
Bougainvillea (Bougainvillea spectabilis) – Flowering Slope-Friendly Shrub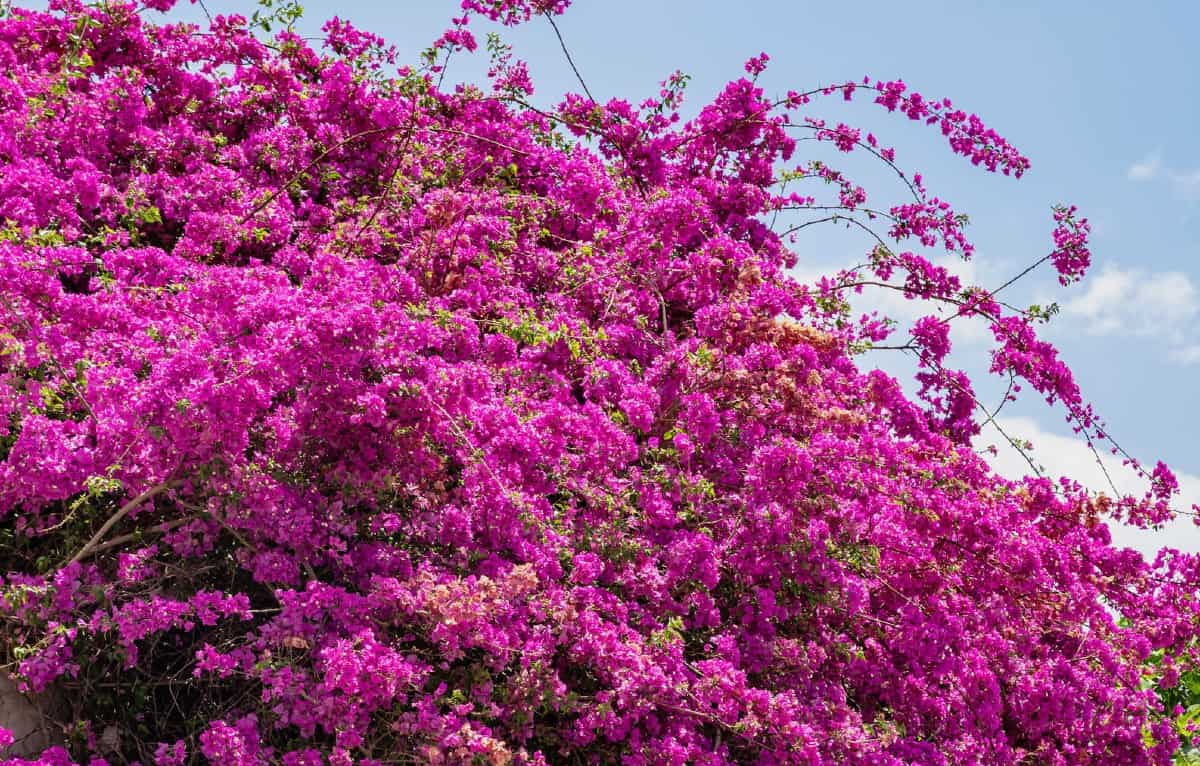 While we all think of bougainvillea as a climbing flower, there are shrub species that make a good ground cover plant for a sloping yard. This ornamental shrub has pink, purple, orange, yellow, and white flowers from spring through fall.
Bougainvillea is tough as nails, low maintenance, and drought tolerant. It is a vigorous growing sun-lover and attracts birds to the area. Grow this flowering shrub in USDA hardiness zones 9 through 11.
Spirea (Spiraea)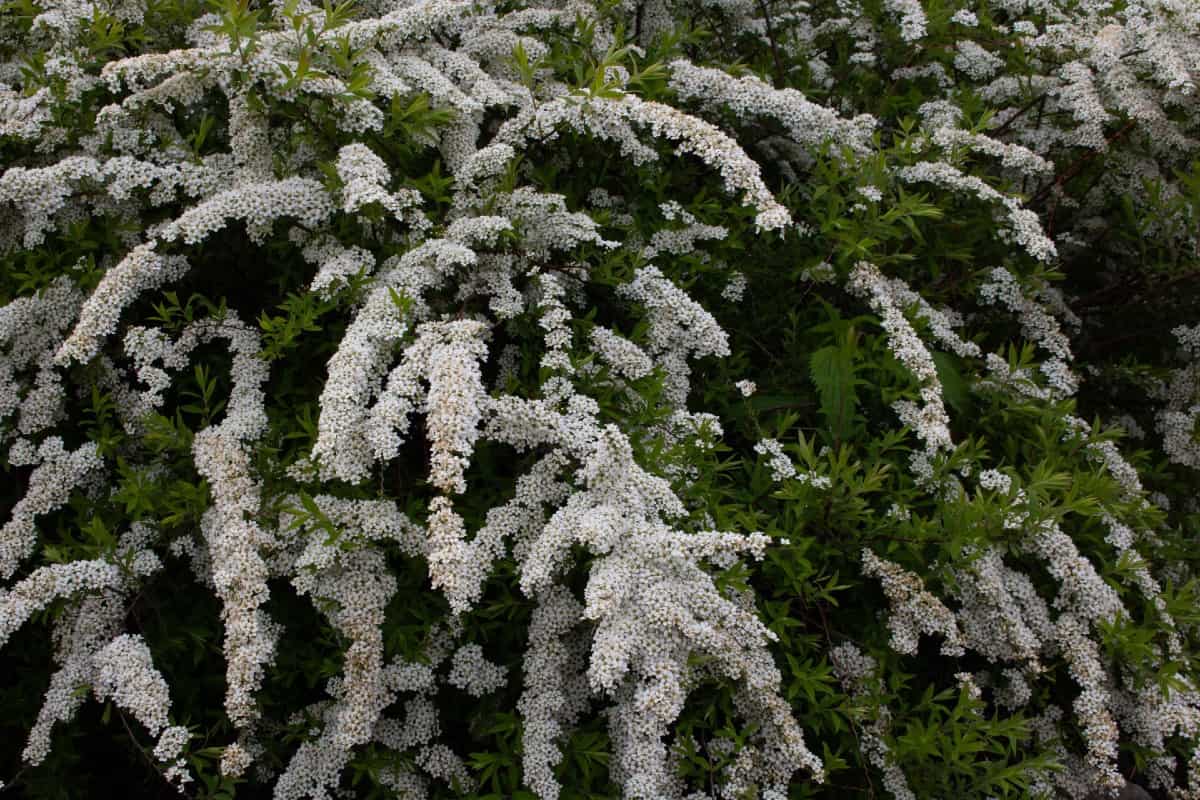 This trouble-free shrub comes in many sizes and shapes. It grows spring-time flowers in hues of pink or white, depending on the type. They are happiest in full sun and form tidy mounds, some with arching stems.
Spirea is a popular shrub for slope and erosion control and is hardy in 5 through 9. This bush grows 1 to 8 feet tall and up to 6 feet wide, is a low maintenance plant and needs little to no pruning.
Burning Bush (Euonymus alatus) – Slope Control Bush with Stunning Fall Color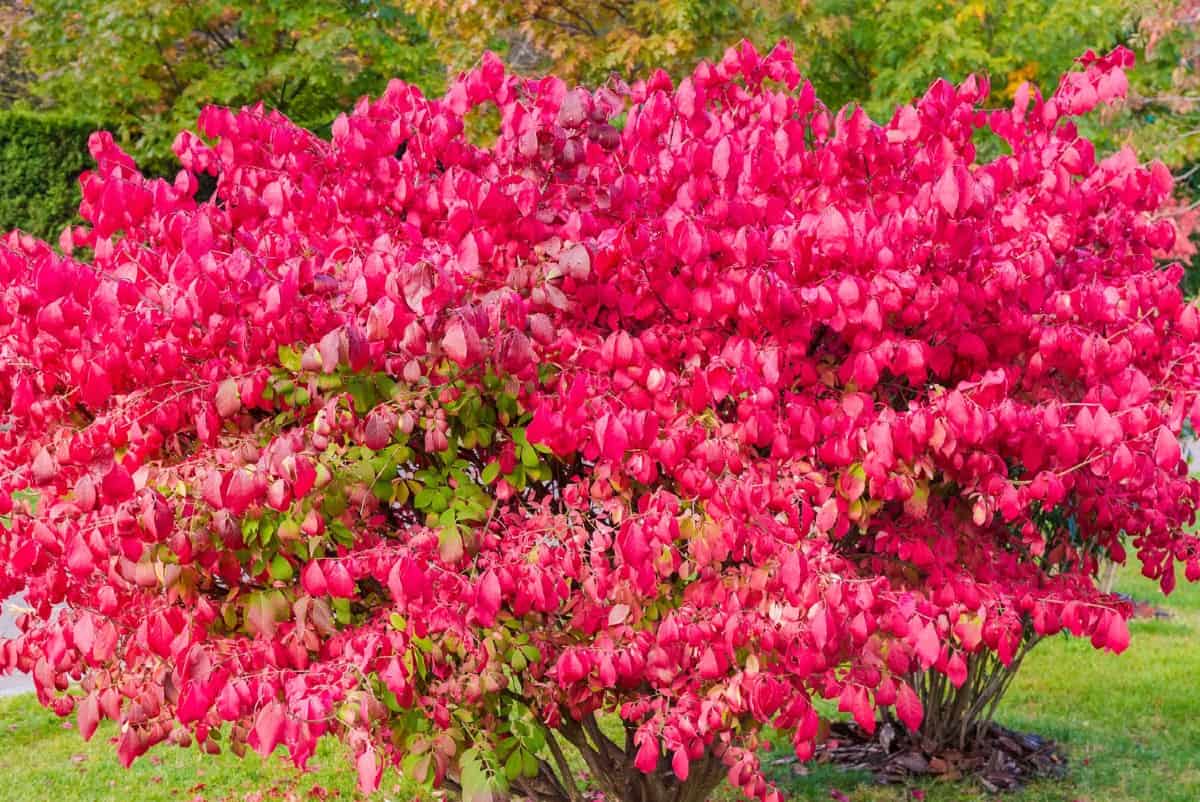 Gardeners adore this shrub for its fluorescent fall foliage and ornamental berries. The burning bush is deciduous with a large, v-shaped growth habit. Its green leaves turn scarlet red in the fall and are attractive to wildlife and birds.
This plant proliferates in part to full shade and is hardy in zone 3 through 9. It is generally pest-free and has a mature size of 15 to 20 feet tall and full. The showy characteristics of the burning bush make it a lovely specimen plant for controlling erosion, as well as great hedge shrubs to separate your property from others.
Hydrangea (Hydrangea macrophylla)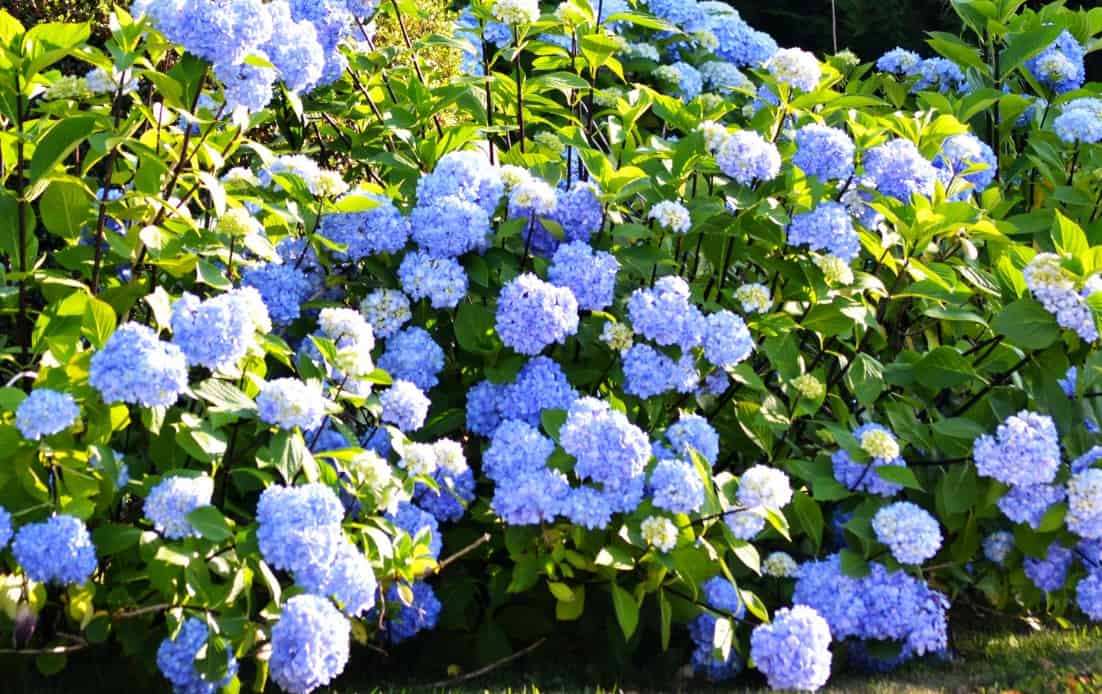 There are many types of hydrangea, and they are all known for their large blossoms of blue, purple, green, pink, and white flowers, varying from mop-shaped to cone-shaped, and some grow all summer long.
Hydrangeas tolerate many conditions, including sun or shade, and perform best in zones 3 through 9. These showy shrubs have a mature size of 1 to 8 feet tall, depending on the variety, and are an easy growing plant for the landscape.
Fragrant Sumac (Rhus aromatica) – Low Growing Shrub with Fragrant Leaves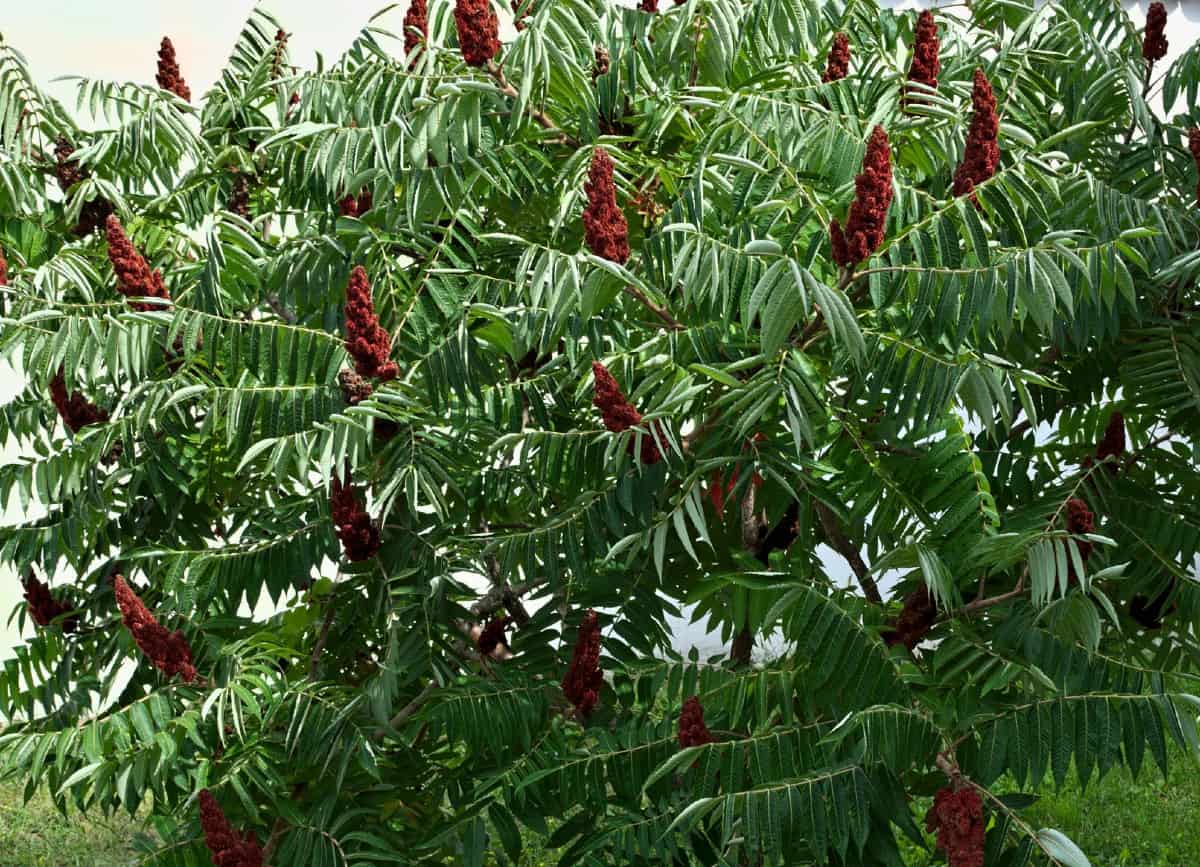 This low-growing shrub has a mass of thick stems with glossy, blue/green leaves that emit a lemony scent when crushed. This small rounded sumac has leaves that turn to burgundy, purple, and red during the fall.
Fragrant sumac is excellent for stabilizing banks and is ideal as shrubs for beach erosion problems. It is either a low growing ground cover shrub with a height of under 3 feet or a small shrub with a height of 3 to 5 feet tall.
Flowering Quince (Chaenomeles)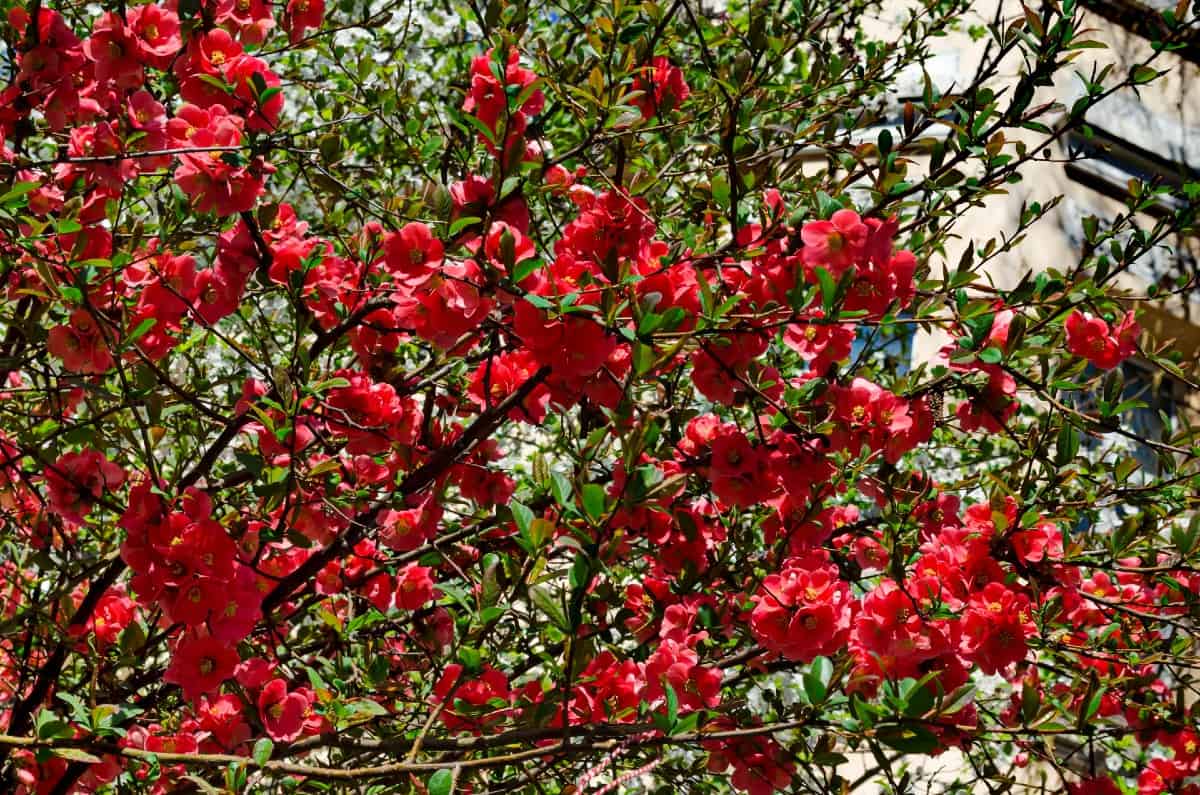 Flowering quinces are deciduous shrubs that are first to flower in late winter. They have clusters of apple-blossom shaped flowers in tones of pink, red, and white, that give way to green-yellow fruits and glossy green leaves.
These spreading shrubs have thorny, tangled branches and grow 2 to 6 feet tall, depending on the variety. They are a versatile plant that enjoys both part shade and full sun. These nearly indestructible shrubs are hardy in zones 5 through 9.
Japanese Yew (Taxus cuspidata) – Evergreen Shrub for Hilly Yards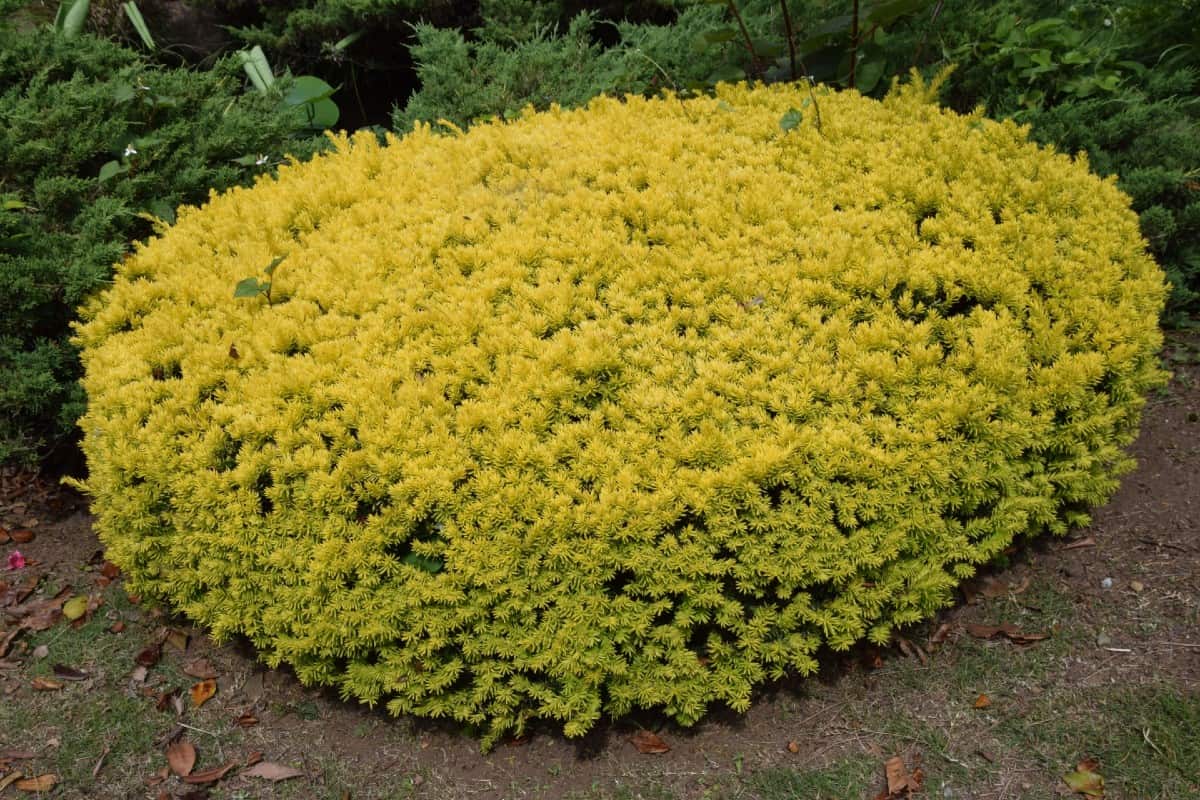 This semi-dwarf, evergreen shrub has bright green and glossy leaves and a dense form of undulating branches. It grows young with a rounded habit, spreads with age, and is drought and urban tolerant.
This low maintenance plant is uncomplicated to grow naturally or prune to desired sizes and shapes. It is a slow-spreading shrub with a mature height of 3 to 4 feet tall and a spread of up to 6 feet. Japanese yews are hardy in zones 4 through 7 and enjoy both shade or sun.
Snowberry (Symphoricarpos)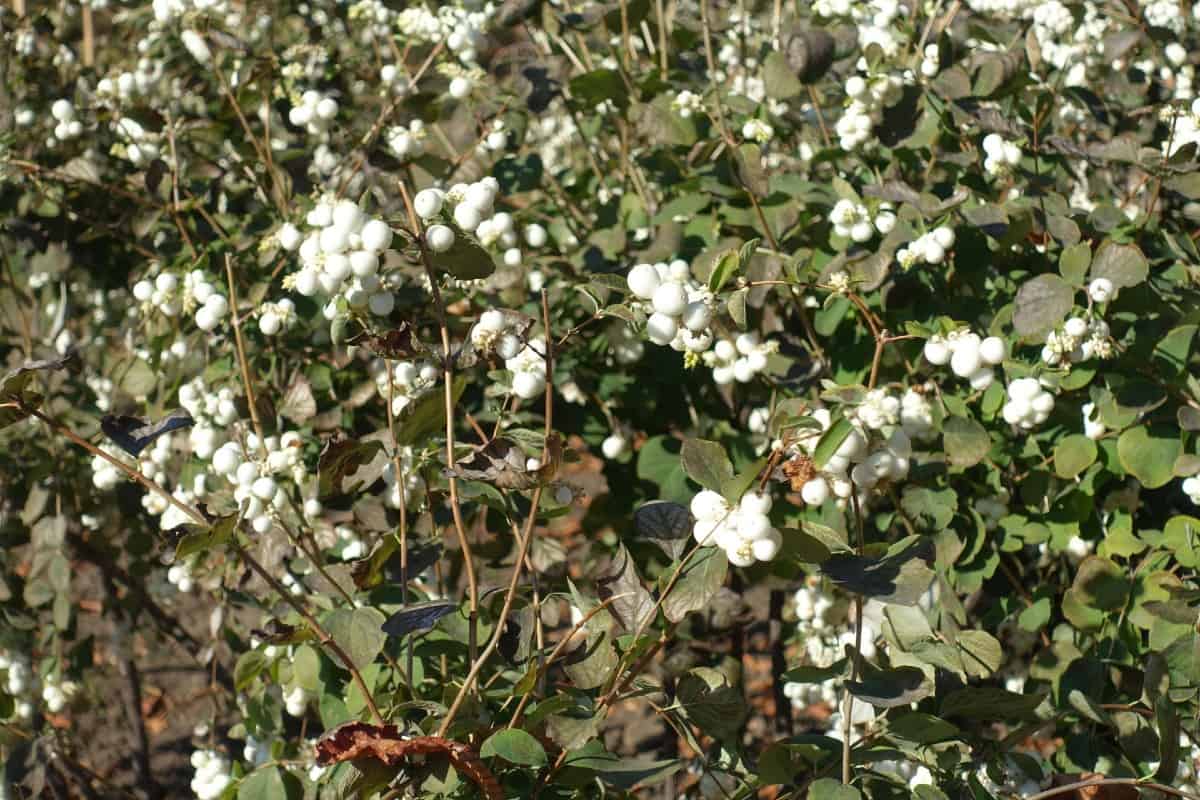 Snowberry shrubs have arching or upright branches with bell-shaped white or pink flowers that are irresistible to butterflies and hummingbirds. The blooms are followed by ornamental berries that are waxy and pure white and persist through the winter.
These thicket-forming, deciduous shrubs are undemanding and adaptable. They are low maintenance, pest and disease free, drought tolerant, and handle full sun or shade. Snowberry shrubs are hardy in zones 3 through 7.
California Lilac (Ceanothus) – Easy to Grow Flowering Shrub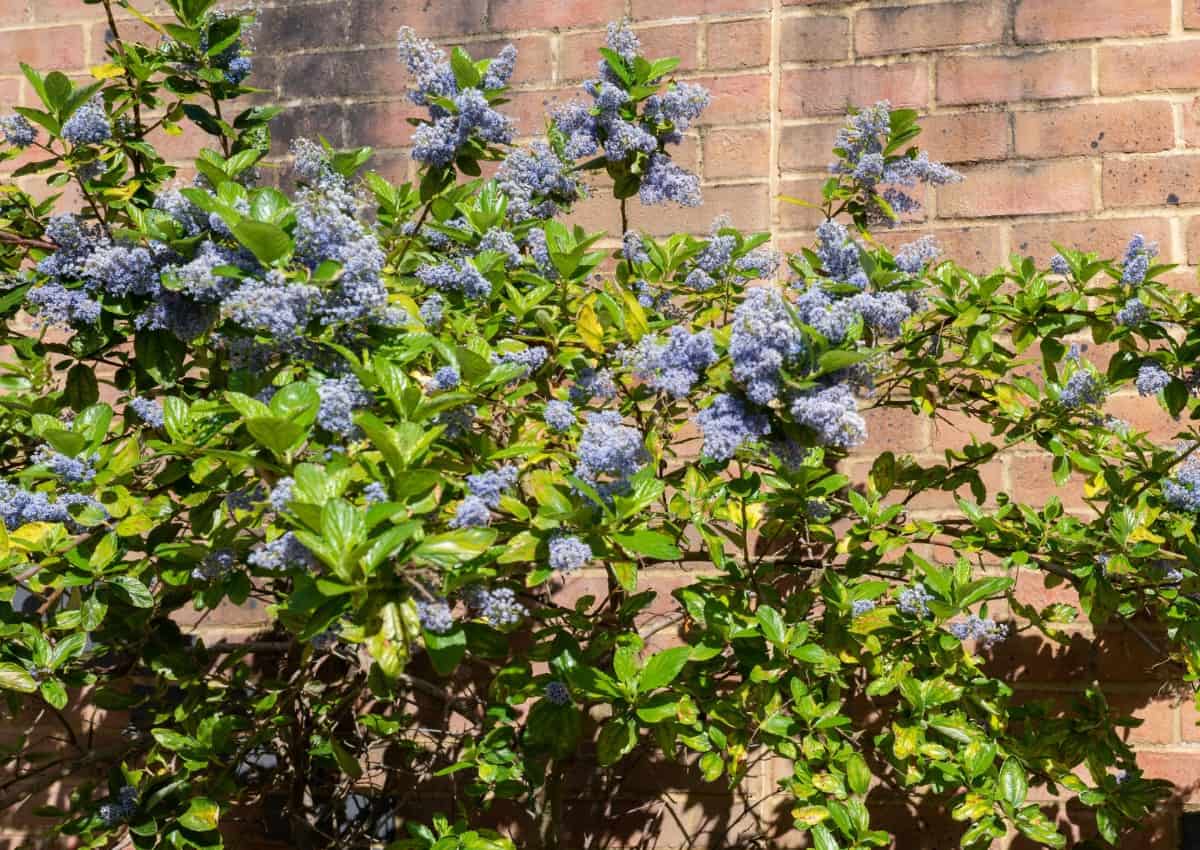 This free-flowering shrub has blue/purple flowers that are sweetly fragrant and contrast nicely with the dark, glossy green leaves. The California lilac can be evergreen or deciduous and grows well in many conditions, including banks and slopes.
California lilacs are fast-growers and attract birds, butterflies, and hummingbirds to the yard. They are easy to grow, drought and salt tolerant, and deer resistant, thriving in zones 8 through 10. Lilacs tolerate full to part sun and bloom from spring through fall, depending on the type.
As a home gardener, you are probably well aware of the difficulties nature throws at you, and growing on a hilly landscape is one of them. Fortunately, many shrubs are up to the challenge.
They easily adapt to the challenging growing conditions and thrive after they establish, filling the stubborn areas of your yard with beauty.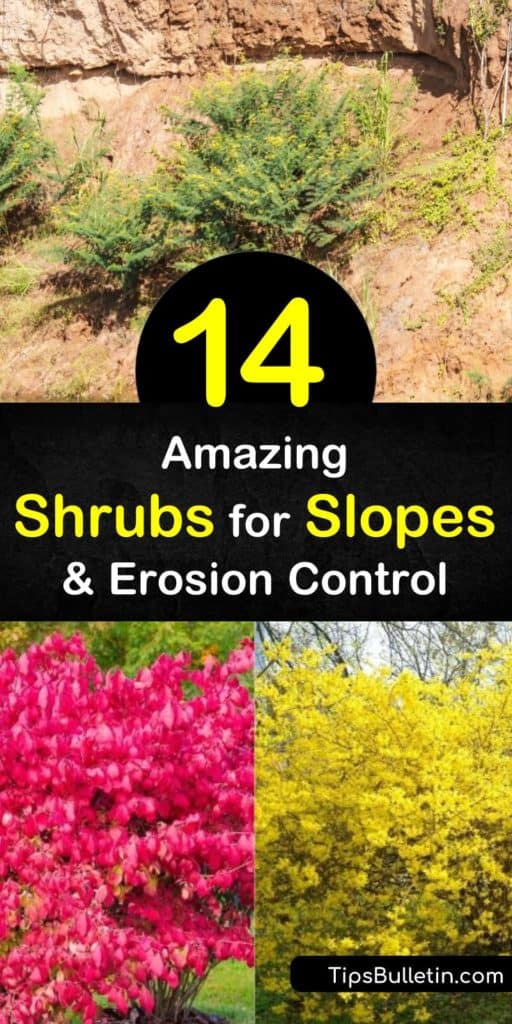 We hope that you create the perfect hilly landscape with shrubs for slopes, and we'd love it if you'd share our slope-friendly shrub guide with your family and friends on Facebook and Pinterest.