Tree roots and stumps are sometimes used as landscape ornaments if adequately used to elevate container plants or blended in the backyard with other lawn decor. However, a large portion of the general population considers stumps and tree roots as a nuisance because they are not always pleasing to the eyes.
With growing tree root problems worldwide, tree root killer products have become more and more popular. To remove tree stumps and kill annoying tree roots that you feel are unsightly, you do not have to dig across your entire yard or pay for costly professional services to extirpate the tree stump or roots.
There are natural ways to handle tree roots and stumps. Here, we have listed some remedies that you can use in making cheap, yet useful recipes for your homemade tree stump killer.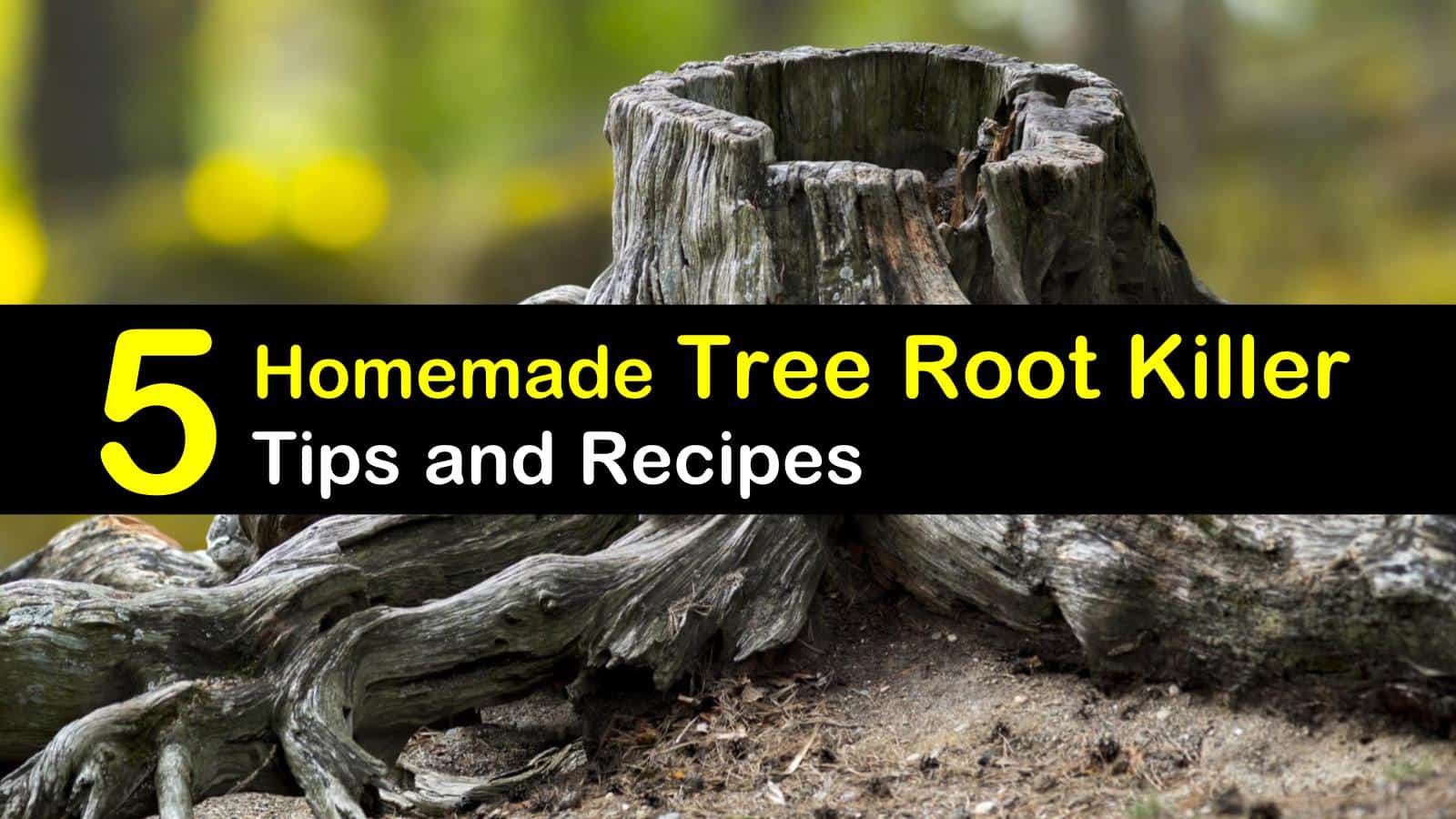 How to Kill Tree Roots
Dark-Colored Bucket or Heavy-Duty Black Trash Bag
Killing trees' annoying roots is not as easy as chopping down a tree. Even if you cut down trees that grow in shade to the ground, new growth from the stump or plant roots will continue to bud, which will eventually turn back into mature trees again. To get rid of the tree stump, a dark trash bag or bucket can work as a homemade tree root killer.
Just cut a big stump close to its base and cover it with the trash bag. For a smaller tree stump, you can use the dark-colored bucket for cover. After you have blocked moisture and sunlight, use a weight to keep the cover in place. Expect results in approximately two months or less.
You can also employ this method for a weed killer that will not kill grass. Cover weeds with plastic or a bucket. It may take a while for weeds to shrivel and die, but you won't harm surrounding plants or grass that you want to keep.
Epsom Salt
We all know that Epsom salt has many benefits for health and wellness. But aside from that, there are many fantastic Epsom salt uses in the garden.
Epsom salt contains sulfur, as well as magnesium that can aid in producing a healthy environment for plants and trees to grow if given in small amounts. However, if used in large quantities, Epsom salts can yield deadly results for all types of evergreen trees and other plants.
To make the recipe, fill the bucket with warm water. Add Epsom salts and stir until the granules dissolve. Use your garden trowel to dig the soil around the stump to reveal its base and root system as much as possible.
The more parts that are visible, the higher the chances of killing the stump and prevent future growth. Drill holes two-inches-deep in four corners of the stump, as well as in some roots.
Pour the mixture into each hole. Use all of the solution to saturate the stump. You can make more solution if the stump is too large.
After a week, fill the holes again. Repeat if necessary, or until the wood completely dries out. Once it's dry, you may cut out the dried stump. This is the perfect homemade root killer for sewer lines.
Make a smaller batch of this recipe, add several drops of Dawn dish soap and put the mixture in a spray bottle to use as a natural grass killer spray for weeds or grass that are growing in unwanted areas. Be sure to apply it when no rain is expected for several days for the best results.
Rock Salt
Rock salt has numerous uses aside from melting snow in walkways, roads, and highways. Its active ingredient, sodium chloride, has a destructive effect on tree roots and stumps.
The sodium chloride draws out the moisture, consequently drying out the tree stump. A tree root without moisture lacks nutrients, which will eventually lead to its death.
This method works by packing rock salt into holes you've drilled in various parts of the tree stump. To make the drying process faster, you should also pour copious amounts of rock salt around the base of the tree stump. A two-inch layer of rock salt will be sufficient.
Add hot water for the rock salt to leach into the soil. Cover the tree stump with soil and mulch. Let it sit for one and a half months or until the stump decomposes. You can start the removal process once the stump has decayed fully.
Undiluted White Vinegar
When you'd rather use a safe, non-toxic, homemade tree stump killer instead of chemicals, vinegar is a good option.
In small amounts and low concentrations, gardeners can use horticultural vinegar on plants for germination. But if sprayed frequently, and in large volumes, undiluted white vinegar can be an effective homemade tree root killer.
To make this process work, select a sunny, dry day and fill a clean spray bottle with undiluted vinegar. Sprinkle the vinegar thoroughly into the shoots that are growing back from the stump or tree roots. Repeat the process until the leafy top growth that supplies the roots with nutrients die, eventually killing the rest of the tree roots.
Foaming Root Killer
Foaming root killers also serve as effective drain cleaners, especially among professional plumbers. They use commercial products such as RootX, copper sulfate crystals, and tree root killers that contain various chemicals such as a herbicide called dichlobenil to clear drain pipes, sewer lines, and septic tanks of tree roots.
If you do not wish to use commercial tree root killers, you can make a natural tree root killer by using the recipe above. Mix the ingredients on the list. Immediately flush it down into the lowest toilet in the house.
The solution will start to fizz, and this fizzing action will fill the pipes, causing the salt to leach on the roots. The obstructing roots will die, but the results won't be immediate because it will take time before the dead roots get washed away.
Why Make a Homemade Tree Root Killer?
Aside from being unsightly, tree roots grow deep below ground, searching for moisture and nutrients. They crawl through the soil, force their way towards sewer pipes and collapse them, eventually damaging the entire pipeline.
If you let root intrusion rule over your yard, it will cause costly damage, as you will need a professional plumber to fix the issue. Fortunately, there are many affordable and simple ways to kill tree roots. Without spending too much, you can make a homemade tree stump killer.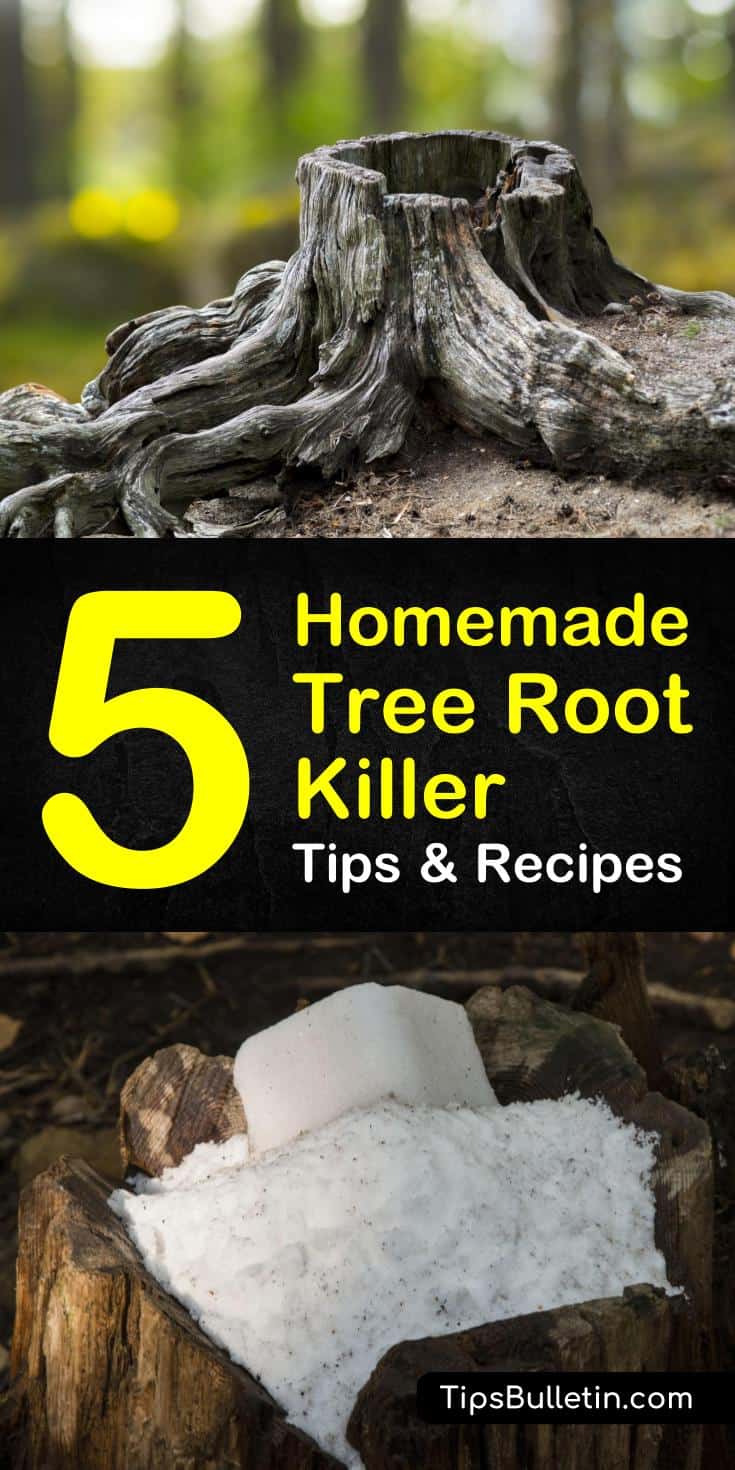 We hope you found our tips on how to kill tree roots useful. Please share these tree stump killer recipes on Facebook and Pinterest to help others in removing unsightly tree roots and stumps in the yard.