Who doesn't love the flavor of a sweet and crunchy carrot? These veggies are a healthy addition to your diet, whether you enjoy juicing them for a healthy beverage, eating them raw with some ranch dressing, or adding them to soups and stews. We all picture the typical orange color when we think about a carrot. However, there are actually many types of carrots ranging from mini-sized varieties to purple and white cultivars.
Carrots are a root vegetable packed full of nutrients. They contain fiber, antioxidants, potassium, and vitamin A from beta-carotene. They are also weight loss friendly, making them perfect for snacking in between meals.
If that isn't enough, there are many different types of carrots, and most of them are simple to grow under the right conditions. Instead of buying a bag of orange carrots from the grocery store, why not try growing carrots of your own in the garden?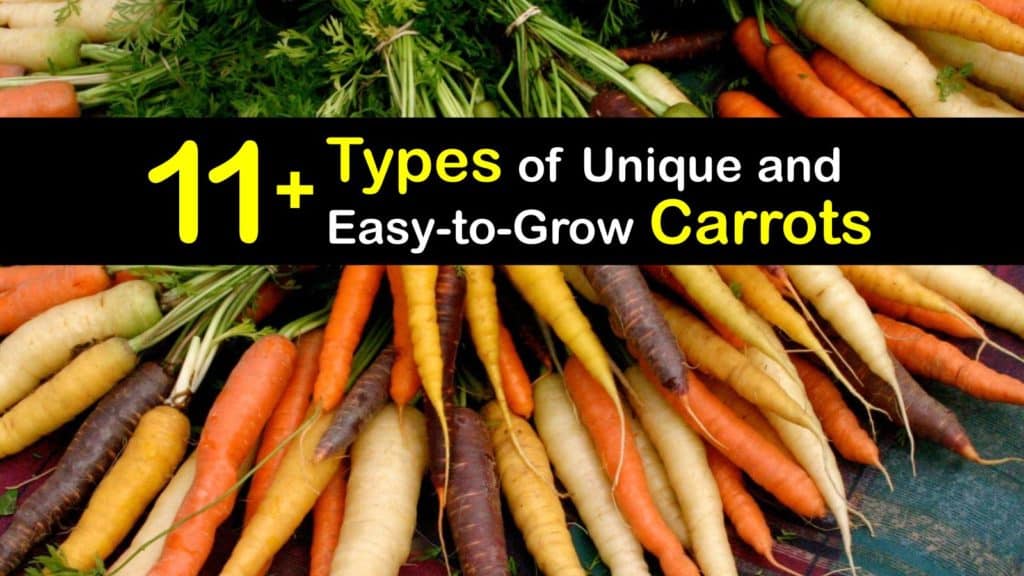 Growing Fun and Flavorful Types of Carrots
Gardening gives you the opportunity to try unique vegetable types the store doesn't offer, and organic vegetable growing means that your food is chemical-free and a safer way to get your daily dose of vitamins.
While garden growers commonly produce deep orange carrot roots for the dinner table, these aren't the only ones available. Learn about varying carrot types of different colors and sizes and how to grow them in your garden for a bountiful harvest of root vegetables.
How Many Varieties of Carrots are There?
Carrots are domesticated from wild carrots, and the two main types of grocery store carrots are often long and orange or baby carrots.
However, there are different types of carrots, with many varieties in each category. So, how many are there, and how are they different?
There are many varieties of carrots, including bright orange, yellow, purple, black, red, and white cultivars. In fact, purple and white carrots still grow wild in Afghanistan. Some of them are heirloom, while others are hybrid, and they are broken into groups.
There are small and nearly bite-sized carrots and others that are relatively large. They also range in shape, with some having a cylindrical appearance and others resembling a radish, and there are those with broad shoulders and others that grow a blunt tip.
Types of Carrots
Carrots are separated into categories based on shape, and there are five common types of carrots. Discover the differentiating appearance and flavor of these types to help you decide which ones to grow in the garden.
Danvers half long carrots are the ones we most often picture when thinking about carrots. They are usually orange, but some varieties grow in other shades, they are long and skinny with a tapered end, and they are tolerant of poor dirt.
Chantenay carrots grow well in heavy or rocky soils, and they are short and broad, reaching six to seven inches in length. It's essential to harvest these carrots at the recommended time to prevent them from becoming woody.
Nantes carrots, such as the Nelson and Bolero variety, are almost perfectly cylindrical from top to bottom and have sparse foliage. The roots are nearly red in color and are sweet with a nice crunch. They are a fast growing carrot type that matures quicker than others.
Imperator carrots are popular among commercial growers and are what you find most often in the grocery store. They look similar to Danvers, but they are thicker and have higher sugar content.
Finally, there are mini or ball carrots. This type includes carrots that are small with a radish shape. They usually only grow three to four inches, are ideal for container growing, and are typically served whole with their green tops.
Which Carrot Types are Easiest to Grow?
There are so many fun and unique carrots to plant that it's challenging to know which ones to choose. Unfortunately, not all carrot types grow well in a backyard garden.
Before you run out and purchase carrot seeds, learn which ones are easy-growers to get you started on your gardening experience.
Easy Growing Carrots
The type of easy growing carrots you decide to grow depends on your gardening situation. One of the most straightforward carrots to grow in a backyard garden is the blunt tipped Nantes type.
If you have limited space and decide to grow them in a container, mini, or ball types, like Thumbelina carrots, are a good choice. If you prefer Chantenay types and have heavy soil, the Sweet N' Short variety is a good option.
The Petite Size of Thumbelina Carrots
Thumbelina carrots are heirloom varieties, and their size makes them perfect for growing in containers or a shallow garden bed. It is also a suitable carrot for growing in heavy soils. This type grows best in full sun and takes about 70 days to grow to maturity.
Unlike other carrot types, the Thumbelina carrot is a small root vegetable. It only grows one to two inches in diameter, and it looks like an orange radish. It is deliciously sweet, no peeling is needed to enjoy this carrot, and it's the perfect size for adding to a stew or soup.
Growing Little Fingers Carrots for an Early Harvest
This heirloom carrot matures a lot sooner than other varieties of carrots and is ready for harvesting in only 55 days. They thrive in USDA hardiness zones 3 through 9 and grow ideally in full sun and well-drained sandy soil.
Little Fingers are small orange carrots that grow well when densely planted. Their cylindrical roots grow up to four inches long, and they have a sweet flavor.
Under the right conditions, these petite carrots produce a large harvest, and their size makes them suitable for small gardens.
The Exotic Color of Purple Dragon Carrots
Of all the carrot varieties, Purple Dragon carrots are one of our favorites. This type takes 65 to 70 days to mature, and they grow four to eight-inch tops. They thrive in full sun and moderately fertile soil.
Purple Dragon carrots are so vibrant and colorful that it's hard to pass them up. They are deep purple on the outside and bright orange on the inside, giving them a striking appearance when sliced. Impress your friends by using these carrots to add a unique touch to recipes.
Orange and Tender Touchon Carrots
Different types of carrots are ready to harvest at varying times, and this French heirloom variety is quick to mature. It only needs to grow about 65 days before it's ready to prepare for the kitchen.
Touchon carrots are perfect for adding to salads since they are sweet and tender. They are orange roots that grow six inches in length and an inch in diameter. They are also low in fiber and considered the best of the Nantes type carrots for eating fresh.
Short 'N Sweet Carrots for Container Gardening
Short 'N Sweet carrots are the perfect candidate for planting carrots from seeds in pots, raised beds, or a shallow garden, and they tolerate growing in heavy soil or clay soil that is hard to work. These carrots have an average growing season and are ready for picking in roughly 68 days.
These carrot types are simple to grow with their compact root size. Short 'N Sweet carrots are an orange root that reaches up to four inches. They have a rich sweet taste, and they are bred to grow in difficult soil.
Adaptable White Satin Carrots
White Satin carrots are hybrid types that adapt to a variety of growing conditions, and they are resistant to many diseases, including black rot and powdery mildew. These carrots are ready for harvesting 65 days after planting.
If you are looking for root veggies that are a little different, try white satin carrots. These gourmet carrots have a mildly sweet and juicy flavor and cylindrical shape with roots that grow up to eight inches. They have a stunning white color with green shoulders and tall green tops.
Popular Autumn King Carrots
This type is one of the most popular varieties to grow since the Autumn King carrot is split resistant. It takes roughly 70 days of growing before this carrot is ready for picking, but the wait is worth it since these extra-long roots are perfectly sweet.
Autumn king carrots are heirlooms that produce ten-inch long, deep, dark orange roots. They are perfect for picking when small as baby carrots or waiting until they reach maturity, and they are tasty raw on salads or cooked in your favorite dishes.
How to Grow All Types of Carrots
Once you decide which carrots to grow in the garden bed, it's time to prepare the ground for planting carrots and sowing the seeds. Here is how to grow carrots from seed in the garden and care for your carrot plants as they grow.
Choose the right soil type for your carrot variety and prepare it for planting by tilling the area until the ground is soft and aerated. Sow the seeds a half-inch deep with one to two-inch spacing, making the rows one to two feet apart.
Cover them with dirt and water gently to dampen the ground without washing away the seeds. To encourage germination, water the garden daily or as needed to prevent the soil from drying out.
When the carrot plants are about four inches tall, thin them so that they are two inches apart and feed the plants with a fertilizer that is low in nitrogen and high in potassium and phosphate.
When you grow carrots at home, it's helpful to spread mulch over the ground to retain moisture and stop weeds from stealing nutrients from the soil.
Harvesting and Storing Carrots
After planting and growing your carrots, the time finally arrives for harvest. But, how do you know when they are ready for picking? Learn how long carrots take to grow, when they are ready for harvesting, and ways to store your root veggies to keep them fresh.
Since carrots are ready for harvesting at different times, depending on the type, check the seed packet when planting for the appropriate harvest time.
If you prefer baby carrots, the roots are ready to harvest when they are young. Otherwise, wait until they finish growing.
Use a garden fork to gently pull the roots from the ground, careful not to damage them as you pull them out of the dirt. Cut away the tops about a half-inch from the root shoulders and shake off excess soil.
These root vegetables store best in temperatures between 32 and 38°F, so the crisper drawer of your refrigerator is an ideal place to keep them fresh. Place them in a ziplock bag, press out the air before sealing it shut, and keep them in the fridge for two to three months.
You can also preserve carrots by freezing, drying, or pickling. Experiment with different storage methods to see which ones you like best. It's even possible to freeze carrots without blanching. Numerous recipes are available.
It's common to think that there is only one type of carrot since that's what we normally see sitting in the grocery store's produce section.
However, there are so many types with varying colors and sizes, and growing them at home is a great way to add pizzazz to your favorite recipes.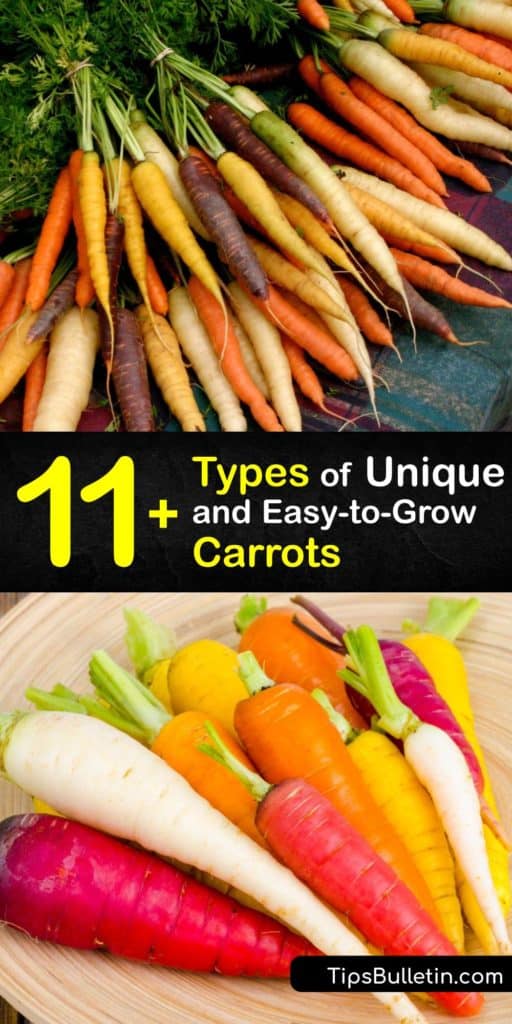 Learning about the different types of carrots and growing them in the ideal soil means that you get to enjoy fun and unique root veggies at the end of the growing season, so why not share our carrot guide with the veggie-lovers in your life on Facebook and Pinterest?