Rhubarb stalks are one of the few plants that grow in nearly every growing zone. Even if you're all the way up in Alaska, a few different types of rhubarb do well there.
Rhubarb is an extremely hardy plant and, while most cultivars thrive in USDA hardiness zones three through eight, it's easy to find rhubarb types that grow in some of the regions where they are less hardy.
Like celery plants, rhubarb plants are petioles, meaning they have firm, edible stalks. These tangy stalks are green to crimson red in color and very tasty. However, even though the stalks are edible, it doesn't mean the rest of the plant is.
All varieties of rhubarb contain oxalic acid in the leaves, making them toxic to us. While rhubarb is technically a vegetable, many gardeners use it as a fruit after harvesting their deep-red stalks.
If you're unsure about growing this plant, check out some of these common types of rhubarb and find fun ways to use them in the kitchen.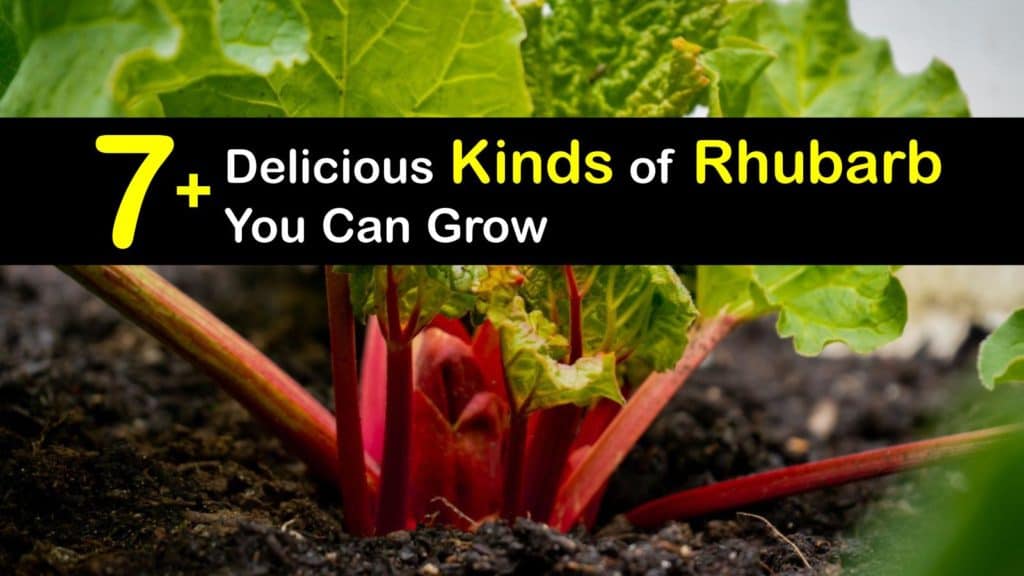 How to Grow Different Rhubarb Types
There are many rhubarb varieties out there. In general, they all require similar growing conditions. Rhubarb does best when the soil in their area is well-draining and fertile with lots of organic matter.
Container growing is an option if your beds have problems with soggy conditions. Although they like moisture, too much isn't ideal.
Rhubarb is often grown as a perennial in cooler growing zones, enjoying lots of space to spread out the thick stalks. Rhubarb plant spacing must be about three or four feet apart.
The best time to plant Swiss chard and rhubarb is similar. To plant different varieties of rhubarb, either sow seeds in early spring, plant crowns from a nursery, snag a division from a fellow grower, or plant bare-root balls.
Bare-root balls are dormant rhubarb plants wrapped in moss or soil to keep them moist. If using these, gently scrape the dirt away from the root until you find a small bud pointed upward when you plant it.
Leave the bud an inch above the soil to prevent it from rotting. Most cultivars are not ready for harvest during the first year. Now that you know your planting options, let's dive into some of the most common types of rhubarb stalks.
Varieties of Rhubarb
Whether they already grow wild on your property or you want to grow them in your beds because you love the tart flavor, growing a few different types of rhubarb is an easy way to learn which ones are hardy. Check out some of these different types of rhubarb that gardeners rave about.
Cherry Red
The Cherry Red rhubarb cultivar or Early Cherry is known for its bright red stalks. It is one of the sweetest varieties and perfect for anyone who has never tasted this crop before and is nervous about eating it.
Whenever you use this type, make sure to use a little bit less sugar in your pie recipes, or else it becomes too sweet.
Cherry Red rhubarb thrives in USDA hardiness zones two through eight and is especially happy when grown in cooler climates of northern California.
Plant them in full sun or partial shade for the best results. Harvest the stalks from April to June. This cultivar is similar to Macdonald rhubarb.
Chipman's Canada Red
The Canadian Red cultivar is another blooded cultivar with large leaf stalks. These rhubarb varieties mature quickly, grow three to four feet tall and wide, and thrive in growing zones three through eight.
They were developed in Canada and are perfect for northern or Pacific Northwest gardeners.
Plant these rhubarb types in the fall, winter, or early spring whenever the earth has thawed. Harvest from April to June after a whole year has passed since planting their crowns.
Crimson Cherry
Crimson Cherry is another cultivar with a bright red color. These grow happily around Oregon and Washington and have an equal amount of sweetness and tartness. Plant bare roots in the fall about two to four weeks before the last frost date of winter.
Enjoy these fast growers after only a year in the ground but refrain from eating green stalks. If looking for a similar kind, the Colorado Red has similar growing requirements.
Heirloom Types of Rhubarb: Glaskin Perpetual
This heirloom variety does well in USDA zones three through nine, although it does prefer a cooler summer when possible. This plant is also a cultivar that you can harvest sooner than many of the others.
Start these rhubarb seeds indoors at the end of spring and allow them to grow inside until the ground thaws. Transplant outdoors four weeks before the last frost date of spring.
These plants have red and green stems that reach 14 inches long. Harvest the stalks by cutting the stems at the base.
Holstein Bloodred
These rhubarb stalks are thick, juicy, and meaty and a favorite among many gardeners. A single plant grows four feet tall and five feet wide.
They are perfect for a rhubarb pie if you want to turn them into something sweet. Don't let the green rhubarb stalks fool you, though. They are not unripe when it comes to this variety.
Heat your oven to 450°F and start combining the flour and sugar in a large bowl. Sprinkle ½ of the flour and sugar mix over your pie crust while inside a pie plate. Toss the rhubarb into the pie pan and sprinkle on the remaining sugar and flour mixture.
Dot the very top of the pie with small pieces of butter before covering it with the last pie crust. Bake the rhubarb pie on the lowest rack in your oven for 15 minutes before lowering the oven's temperature to 350°F.
Continue to bake the rhubarb pie for another 45 minutes. Serve either hot out of the oven or allow it to cool, place it in the fridge, and serve it cold.
Riverside Giant
These varieties of rhubarb are almost always green and one of the cold-hardiest – withstanding areas as cold as growing zone two. They grow taller and wider than other plants, and a lot of patience is needed for them.
Sunrise Rhubarb
The Sunrise rhubarb plant is just right for freezing and eating later. They have sturdy pink stalks that won't turn mushy when they freeze. Harvest the stalks in zones three through eight during April, May, and June. If you like Sunrise rhubarb, you might also enjoy Valentine rhubarb cultivars.
Timperley Early
Timperley Early is one of the few rhubarb types that survive in zones higher than zone eight. They are easy to grow indoors and one of the first to mature compared to other kinds. With a pinkish color, they have a sweet yet tart taste. Harvest as early as February or March.
Victoria
It's safe to say that Victoria rhubarb is one of the most common varieties in the world. It was the first variety used in cooking and is available to most people today. The red and green stems are mostly sweet and slightly tart. Use them in jams, sauces, desserts, and savory dishes.
Rhubarb isn't very common in most fruit and veggie gardens. While it is easy to grow, many people overlook it for some reason.
There are many different things you can do with the different varieties of rhubarb. Don't limit yourself to certain veggies. Instead, try out a few different kinds and see which you like best.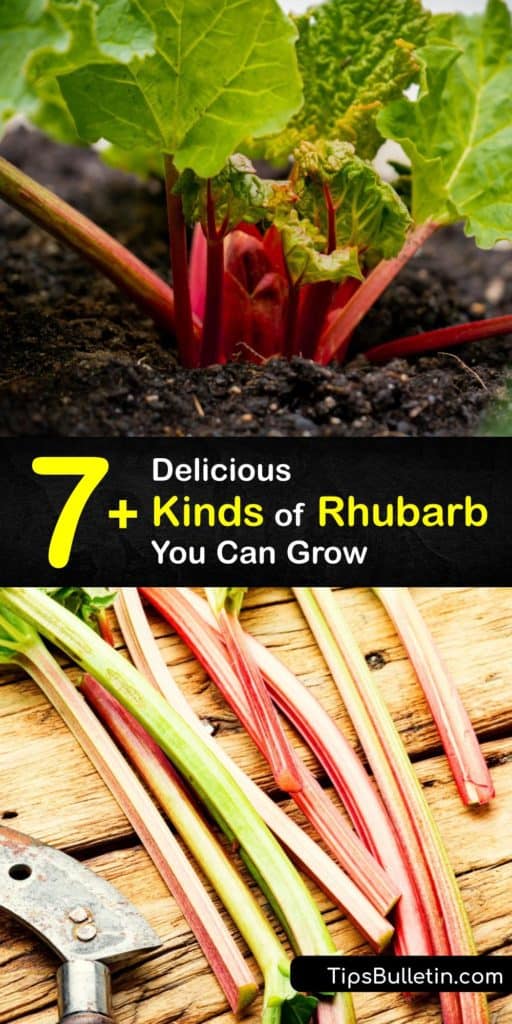 If this list of different types of rhubarb has opened your mind to growing them at home, share this guide full of rhubarb types on Facebook and Pinterest.